Bacon-Wrapped Potato Wedges
Looking for a simple, delicious appetizer to serve at a birthday party or family get-together. These bacon-wrapped potato wedges are the healthy snack idea you've been searching for. One serving tray of this is bound to become a big hit at that party. Your taste buds will explode! Imagine the fusion when you get that potato crispy on the outside but soft and tender in the middle. Then combined with the crisp, salty flavor from the bacon. It's safe to say, this could be a match made in heaven.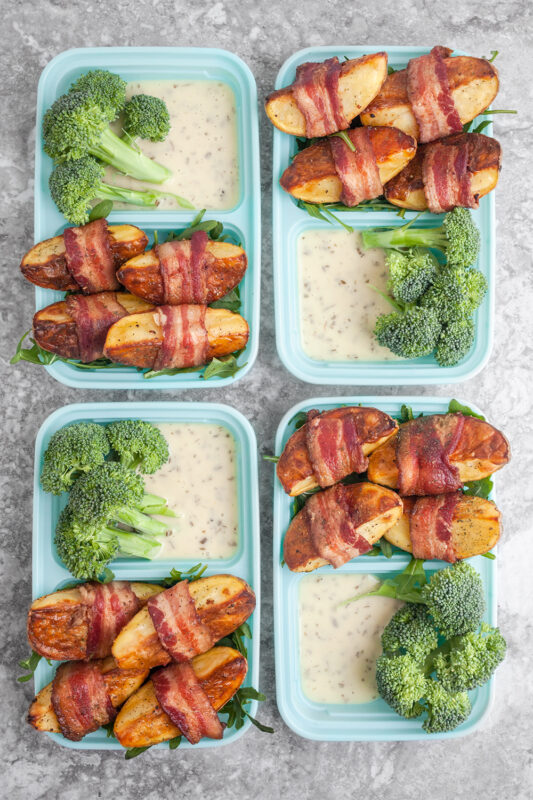 How long will Bacon-Wrapped Potato Wedges last for?
When stored properly, this bacon-wrapped potato wedges meal prep recipe will last for approximately 3 to 5 days in the refrigerator. Bacteria grow quite rapidly at temperatures between 40 °F and 140 °F, therefore, this delicious healthy snack idea should be discarded if left at room temperature for more than 2 hours.
To maximize the storage allowance for this meal prep recipe ensure that you store it using an airtight container. You can use plastic meal prep containers with compartments for separating the bacon-wrapped potato wedges from the steamed veggies or dipping sauce that you want to pair it with. You could use glass meal prep containers to store whatever was left from dinner.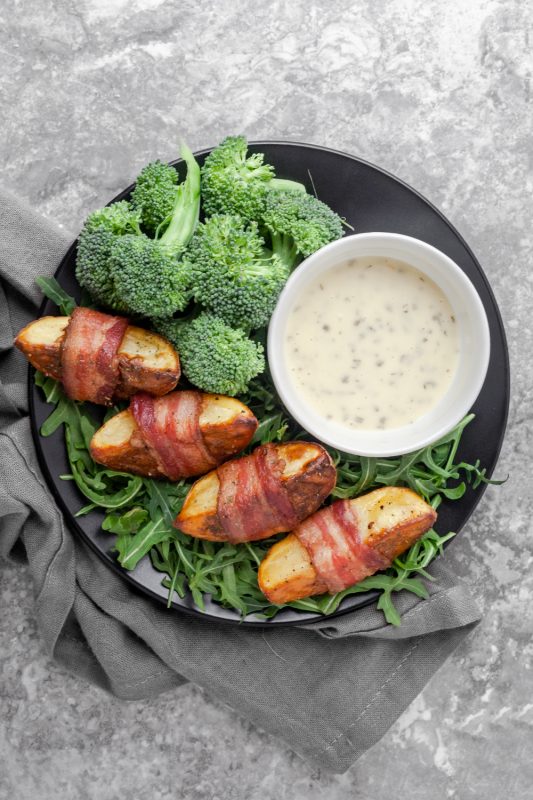 Can Bacon-Wrapped Potato Wedges be frozen?
Bacon-wrapped potato wedges can be frozen and stored. Please ensure that you use an airtight container or a heavy-duty freezer bag. They should maintain good quality for up to 6 months. To recook, you can pop them back into the oven for a few minutes and then serve. Do not make the mistake and thaw them out first. That will cause this healthy snack to become soft and mushy. You certainly don't want to ruin that crispy on the outside and fluffy on the inside sensation.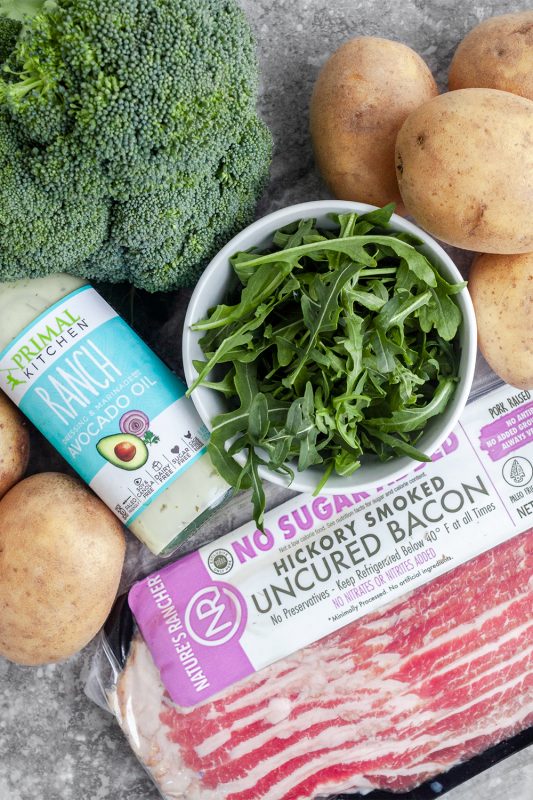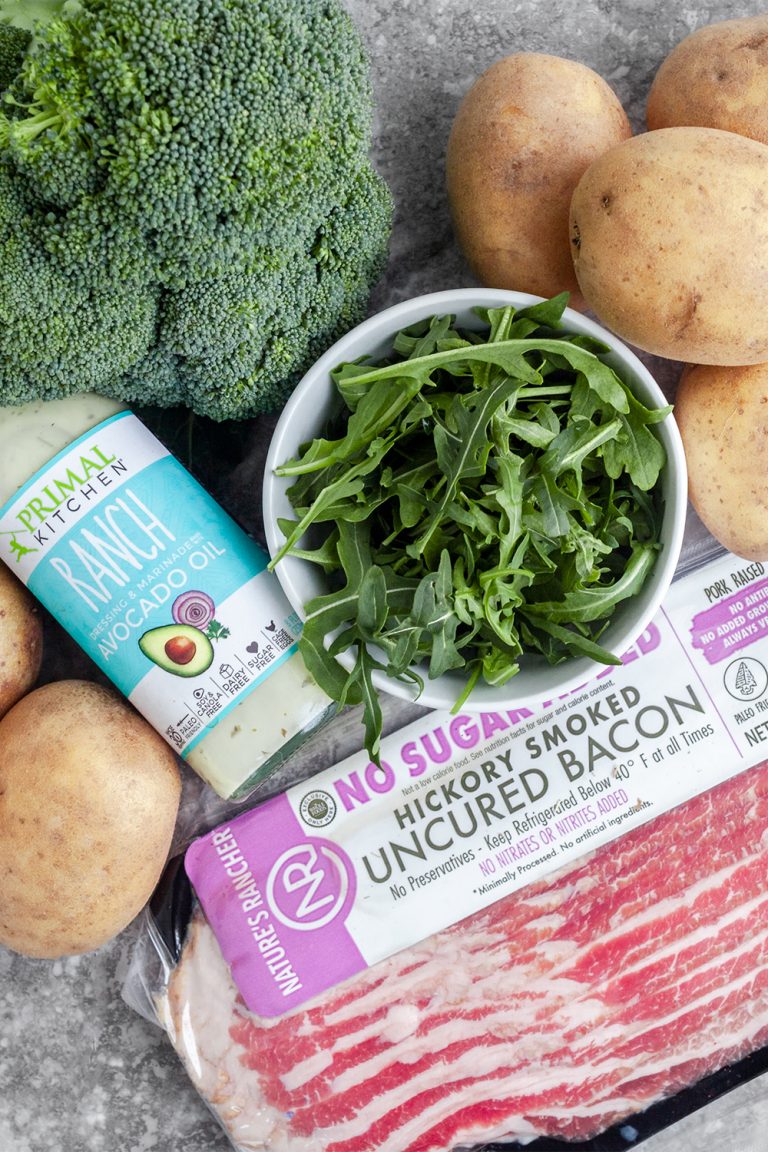 How do you make Bacon Wrapped Potato Wedges?
Searching through your healthy snack ideas list. Well, you have found a winner. It takes only 15 minutes to get this prepped and into the oven. You will have your guests or family members begging for more. Start with preheating the oven to 400℉.
Start by chopping each potato into 4 quarters. We used Yukon gold potatoes in this recipe but you can use whatever is available in your pantry. In a mixing bowl, toss the wedges, avocado oil, sea salt, and black pepper. Ensure that the potatoes are well coated.
Afterward, you wrap each potato wedge with half a slice of bacon. Place the potato skin side down onto your baking sheet lined with foil paper. Once you're done, pop them in the oven and bake for 30 – 40 minutes. You can flip them halfway through cooking to speed up the process. When the bacon is nice and crispy and the wedges are soft and tender, perfection is achieved.
How to portion Bacon-Wrapped Potato Wedges?
This mouth-watering healthy snack idea yields 4 serving portions. But these will go be gobbled up quickly so we advise you to make a few batches to go around. It can be served as an appetizer before dinner or paired with steamed veggies to create a meal. You can also try pairing it with our Better-than-Ranch-Dressing, Primal Kitchen Ranch Dressing or your favorite dipping sauce.
More Healthy Snack Ideas:
Looking for a few more healthy snack ideas to wow your family. Here are a few other meal prep recipes we recommend: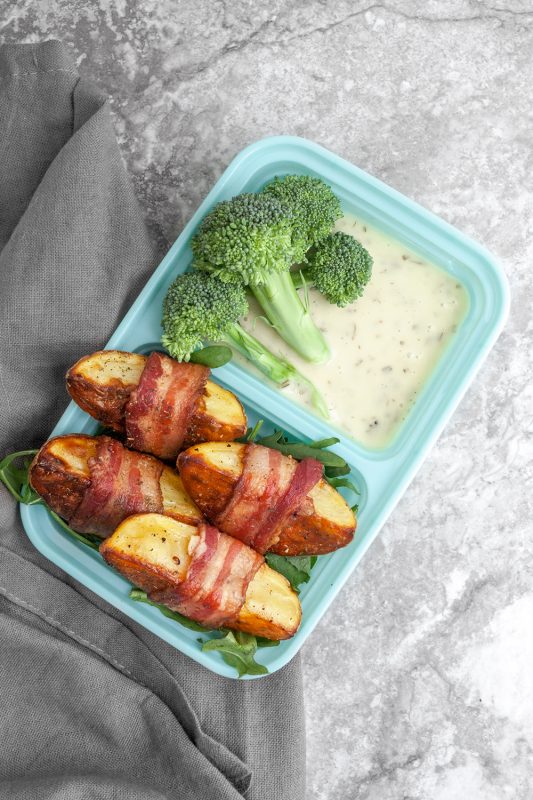 Other tips for making Bacon Wrapped Potato Wedges:
You can precook the potatoes to decreased the baking time.

Swap Yukon potatoes for sweet potatoes

Add a cup of parmesan cheese while prepping to upgrade this into a cheesy meal prep recipe.

Instead of chopping the potatoes into wedges you can slice it in half. Then add a layer of onion between the slices. Then wrap with bacon slices.
If you're looking for a healthy snack idea that would be a big hit with the kids. You've already found it. Start prepping your next batch of bacon-wrapped potato wedges NOW!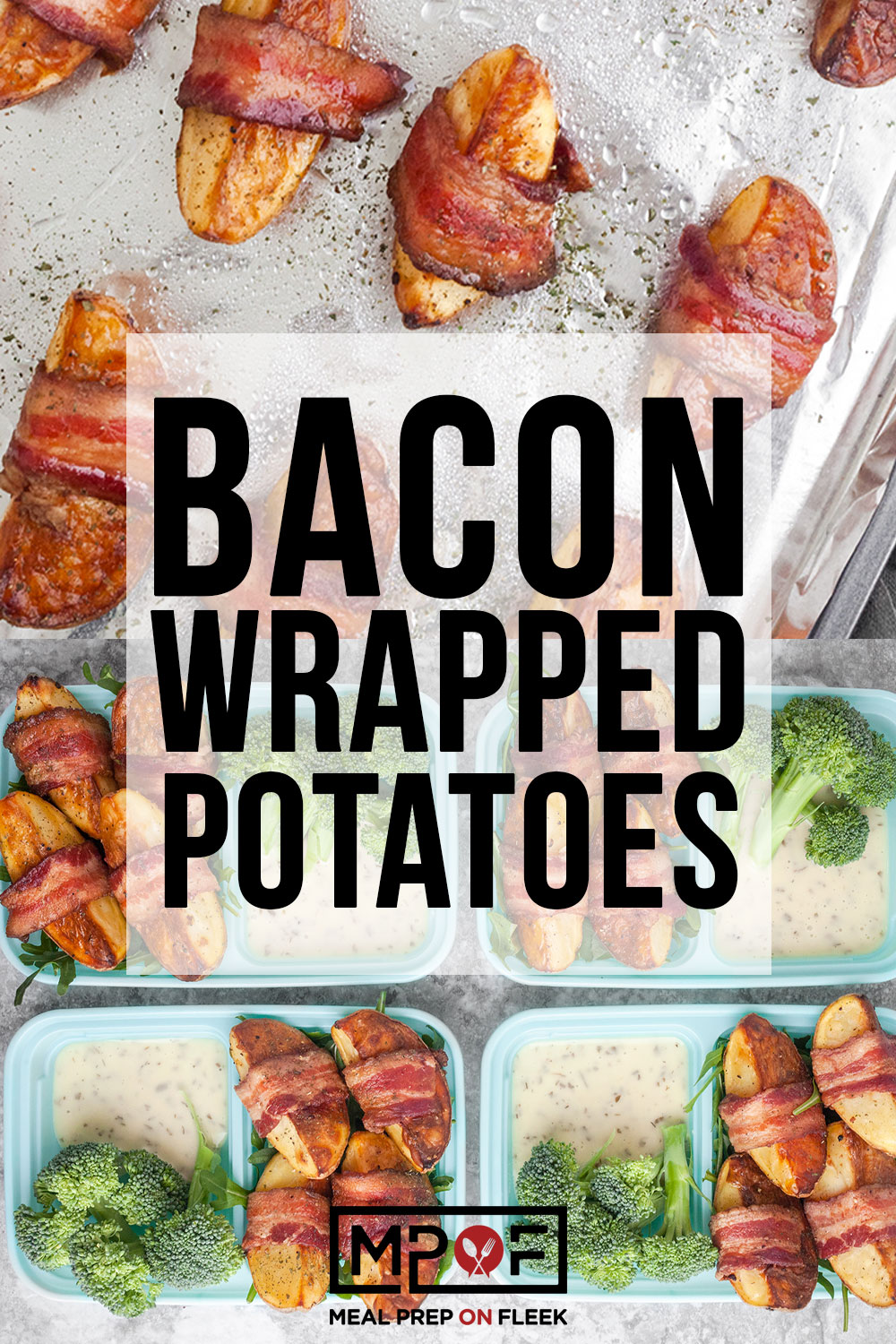 Bacon-Wrapped Potato Wedges Ingredients:
4 Small Yukon Gold Potatoes, each cut (lengthwise) into quarters — creating 16 potato wedges in total
8 Bacon Slices (Whole30 compliant), each bacon slice cut into half — creating 16 mini bacon slices in total
1 Tbsp. Avocado Oil
1/2 tsp. Ground Black Pepper
1/4 tsp. Himalayan Pink Salt
1/4 C. Primal Kitchen brand Ranch Dressing
Optional: broccoli florets and a garnish of fresh arugula and parsley
Ingredients
4

small

Yukon Gold Potatoes

cut into quarters (creating 16 wedges total)

8

slices

whole30 compliant bacon

we used Pederson's brand

1

tbsp

avocado oil

1/2

tsp

black pepper

1/4

tsp

Sea Salt

1/4

cup

Primal Kitchen Ranch Dressing
Optional
broccoli florets

steamed or raw
Instructions
Preheat oven to 400℉.

Line a baking sheet with foil and place paper towels onto a plate, set each aside.

In a mixing bowl, toss together potato wedges, oil, salt, and pepper until well coated.

Next, wrap one potato wedge with one mini bacon slice and place potato skin side down onto the foil-lined baking sheet. Repeat until all ingredients are used up.

Place in oven, on the middle rack, and bake for 30-40 minutes — flipping halfway through cooking or, until potatoes are fork-tender and bacon is nicely crisped.

Now, place cooked bacon-wrapped potato wedges onto the paper towel-lined plate and let excess bacon grease/oil drain off for ~3 minutes.

Serve alongside ranch dipping sauce and optional ingredients.

Enjoy!
Notes
Nutrition for 1 out of 4 servings:
5.3g Protein | 20.4g Carbs | 23g Fat | 297 Calories
Nutrition
Serving:
1
meal
|
Calories:
297
kcal
|
Carbohydrates:
20.4
g
|
Protein:
5.3
g
|
Fat:
23
g