Zuppa Pomodoro Meal Prep
Italian food is one of the most celebrated cuisines on the planet. How could it not be, with so many complementary flavors, ingredients, and spices? Honestly, we'd be lying if we said we weren't a bit fanatical about it ourselves! We even love the Italian language and way of thinking, too—Mangiare per Vivere e non-vivere per mangiare, or "eat to live, don't live to eat", is one Italian phrase that we feel sums up MPOF's philosophy about food perfectly. We believe food should improve our physical well-being and taste delicious. Everyone should be able to eat in an intuitive way! Check out our article about the intuitive eating lifestyle. Our love for Italian cooking and culture is what inspires us to share today's meal prep idea—A vegan Zuppa Pomodoro, worthy of any classy Italian restaurant!
Short on time? This Italian-inspired meal prep idea was practically created for people in a rush because it comes together in just 30 minutes! Plus, it's chock full of healthy ingredients like hemp hearts! Hemp hearts are actually considered a nut variety, and they consist of over 30% healthy omega-3 and omega-6 fats. They are also an exceptional source of the amino acid arginine, a precursor to nitric oxide. Nitric oxide helps relax blood vessels, lower blood pressure, and reduce your heart disease risk! By consuming hemp hearts, you are also consuming one of nature's best sources of plant-based protein. They actually rival the amount of protein in meats like lamb and beef!
Zuppa Pomodoro Meal Prep is a classic Italian soup recipe that can be enjoyed warm or cold. Loaded with fresh veggies, we have made this hearty soup recipe so easy that it comes together in just 30 minutes.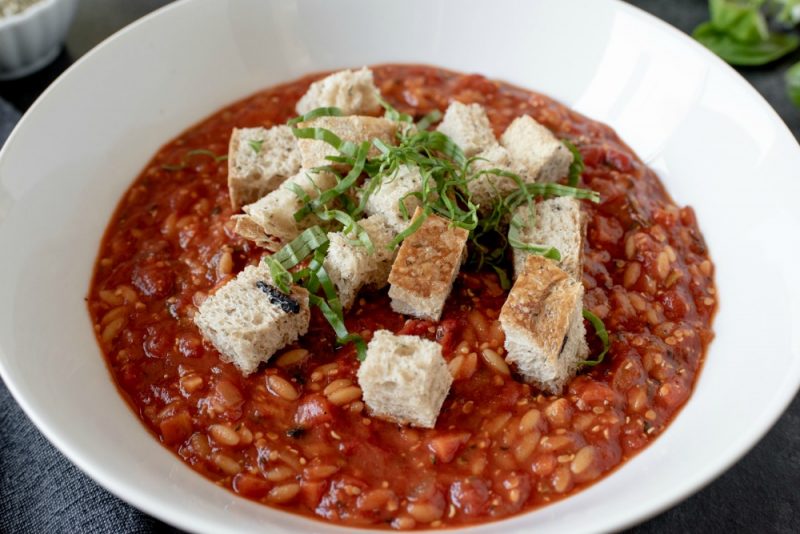 How long will this Zuppa Pomodoro last for?
Because this meal prep idea is tomato-based, we found that it lasted us a week in the fridge when properly stored! That means that one batch will easily last you for a whole week of prepped meals.
Can this Zuppa Pomodoro be frozen?
Yes, it can! Like most vegetable soups, we estimate it can even last you 4-6 months in the freezer!
How do you make this Zuppa Pomodoro?
We love this meal prep idea because of how quickly and easily it comes together! Begin by preheating your oven to 250° F. While you wait, cut the sourdough bread into cubes, and place in the oven for 20 minutes, tossing the cubes at 10 minutes. The goal is to have the bread be crunchy afterward. While waiting for this process, combine olive oil, onions, carrots, salt, and pepper in a large pot and heat on medium-high heat for 5 minutes.
Once the veggies are soft, add garlic, tomato paste, and 1 cup of the vegetable stock, mixing until the tomato paste is nice and smooth. Add in the rest of the vegetable stock and crushed tomatoes, and mix well. At this point, it's time to put in the hemp hearts and orzo pasta, so add them and then bring the whole mixture to a boil and reduce to low, simmering for 10 minutes or until orzo is tender. Finish by removing heat and adding in fresh basil.
How to portion this Zuppa Pomodoro?
We strongly preferred portioning this meal prep idea into dual-compartment meal prep containers — One compartment for the soup, and one for the side of sourdough cubes. You can purchase the containers we used right here, or get more info about your container options by checking out our Ultimate Guide to Meal Prep Containers!
More Italian meal prep ideas:
We're thrilled to tell you, you can eat healthy Italian food for all your prepped meals, and MPOF has the recipes you need to make that possible! This Gazpacho Meal Prep Recipe is another fantastic soup option, and you'll want to make these Mozzarella-Stuffed Meatballs again and again! Buon appetite!
Other tips for making this Zuppa Pomodoro:
Consider buying "no salt added" versions of canned tomato products if you're concerned about sodium intake

For the healthiest possible Zuppa Pomodoro, buy tomato products with no added sugar

Zuppa Pomodoro Meal Prep Ingredients:
3 Slices Sourdough Bread, Gluten-Free
1 Tablespoon Olive Oil
1/2 Teaspoon Pepper
1 Teaspoon Salt
2 Tablespoons Diced Garlic
1 Cup Diced Carrots
6 Ounce Can Tomato Paste
1 Cup Diced Onion
4 Cups Vegetable Stock
28 Ounce Can Fire Roasted, Crushed Tomatoes
1/2 cup Orzo Pasta
1/3 Cup Hemp Hearts
1/2 Cup Basil, roughly chopped + more leaves for garnish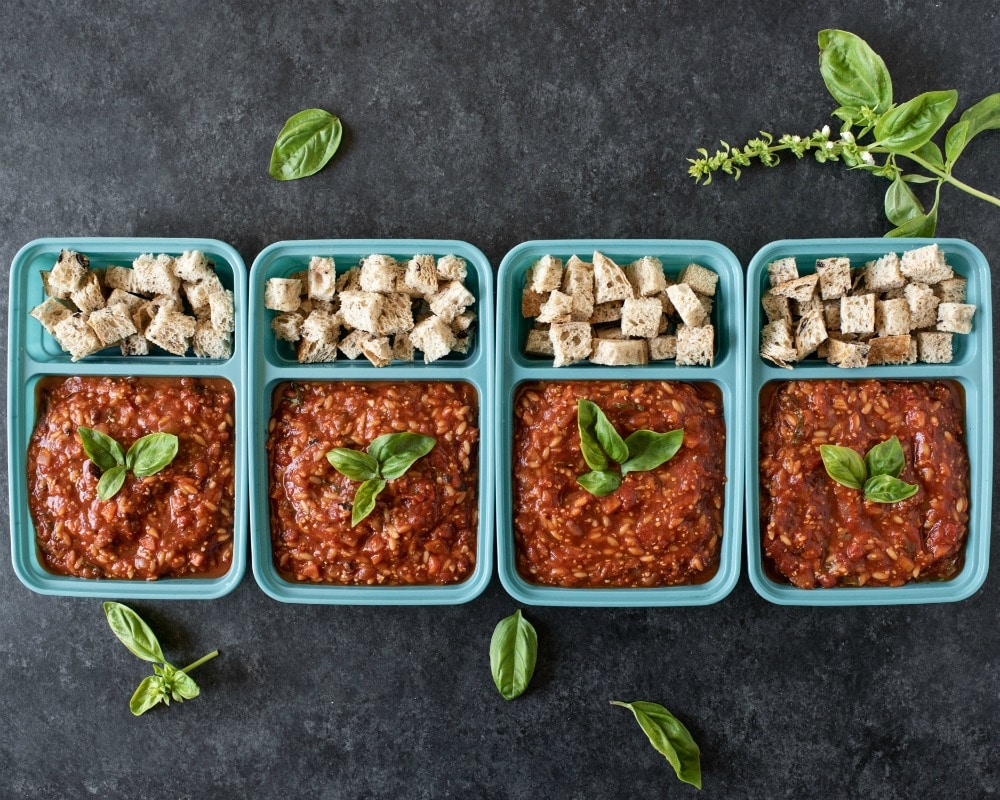 Ingredients
3

slices

gluten-free sourdough bread

1

tbsp

olive oil

1

cup

diced onion

1

cup

diced carrots

1

tsp

Salt

1/2

tsp

Pepper

6

tbsp

diced garlic

6

ounces

tomato paste

4

cups

vegetable stock

28

ounces

crushed fire-roasted tomatoes

1/2

cup

orzo pasta

1/3

cup

hemp hearts

1/2

cup

basil

roughly chopped + garnish
Instructions
Preheat oven to 250° Fahrenheit. Cut the sourdough into cubes, place on a large baking sheet, and place in the oven for 20 minutes, tossing after 10 minutes, until bread is crunchy.

While the bread is in the oven, heat a large pot over medium-high heat. Add in the olive oil, onions, carrots, salt, and pepper, cooking for 5 minutes until the vegetables are soft, and the onions are translucent. Add in the garlic and cook 1 minute more.

Add in the tomato paste, mixing with the vegetables, then add 1 cup of the vegetable stock. Mix well, until the tomato paste has broken up and is not lumpy. Add in the remaining vegetable stock and crushed tomatoes. Mix well.

To the tomato mixture, add in the orzo pasta, and hemp hearts. Bring to a boil, then turn the heat down to low, simmering for 10 minutes, or until the orzo has plumped and is tender.

Remove from heat and allow to cool slightly about 5 minutes. Add in the basil, and mix well. Divide among 4 dual-compartment Meal Prep On Fleek containers, and top with more basil leaves for garnish. Add sourdough croutons to the small compartment, and you have 4 meals ready to go!
Notes
Nutrition for 1 out of 4 servings:
19.8g Protein | 66.7g Carbs | 7g Fat | 12.2g Fiber | 396 Calories
__
Recipe courtesy of our friend:
Natalie Wiser-Orozco of The Devil Wears Parsley
Nutrition
Serving:
1
meal
|
Calories:
396
kcal
|
Carbohydrates:
66.7
g
|
Protein:
19.8
g
|
Fat:
7
g
|
Fiber:
12.2
g