Grilled Halloumi & Summer Squash Kabob Meal Prep
Being the warmest and most sunny months of the year, summer yields us with a true cornucopia of fresh fruits and vegetables—including bell peppers, strawberries, cucumbers, garlic, and one of our favorites of all time, zucchini squash! Because these flavors are so delicious, today we're excited to show you how to make grilled halloumi and summer squash kebobs!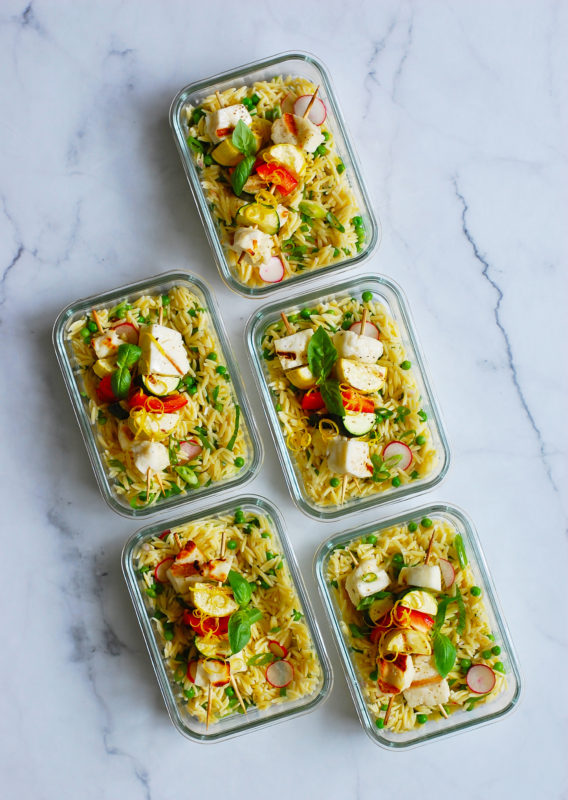 A Hearty Summer Meal Prep:
With a huge 48g of protein per serving, this meal prep recipe will most certainly be filling to even the hungriest meal preppers. Most of the protein comes from the grilled halloumi, a delicious, and historically interesting food! Halloumi is believed to have first been created during the Medieval Byzantine period, in the Mediterranean island nation of Cyprus (off the southern coast of Turkey). Traditionally it is made from goat and sheep's milk, which means halloumi is naturally lactose-free. Some manufacturers will make it with cow's milk, however, so if lactose is something you're trying to avoid, make sure you read your labels before you buy.
Don't worry about overcooking it—Halloumi has a very high melting point, so it's perfect for grilling or frying! In fact, one delicious way to prepare it is by frying it in olive oil for a couple of minutes before threading it onto the skewer with your veggies. Love halloumi? So do we! Check out our Grilled Halloumi and Watermelon Salad meal prep recipe for another summer meal option!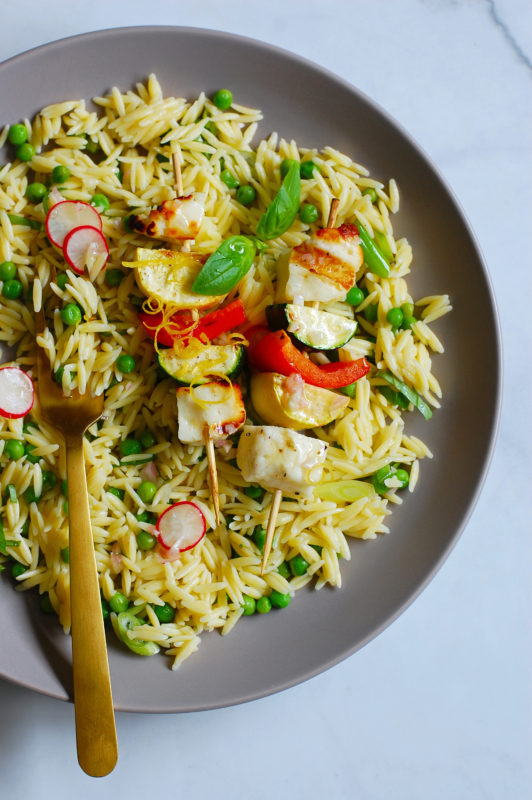 Halloumi and Summer Squash recipe nutrients:
These grilled halloumi and summer squash kabobs wouldn't make for a very good vegetarian meal prep option… If they didn't contain any veggies! Fortunately, though, they do contain a number of delicious seasonal vegetables, including green zucchini, yellow zucchini, red bell peppers, peas, scallions, and red radishes! Zucchini alone has a whole host of health benefits—including improved digestion, healthy circulation, and a boost in energy! These benefits can be credited to high amounts of vitamins B6, C, and K, plus riboflavin and folate.
Don't hate on radishes:
The other ingredient we want to hype up in this grilled halloumi and summer squash kabob meal prep recipe is the red radishes! A lot of people throw radishes shade, and we want to help fix their reputation as an excellent vegetable if we can! Per 1 cup, radishes have just 24 calories. That's almost nothing! And even though they're small, they're still mighty—Mighty healthy!
Each cup contains a whopping 28% of your vitamin C recommended daily allowance (RDA). Vitamin C is also an antioxidant that helps build collagen and battle free radicals in your body that speed up the aging process. We think that's darn impressive because that means that red radishes and other foods high in vitamin C, are literally the fountain of youth!
Grilled Halloumi & Summer Squash Kabob Meal Prep Ingredients:
Supplies Needed:
10-15 6-Inch Bamboo Kabob Skewers
Ingredients:
½ large Shallot minced
2 Garlic Cloves minced
Juice of 1 Lemon, plus zest
¼ cup Olive Oil plus 2 tbsp. divided
¼ tsp. Salt & ¼ tsp. Pepper plus more to taste
16 oz. Halloumi Cheese cut into 1-inch cubes
1 large Green Zucchini Squash
1 large Yellow Zucchini Squash
1 large Red Bell Pepper
5 cups cooked Orzo Pasta
1 ½ cups Frozen Peas thawed
3 Scallions (green parts only) sliced
5 Red Radishes sliced
6-8 Basil Leaves julienned
Finally, we love this grilled halloumi and summer squash kabob meal prep recipe because it can be served one of two ways… Hot, or cold! We found it an excellent way to cool off and replenish from blazing hot days spent outdoors in the sun. Love Mediterranean food? We have tons of recipes. Check out our article, 15 Mediterranean Diet Meal Prep Recipes for more tasty ideas!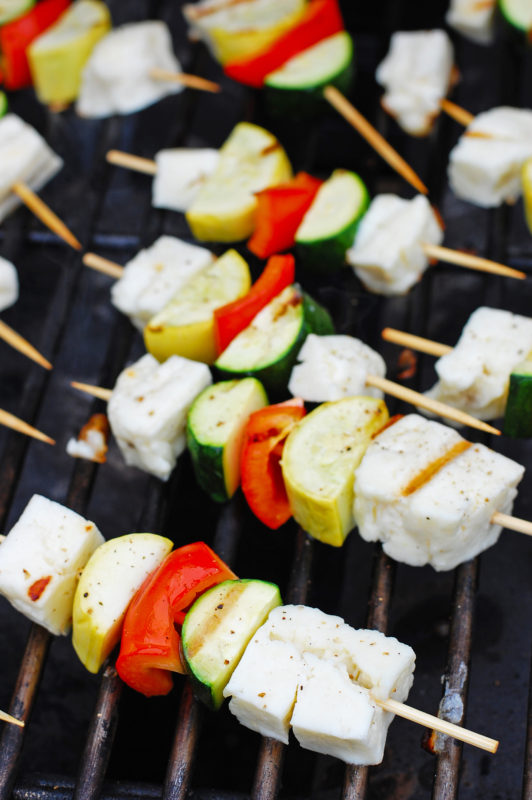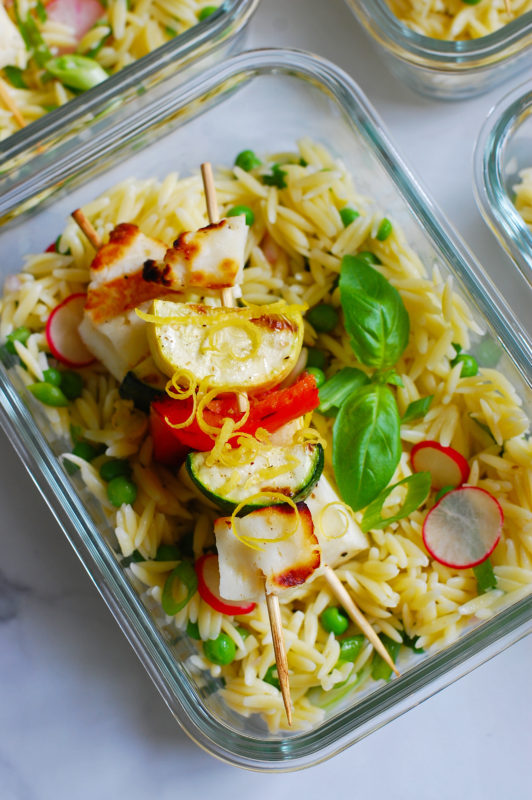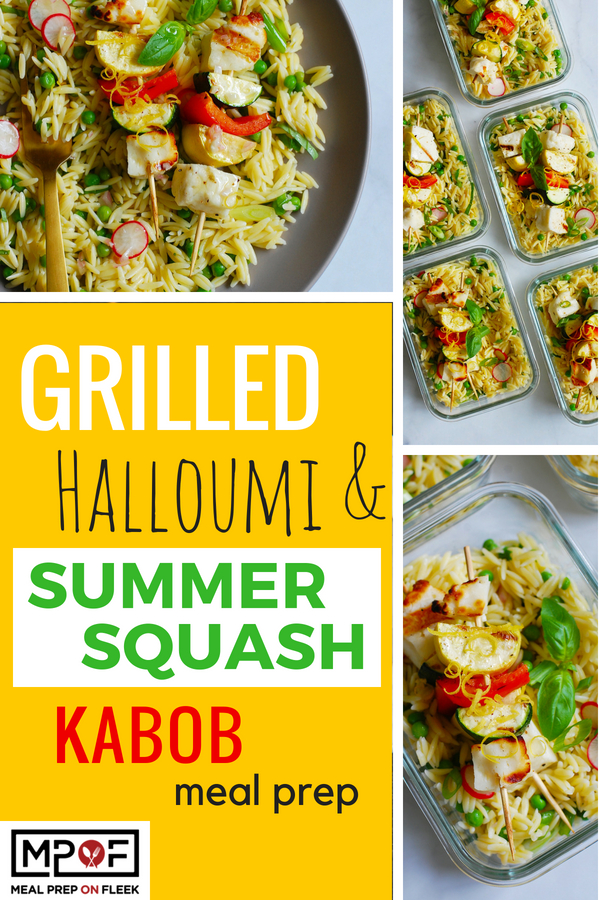 Ingredients
1/2

large

shallot

minced

2

cloves

garlic

minced

1

medium

Lemon

juiced & zest

6

tbs

olive oil

divided (1/4 c + 2 tbsp)

salt & pepper

to taste

16

ounces

Halloumi Cheese

2

large

green/yellow zucchini

1

large

red bell pepper

5

cups

cooked orzo

1 1/2

cup

frozen peas

thawed

3

Scallions

thinly sliced (green part only)

5

red radish

thinly sliced

6-8

basil leaves

julienne
Instructions
Place shallot, garlic, lemon juice, salt, and pepper in a small mixing bowl. Slowly stream in the olive oil and whisk until fully incorporated. Set aside.

In a large mixing bowl, stir the orzo pasta, peas, scallions, radishes, and basil. Stir in all of the dressing but reserve 3 tablespoons on the side as a finishing sauce. Set orzo salad aside.

Skewer the kabobs by threading Halloumi, yellow zucchini, bell pepper, green zucchini, and Halloumi in that order. Skewer the Halloumi slowly to prevent splitting. Baste the skewers with the 2 tablespoons olive oil, salt & pepper to taste.

Preheat a BBQ grill on medium heat. Grill the kabobs about 3-5 minutes per side until grill marks appear. Remove kabobs from the grill and set aside.

Prepare the meal prep containers by spooning approximately 1 ½ cups of the orzo salad into the bottom, then top with two of the kabobs. Drizzle a spoonful of the remaining dressing over the kabobs and top with lemon zest.
Notes
Nutrition for 1 out of 5 meals:
44g P | 138g C | 48g F | 789 Calories
Nutrition
Serving:
1
meal
|
Calories:
789
kcal
|
Carbohydrates:
138
g
|
Protein:
44
g
|
Fat:
48
g