Chimichurri sauce, or just chimichurri, is a versatile sauce from Argentinian cuisine that's great on grilled meats. Adaptable and versatile!
This traditional Argentinian chimichurri sauce is bursting with herbs and tangy flavors – the perfect complement to a grilled steak. Choose your favorite cut of meat, or use this sauce on top of chicken or fish instead. Traditional chimichurri sauce has an olive oil and vinegar base, but this one takes the fresh flavor up a notch with a splash of lemon juice. Choose your favorite option!
Chimichurri Ingredients
1 cup Italian parsley, packed
1 tbsp fresh thyme, packed
3 tbsp olive oil
3 tbsp red wine vinegar
1 tbsp lemon juice
1 clove minced garlic
½ tsp sea salt
¼ tsp paprika
¼ tsp red chili flakes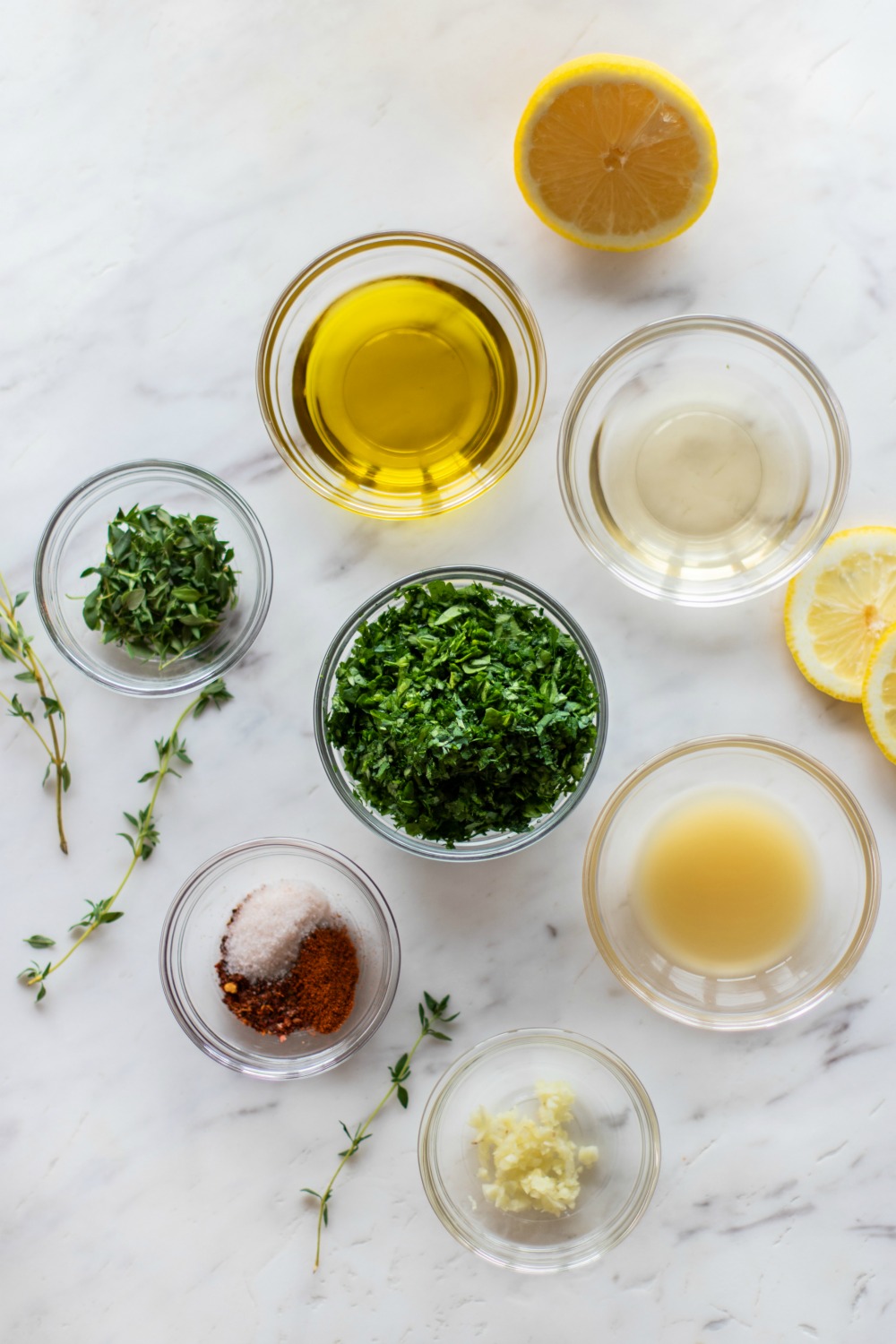 How to Make Chimichurri
This couldn't be simpler! As long as you have a food processor or a high-speed blender, you can make this condiment. Start by processing the parsley and thyme together until they're chopped finely but not all the way pulverized. Add in the olive oil, red wine vinegar, garlic, lemon juice, sea salt, paprika, and chili flakes. Process again until it looks like pesto in terms of its consistency.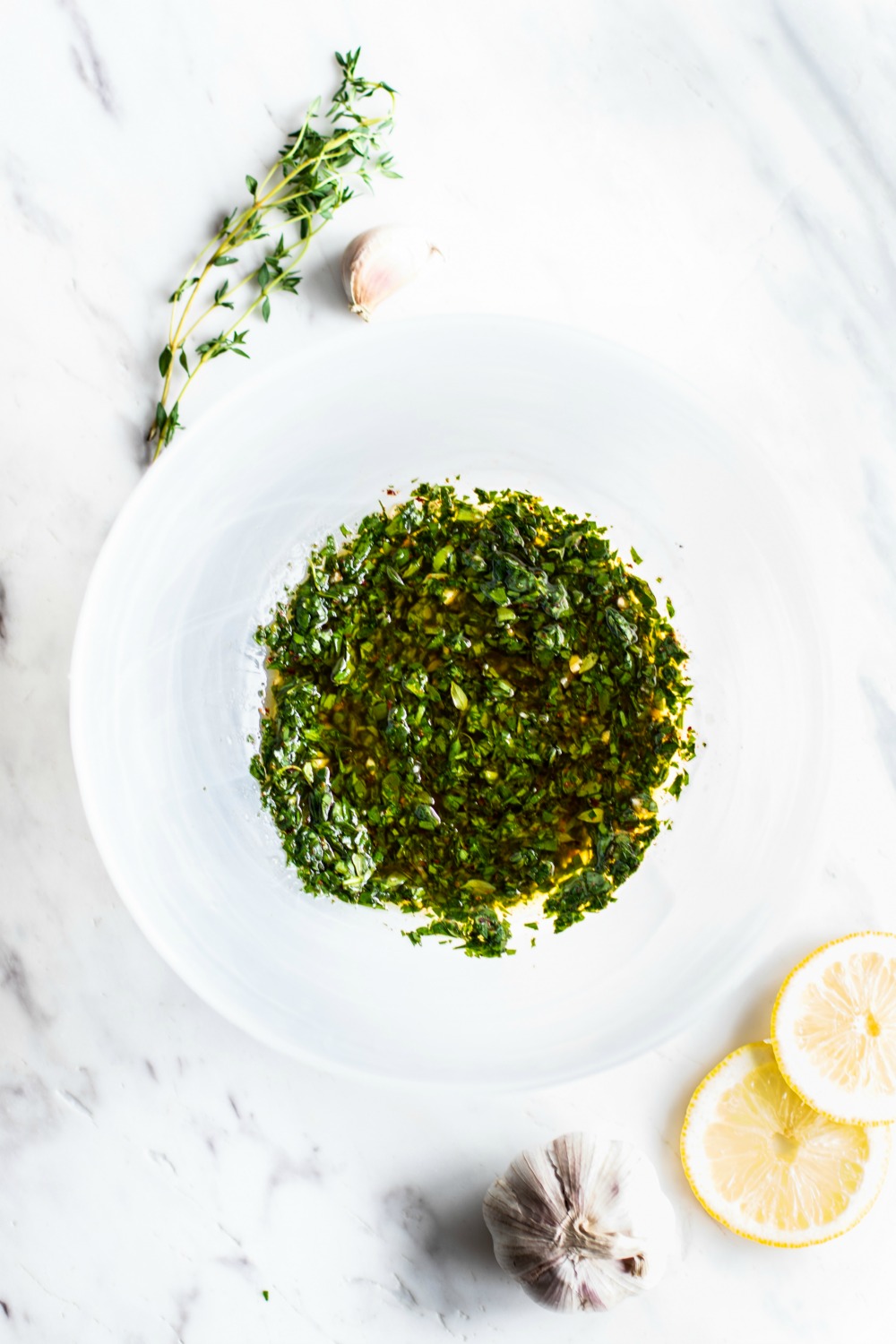 How to Store and Serve Chimichurri Sauce
You can keep chimichurri in an airtight container in the fridge for up to 2 weeks. You'll likely need to stir it together to reintegrate the sauce and get the right consistency. Chimichurri is much like pesto insofar as you can store it in the freezer for at least six months, if not longer. Pop it into small containers that are about serving size (in this case, about 2 tablespoons) or use an ice cube tray with lids. Then you can just twist out the cubes of chimichurri that you want and drop them right into a hot pan to defrost.
Traditionally, chimichurri is served with Argentinian dishes like a grilled flank steak, but you can use this alongside chicken, shrimp, or even salmon. It's bright, herbal, and zesty, with a bit of heat, but not too much. But you can use this much like you might pesto and swap it out with a pesto meal prep; toss it in with hot pasta, spread it on a slice of crusty bread, mix it in with Greek yogurt for a more creamy sauce or a dip for veggies. Stir it into beaten eggs before you scramble them, use them as a flavor pop for cooked beans (oooh, white beans!) or lentils. Finally, you can always toss freshly roasted or boiled potatoes with chimichurri, too. It's so versatile!
Variations and Customizations for Chimichurri
Chimichurri is also often made with a combination of parsley and cilantro. Sometimes shallots are used in addition to fresh garlic. Sometimes people will add a couple of tablespoons of fresh oregano leaves. And always feel free to up the garlic; it's totally ok to double or triple what we've specified here. A lot of this is to taste, so make it once and then see how you might want to adjust it for the next time you do.
3 Recipes with Chimichurri