Looking for meal prep ideas that are healthy and satisfying? What about something as delicious as Sunday night spaghetti, but without all the calories? We've got you fam- look no further. In this recipe perfectly seasoned meatballs come together with delicious mozzarella cheese and rich pasta sauce, all atop a wonderfully light bed of spaghetti squash. And the best news? This Spaghetti Squash and Meatballs meal prep requires only one skillet, and it all comes together in just 35 minutes! The perfect weeknight dinner or lunch for a crisp fall day.
This quick and easy one skillet spaghetti squash & meatballs recipe requires only a few simple ingredients. It's the ultimate comfort food! Gluten Free. Grain Free. Low Carb.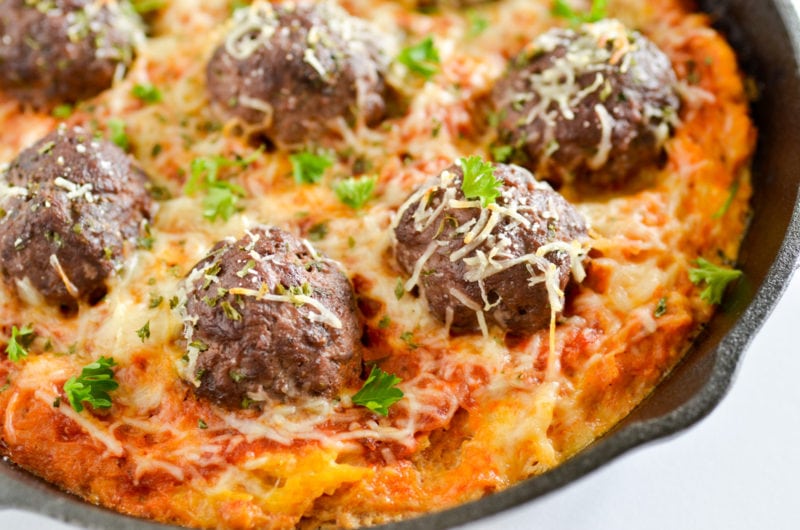 But wait, are we having spaghetti or squash? The answer is both! Once cooked, you can gently pull the flesh of this oblong yellow squash away from its outer skin with a fork, and perfect individual spaghetti-like strands will present themselves to you. Spaghetti squash has a lovely mild flavor that can be adapted to complement all types of recipes and cuisines. Here we've used it as a swap for traditional Italian pasta, but it's an incredibly versatile ingredient! We've seen it as the base of Mexican-inspired casseroles, adaptations of Filipino pancit, grain-free frittatas, and even sweet breakfast preparations!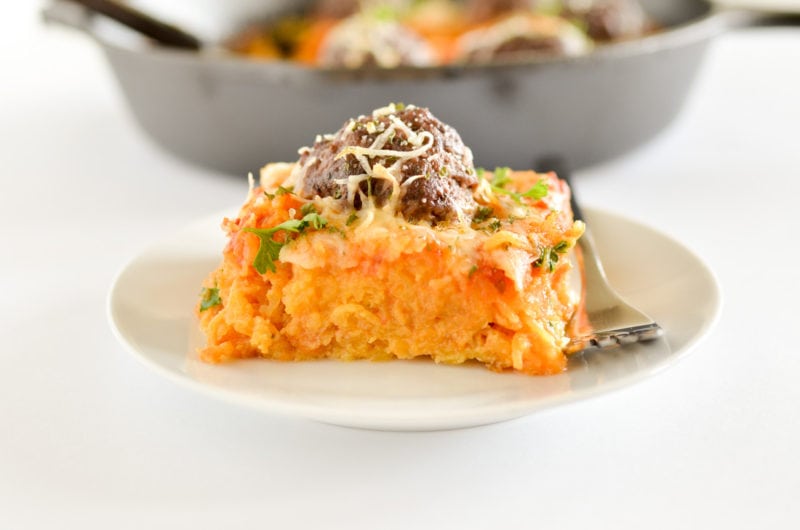 Because of its low carbohydrate count, this is one of our favorite ingredients to have on hand for those days when we're craving something hearty and indulgent but don't want to break the scale. And tricking the taste buds isn't all this gourd is good for. Spaghetti squash is rich in B vitamins, which we all need for optimal cellular function. And if that wasn't enough, potassium (a mineral that supports muscle and nerve function) and manganese (a mineral that assists in metabolism and bone and tissue health) are also residents of the spaghetti squash party. So not only are you having a delicious dinner and keeping your gym/calorie balance where it should be, enjoying this Spaghetti Squash and Meatballs means you're also eating foods that support your body! This meal prep idea is a win, win, win.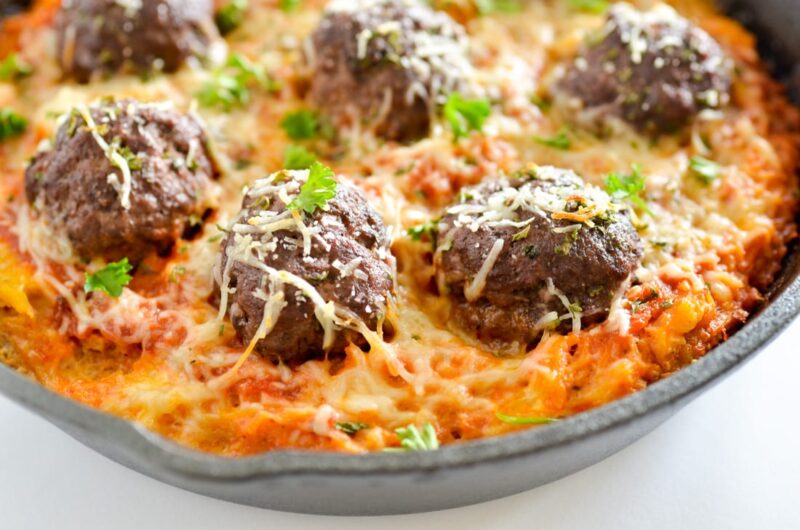 One Skillet Spaghetti Squash & Meatballs Ingredients: