This zesty gluten-free Chex Mix gets its ranch flavor from dried buttermilk and herbs such as garlic, dill, and chives. Heart-healthy almonds add a dose of good-for-you fats that satiate.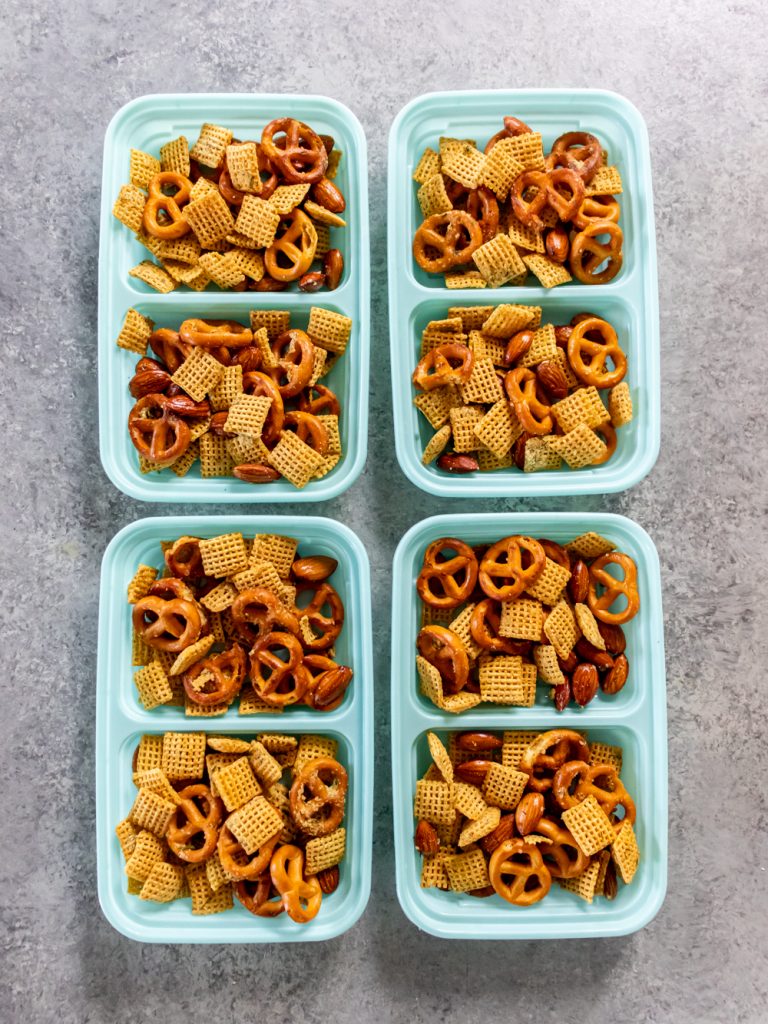 Do you remember Chex Mix? Did you have this as a snack growing up? It was such a popular snack, with pretzels and peanuts and sometimes even things like cashews and chocolate chips, depending on who's putting it together. Are you surprised they even still make Chex cereal? Are we asking too many questions? Ha!
Whatever your answer to these questions, this isn't your mom's Chex Mix. No way. Or not even your grandma's! This is a zesty, gluten-free Chex Mix for a new age!
How to Make Zesty Gluten-Free Chex Mix
Chex Mix is easy to assemble, that's for sure. But this one takes on a ranch flavor. And it feels a little bit retro and also kinda grown up, too at the same time. All you need is gluten-free Chex and a big bowl to start. Keep in mind that all Chex cereals are gluten-free (rice and corn, we're looking at you), with the exception of the wheat version.
Toss it with some melted butter, dried buttermilk, gluten-free pretzels, and dried herbs such as dill and chives. A smidge of salt and garlic powder go a long way toward a really tasty snack. 'Cause sometimes you want fruit and veggies, and other times you want a savory, salty crunch-fest for a snack.
Substitutions and Alterations
Anything that's tiny, salty, and gluten-free would work in this mix. But we're definitely partial to it as written.
Swap out other nuts if desired. Almonds are heart-healthy, but you could also use cashews or peanuts, or a combination of both. Or all three.
Turn this into a vegan snack by using a vegan butter such as Earth Balance or something similarly plant-based. Use a vegan-based dried buttermilk if need be.
People also sometimes add Cheerios or a similar round oat-based cereal to this recipe. They're gluten-free, naturally! (Did you know?)
Conversely, use whatever kind of pretzels you have on hand if you don't need this snack to be gluten-free.
Tips for Chex Mix
You can easily double or triple this recipe. Just make sure you've got enough rimmed baking sheets to accommodate the increase.
Of course, this is a great snack, but you might consider also giving some out as gifts around the holidays, or doubling the recipe when you're having a party. People will wonder how you got it to taste like ranch dressing, but without a bit of dressing in sight!
If you have never used powdered buttermilk before, you can usually find it in the baking aisle. Barring that, it's available online. (But then again, what isn't?)
How to Store Zesty Gluten-Free Chex Mix
This tasty snack will keep in meal prep containers for 4 or 5 days. You'll want to store it at room temperature. It might be tempting to just put it all in one airtight container instead of prepping it, but unless you've got incredible willpower, prep it and forget it!
READ MORE: Because snacks are life, try Candied Nut Mix for the Holidays (or anytime, really!)
Zesty Gluten-Free Chex Mix Ingredients:
2 cups gluten-free Chex cereal

1 ½ cups gluten-free pretzels

½ cup raw almonds

3 tablespoon unsalted melted butter

1 teaspoon powdered buttermilk

½ teaspoon dried chives

¼ teaspoon dried dill

¼ teaspoon salt

⅛ teaspoon garlic powder