Waffles are a breakfast staple in many households and one of the popular breakfast items ordered at diners for those weekend outings with friends or family. Typically, you top waffles with syrup, fruit, and/or whipped cream to make a sugary, dessert-like breakfast. But some places around the world prefer savory breakfasts over sweet ones. So, we thought, why not cook savory waffles for breakfast? Savory waffles are a unique and welcomed change to breakfast because you can enjoy waffles for breakfast more often without worrying about high sugar intake. The fluffy and slightly crispy, sage-seasoned waffles paired with earthy-flavored kale and succulent crispy bacon will give your tastebuds and body a nutritiously delicious adventure first thing in the morning. That sounds like an amazing start to the day, doesn't it?
Waffles get a savory Paleo makeover in this hearty recipe topped off with smoky bacon and sautéed kale. Waffles cook up fluffy, seasoned with sage, basil, pink Himalayan sea salt all in one convenient seasoning blend.
How long will Savory Waffles with Kale and Bacon last for?
On average, savory waffles will last for 3 days in the refrigerator. The kale and bacon can last up to 5 days. For this savory breakfast idea, you can freeze the waffles, then add them to the kale and bacon when you're ready to the meal with you. You need not defrost the waffles because you can reheat them in the microwave, toaster, waffle iron, or oven. When serving up your meal to store and eat, we recommend storing Savory Waffles with Kale and Bacon in an airtight container, just like our meal prep containers.
Can Savory Waffles with Kale and Bacon be frozen?
Yes, you can freeze our savory breakfast idea after you've cooked it. Savory waffles freeze well. To freeze savory waffles, let them cool after cooking. Once the waffles are cool, line a baking sheet with wax or parchment paper. Place the waffles on the sheet in a single layer and put them in the freezer and they will freeze in a few hours. When they're stiff, place the waffles into a freezer bag with wax or parchment paper in between each one. If you want to freeze the kale and bacon, place it in a freezer-friendly container or freezer bag.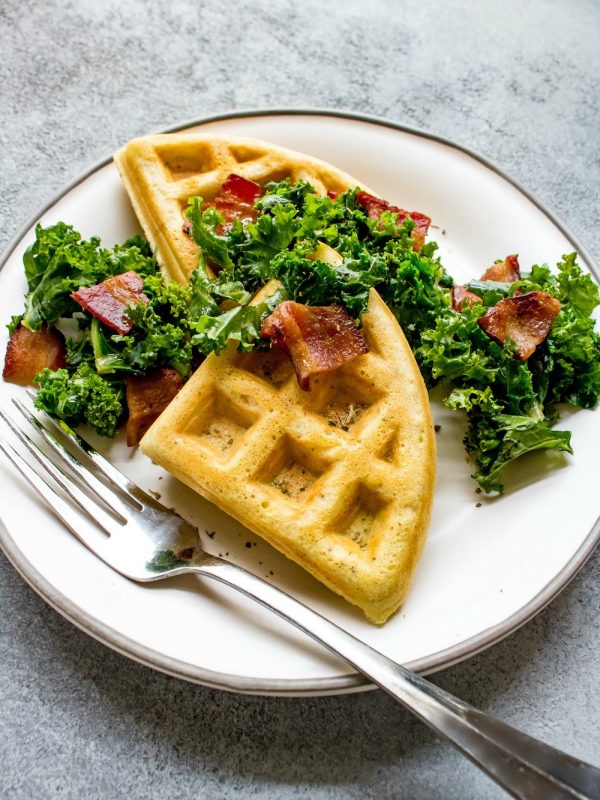 Savory Waffles With Kale and Bacon Ingredients:
For Waffles 
3/4 cup blanched almond flour 

1/4 cup arrowroot flour 

1/3 cup unsweetened almond milk 

1/4 cup melted ghee

2 large eggs

1 1/2 tsp Paleo Powder AIP Seasoning Powder  

1 teaspoon baking powder 
For Topping 
4 cups fresh chopped kale

2 strips thick cut bacon
How do you make Savory Waffles with Kale and Bacon?
This savory breakfast idea is super simple and done in no time so you can get on with the rest of your day. We love keeping things simple! After all, meal prepping is supposed to make your life easier!
Savory Waffles with Kale and Bacon takes less than 30 minutes and has minimal cleanup. To cook this meal, start by making the bacon. Mmm mm, the smell of cooking bacon! Cook the bacon, set aside, then sauté your kale in the bacon drippings for 2 minutes. Remove the kale from the heat, chop up some bacon pieces, and top the call with the bacon pieces. Set the kale and bacon aside as you make the waffles. Heat your waffle maker and prepare the savory waffles batter. Once the waffle maker is ready to go, spray it with cooking spray and make two waffles, using 2/3 cups of batter for each one. The waffles cook in 4 to 6 minutes. Cut the waffles into eight triangles (four triangles per waffle). That's it! Store your savory breakfast in meal prep containers or freezer bags if you want to freeze the waffles.
How to portion Savory Waffles with Kale and Bacon?
Place two triangle savory waffles into a meal prep container and add one cup of kale and bacon.
More savory breakfast meal prep recipes:
Whole30 Bacon & Strawberry Breakfast Salad
Apple, Bacon, Onion & Cheddar Breakfast Squares
Vegetarian Italian Sausage Egg Cups
Other tips for making Savory Waffles with Kale and Bacon:
Follow your waffle maker's instructions verbatim.
For light and fluffy savory waffles, separate your eggs. Add the beaten yolks to the wet ingredients of your batter. Then beat the egg whites until stiff and fold them into the last batter.
Don't over-mix the waffle batter.
Add yellow onion to your kale and bacon for more flavor depth.
Don't be afraid to add a little syrup if you desire. The savory and sweet combination is to die for!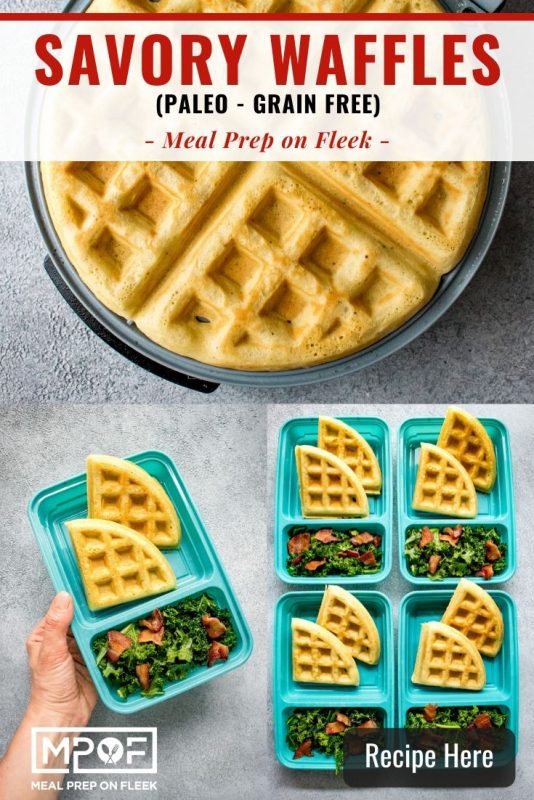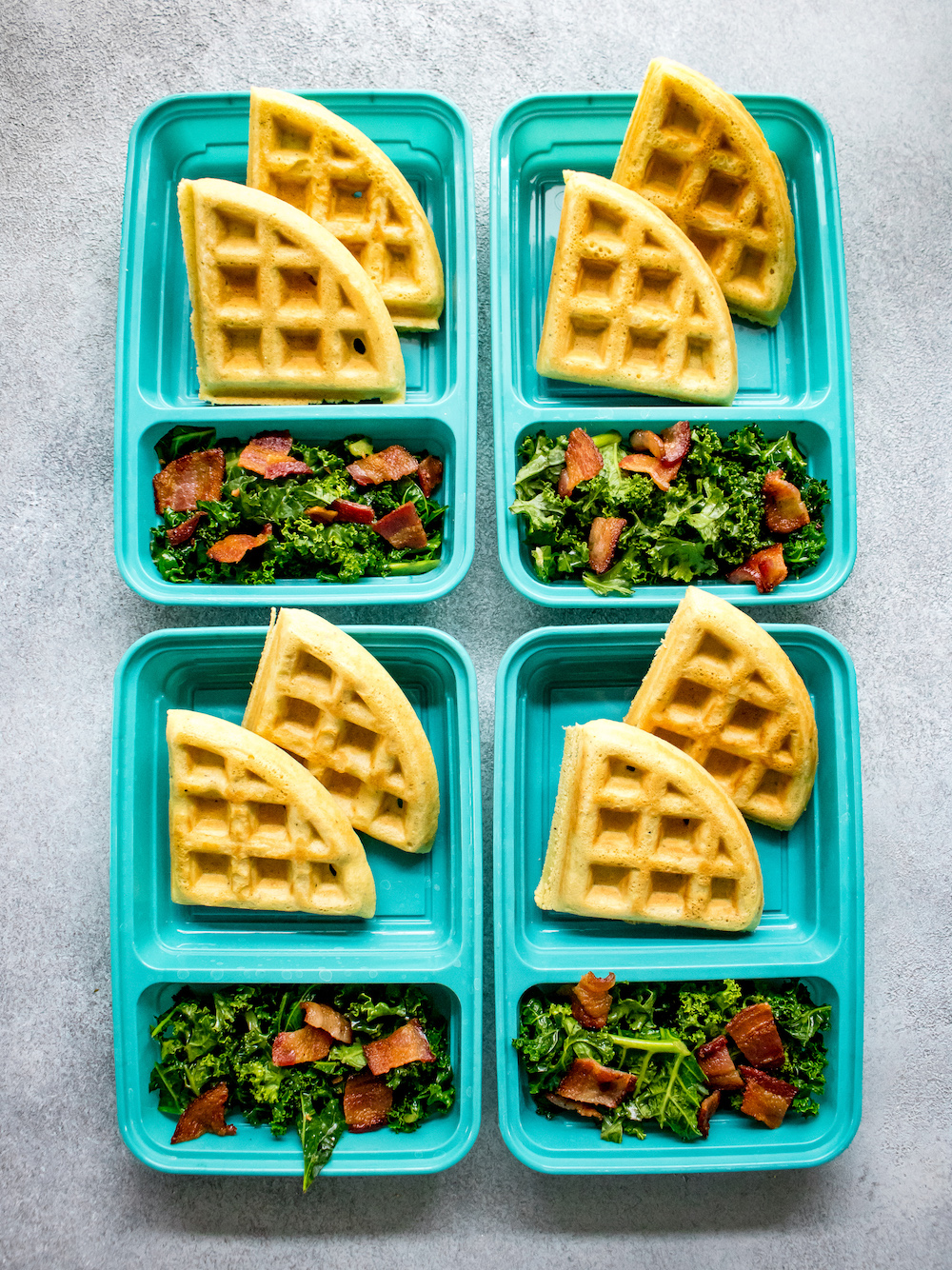 Ingredients
For Waffles
3/4

cup

blanched almond flour

1/4

cup

arrowroot flour

1/3

cup

unsweetened almond milk

1/4

cup

melted ghee

2

large eggs

1 1/2

tsp

Paleo Powder AIP Seasoning Powder

1

teaspoon

baking powder
For Topping
4

cups

fresh chopped kale

2

strips thick cut bacon
Instructions
Cook bacon in a medium skillet then add kale to the hot pan and sauté for 2 minutes in bacon drippings. Chop bacon and divide over sautéed kale in 1 cup compartments of 4 Teal MPOF containers.

Heat Belgian waffle maker according to manufacturers directions. While waffle maker heats, whisk together ingredients for waffle batter in a medium mixing bowl until smooth. If too thick, whisk in an additional 2 tablespoons of milk.

Spray waffle maker with cooking spray. Pour roughly 2/3 cup of waffle batter onto waffle maker and close lid. Cook for 4-6 minutes. Carefully remove the first waffle and set aside on a plate. Repeat with the remaining batter.

Slice waffles into 4 triangles and add 2 triangles to 4 large compartments of teal MPOF containers.
Nutrition
Calories:
408
kcal
|
Carbohydrates:
17
g
|
Protein:
13
g
|
Fat:
32
g
|
Fiber:
3
g