Vegan Dark Chocolate Cinnamon Roasted Chickpea Bark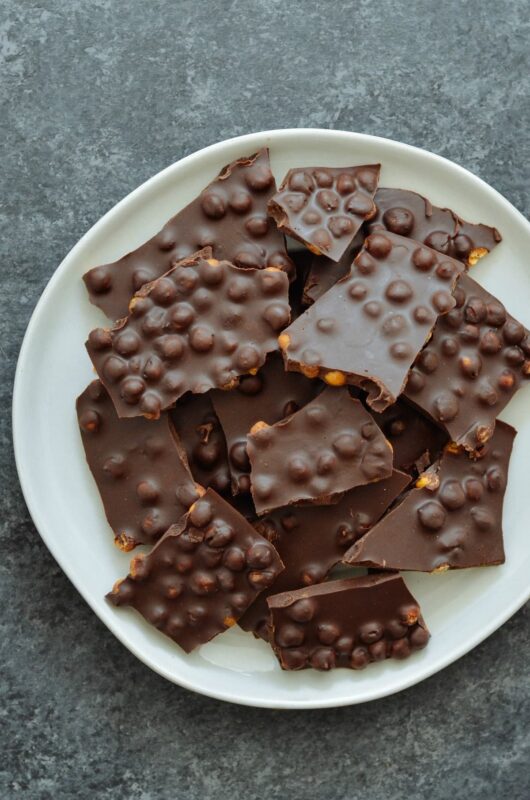 This Vegan Dark Chocolate Cinnamon Roasted Chickpea Bark has it all: sweet and salty, soft and slightly crunchy! Made with only 4-ingredients this dessert is Vegan, Gluten-Free and 100% delicious!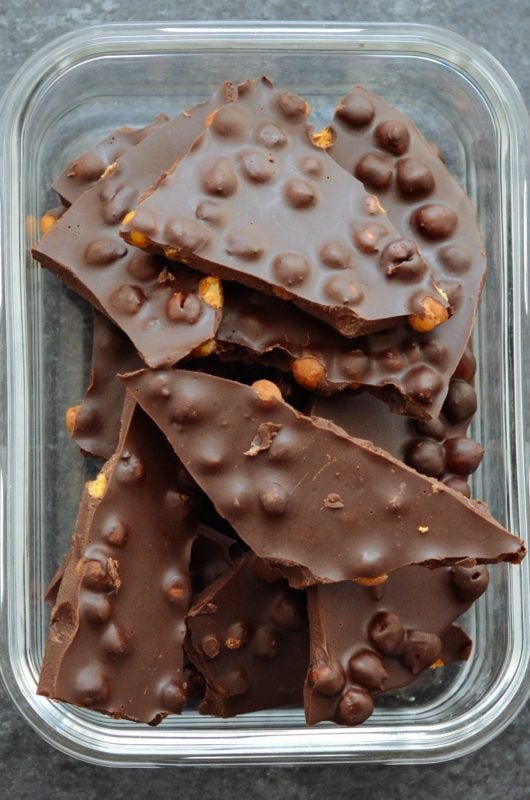 Did you know that chocolate can help you lose weight? Yup, it's true! That's why we keep sharing healthy, yet decadent feeling dark chocolate recipes with you! Life is always sweeter when you have chocolate involved.
Today, we are sharing a recipe for a vegan dessert because we have had so many requests. We wanted to add an extra nutrition/protein boost so we tossed in some chickpeas and came out with this insanely delicious Vegan Dark Chocolate Cinnamon Roasted Chickpea Bark recipe. It is definitely a dessert, but we also enjoyed it as a snack and even crumbled over some yogurt in a parfait.
The sweet, crunchy cinnamon chickpeas not only give this recipe an amazing texture but also add fiber and protein to the recipe. Believe us, this is not a savory recipe by any means. It truly tastes like a high-end rich chocolate bark. If you aren't a fan of dark chocolate then you can swap for milk chocolate or even white chocolate. Please keep in mind that these two types of chocolate do not hold the same nutritional value as dark chocolate does, but they still taste amazing!
You can also add in nuts, seeds or any kind of dried fruit to up the flavor and nutritional profile. If you make a creative twist, make sure to share with us! We would love to see it.
Watch How To Make It:
Vegan Dark Chocolate Cinnamon Roasted Chickpea Bark Ingredients: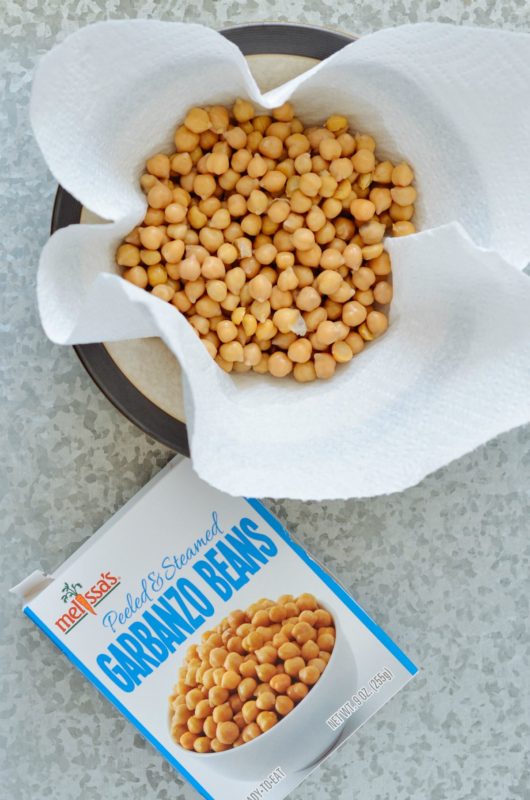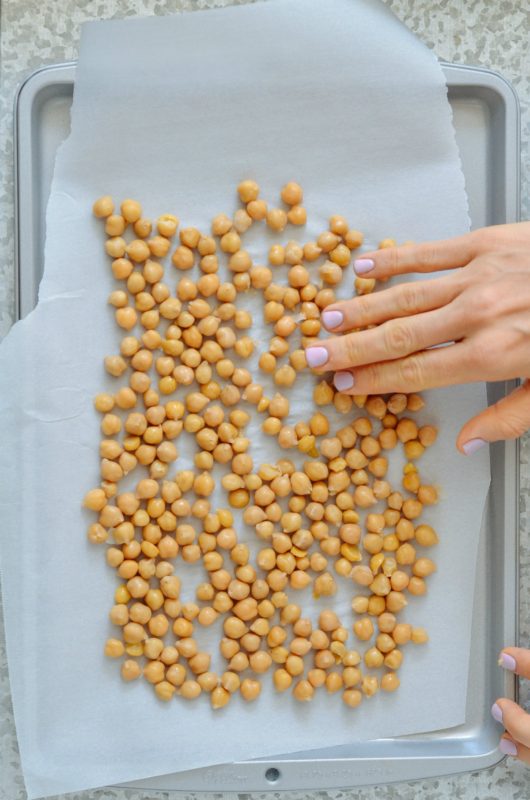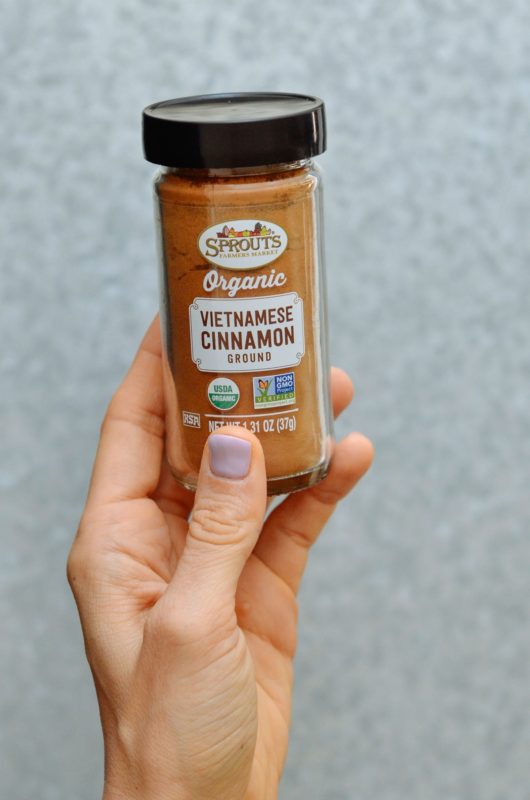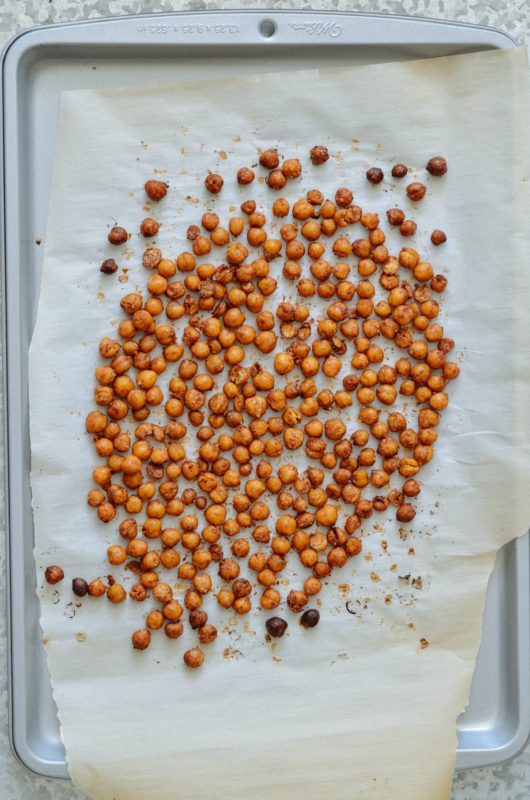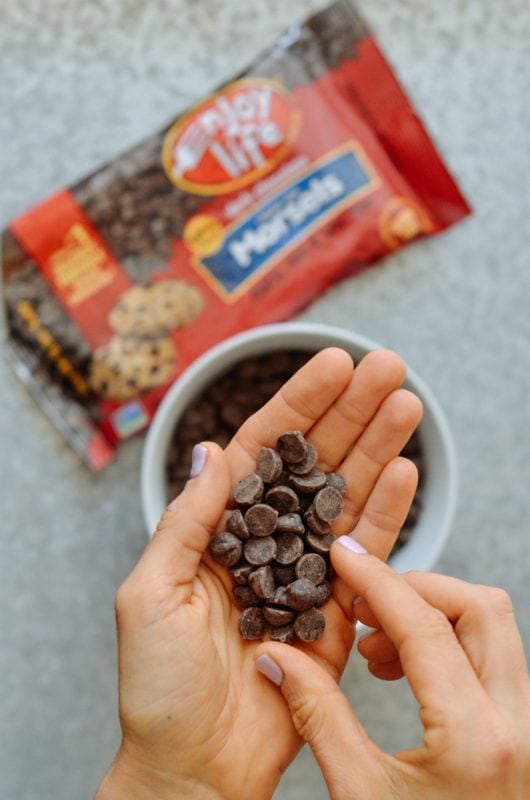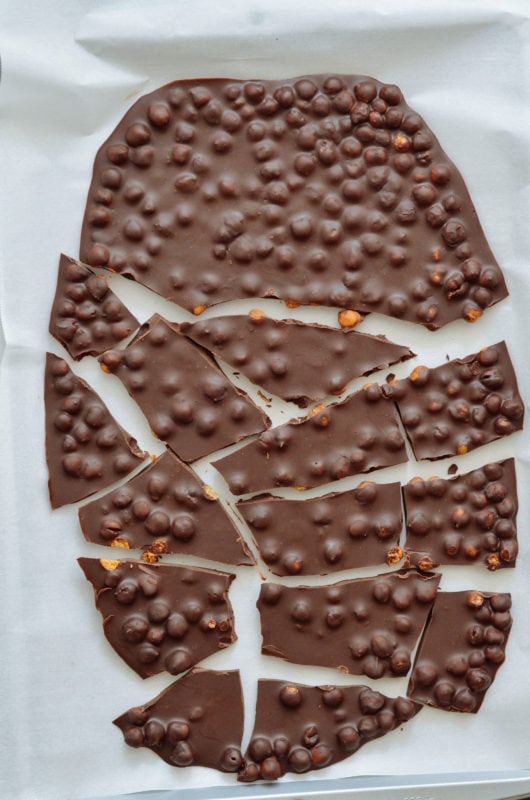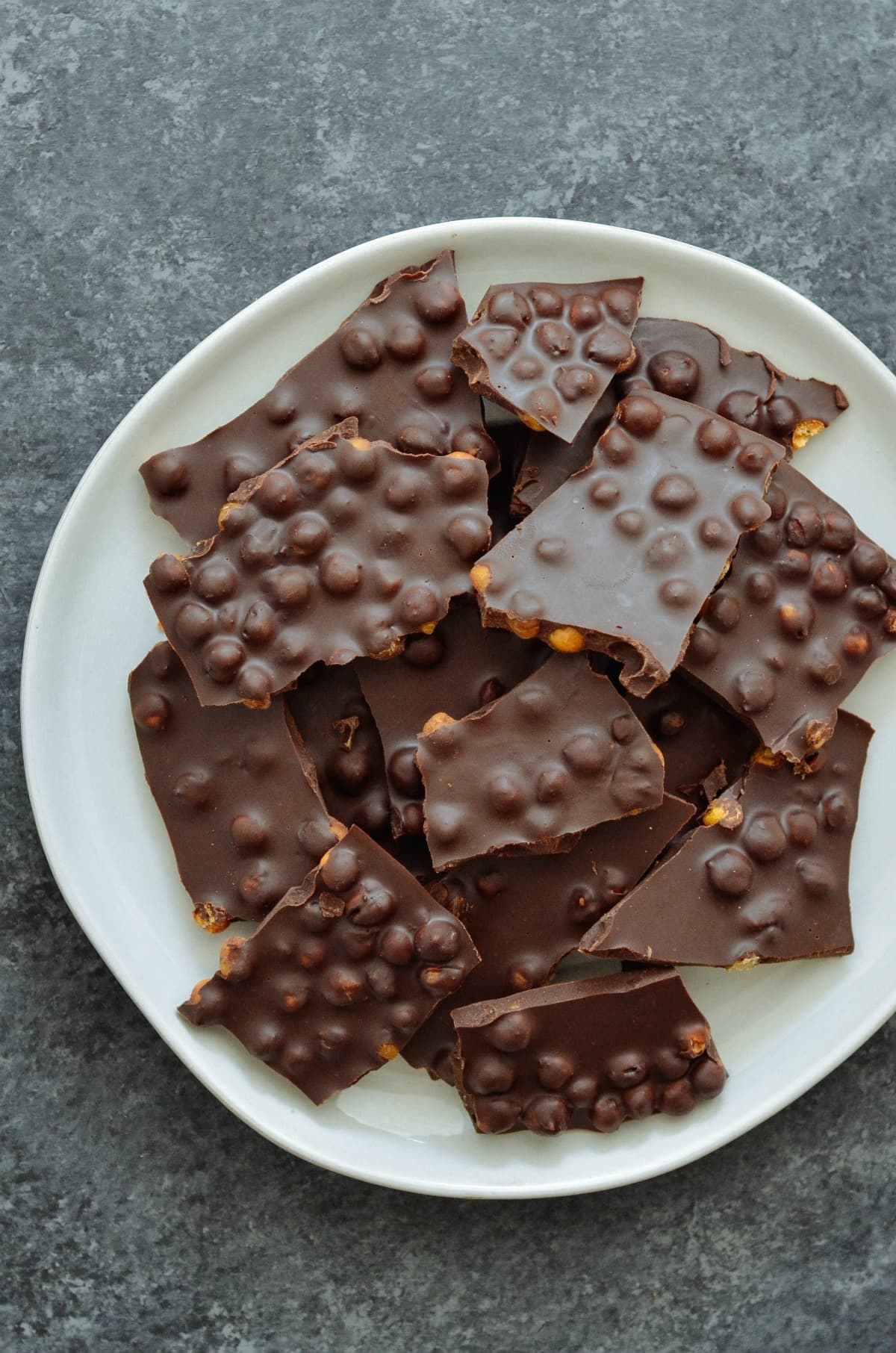 Ingredients
1

package

garbanzo beans

2.5 cups

1

tbs

Coconut Oil

1

tbs

ground cinnamon

1

cup

dairy-free chocolate chips
Instructions
Open your package of garbanzo beans pour in a strainer and rinse with cool water. Shake off excess water and pour onto a towel. Make sure all skins are removed from the beans.

Place garbanzos on a parchment lined baking sheet in a cold oven and set to 400 degrees F. Keep an eye on the beans and leave them in the oven until dry. It should take less than 10 minutes.

Once dry, place garbanzos in a small mixing bowl with coconut oil and ground cinnamon and gently mix until coated. Then sprinkle with finely ground sea salt and gently mix. Return garbanzos to baking sheet and place in 400 degree Fahrenheit oven to roast for approx. 40 minutes. Shake baking sheet in a circular motion every 10-15 minutes to ensure even roasting. Remove from oven when garbanzos are a medium brown color and crispy when tasted. Set tray on cooling rack.

While garbanzos are cooling, melt chocolate chips. Add in 1 tbs coconut oil. Chocolate should be completely melted and drip off of the end of the spoon easily. Pour chocolate in small mixing bowl and add garbanzos while they are still warm. Stir and then pour onto a baking pan with a fresh sheet of parchment paper. Spread evenly on baking sheet with spatula. Refrigerate for a few hours to solidify the chocolate. Once very firm, remove from refrigerator and either cut or break into pieces. Store in an airtight container in the refrigerate.
Notes
Nutrition for 1 out of 12 servings:
3g Protein | 16g Carbs | 10g Fat | 130 calories
Nutrition
Serving:
1
piece
|
Calories:
130
kcal
|
Carbohydrates:
16
g
|
Protein:
3
g
|
Fat:
10
g