Are you ready for a deliciously wholesome breakfast that gets you excited for the day? If so, you're going to absolutely love our sweet potato latkes meal prep snack! Our sweet potato latkes are perfect for any time of the day because they're nutritious, light, and satisfy your tastebuds. For this meal prep recipe, we pair sweet potato latkes with scrambled eggs and fruit for a complete breakfast. We top the latkes with sour cream and chives to bring the flavors together. If you're taking sweet potato latkes with you as a snack, have the sour cream in a plastic cup ready for dipping!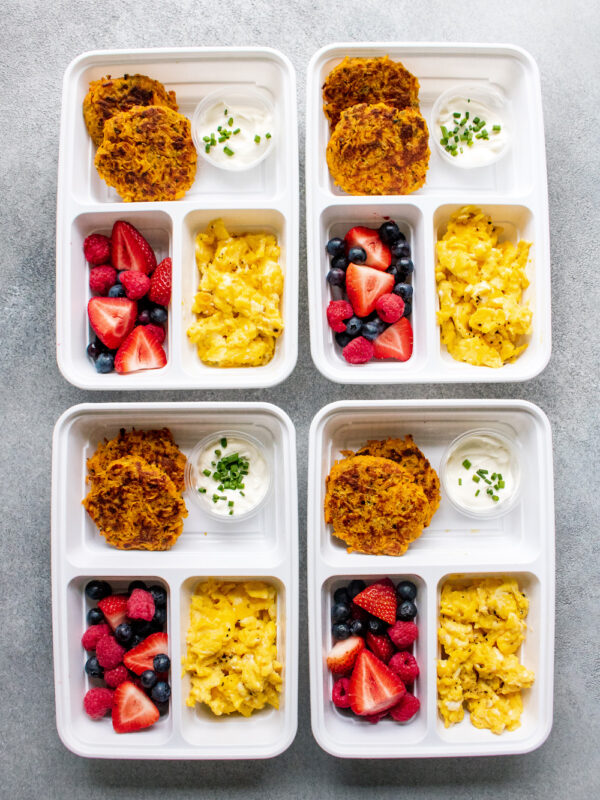 These sweet and savory sweet potato latkes are rich in fiber and antioxidants. Cassava flour helps bind the latkes with a built-in herb seasoning that's Paleo and AIP compliant. 
How long will Sweet Potato Latkes last for?
Once you cook sweet potato latkes, they will last for up to 2 days in the refrigerator. Make sure they are cool before refrigerating them and only refrigerate one layer of latkes. Do not stack them. Latkes keep better when covered in plastic, so use plastic wrap or bags. With that said, the best way to store your latkes is to freeze them.
Can Sweet Potato Latkes be frozen?
Yes, you can freeze sweet potato latkes once they're cooked. As mentioned above, this is the best way to store them since moisture and fried potatoes don't mix. Your sweet potato latkes will last for up to two weeks in the freezer. As with refrigeration, make sure the latkes are cool before freezing. Then freeze them on a cooking sheet in a single layer. When frozen, transfer your sweet potato latkes to freezer bags. When you're ready to enjoy them for a meal, defrost the latkes in your refrigerator the night before.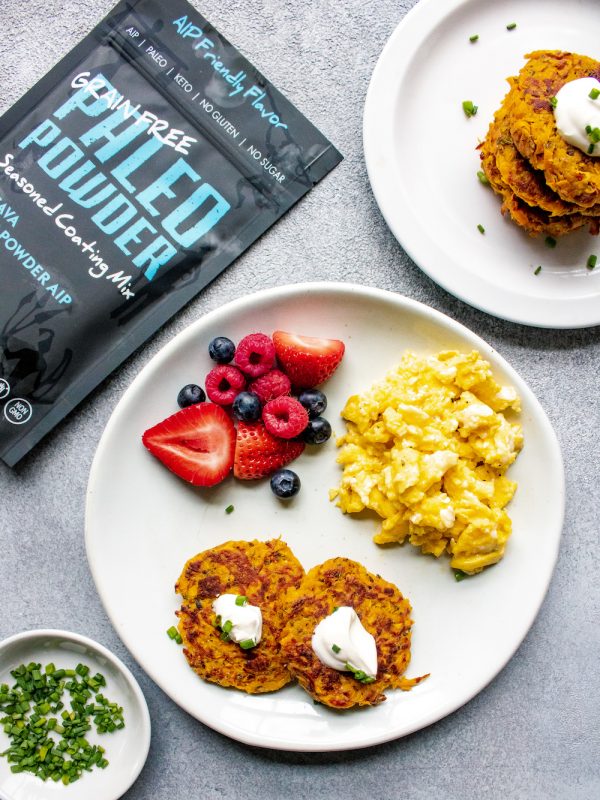 Sweet Potato Latkes Ingredients:
For Latkes
1 lb. peeled sweet potatoes, grated used a box grater

1 large egg 

2

tbsp

olive oil for cooking 
For Serving 
8 eggs, scrambled

1/4 tsp sea salt 

1/8 tsp cracked black pepper 

2 cups mixed berries 

1/2 cup dairy-free sour cream (Forager brand) 

1

tbsp

fresh chopped chives, optional 
How do you make Sweet Potato Latkes?
Let's get ready for crispy sweet potato latkes in only 31 minutes! To start, squeeze out all moisture from your shredded sweet potatoes with a towel. Then, put the shredded sweet potatoes into a bowl with your egg and Paleo powder, mix well. Form eight 3-inch latkes and fry them in a heated pan for 4 minutes on each side. Allow your latkes to cool before serving.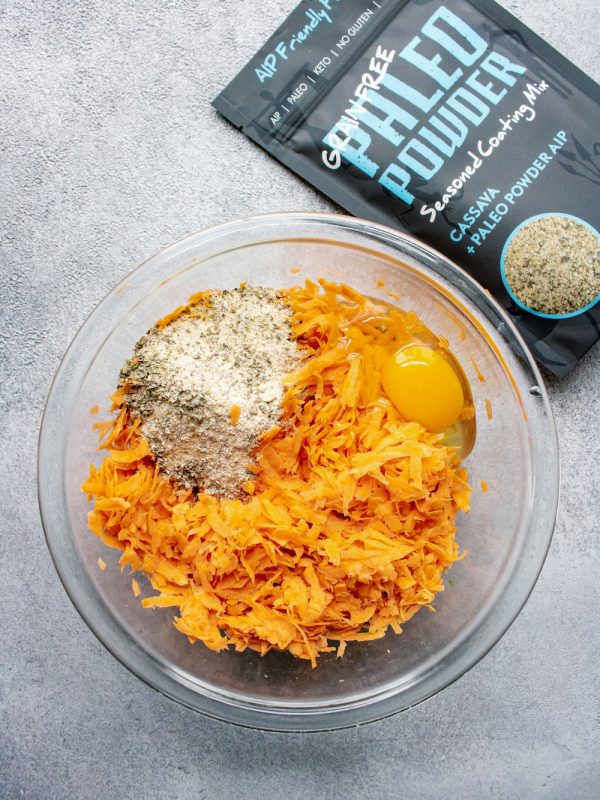 How to portion Sweet Potato Latkes?
Enjoy Sweet Potato Latkes as a snack or pair them with sides for a complete meal. This meal prep recipe is for breakfast and stored in four of our MPOF three-compartment meal prep containers. Place two latkes in each container with a side of sour cream and chives with fruit and scrambled eggs in the 1-cup compartments.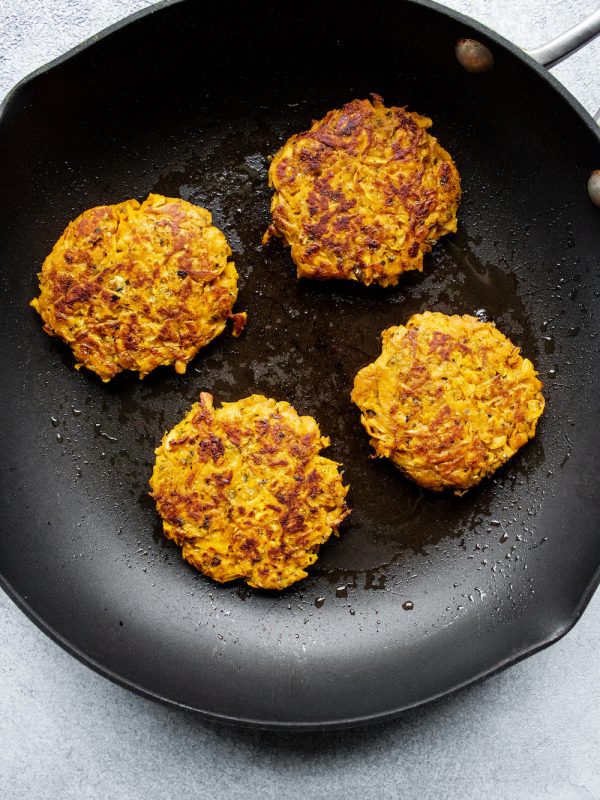 More sweet potato meal prep recipes:
Sweet potatoes are full of antioxidants and other nutritional benefits, making them an ideal substitute for regular potatoes (check out our blog 10 Best Health Benefits of Sweet Potatoes for more information). Try these sweet potato recipes and tell us what you think!
BBQ Pulled Chicken Stuffed Sweet Potatoes
Vegan Sweet Potato Chipotle Bowl
Southwestern Stuffed Sweet Potatoes
Garlic Sweet Potato Wedges With Hummus
Buffalo Chicken Stuffed Sweet Potato Skins
Sheet Pan Sweet Potato Breakfast Hash
Steak, Sweet Potato and Apple Hash Meal Prep
Leftover Turkey Sweet Potato Shepherd's Pie
Quinoa Stuffed Sweet Potato Meal Prep – 3 Ways!
Pulled Pork Sliders With Sweet Potato Buns
Scrambled Egg Stuffed Sweet Potato Meal Prep
Sweet Potato Wedges With Tahini
Sweet Potato & Black Bean Veggie Burger Meal Prep
Gluten Free Sweet Potato Pizza Meal Prep
Baked Lentil Sweet Potato Falafels with Avocado Cream Sauce
Whole30 Zucchini & Sweet Potato Hashbrown Meal Prep
Cinnamon Raisin Sweet Potato Snack Bread
Jalapeno Sliders With Sweet Potato Bun Meal Prep
BBQ Chicken Meal Prep with Roasted Brussels Sprouts and Sweet Potato
Other tips for making Sweet Potato Latkes:
Do not cook over 4 latkes at a time.
Flip sweet potato latkes when you see them browning. Only flip them twice.
Use a food processor to shred your potatoes instead of a grater. You can use a grater, but a food processor gives you shoestring-consistent potatoes. The shoestring-consistency lends itself well to frying because the potato pieces will stay together. Plus, a food processor will grate the sweet potatoes faster.
We recommend using a towel to dry your potatoes, but if you can, use cheesecloth instead.
When you drain the sweet potatoes, wring out the water and use the starch as a binder to form the latkes.
Add salt to your latkes right before frying.
Try frying with canola or peanut oil for crispier latkes.
Feel free to substitute sour cream for plain Greek yogurt.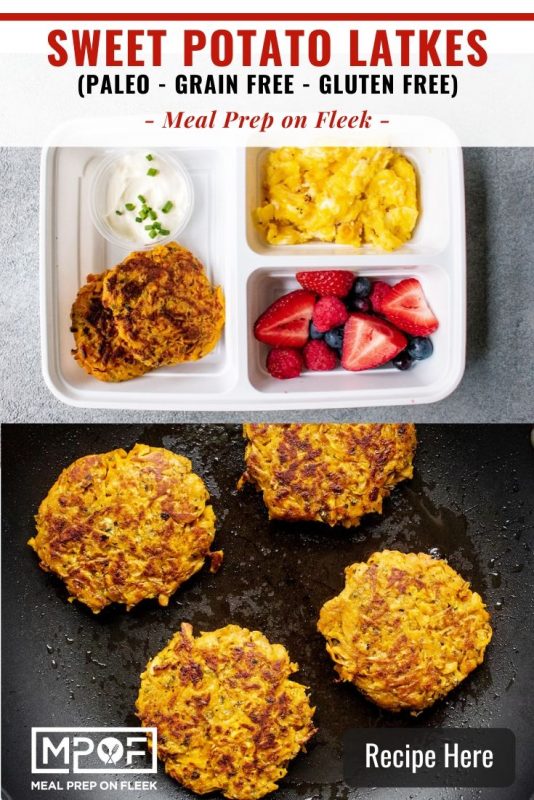 Ingredients
For Latkes
1

lb.

peeled sweet potatoes

grated used a box grater

1

large

egg

2

tbsp

olive oil for cooking
For Serving
8

large

eggs

scrambled

1/4

tsp

sea salt

1/8

tsp

cracked black pepper

2

cups

mixed berries

1/2

cup

dairy-free sour cream

we used Forager brand

1

tbsp

fresh chopped chives

optional
Instructions
Place shredded sweet potatoes on a clean kitchen towel and squeeze to remove moisture. Transfer to a bowl and add Cassava Paleo Powder and egg. Stir well to mix.

Form sweet potato mixture into 8 latkes about 3 inches in diameter and place on a parchment paper-lined plate.

Heat oil over medium-high heat in a medium skillet for 2 minutes. Add 4 latkes and cook for 4 minutes on each side. Repeat with remaining latkes.

Add 2 latkes to 4 large compartments of white MPOF containers. Add a small cup of sour cream to each container and sprinkle chives on top. Divide scrambled eggs between 1 cup compartments and sprinkle with sea salt and black pepper. Add berries in the other 1 cup compartments. Refrigerate until enjoying.
Nutrition
Calories:
420
kcal
|
Carbohydrates:
31
g
|
Protein:
17
g
|
Fat:
23
g
|
Fiber:
4
g