Keto ranch dressing can be made very easily and it's so delicious, you'll never go back to the premade stuff!
Sure, it's easy to buy a ranch dressing. After all, it's one of America's most beloved salad dressings. But a keto ranch dressing is a little trickier to come by, without spending a chunk of change.
If you've never made ranch from scratch before, be prepared to fall in love with it. There's just no comparison to store-bought! The beauty of making a dressing from scratch is that you know everything that goes into it. And in this case, it's a handful of dried herbs, some mayo and buttermilk, and a bit of salt. There's no sugar, preservatives, or other weird and unpronounceable ingredients that probably have no business being on your salad. Or around veggies at all. You'll be so glad you did, and then you'll be looking for excuses to use it. Try it on a salad or as a dip for veggies or even as a dip for french fries (you'd be surprised how good that is!).
Keto Ranch Dressing Ingredients
⅔ cup mayonnaise
¼ cup buttermilk
1 teaspoon dried chives
½ teaspoon dried dill
½ teaspoon dried parsley
¼ teaspoon dried garlic
¼ teaspoon granulated onion
Salt to taste
How to Make Keto Ranch Dressing
Get yourself a medium sized bowl. Add all the ingredients to it and stir until everything is evenly combined. Ta-da! You've got ranch dressing, keto-style!
How to Store and Serve Keto Ranch Dressing
Once you've made the dressing you can meal prep it, as you see here. We love it with cut-up veggies like colorful bell peppers, carrots, and cucumbers. You can also serve it with celery, cherry tomatoes, sliced zucchini, halved mushrooms, and sugar snap peas. I mean, almost any veggie tastes good when it's dipped into ranch dressing. Oh! Don't forget broccoli and cauliflower! Those florets have perfect nooks and crannies for ranch dressing to sink into!
In terms of storage, this keto ranch dressing will keep in an airtight container for up to a week. If you don't want to meal prep it, as we've done here, store it in a glass jar with an airtight lid. I like to use jelly jars or old jam or other small jars I've saved for this purpose.
Substitutions and Alterations
This dressing is pretty awesome as the recipe is written, but you can make some substitutions. You can certainly use fresh versions of all the dried herbs, which would make the flavors a lot brighter and the herbal notes more pronounced. You wouldn't need too much though; you could double the amount of each herb and it would be very flavorful. Just make sure it's all finely chopped.
If you don't have buttermilk, you can always make it with whole milk and a bit of lemon juice or apple cider vinegar (no more than a tablespoon). Or, you can substitute the buttermilk for plain yogurt (Greek or otherwise) or even sour cream; you'd just need to thin it out with water a bit so that it can be easily blended and it's not too thick to pour.
MORE RANCH RELATED RECIPES!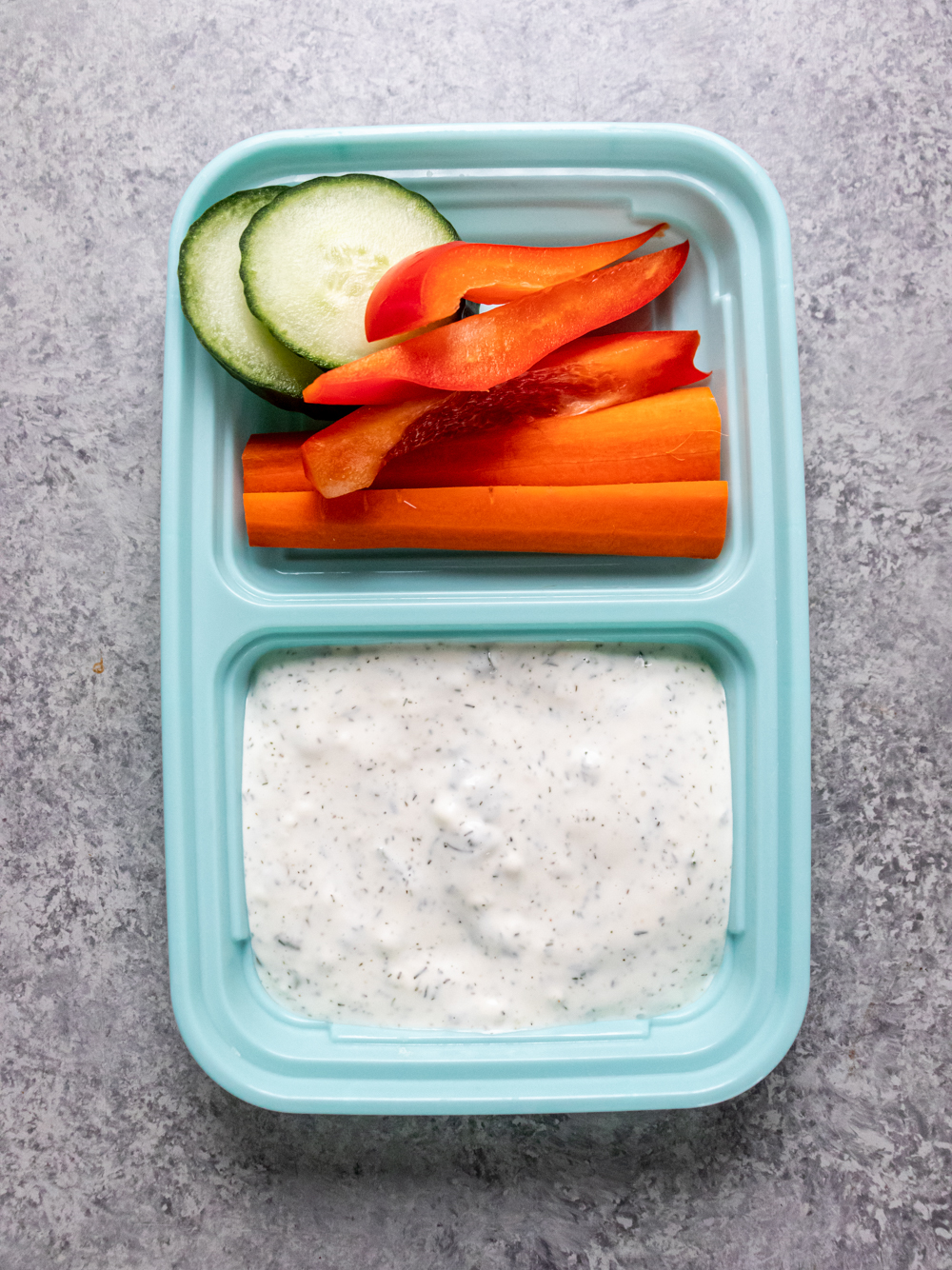 Ingredients
⅔

cup

mayonnaise

¼

cup

buttermilk

1

teaspoon

dried chives

½

teaspoon

dried dill

½

teaspoon

dried parsley

¼

teaspoon

dried garlic

¼

teaspoon

granulated onion

Salt

to taste
Instructions
Combine ingredients for dressing in a mixing bowl. Stir until well combined and smooth.

Divide dressing between 4 MPOF snack containers. Divide sliced vegetables between remaining containers. Refrigerate.
Nutrition
Calories:
268
kcal
|
Carbohydrates:
2
g
|
Protein:
1
g
|
Fat:
28
g
|
Saturated Fat:
5
g
|
Polyunsaturated Fat:
17
g
|
Monounsaturated Fat:
6
g
|
Trans Fat:
0.1
g
|
Cholesterol:
17
mg
|
Sodium:
254
mg
|
Potassium:
72
mg
|
Fiber:
0.4
g
|
Sugar:
1
g
|
Vitamin A:
898
IU
|
Vitamin C:
8
mg
|
Calcium:
33
mg
|
Iron:
0.4
mg