Whole30 Bacon & Strawberry Breakfast Salad
Breakfast salad. You read that right, we're switching things up around here. This isn't your typical breakfast meal prep idea. Now before you give us the side eye and go back to that plate of hashbrowns, hear us out. We were thinking about calling this The Best Dang Salad You've Ever Had That Just Happens to Be For Breakfast, but it didn't quite have the same ring to it, you know? Let's dive in. Arugula, strawberries, avocado, eggs…. BACON. You would normally have the majority of those items on your breakfast plate anyway, right? So why not bring arugula to the party? Arugula is a beautiful green from the Mediterranean with a crisp, peppery bite that immediately elevates any plate it touches. It's high in fiber, potassium, calcium, and folate as well, earning its spot as both a delicious and beneficial addition to the standard breakfast plate. And did we mention that this arugula has bacon on it?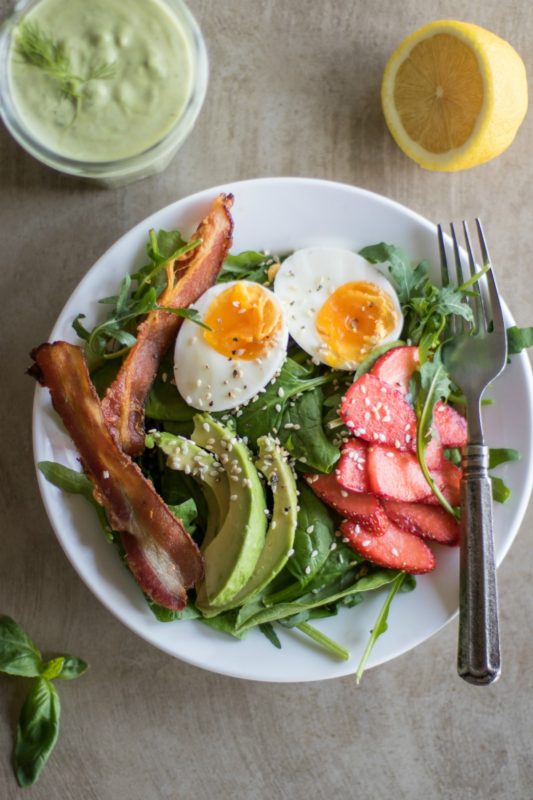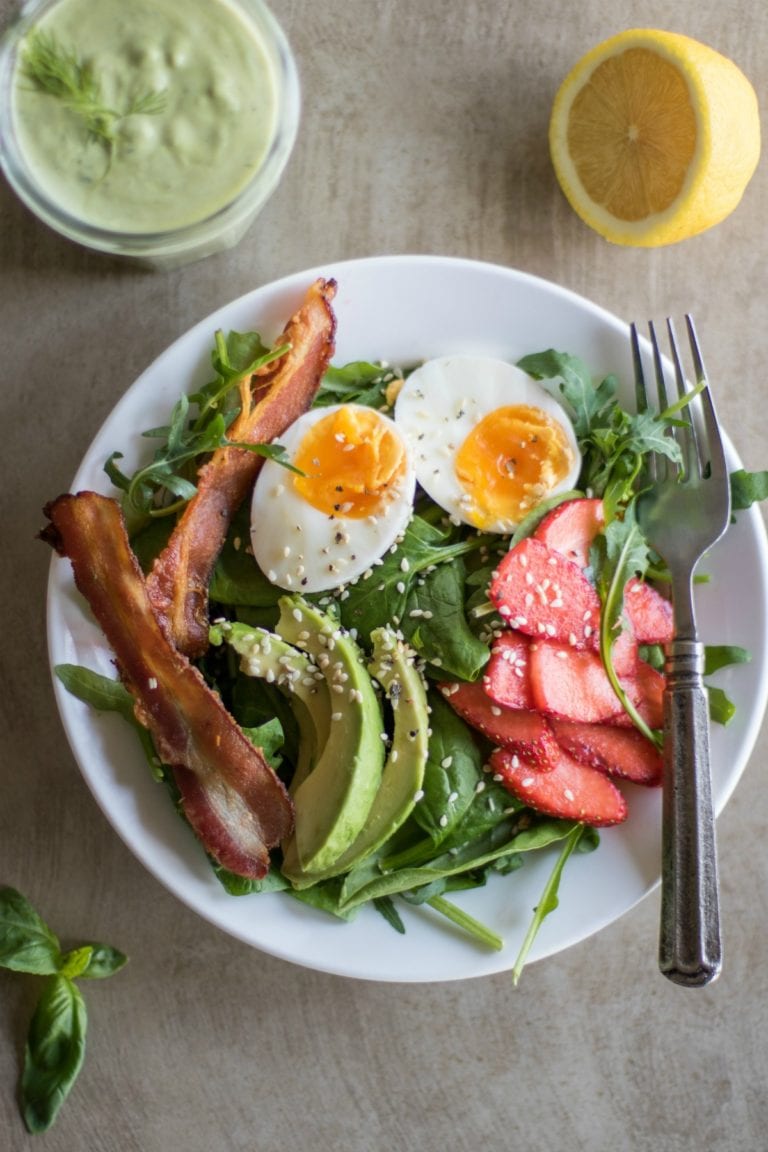 We're fruit lovers here at MPOF, and strawberries are a fam favorite. Strawberries are low-calorie, fiber-rich fruits that also pack a much needed punch of vitamins and minerals. And their sweet flavor is a perfect complement to the rest of the ingredients in this dish: peppery arugula, rich avocado, savory eggs, and fatty bacon. A note that strawberries are often pretty high on the Dirty Dozen list, an annual resource for determining which of our conventionally grown produce items typically come to us with the most pesticides on them. Because of the strawberry's soft flesh, this fruit is particularly susceptible to absorbing the pesticides it's especially likely to be treated with. Buy organic whenever possible!
We like to enjoy this unique dish with a beautiful garlicky Green Goddess Dressing made with tahini and fresh herbs such as parsley, basil, and dill. Perfectly appropriate for the fresh Mediterranean base of this breakfast salad. And even with all of that added deliciousness, this meal prep idea is still Whole30 approved!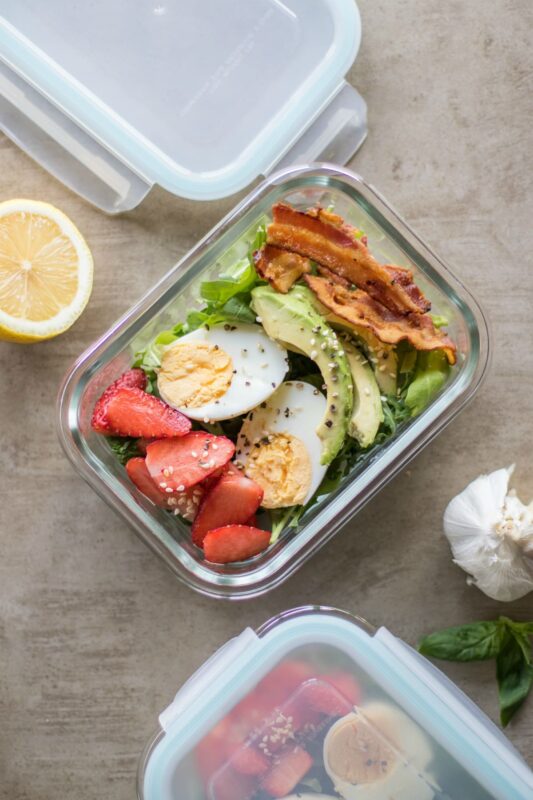 The usual suspects at breakfast make an appearance in this healthy arugula salad. Top this off with a creamy tahini green goddess dressing, or use your favorite Whole30 approved salad dressing.
Whole30 Bacon & Strawberry Breakfast Salad Ingredients:
6 cups arugula
1 pint strawberries
8 slices bacon
4 eggs, hard boiled
1 large avocado
Tahini Green Goddess Dressing:
¼ cup tahini
3 tablespoons lemon juice
3 tablespoons white wine vinegar
2 tablespoons olive oil
2 tablespoons water
1 clove garlic
Sea salt, to taste
¼ cup fresh parsley
¼ cup fresh basil
2 tablespoons fresh dill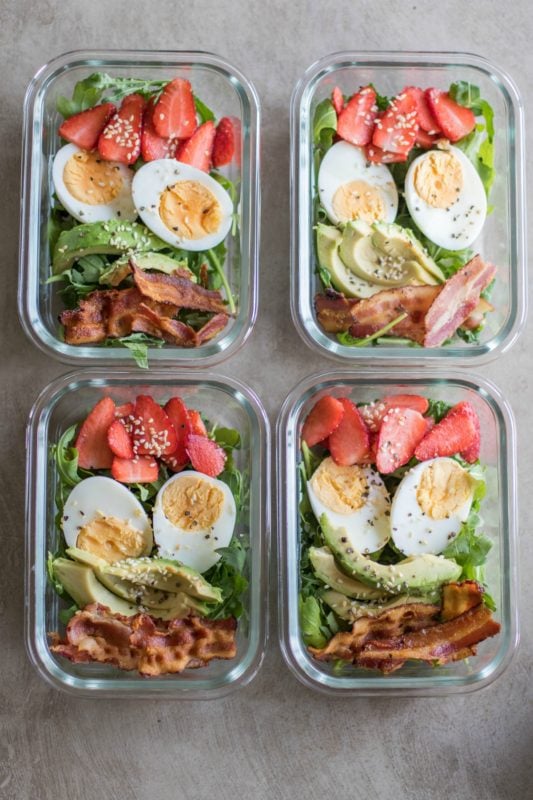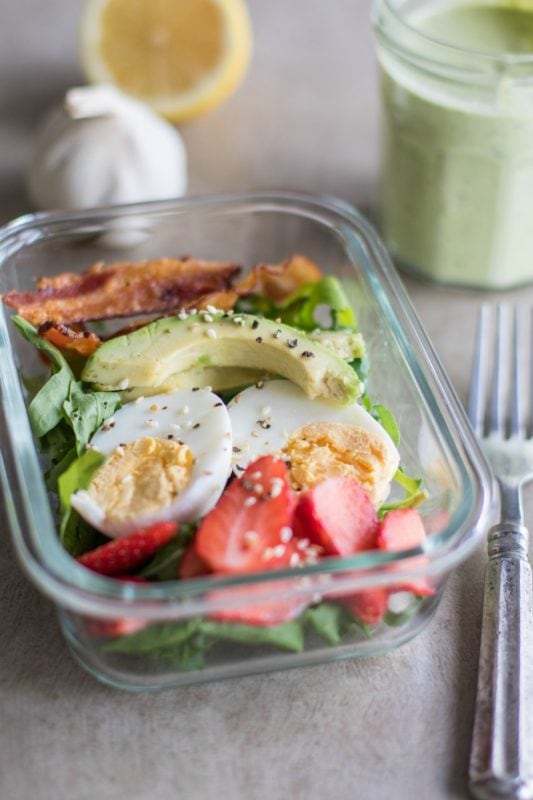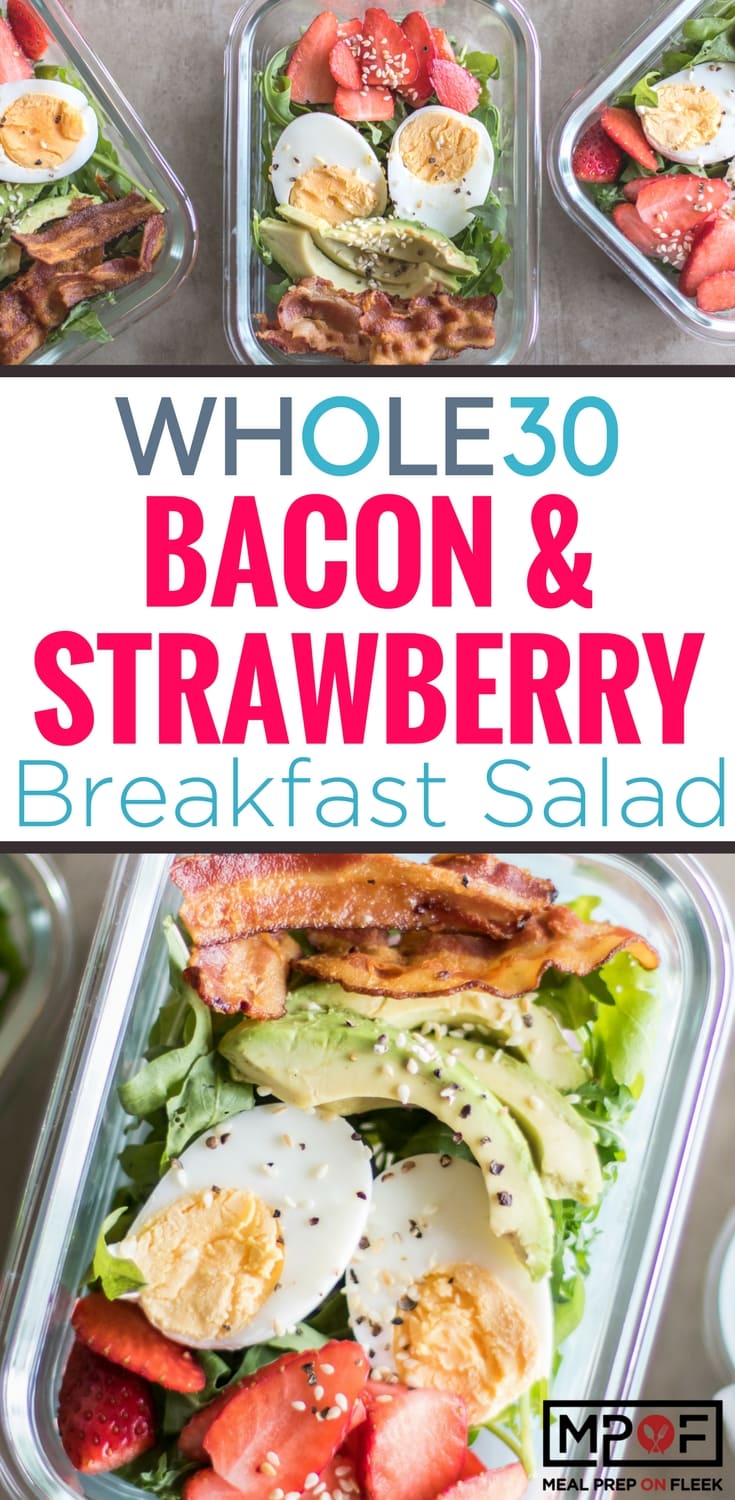 References:
https://www.healthline.com/health/food-nutrition/arugula#benefits

https://www.ewg.org/foodnews/dirty-dozen.php
Ingredients
6

cups

arugula

1

pint

strawberries

8

slices

bacon

4

large

hard boiled eggs

1

medium

Avocado
Tahini Green Goddess Dressing
1/4

cup

tahini

3

tbs

lemon juice

3

tbs

white wine vinegar

2

tbs

olive oil

2

tbs

Water

1

clove

garlic

Sea Salt

1/4

cup

fresh parsley

1/4

cup

fresh basil

2

tbs

fresh dill
Instructions
Prepare the dressing by adding all ingredients through sea salt to a blender, and blending until smooth. Add the fresh herbs, and pulse until combined. Keep your dressing stored separately from salads until ready to enjoy.

Cook bacon over medium high heat to desired doneness.

Add arugula, sliced strawberries, eggs, and bacon to salad containers. Add avocado the day of serving.
Notes
Macros for 1 out of 4 servings:
16g Protein | 17g Carbs | 36g Fat | 429 Calories
WW Smart Points= Green:12  Blue:10  Purple:10
Nutrition
Serving:
1
meal
|
Calories:
429
kcal
|
Carbohydrates:
17
g
|
Protein:
16
g
|
Fat:
36
g