General Tso's Chicken Cauliflower Bowls
For the vegan or vegetarian, a lot of Chinese food falls into the category of hard pass. Even if a dish is free of meat, that doesn't mean it's necessarily free of all animal products. Still, other vegans/vegetarians admit to liking the way meat in traditional Chinese food tastes, but they avoid it for ethical, religious, or other reasons. We have no shortage of alternative meal prep ideas though, so today we want to show you a fantastic way to enjoy Chinese food without having to eat meat at all— these General Tso's chicken cauliflower bowls!
We love this meal prep idea because it substitutes chicken with cauliflower! Cauliflower is an excellent replacement because, like tofu, it absorbs the flavor of what you cook it in! So if you're a fan of the traditional version, these General Tso's chicken cauliflower bowls will be perfect for you. And that's just the taste! Cauliflower also boasts a myriad of health benefits, with just one cup containing almost 80% of your recommended daily allowance (RDA) of vitamin C, 20% of your RDA for vitamin K, 14% of your RDA of folate, and 3g (about 10% of your RDA) of fiber to help you feel full and regulate your blood sugar!
How long will these General Tso's cauliflower bowls last for?
Just one more reason we love cauliflower is the fact that it has such a long shelf life—14 days (or two weeks) when refrigerated properly! That means that these General Tso's chicken cauliflower bowls truly are an excellent meal prep idea, to the point that you could even probably make more than a week's worth at a time without any danger of spoilage occurring!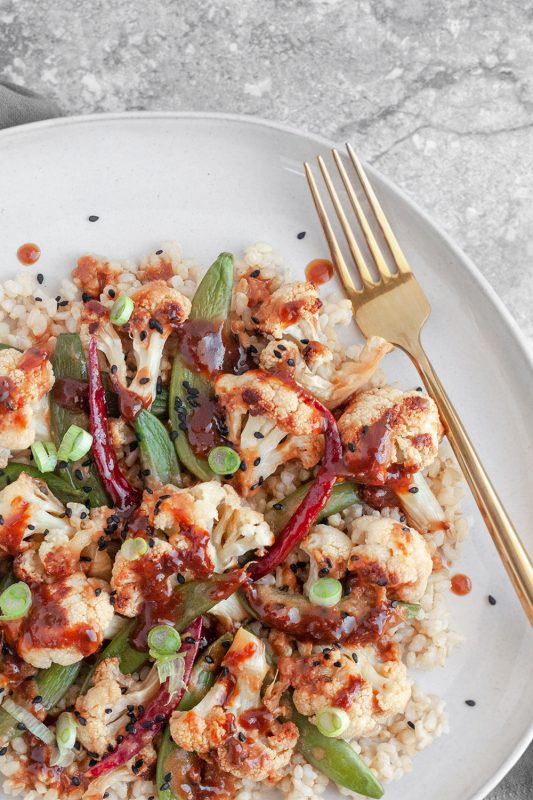 Can these General Tso's cauliflower bowls be frozen?
Another fantastic benefit of this meal prep idea is that its longevity isn't limited to being stored in the fridge! We found that we could store it in our freezer practically forever because the freezer shelf life of cauliflower is about 8 months! Check out some tips on how to store cauliflower properly?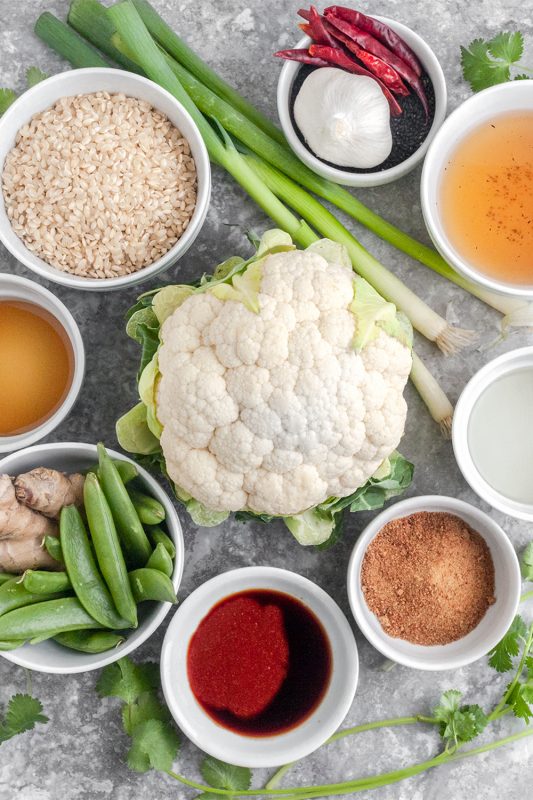 How do you make these General Tso's cauliflower bowls?
Part of the joy that this meal prep idea brings is that it's so simple to make! Start by heating your oven to 425℉ and lining a baking sheet with foil. Toss the cauliflower in the General Tso's sauce until all pieces are well-coated, then roast in the oven for 20-25 minutes. The goal is to have your cauliflower be tender and slightly browned. Make sure you flip each piece over halfway through the baking process. Boil the sauce while the cauliflower bakes, then layer the roasted cauliflower and snap peas on top of the rice. Drizzle sauce, and voila, you're ready to eat!
How to portion these General Tso's cauliflower bowls?
These cauliflower bowls are so much fun because they feature not only many components that form complex flavors, but a couple of different side dishes too! It is for this reason that we recommend portioning each meal into three compartment meal prep containers! For more info on which containers we recommend, check out Our Ultimate Guide to Meal Prep Containers!
More cauliflower meal prep ideas:
We know how fantastic and versatile cauliflower is, and that's why we love it so much! If you want more meal prep ideas for incorporating more of it into your diet, consider making these Sweet and Sour Cauliflower Bites (also Chinese-inspired), or our Cauliflower Steak with Quinoa & Tahini Meal Prep recipe for your next set of prepped meals!
Other tips for making these General Tso's cauliflower bowls:
Consider substituting traditional white cauliflower with orange or purple cauliflower heads! Orange cauliflower has twenty-five times the amount of beta-carotene as its white counterpart, adding even more health benefits to this meal prep idea.

Not a fan of the way cauliflower smells as it boils? Understandable! Try throwing a few chunks of bread into the water to diminish it.

Make sure you don't overcook your cauliflower. Doing so will only make it break into smaller pieces which are more difficult to eat.

General Tso's Cauliflower Bowls Ingredients:
Cauliflower:
1 Large Head Cauliflower (cut into florets)

2 Tbsp. Avocado Oil

1 tsp. Corn Starch

1 Tbsp. Tamari or Coconut Aminos
General Tso's Sauce
4-5 Dried Small Red Chilies

2 C. Cooked Short Grain Brown Rice

1 C. Sugar Snap Peas or Snow Peas (lightly steamed)

1 C. Vegetable Broth or Stock

1/4 C. Tamari or Coconut Aminos

3.5 Tbsp. Coconut Sugar

2 Tbsp. Grated Ginger

2.5 Tbsp. Rice Vinegar

1 Tbsp. Grated Garlic

2.5 tsp. Sesame Oil

2.5 tsp. Sriracha

2 tsp. Tahini

1 tsp. Corn Starch
Optional: Black Sesame Seeds and Green Onions
Ingredients
Cauliflower
1

large

head cauliflower

cut into florets

2

tbsp

avocado oil

1

tsp

corn starch

1

tbsp

Coconut Aminos
General Tso's Sauce
4-5

dried small red chiles

2

cups

cooked brown rice

1

cup

sugar snap peas

lightly steamed

1

cup

vegetable stock

1/4

cup

Coconut Aminos

3.5

tbsp

Coconut Sugar

2

tbsp

grated ginger

2.5

tbsp

rice wine vinegar

1

tbsp

grated garlic

2.5

tsp

sesame oil

2.5

tsp

Sriracha

2

tsp

tahini

1

tsp

corn starch

black sesame seeds

optional
Instructions
Preheat oven to 425℉ and line a large baking sheet with foil. Set aside. 

In a mixing bowl, toss together all cauliflower ingredients until cauliflower is well-coated. Place in oven and roast for ~20-25 minutes (flipping halfway through) until tender and slightly browned. 

While the cauliflower roasts, prepare the sauce by whisking all ingredients until well-combined. 

Next, heat sauce mixture in a large skillet over medium/high heat until boiling. Then, lower heat and simmer (stirring occasionally) for ~15-20 minutes or until slightly thickened. 

Layer cauliflower on top of rice, alongside snap peas and a drizzle of sauce. Top with optional ingredients. 

Serve, store, and enjoy! 
Notes
Nutrition for 1 out of 4 servings:
6.2g Protein | 56.4g Carbs | 11.9g Fat | 5g Fiber | 356 Calories
Nutrition
Serving:
1
meal
|
Calories:
356
kcal
|
Carbohydrates:
56.4
g
|
Protein:
6.2
g
|
Fat:
11.9
g
|
Fiber:
5
g