Meal Prep Ideas – Double Chocolate Donuts
Is a vegan lifestyle void of tasty treats? Nope! Say hello to this sweet vegan indulgence, another one of our delectable meal prep ideas. Drum roll please…., Meal prep ideas presents our Chocolate donuts recipe! We can already hear the cheers of those sweet tooth owners who are sure happy for such a toothsome snack. Within 35 minutes, your chocolate donut snack can be ready for snacking.
A sweet vegan treat for snack time! These baked double chocolate donuts are made healthier by using oat and almond flours.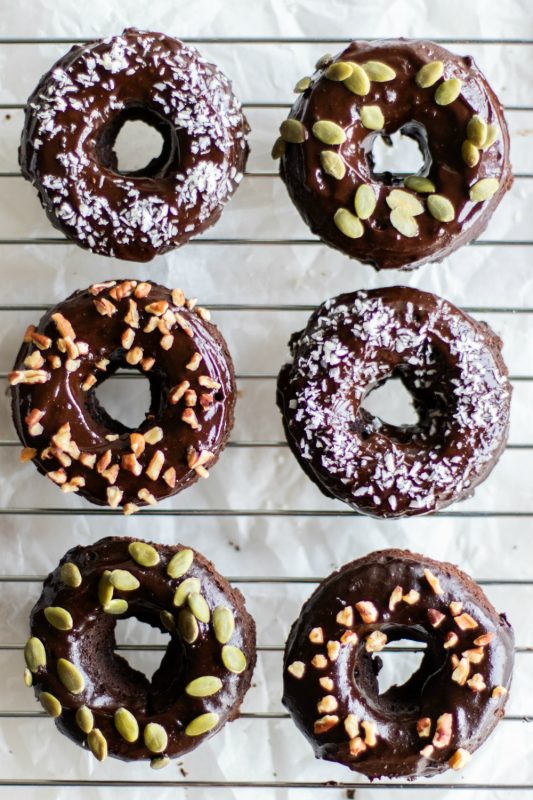 How Long Will
Chocolate Donuts
Last For?
Sadly, a good donut can last for three hours at room temperature before losing that awesome fresh taste. Yet they will comfortably last for 1 to 2 days in an airtight container before mold growth and drying out. If you put your chocolate donuts into airtight meal prep containers or storage bags in the fridge, they could last 5 to 7 days. Although they tend to get a bit soggy and the glaze may melt off.
Can
Chocolate Donuts
Be Frozen?
Indeed the product of this meal prep ideas recipe can remain frozen for 3 months. Of course to achieve this result they must be properly stored in airtight containers or heavy-duty freezer bags. Also, you may have to do a few other things first before we get to that possible 3 months of storage.
Use wax paper to cover a cookie sheet. Then place your glazed donuts in one layer on the sheet with sufficient space so that they don't touch. Place the cookie sheet into the freezer for 4 to 6 hours or overnight. Ensure they are completely frozen before removal from the freezer. Once you remove them from the freezer, use a spatula to remove each donut from the sheet and place into a storage container or freezer-bag one at a time. Do so quickly, you wouldn't want your chocolate donuts to thaw out right away!
How Do You Make
Chocolate Donuts
?
Gather your measured ingredients, mixing bowl, donut pan, and other necessary items. Let's get ready to bake our batch of scrumptious chocolate donuts. For this recipe, there are two things we need to make, the donut batter and the glaze. Let's begin
Preheat oven to 350 ℉. Mix your dry ingredients together in a mixing bowl. This would entail, your almond flour, oat flour, coconut sugar, cocoa, baking soda, and sea salt. Prepare the ingredients for your wet ingredients in a smaller bowl by mixing almond milk, flax meal, vanilla, and coconut oil. One these are mixed sufficiently pour into your dry ingredients to combine but do not overmix.
Spray your donut pan with a light coating of coconut oil to prepare for the batter. Divide the batter evenly into six donuts. Bake for 14 to 16 minutes. Prepare your glaze by mixing its listed ingredients together. Apply the glaze to donut when they have been sufficiently cooled by dipping the top of each donut into the glaze. Top donuts with coconut powder or any fun topping of your choice, be it seed, or nut.
How To Portion
Chocolate Donuts
?
This simply amazing meal prep ideas recipe serves 6 delicious donuts when finally removed from the oven.
More Chocolate Meal Prep Ideas Recipes
Looking for more chocolatey snack recipes? We've got you covered! Here are a few meal prep ideas recipes to get that chocolate desires fulfilled.
Other Tips For Making
Chocolate Donuts
For an even healthier twist on your chocolate donuts recipe use oats or almond flour instead of regular flour.

To get a powdered coconut sugar topping for your donut, just blend coconut sugar at a high speed until powdered.

If you don't have a donut pan, that's just an opportunity for some creativity! Try making 'donut holes' with a muffin pan.

Chopped nuts, shredded coconut, and pepitas also make superb additional toppings for you glazed chocolate donut. A little variety is always an awesome thing!
What are you still waiting for? Give our meal prep ideas chocolate donut recipe a go!
Vegan Double Chocolate Donuts Ingredients:
½ cup almond flour

½ cup oat flour

6 tablespoons coconut sugar

½ teaspoon of sea salt

¼ cup of cocoa powder

½ teaspoon baking soda

2 tablespoons flax meal

½ cup almond milk

1 tablespoon coconut oil

1 teaspoon vanilla
Glaze:
3 tablespoon coconut sugar, powdered*

2 tablespoons cocoa powder

2 tablespoon almond butter

1 tablespoon almond milk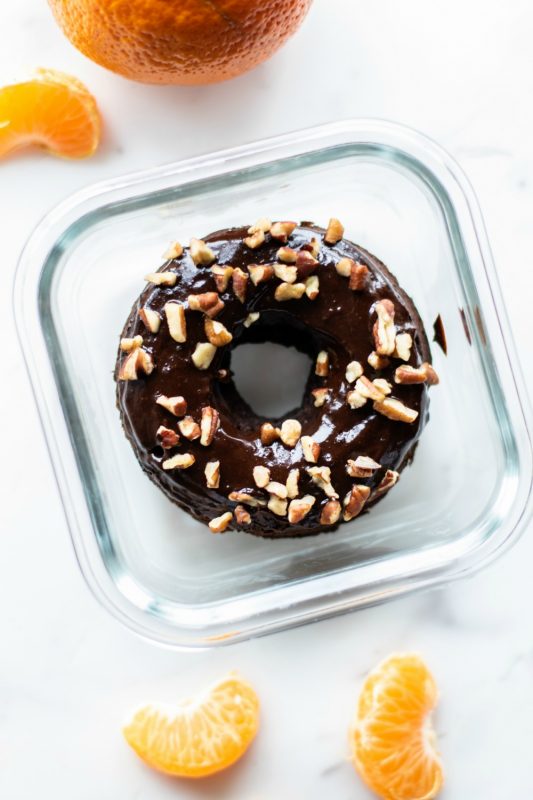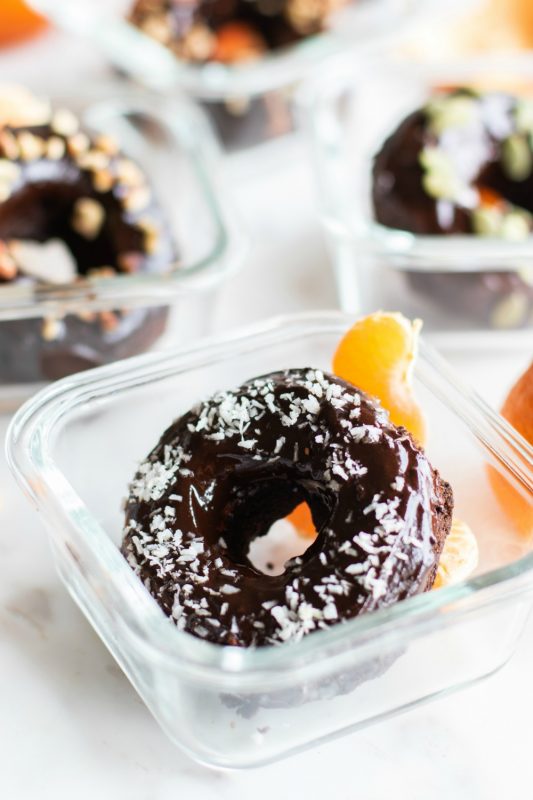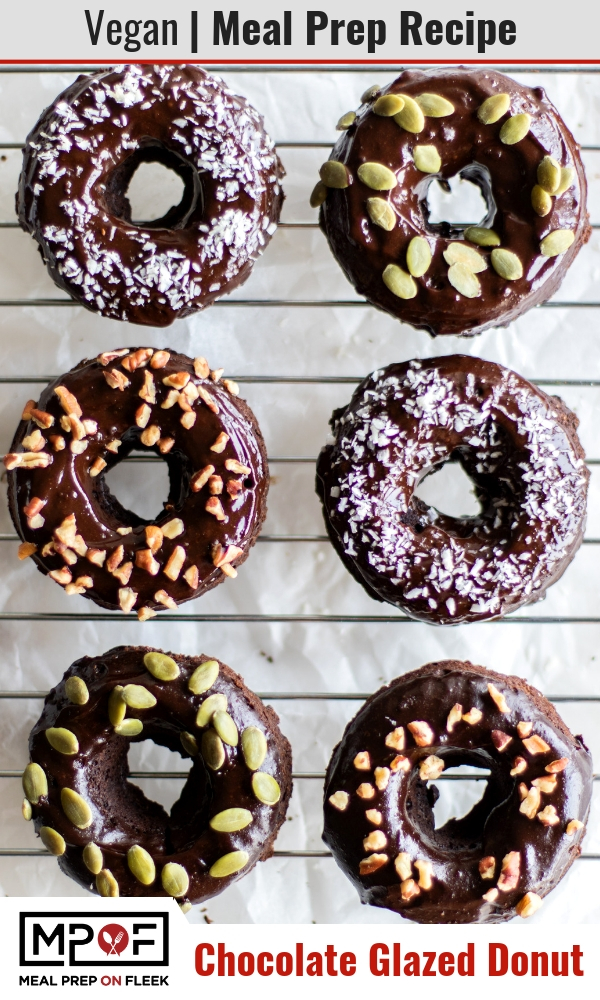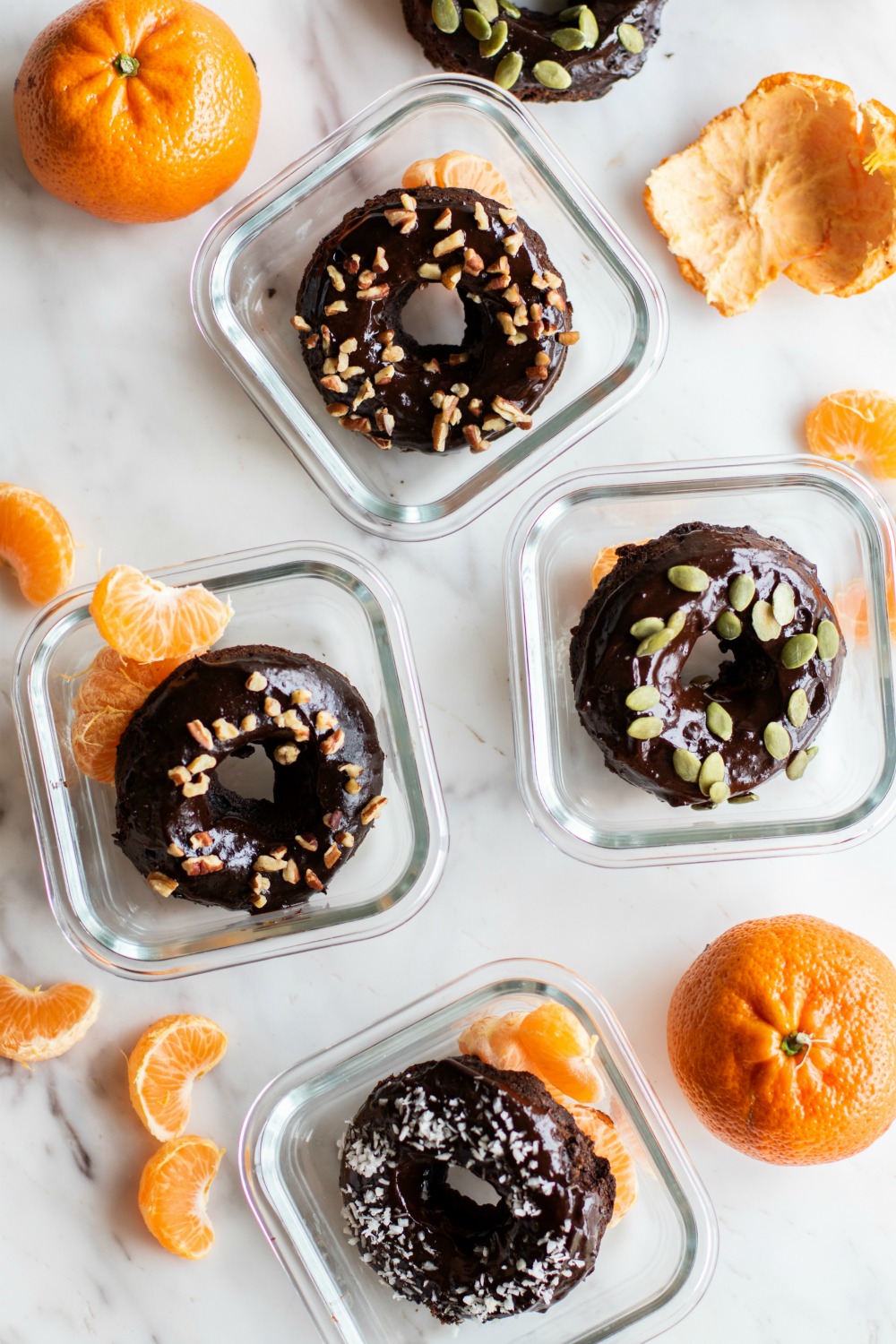 Ingredients
1/2

cup

almond flour,

not almond meal

1/2

cup

oat flour

6

tbsp

Coconut Sugar

or sugar of choice

1/4

cup

unsweetened cocoa powder

or cacao powder

1/2

tsp

Sea Salt

1/2

tsp

baking soda

1/2

cup

almond milk

or milk of choice

2

tbsp

ground flax meal

1

tbsp

Coconut Oil

1

tsp

Vanilla extract
Glaze
3

tbsp

POWDERED coconut sugar*

or powdered sugar of choice

2

tbsp

unsweetened cocoa powder

2

tbsp

Almond Butter

1

tbsp

almond milk
Optional Toppings
pepitas

Shredded Coconut

chopped nuts
Instructions
Preheat oven to 350.

Add the almond flour, oat flour, coconut sugar, cocoa, baking soda and sea salt to a mixing bowl. Mix dry ingredients together.

In a smaller bowl, add almond milk, flax meal, vanilla, and coconut oil.

Mix well, and then pour into the dry ingredients. Stir until just combined, being sure not to overmix.

Prepare a donut pan by spraying lightly with coconut oil. If you don't have a donut pan, try making "donut holes" by using a mini muffin tin.

Divide the batter evenly between 6 donuts.

Bake for 14-16 minutes.

Prepare glaze by mixing ingredients together.

Once donuts have cooled, dip the top of each donut into the glaze.

Top donuts with shredded coconut, nuts, or seeds, for a fun texture combination.
Video
Notes
Nutrition for 1 out of 6 donuts:
4.6g Protein | 27.1g Carbs | 10.1g Fat | 4 .4g Fiber | 198 Calories
--
NOTES: 

*Make powdered coconut sugar at home by adding coconut sugar to a blender and blending on high speed until a fine powder forms. Most likely, you will need to add at least ⅓  cup of coconut sugar to the blender to get it mixing.
Nutrition
Serving:
1
donut
|
Calories:
198
kcal
|
Carbohydrates:
27.1
g
|
Protein:
4.6
g
|
Fat:
10.1
g
|
Fiber:
4.4
g