Chicken BLT Pasta Salad! We know BLTs are awesome but if you add chicken and pasta you've got a full-fledged meal! Easy to make gluten free!
This hearty salad eats like a meal with high-protein chicken, pasta, and smoky bacon. It's everything you love in a BLT sandwich, but packed into a salad! Truth!
Chicken BLT Pasta Salad Ingredients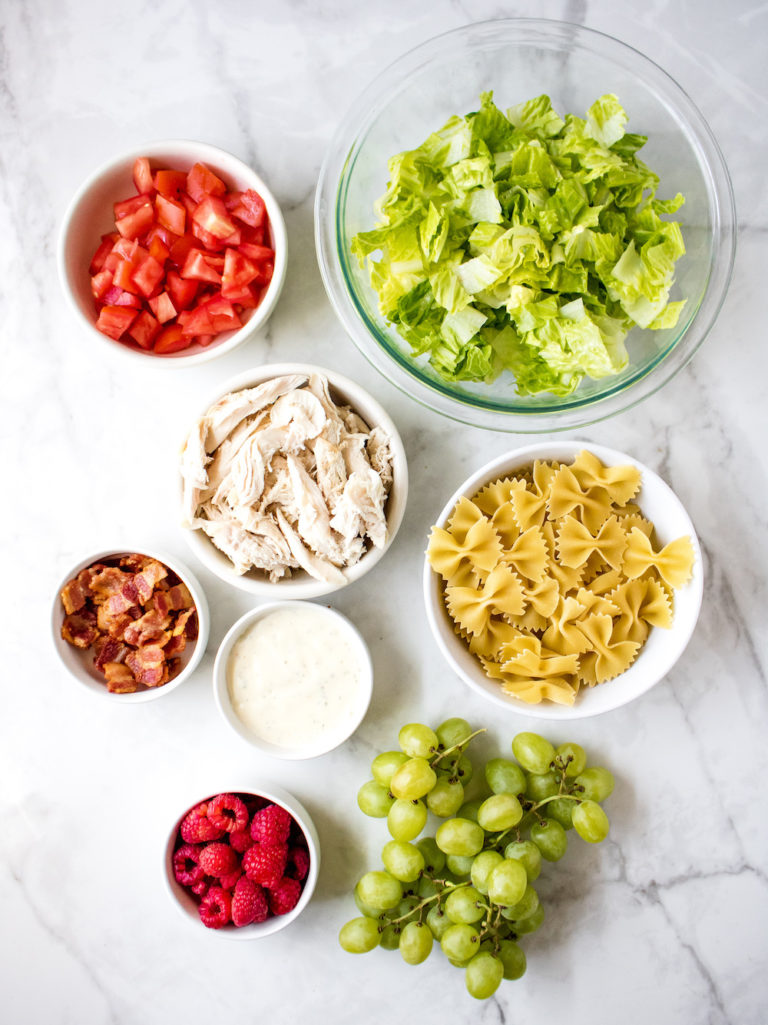 8 ounces uncooked gluten-free bow tie pasta
½ lb. cooked shredded chicken
4 cups chopped romaine lettuce
1 cup chopped tomato
½ cup cooked/chopped bacon
½ cup light ranch dressing
2 cups green grapes, for serving
1 cup raspberries, for serving
How to Make Chicken BLT Pasta Salad
You can get started by cooking the bowtie (farfalle) pasta; we've called for gluten-free pasta but feel free to use whatever you have on hand. While it's cooking, assemble the ingredients and have them ready, which may involve cooking the bacon. Chop the tomatoes, get the lettuce ready, and shred the chicken. We like using store-bought rotisserie chicken for meals like this, but you can certainly gently poach or grill some chicken and shred it. (We're fans of poaching chicken for salads because it tends to both stay moist and shred easily that way.)
How to Store and Serve Chicken BLT Pasta Salad
This preps great! Just make sure you put the dressing on the side if you want the salad to stay as crispy as possible. Then just toss right before serving. Keep it in the airtight containers for 4 days. If you aren't going to make this all in one go, definitely cook the bacon the night before, and even the chicken. Keep it in the fridge, and then when you cook the pasta, get those ingredients out along with everything else, and then just assemble and portion into meal prep containers, or serve immediately!
We love this with a little fruit on the side (berries and grapes), but if you aren't following a gluten-free protocol, a nice crusty baguette would be great. You could also serve this alongside a light veggie-based soup if the weather isn't too hot.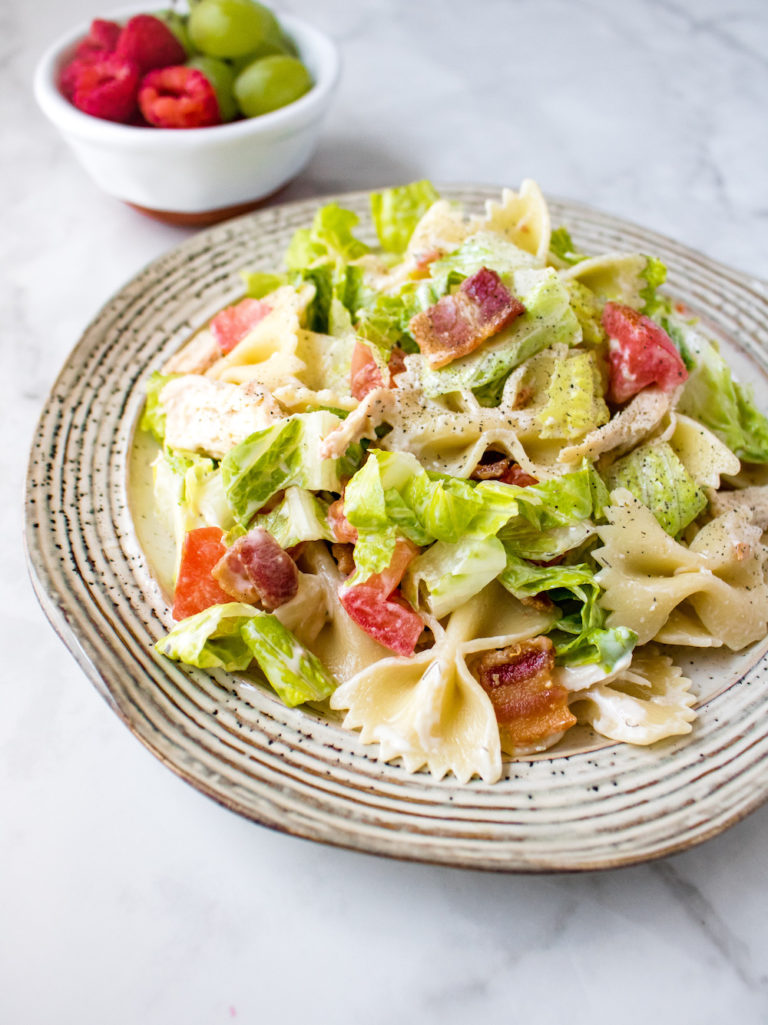 Substitutions and How to Customize This Salad
We are big fans of ranch dressing; we even have a recipe on this website for it. Go for a light ranch if you want though, because that's what we're using here. But ours is good! Trust us. Blue cheese would be ok, too, but this salad is really made for ranch.
Feel free to use another small short pasta such as fusilli or penne. Something tricolor would be fun, too. Salmon or shrimp would be fine substitutes for the chicken.
You know what would REALLY make this salad even better? Chunks of avocado! Trust us on this! Some red onion, sliced thinly, is a natural addition, but it's not necessary.
Other greens are fine here, too, like baby spinach or kale, but there's something classic about romaine.
And if you're loving the pasta, make the whole box instead of half. It'll definitely change the proportions and the macros, but the salad will go further!
More Awesome Chicken and BLT Meal Preps!