Cinnamon Roll Coffee Cake Meal Prep is a lot to say, but it's not a lot of work. It's also gluten-free.
Friends, there's a lot to keep track of in this wonderful life, and sometimes we just don't want breakfast to be one of them. Having an easy meal prep recipe on hand for the first meal of the day is invaluable, especially on busy work and school mornings. So we're super excited to share this coffee cake meal prep with you.
What's Special About This Gluten-Free Coffee Cake?
Coffee cake is of course a cafe favorite, and we wanted to make something that stands up to the delicious classic but with an MPOF twist. So we used gluten-free flour, encourage you to use your milk of choice, and used fats and sugars only made from coconut! Pretty cool. Rest assured though that this easy meal prep still tastes like a classic coffee cake with loads of coffee flavor and a cinnamon swirl, but we hope that our swaps make it a bit less indulgent to enjoy a few times in the same week. But don't think you have to enjoy it all at once- this easy meal prep recipe also stands up well to freezing!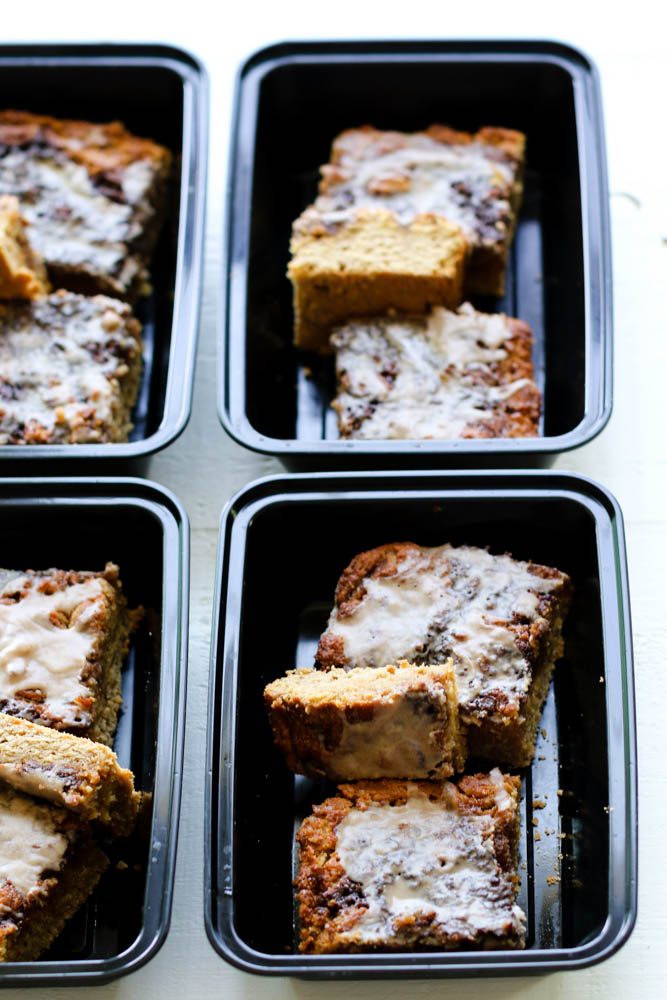 How to Make This Coffee Cake and Its Coconutty Ingredients
Coconut oil, coconut aminos, coconut sugar, coconut butter! What the heck is all this stuff, what's the difference between coconut oil and coconut butter, and so on, and why should we care? While coconut oil is simply the oil that's been extracted from coconut meat, coconut butter is a paste that's made by blending the flesh of fresh coconut. The result is a smooth and spreadable paste that holds its texture well and lends itself to drizzling over all kinds of things: waffles, oatmeal, granola, and, you guessed it—coffee cake! We used it as a foundation to make a super easy dairy-free glaze that we may or may not currently be putting on absolutely everything. Because of the presence of a fiber called inulin, coconut sugar has a slightly lower glycemic index than regular sugar. It's still sugar of course, but every bit helps!
The cake has three components but they're not hard; don't be put off by the list of ingredients. It's really very easy, and it is full of great ingredient substitutes you'll want to use again, if they're unfamiliar to you. (At the very least, to make this cake again!)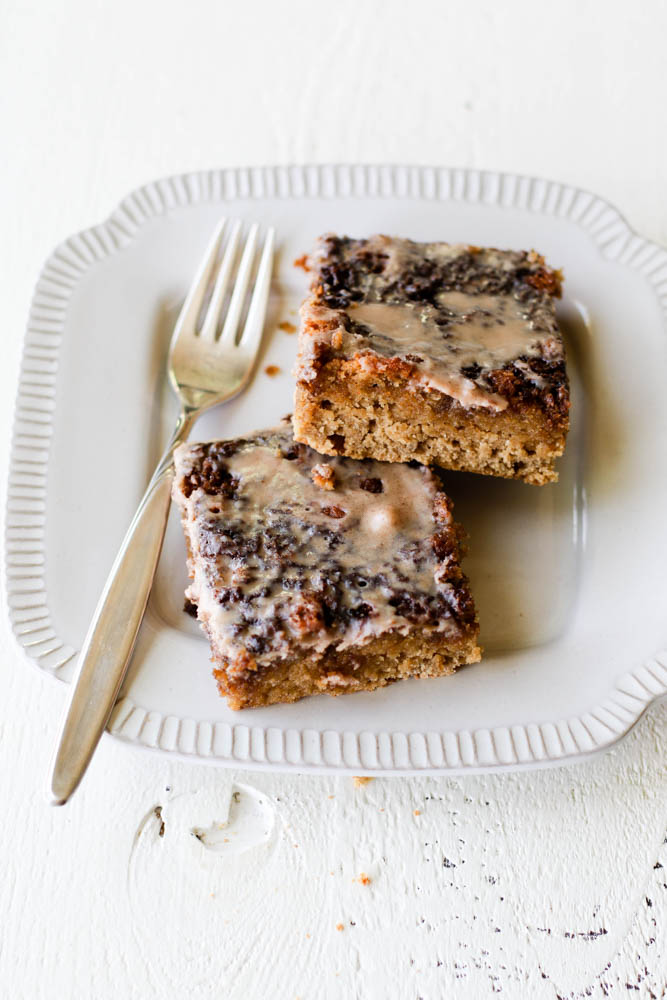 Cinnamon is another really exciting detail of this recipe. It is of course an important flavor aspect in classic coffee cake, but this spice also has some pretty incredible health benefits. It is known to be both anti-inflammatory and to support healthy blood sugar levels, in addition to supporting the cardiovascular system with its broad range of antioxidants. We hope you love this delicious and healthy twist on coffee cake as much we do!
Cinnamon Roll Coffee Cake Meal Prep Ingredients
For the Coffee Cake
2 eggs, lightly beaten
¼ cup melted coconut oil
1 cup cooled coffee
½ cup milk of choice
3 cups GF all-purpose flour
1 cup unrefined coconut sugar
1 tablespoon baking powder
And the cinnamon swirl
½ cup coconut oil
½ cup unrefined coconut sugar
2 teaspoon cinnamon
1 tablespoon gluten-free flour
Finally, the coconut butter glaze:
¼ cup coconut butter
1 teaspoon unrefined coconut sugar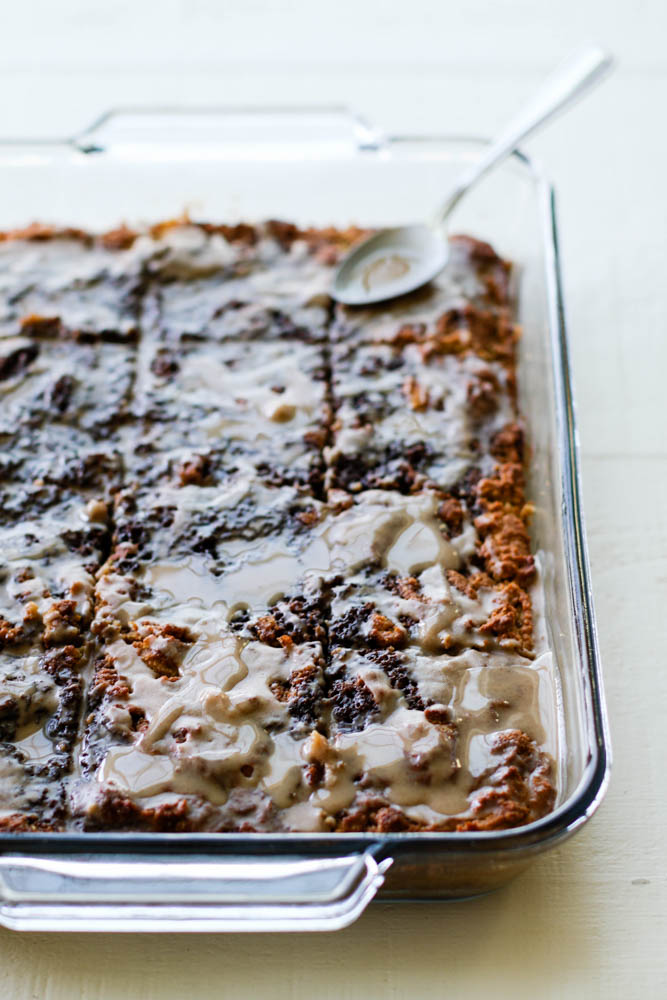 How to Store and Serve Cinnamon Roll Coffee Cake Meal Prep
Once you've made this, it needs to be kept in an airtight container and will stay fresh for a few days. If you want to prolong the shelf life, wrap it in foil really tightly, but we like to make something like this and freeze half of it right off the bat. This way, you always have something on hand for an emergency cinnamon-related breakfast item that also happens to be gluten-free!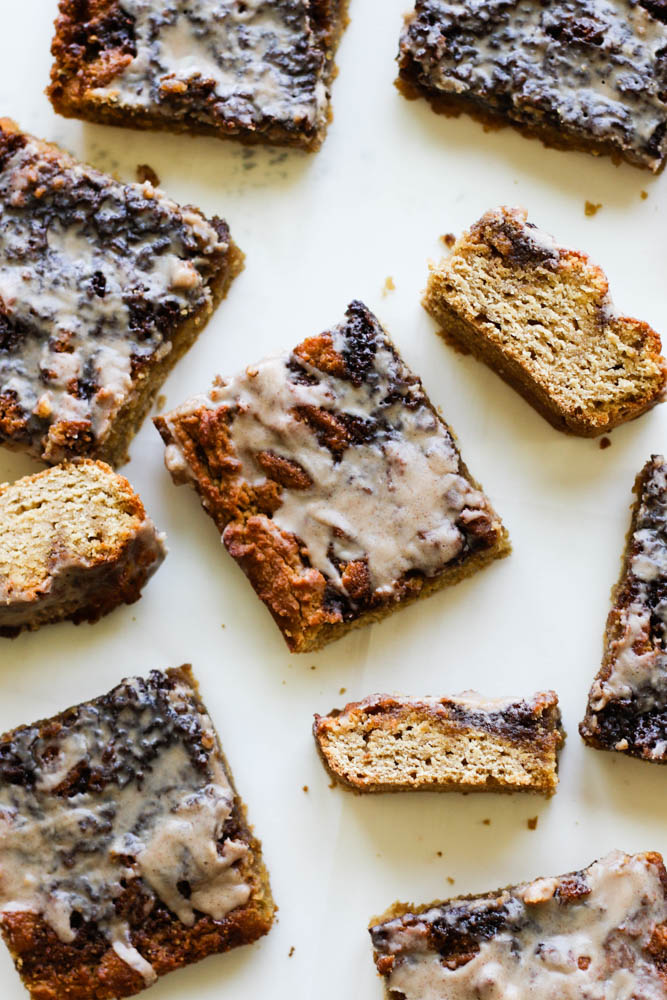 More Gluten-Free Treats and Other Breakfast Fun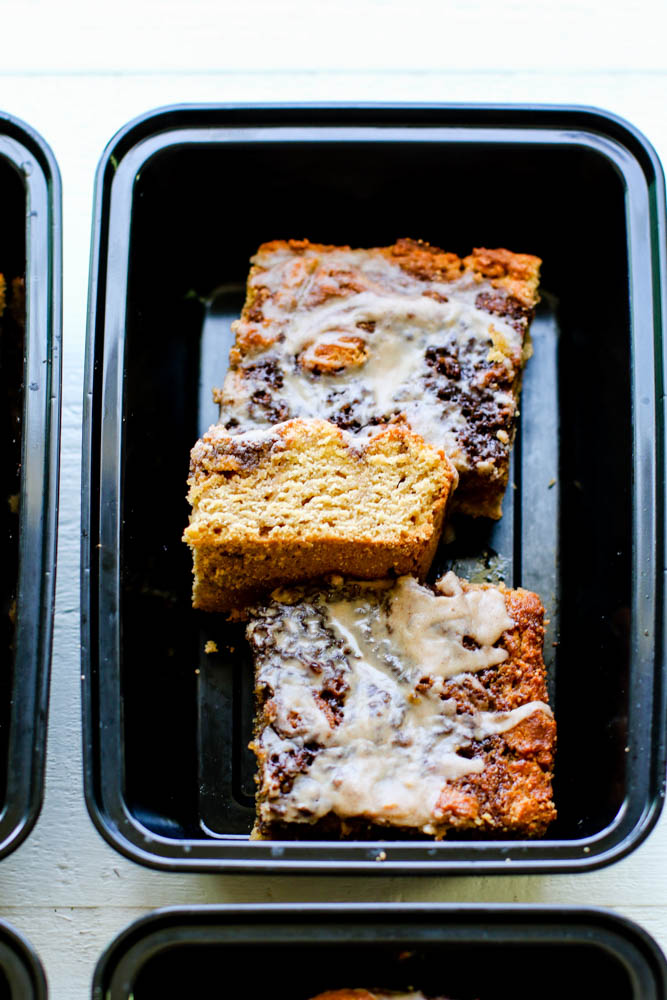 restrict paid=true]
[/restrict]