We're excited to share our Gluten Free Brownies with you! This recipe is simple and makes for an exquisite snack or dessert. Treat yourself and your family to this healthy and delicious meal prep recipe! Enjoy our decadent gluten-free brownies this fall, winter, and anytime during the year.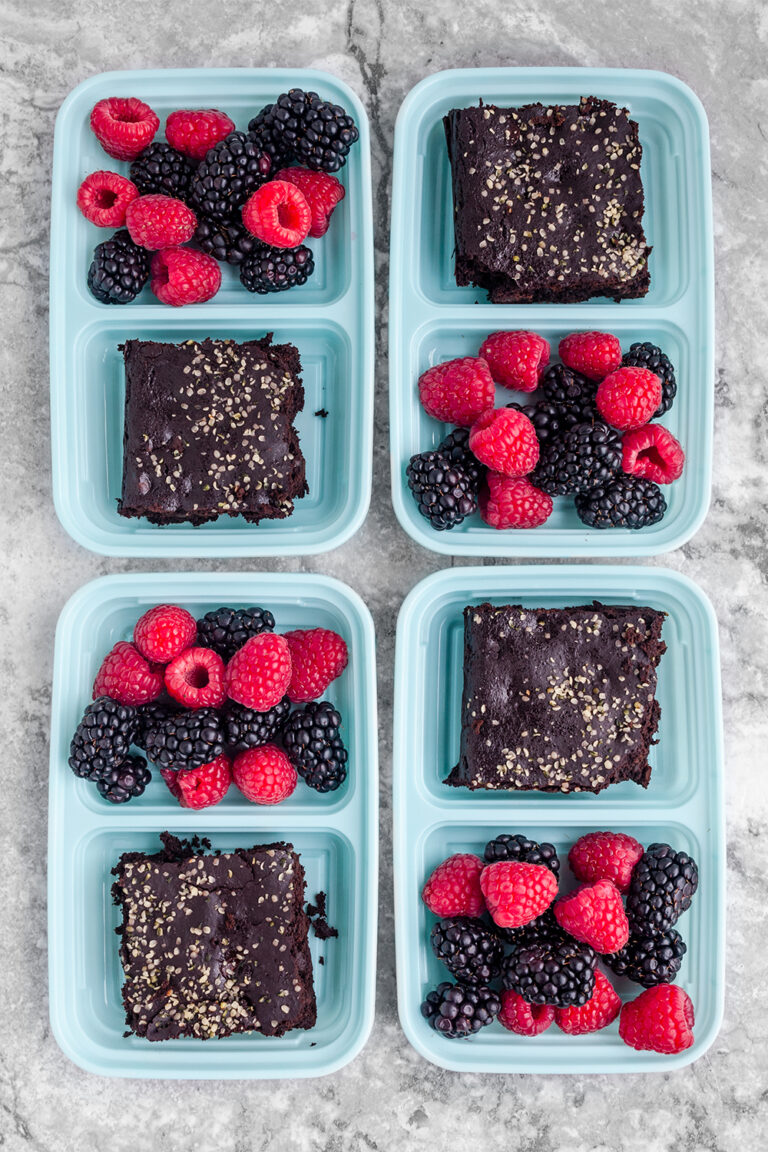 These brownies are decadent but are also a cinch to make using clean ingredients. We guarantee that they are the easiest gluten-free brownies you can make!
How long will this Brownies Meal Prep Recipe last for?
Gluten-free brownies stay fresh for three days. Pack these sweet treats in an airtight meal prep container. Be sure to keep them out of the refrigerator so they stay moist. You can store gluten-free brownies at room temperature.
Can these Brownies be frozen?
Yes, you can freeze gluten-free brownies. Freezing freshly made brownies will dry them out, so wait until your brownies have cooled. You certainly don't want to dry out these moist, tasty squares!
How do you make Brownies?
Other than being delicious, this gluten-free dessert is pretty easy to make! The combined prep and cooking time is under one hour. All you need is an 8×8 baking pan, parchment paper, and the ingredients needed for the brownie mix. Once the gluten-free brownie mix is well combined, transfer it to a greased baking dish. Then bake in the oven at 375 degrees.
How to portion these Brownies?
Once they're baked and cool, cut the brownies into thirds. You will end up with nine portions. That's nine yummy brownies! Add a half cup of raspberries and a half cup of blackberries to complete this rich and delightful snack.
More Gluten-Free Brownies meal prep recipes:
Yes, of course! If you love this meal prep idea, try our other delectable gluten-free snacks:

Other tips for making Gluten-Free Brownies:
We take pride in giving you simple yet alternative ways of eating and cooking healthy. Here are a few tips for making gluten-free brownies:
ALWAYS measure your ingredients and use the exact amount the recipe calls for.

Line your pans with parchment paper or aluminum foil. This gluten-free recipe calls for parchment paper. If you use foil, grease it.

When the brownies are done baking, let them cool down in the pan. Once completely cooled, you can cut them and transfer them to your storage container.

Use a sharp knife to cut the brownies. Dip the knife in hot water and wipe it off before each cut.

Don't under or over bake. Monitor the cooking time.

Feel free to swap out ingredients to change the recipe up! Have fun with flavors.

Use nuts instead of hemp seeds.

Dried cherries or berries instead of chocolate chips.

Add layers gluten-free frosting.

Add some peppermint if making the brownies around Christmas time!
The Easiest Gluten Free Brownies Ingredients:
1 C. Dutch Processed Baker's Cocoa Powder (or Cacao Powder)
3/4 C. Unsweetened Apple Sauce
2/3 C. Semi-sweet Chocolate Chips
1/2 C. Coconut Sugar
1/3 C. Almond Butter
1/4 C. Pure Maple Syrup
1/2 Tbsp. Hemp Seeds
1 tsp. Baking Powder
1 Egg
2 cups fresh raspberries
2 cups fresh blackberries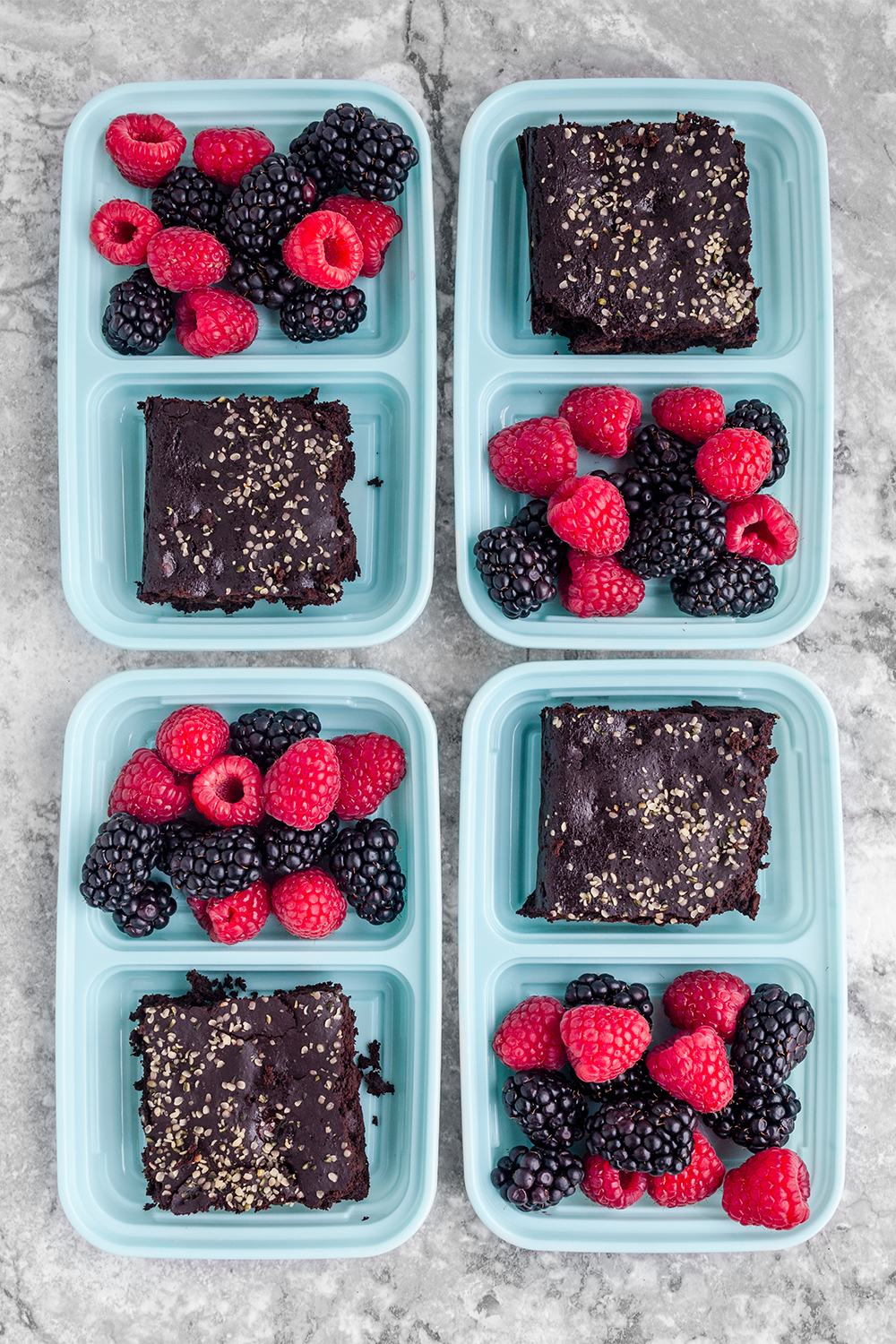 Ingredients
1 Dutch Processed Baker's Cocoa Powder

or Cacao Powder

3/4 Unsweetened Apple Sauce

2/3 Semi-sweet Chocolate Chips

1/2 Coconut Sugar

1/3 Almond Butter

1/4 Pure Maple Syrup

1/2 Tbsp. Hemp Seeds

1 tsp. Baking Powder

1 Egg
For serving with 4 of the 9 brownies
2 cups fresh raspberries

2 cups fresh blackberries
Instructions
Preheat oven to 375 and line an 8x8 baking dish with parchment paper.

In a medium bowl, mix together egg, coconut sugar, and maple syrup then mix in apple sauce, almond butter baking powder and cocoa powder until well-combined.

Next, mix in chocolate chips. Transfer batter to the baking dish and spread into an even layer then top with hemp seeds.

Bake on the middle rack for 35-45 minutes or until just set and is ever so slightly undercooked (it will continue to set up during the cool down process).

Serve, store, and enjoy!
Notes
**Nutrition facts are calculated based on 4 meal prep snack boxes, each containing 1 out of the 9 brownies + 1/2 cup raspberries + 1/2 cup blackberries.
Nutrition
Calories:
300
kcal
|
Carbohydrates:
42.6
g
|
Protein:
5.8
g
|
Fat:
13
g
|
Fiber:
6.9
g