Savory, yummy Asian takeout at home for dinner, at the office or for lunch. Our Sheet Pan Asian Chicken recipe will satisfy your taste buds while saving you time and money. This classic, tasty meal prep recipe will nourish your body. It's a perfectly balanced entree packed with protein and antioxidants. On top of that, it's also soy and gluten-free – even the sauce. Panda Express doesn't have anything on this main dish!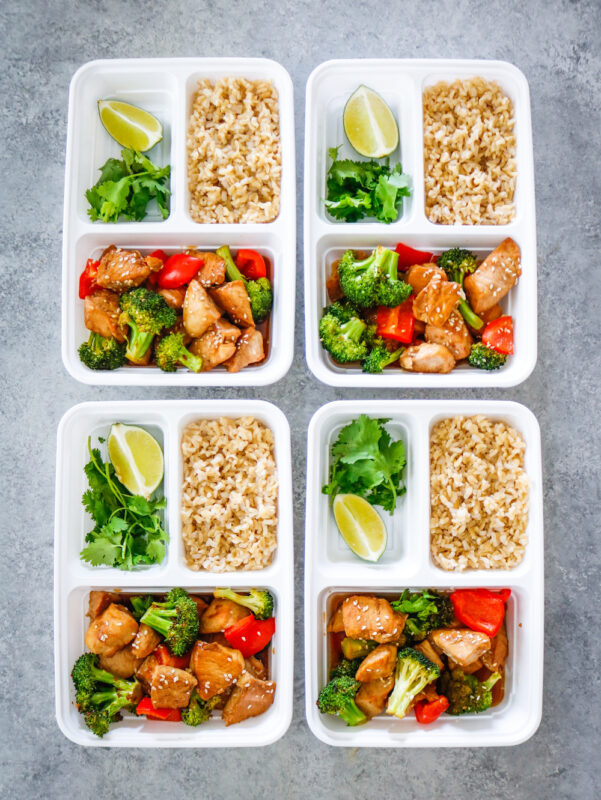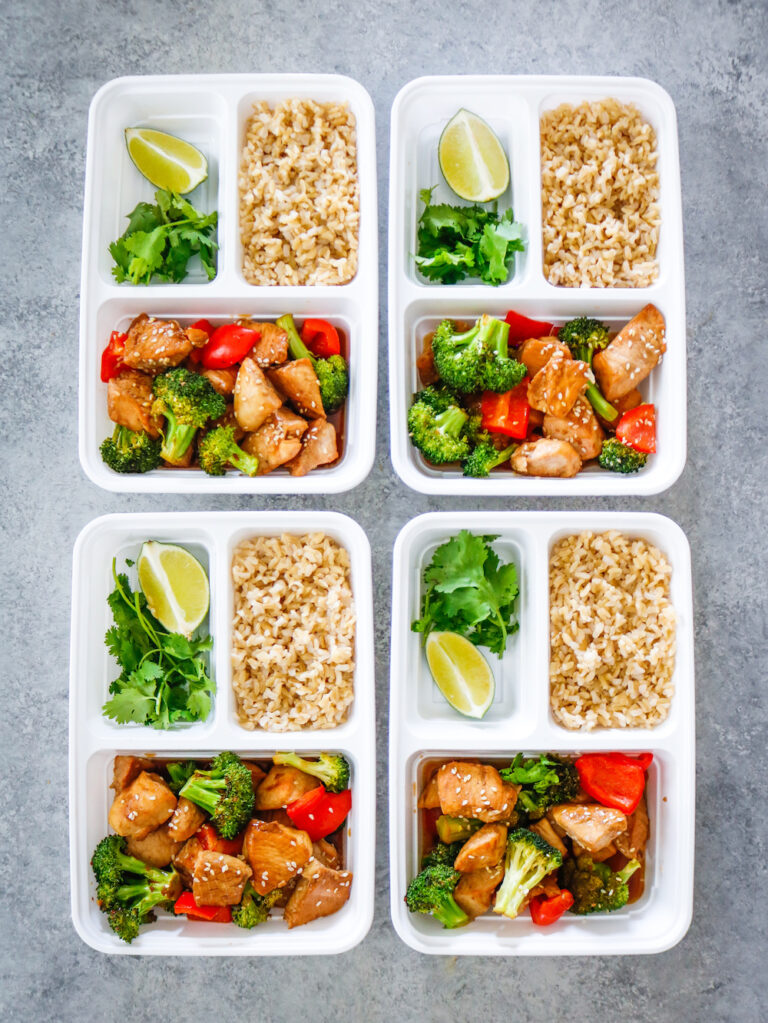 Skip the takeout and make this protein and antioxidant-rich sheet pan Asian chicken dinner instead! It's ready in under an hour with zero soy or gluten in sight!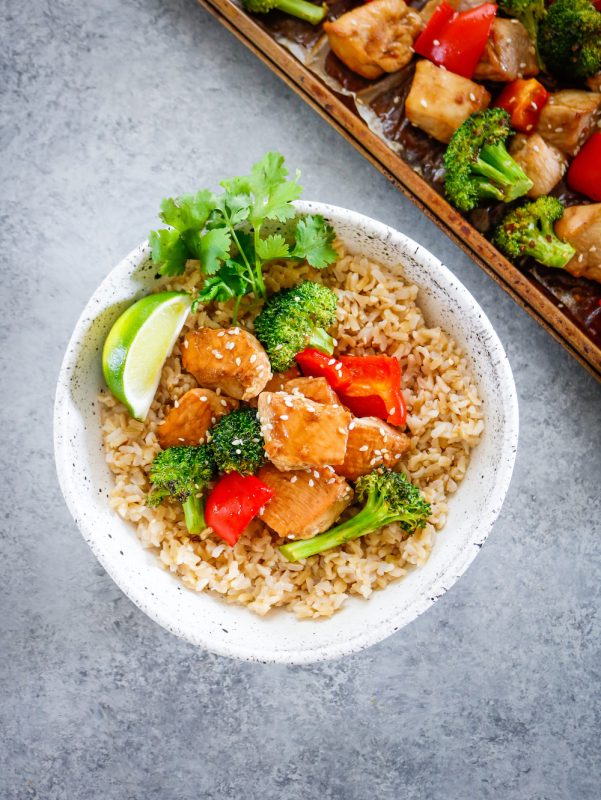 How long will Sheet Pan Asian Chicken last for?
Chicken dishes last for up to 4 days in the refrigerator. This recipe will provide you with four meals. It's perfect for that date night with your neighbors. It's an awesome option to add to your weekly meal prep menu.
Can Sheet Pan Asian Chicken be frozen?
Yes, you can pack it up and store it in the freezer for up to three months. For this meal prep recipe, you'll want to use freezer bags to pack everything separately. We did some research and found these reusable food storage bags. They're heat and cold resistant, so you can freeze them and put them into boiling water to reheat your meals.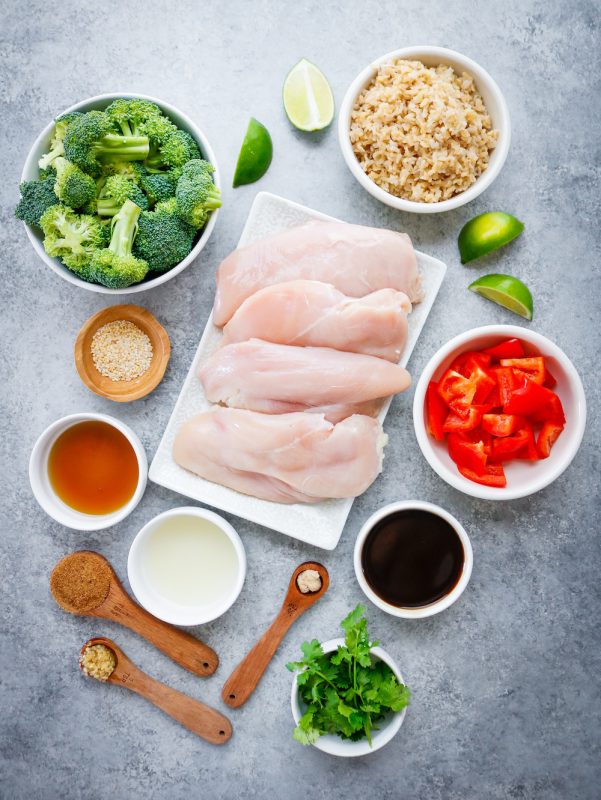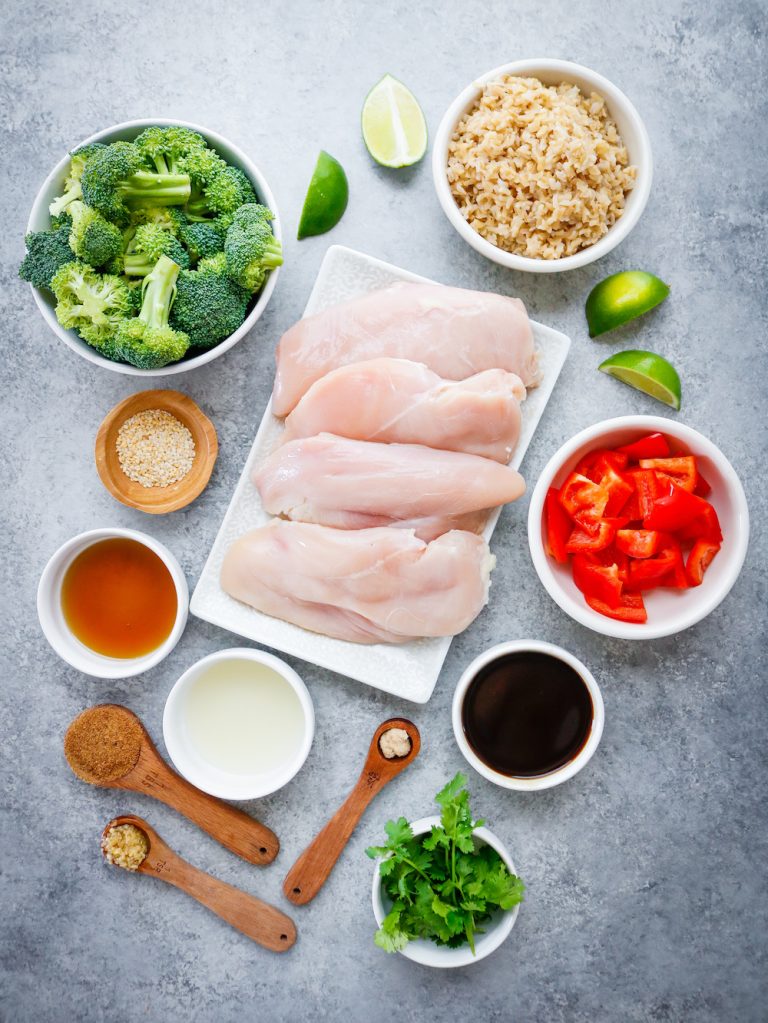 How do you make Sheet Pan Asian Chicken?
It's super fun and easy to make. This dish takes less than an hour to prep AND cook.
First, you'll need a sheet pan to cook the meal on. Second, you'll need to prep the meal and the sauce. When you're ready to cook, mix and prepare the savory sauce. Once that's done, preheat oven to 400ºF and then cut the chicken into 1-inch cubes and drizzle sauce over them. Pour the chicken and sauce onto the baking sheet and heat for 10 minutes. When 10 minutes is up, remove chicken from the oven and add the broccoli and bell peppers. Use the remaining sauce and bake for another 15 minutes.
Voila! You've got a mouthwatering Asian takeout meal without the takeout meal price and hassle.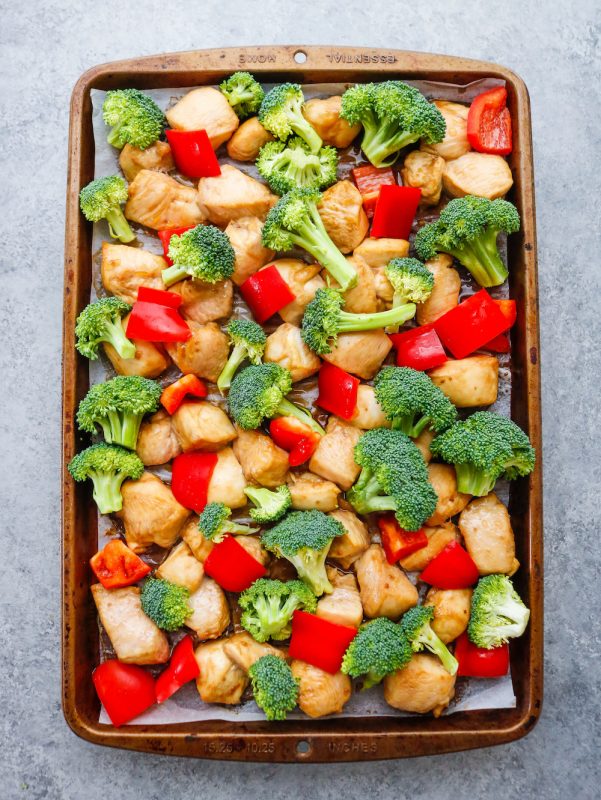 How to portion Sheet Pan Asian Chicken?
For each meal, you will have one cup of brown rice. All you need to do is divide the chicken, broccoli, and pepper mix into four portions. You can store each meal in a 2-compartment meal prep container. If you want the cilantro and lime on the side, opt for a 3-compartment meal prep container.
Want more packaging options? Browse through our Ultimate Guide to Meal Prep Containers.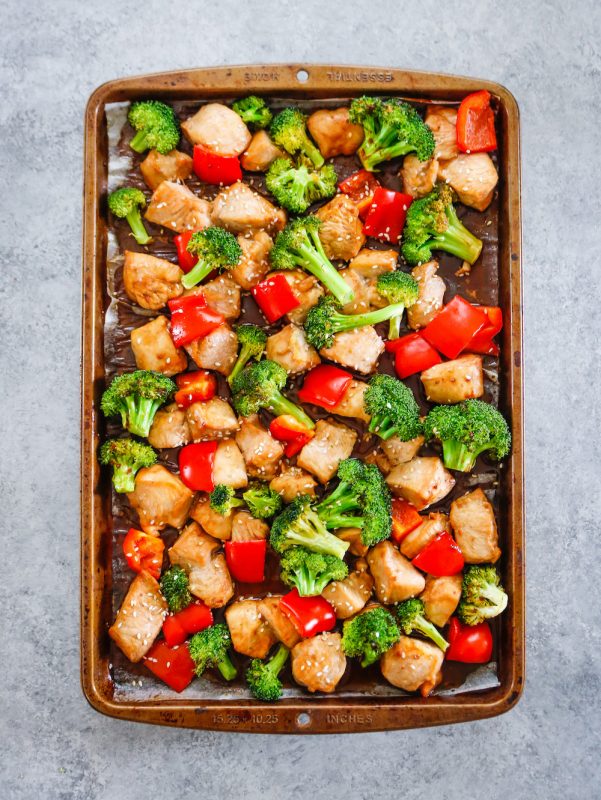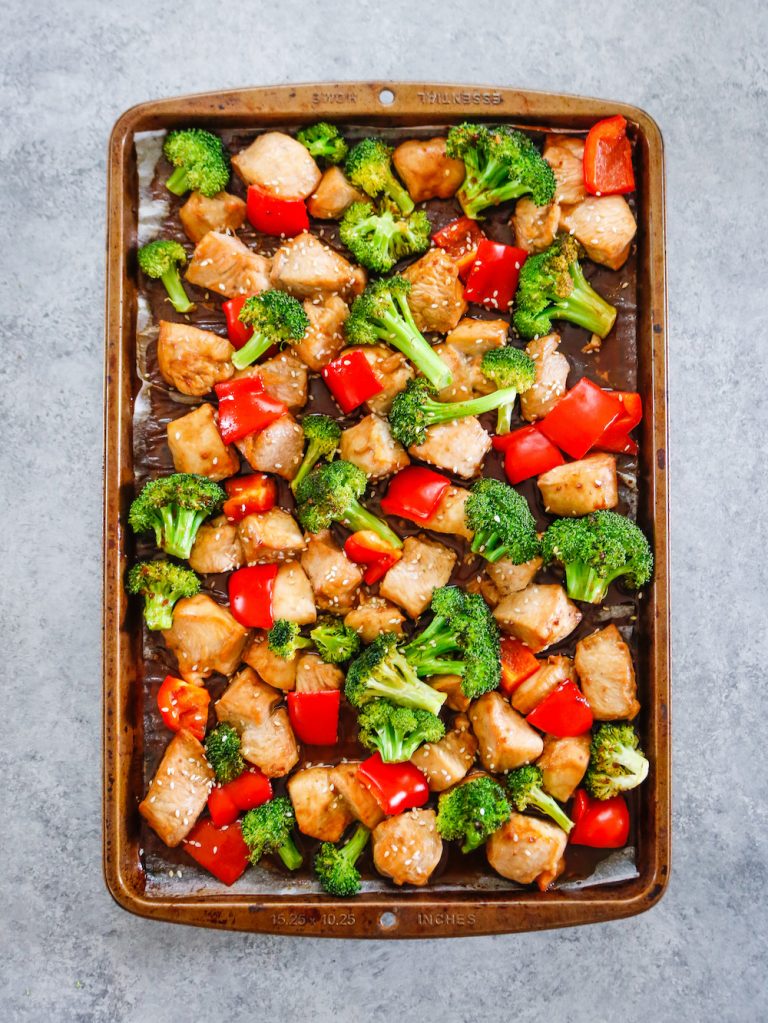 More Sheet Pan Asian Chicken meal prep recipes:
Sheet Pan meal prep recipes are so quick and easy to whip up. Of course, we have similar more delicious options that you can choose from.
If you want more sheet pan chicken recipes, check these out:
If you want even more chicken meal prep recipes, check out our 27 Chicken Recipes that are lit AF.
Other tips for making Sheet Pan Asian Chicken:
To get the absolute best dish ever, buy a commercial-grade half sheet-pan.

The size of the pan is what matters most. Here's a

quality yet affordable meal prep sheet pan

.

If you don't have diet restrictions, use soy or teriyaki sauce to save time or just to switch things up.

You can also substitute brown rice for quinoa, bulgur, or other high-fiber, low-carb alternatives.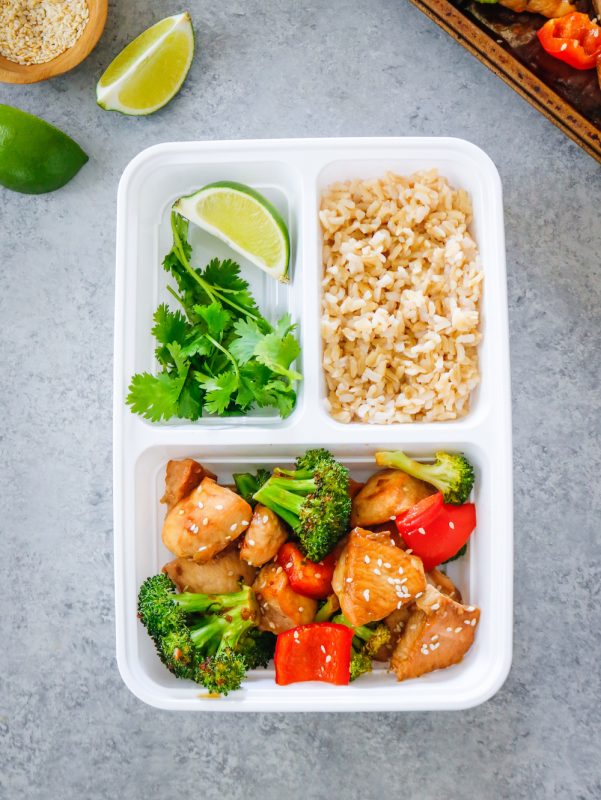 Sheet Pan Asian Chicken Ingredients:
4 boneless/skinless chicken breasts
2 cups broccoli florets
1 cup chopped red bell pepper
4 cups cooked brown rice
2 tsp sesame seeds, lightly toasted
1 cup cilantro leaves
1 lime, sliced into 4 wedges
For Sauce
1/2 cup coconut aminos
2 tbsp fresh lime juice
2 tbsp toasted sesame oil
1 tbsp coconut sugar
1 tsp minced garlic
1/2 tsp ginger paste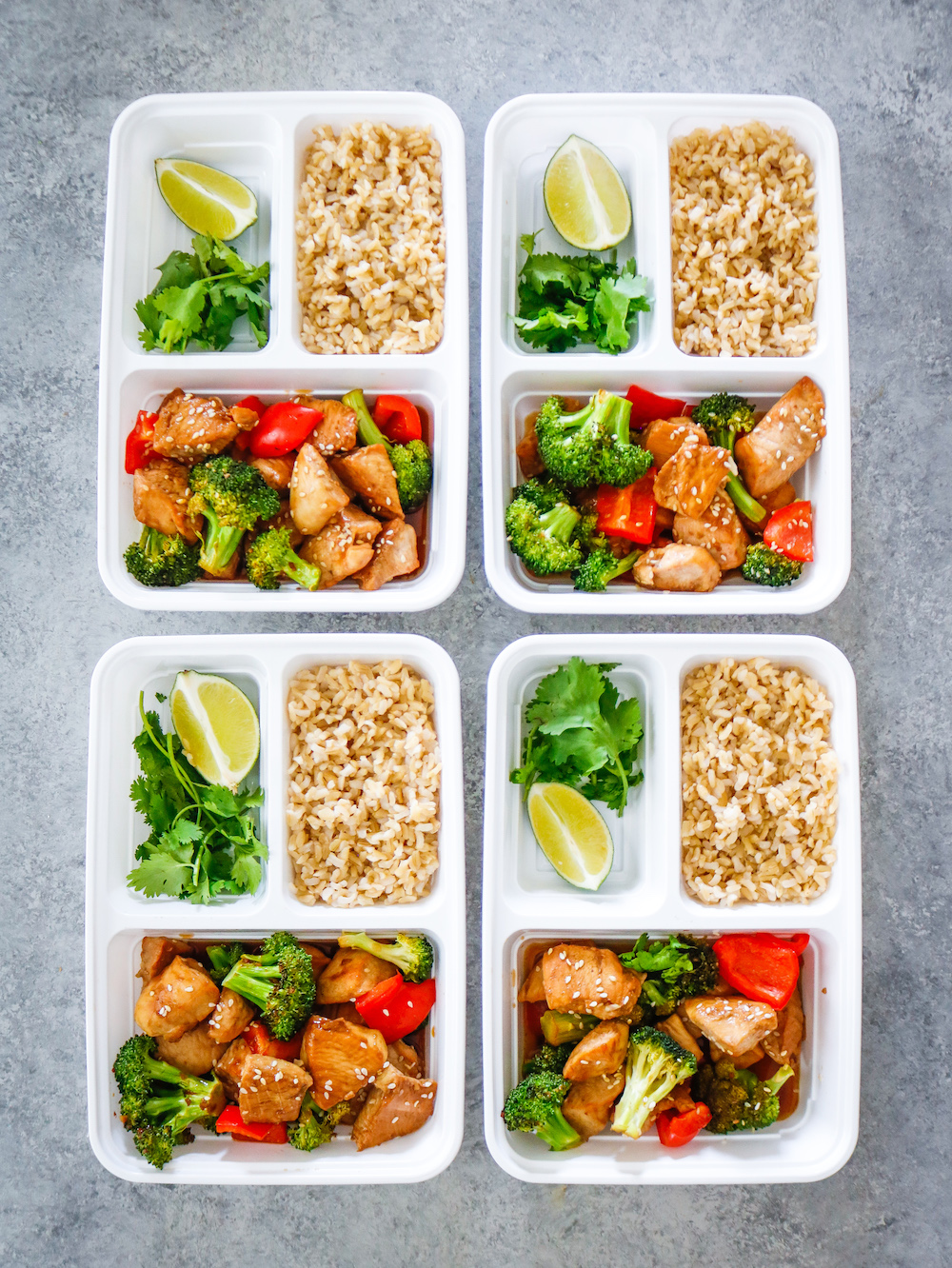 Ingredients
Main Ingredients
4

boneless/skinless chicken breasts

2

cups

broccoli florets

1

cup

chopped red bell pepper

4

cups

cooked brown rice

2

tsp

sesame seeds

lightly toasted

1

cup

cilantro leaves

1

lime

sliced into 4 wedges
For Sauce
1/2

cup

coconut aminos

2

tbsp

fresh lime juice

2

tbsp

toasted sesame oil

1

tbsp

coconut sugar

1

tsp

minced garlic

1/2

tsp

ginger paste
Instructions
Whisk together ingredients for the sauce in a medium saucepan over medium heat. Bring to a simmer and reduce heat to medium-low. Whisk occasionally until coconut sugar is dissolved and the sauce has thickened slightly; 7-8 minutes. Turn heat off and transfer the sauce to a small jar to cool for 10 minutes at room temperature.

Preheat oven to 400ºF and line a medium baking sheet with parchment paper. Cube chicken into 1-inch pieces and place in a medium bowl. Drizzle with 1/3 cup of sauce and stir to coat. Pour onto a prepared baking sheet and bake for 10 minutes.

Spread broccoli and bell pepper in a pan with chicken and drizzle with remaining sauce. Bake an additional 15 minutes. Sprinkle with sesame seeds. Serve hot over brown rice topped with cilantro and a squeeze of lime.
Video
Nutrition
Calories:
492
kcal
|
Carbohydrates:
64.1
g
|
Protein:
43.4
g
|
Fat:
10.2
g
|
Fiber:
7.2
g