Lentils have been eaten since prehistoric times. In fact, lentil remains have been dated to 11,000 BC from Greece's Franchthi cave! They are some of the oldest known remains. So you're really getting a wise-old treat with this Slow Cooker Lentil Soup! But wise and old isn't slow – it's bold and tasty! This meal prep recipe gives you the solid macros you want with super-powered simplicity. Your superpowers are about to shine! Get your cape!

Cozy up to this vegan slow-cooker lentil soup chock-full of plant-based vitamins, fiber, and protein! Simply add ingredients to a slow cooker and let it do the work for a no-hassle meal that reheats in minutes.

How long will Slow Cooker Lentil Soup last for?
This Lentil Soup recipe can last 5 days in the fridge and there's a small 'but' here – lentils are best for your belly when they're as fresh as possible. To reduce the chances of belly-bloating, eat this meal prep recipe as soon after cooking and add the spice hing to support digestion.
Can Slow Cooker Lentil Soup be frozen?
Store your Lentil Soup in your favorite single compartment containers and store your 4 portions for up to 6 months, hassle-free. Let it thaw in the fridge and then reheat for sumptuous satisfaction.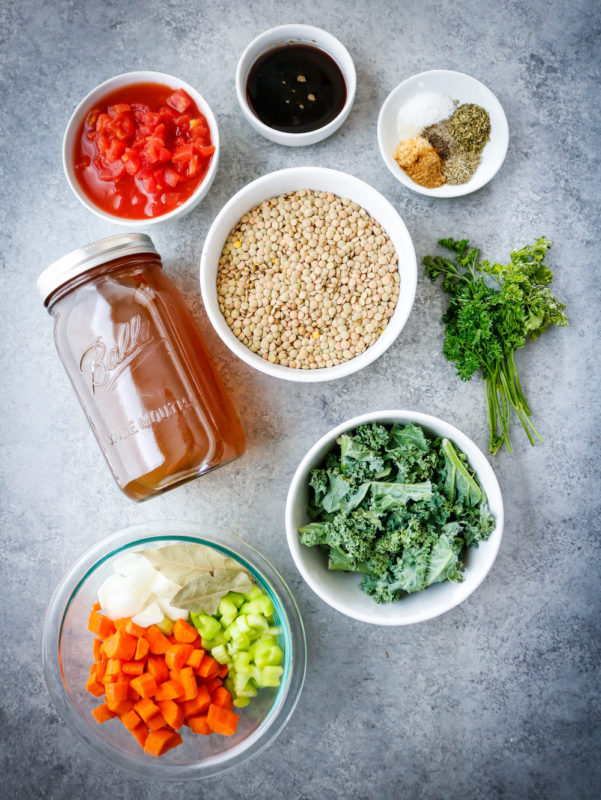 How do you make Slow Cooker Lentil Soup?
Our team at MPOF loves this meal prep recipe because there are just two steps: first, combine nearly every ingredient in your crockpot. Second, add in the kale at the end for just 5 more minutes of heat. With the Slow Cooker Lentil Soup, add a garnish and you're good as gold.
How to portion Lentil Soup Recipe?
This Lentil Soup meal prep recipe is a perfect one-portion meal. Just divide this meal prep recipe evenly in four single-compartment containers, fill your fridge or freezer, and forget about it!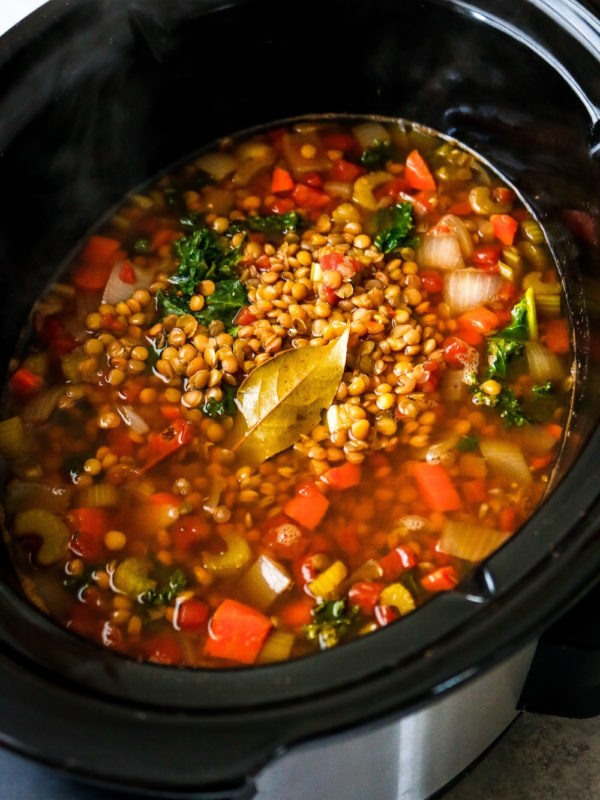 More Lentil meal prep recipes:
Other tips for making Slow Cooker Lentil Soup:
Don't worry about soaking your lentils – the slow cooker will take care of the tenderness

Do rinse and sift your lentils before cooking because sometimes there are rocks. Remove debris now and you'll thank yourself later.

Asafoetida (also known as hing) is an additional spice/powder known for reducing the gas-forming qualities of legumes, including lentils. If you are sensitive to beans, try it!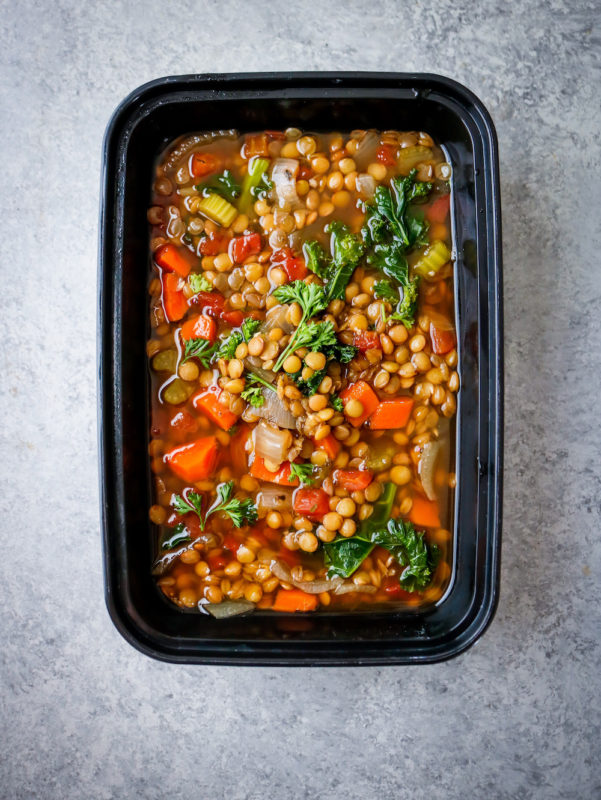 Slow Cooker Lentil Soup Ingredients:
8 cups vegetable stock
1 cup chopped carrots
1/4 cup coconut aminos
2 cups dry lentils
1 cup chopped celery
2 cups canned diced tomatoes with juice
1 tsp ground cumin
1 tsp minced garlic
1/2 tsp dried thyme
2 bay leaves
1 cup chopped sweet white onion
1 tsp dried oregano
2 tsp sea salt
1/2 tsp black pepper
2 cups chopped kale
1/2 cup chopped parsley for serving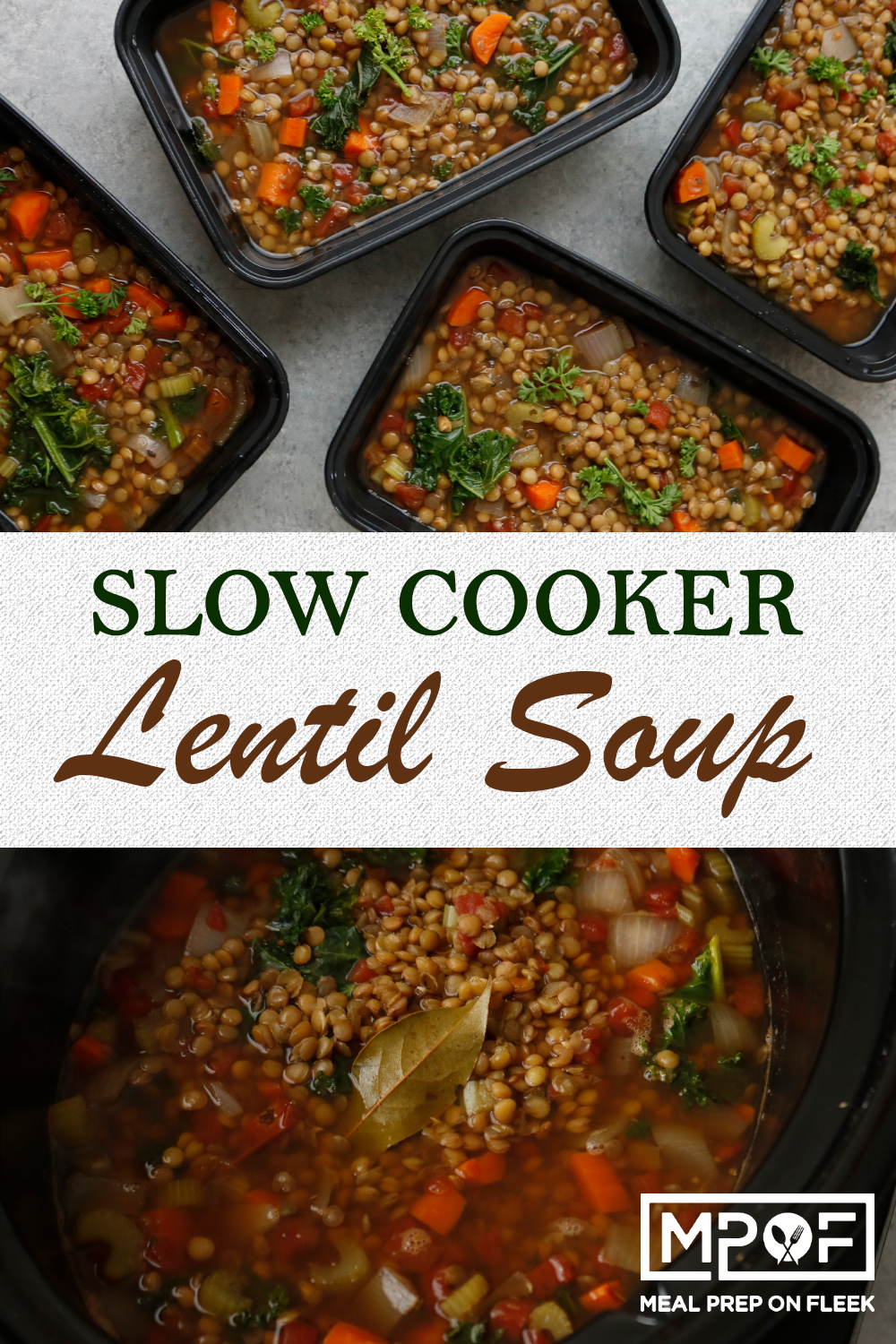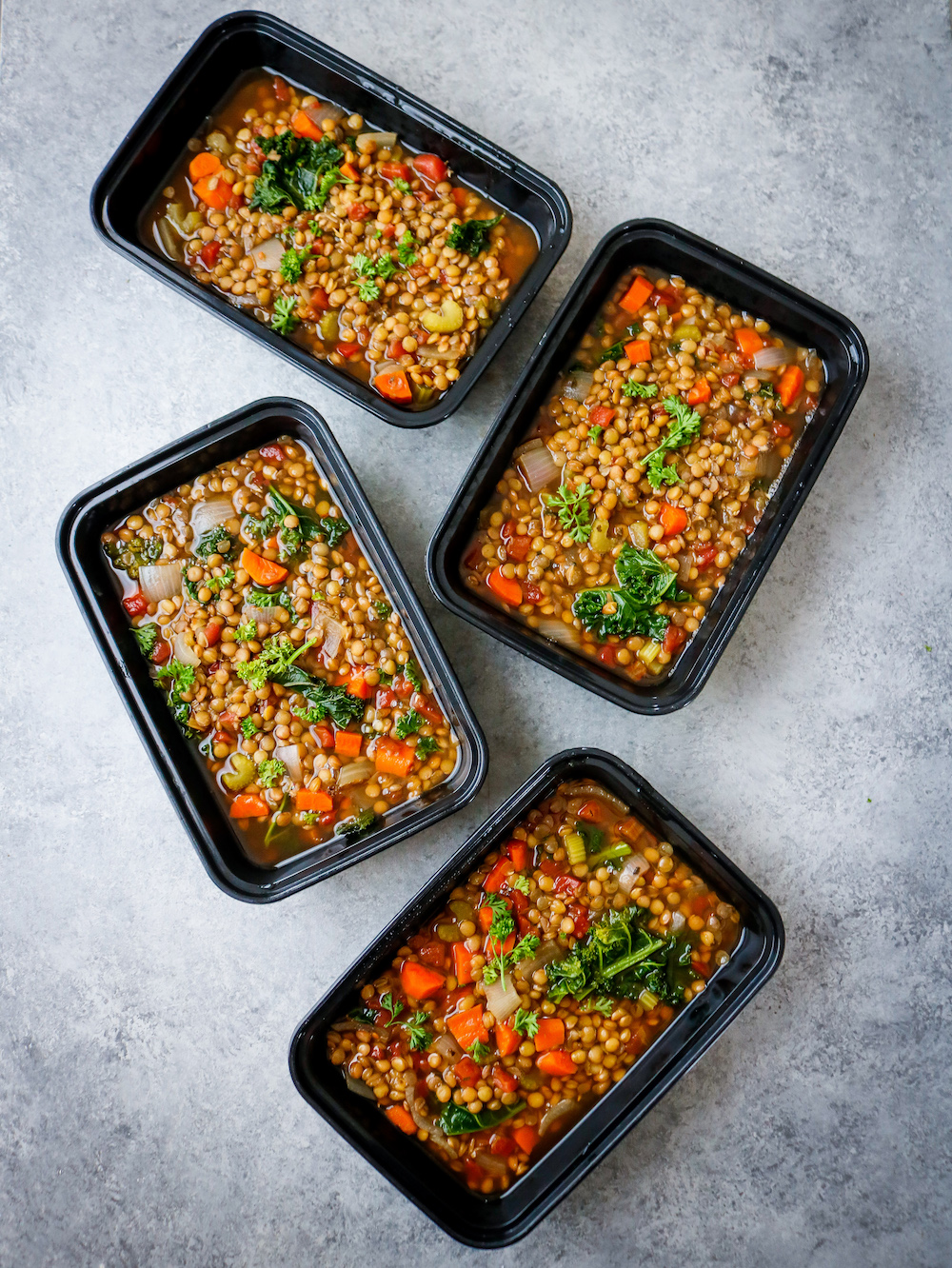 Ingredients
8

cups

vegetable stock

1/4

cup

coconut aminos

2

cups

dry lentils

1

cup

chopped celery

2

cups

canned diced tomatoes with juice

1

cup

chopped carrots

1

cup

chopped sweet white onion

1

tsp

dried oregano

1

tsp

ground cumin

1

tsp

minced garlic

1/2

tsp

dried thyme

2

bay leaves

2

tsp

sea salt

1/2

tsp

black pepper

2

cups

chopped kale

1/2

cup

chopped parsley for serving
Instructions
Combine all ingredients except kale and parsley in a crockpot. Stir well. Turn crockpot to high setting. Cover and cook 4 hours.

Stir in kale and continue to cook 5 minutes longer until wilted. Ladle soup into bowls and serve hot garnished with chopped parsley.
Notes
WW Smart Points= Green:11  Blue:3  Purple:3
Nutrition
Calories:
290
kcal
|
Carbohydrates:
49.4
g
|
Protein:
14.8
g
|
Fat:
1.6
g
|
Fiber:
8.7
g