How to Make Mushroom Carnitas
Really good vegan Mexican cuisine options are hard to come by, aren't they? Here at MPOF, we understand the challenges of having versatile vegan meal prep recipes. That's why we're so excited to tell you about our Mushroom Carnitas recipe!
Mushrooms are one of the best options for vegans because 1) they're hearty and delicious and 2) they're packed with nutrients. Mushrooms have plenty of B vitamins, fiber, manganese, and antioxidants. They're also fat-free. Mushroom Carnitas vegan meal prep recipe is the perfect munch for vegans on-the-go. Preparation and cook time is only 35 minutes and the dish is served in a bowl. The star of Mushroom Carnitas is the portobello mushroom, but the dish includes other nutritious and delicious foods like avocado, black beans, corn, and of course vegan cheese! Who says you can't enjoy vegan restaurant-style cuisine at home? We certainly don't!
Are you ready to make vegan Mushroom Carnitas? Nom, nom, nom…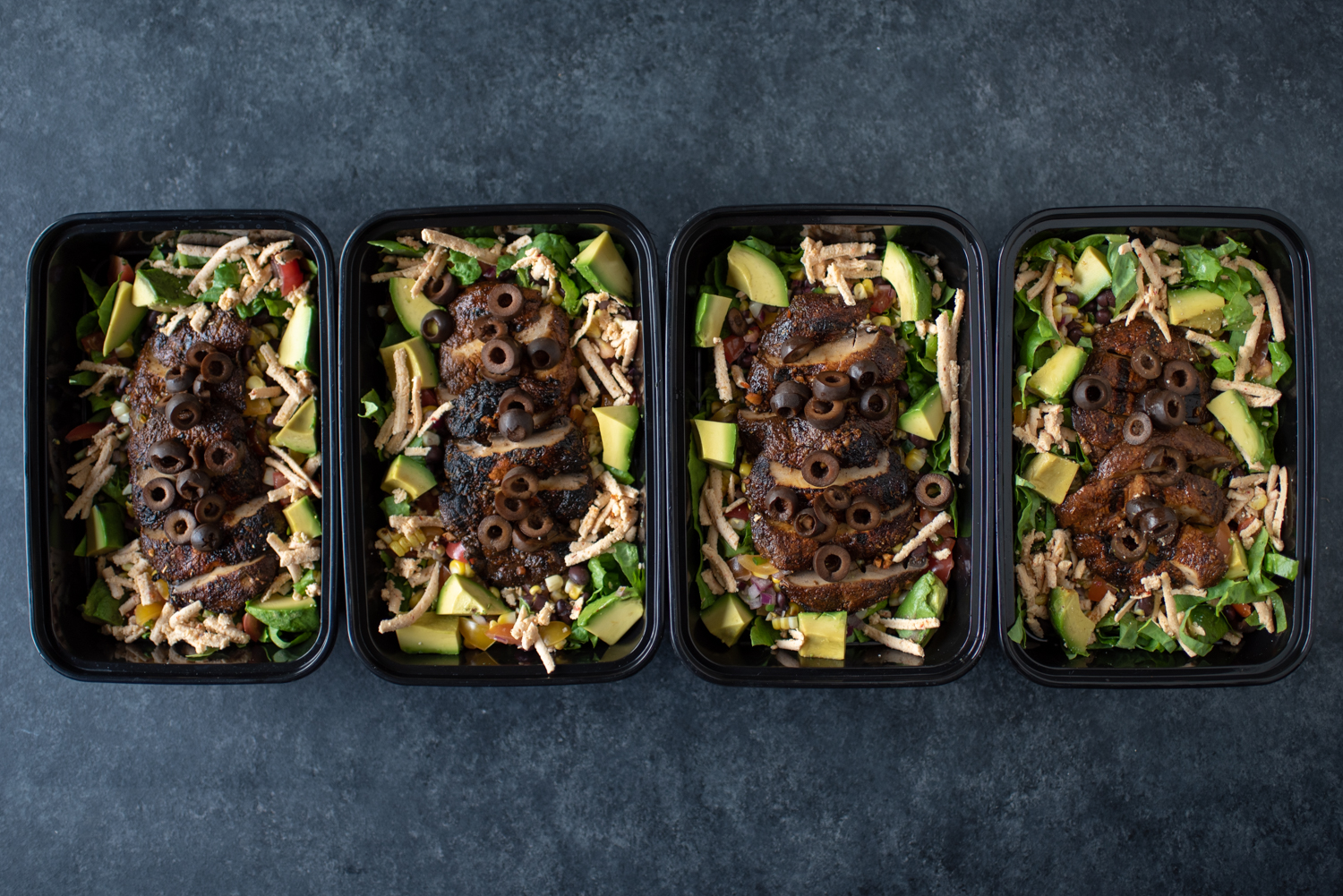 More Mushroom meal prep recipes:
We LOVE mushrooms just like you do! So you know we have other mushroom vegan meal prep recipes for you to try. Let us know what you think of these:
Vegan Mushroom Quinoa Breakfast Hash
Other tips for making Mushroom Carnitas:
Some tips for the best Mushroom Carnitas:
Only buy fresh mushrooms, especially if you plan on freezing them. Avoid mushrooms that are shriveled, moldy, have bad spots, darkened, or smell bad.

Brush-wash your mushrooms with cold water instead of running cold water over them. Mushrooms are a high-water content food, so adding more water to them dilutes flavor and nutrients. And over watered mushrooms don't last as long in the refrigerator or freezer.

If you plan on freezing Mushroom Carnitas, flash-freeze your mushrooms before storing them in the freezer for months at a time.

Eliminate as much air as possible when storing. If you can, use a

vacuum sealer

for freezing.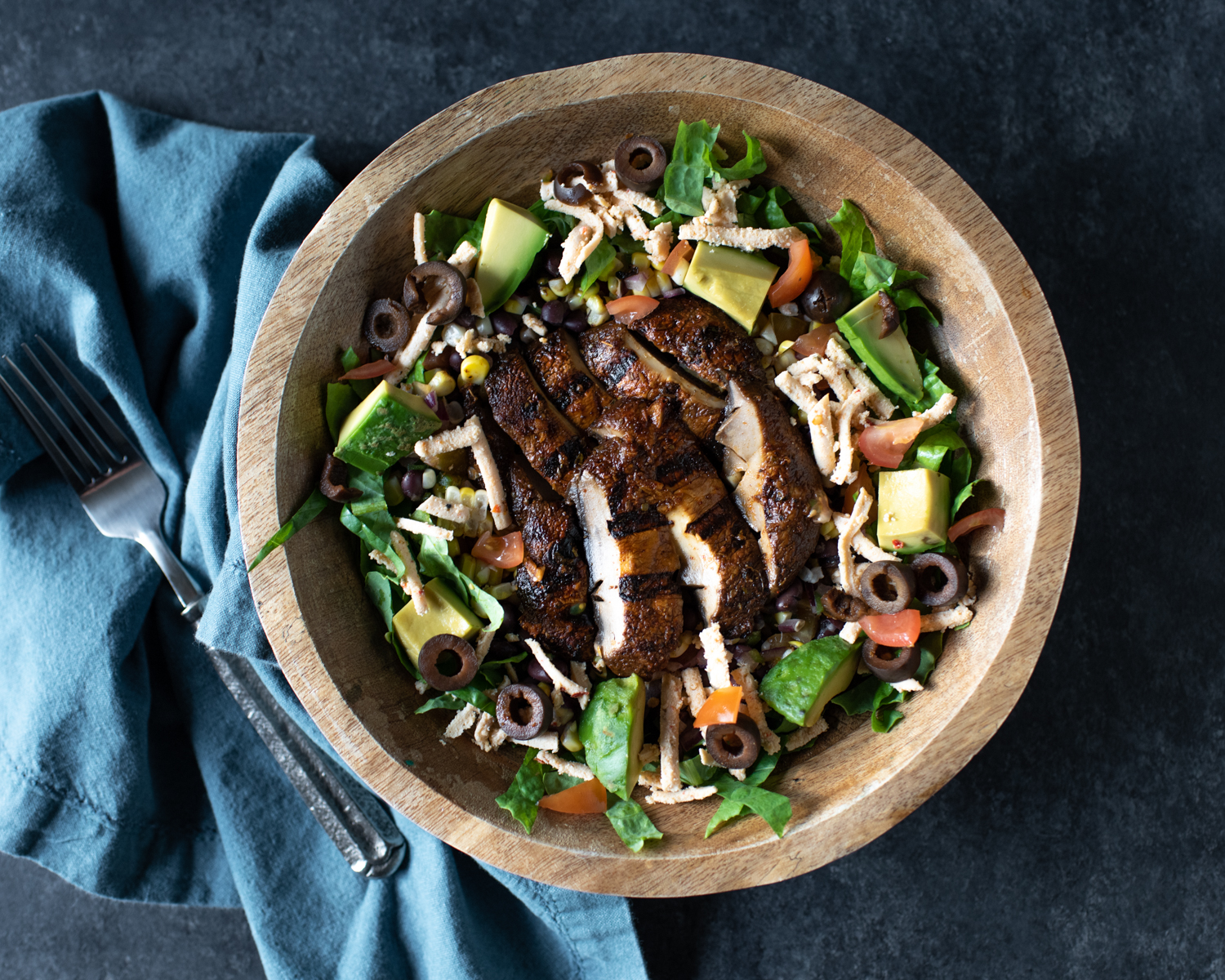 Mushroom Carnitas Burrito Bowls Ingredients:
For The Mushroom Carnitas
16 Ounces Portobello Mushrooms ( 8 small, or 4 large)
2 Teaspoon Extra Virgin Olive Oil
½ Cup Orange Juice
2 Teaspoons Mexican Oregano
3 Tablespoon Lemon Juice, divided
4 Teaspoons Garlic, minced, divided
1½ Teaspoon Salt, divided
½ Teaspoon Coriander
½ Teaspoon Cumin
2 Teaspoons Chili Powder
For The Burrito Bowls
2 Cups Roasted Corn (3 Ears)
1 Cup Tomatoes, diced
½ Cup Red Onion, diced
2 Teaspoons Fresh Jalapenos, diced (about 1 pepper)
1 15 ounce Can Black Beans, strained and rinsed
4 Cups Shredded Romaine Lettuce
1 Avocado
½ Cup Black Olives
1 Cup Vegan Shredded Pepper Jack Cheese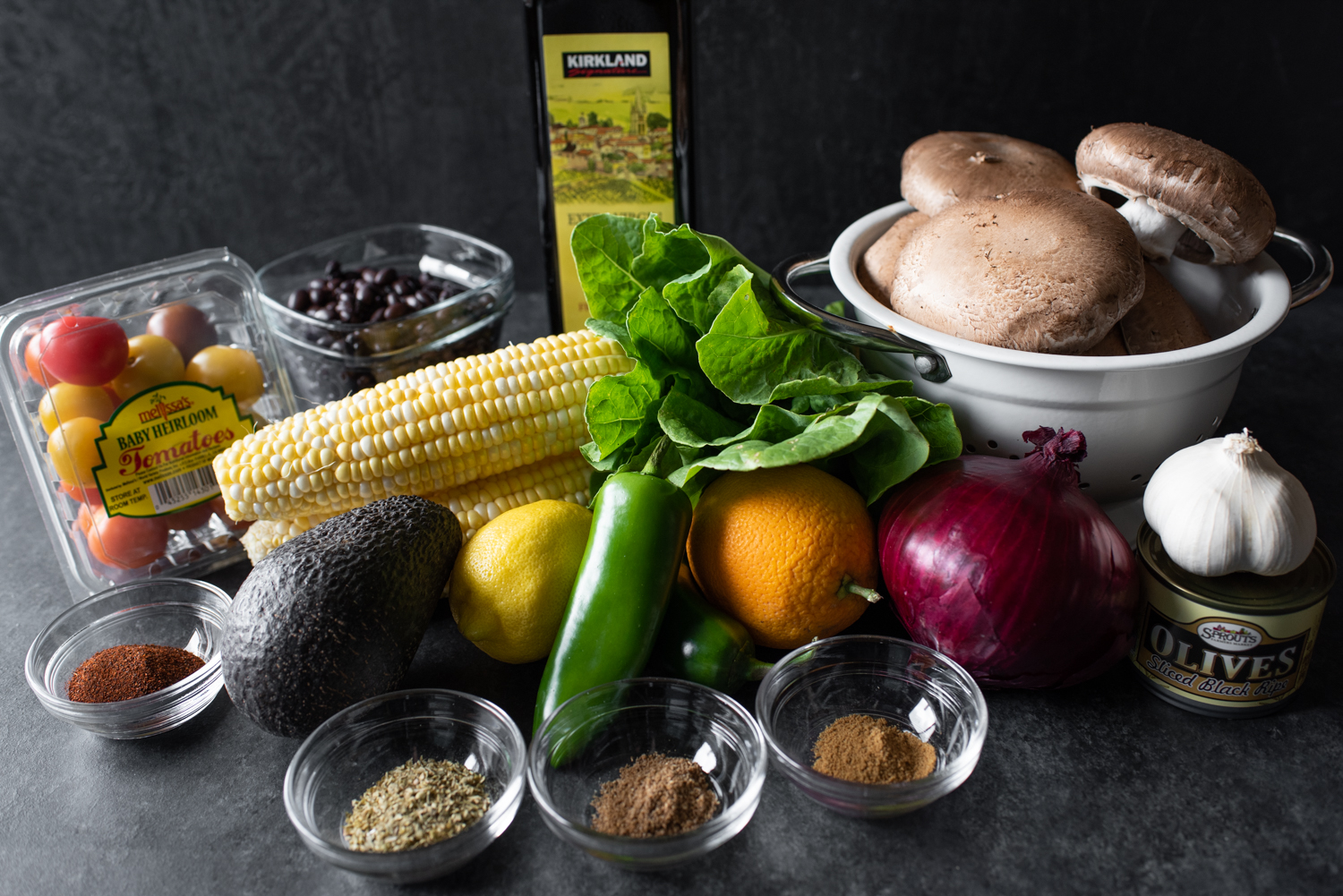 How long will this Mushroom Carnitas Burrito Bowl last for?
Mushroom Carnitas will last for 3 to 4 days in the refrigerator. For optimal freshness, store Mushroom Carnitas in an airtight plastic or glass meal prep container. You want to make sure no air gets into your meal, so your best bet may be to use a glass container with a lockable lid. If you prefer plastic, opt for our reusable one-compartment meal prep containers.
Can Mushroom Carnitas be frozen?
Yes, you can freeze Mushroom Carnitas and enjoy it later! Note that some mushrooms grow fungus when frozen, so use them quickly. We have more tips on freezing cooked portobello mushrooms below. This vegan meal prep recipe yields 4 servings. So if you know you're going to freeze some, definitely take a look at "other tips" below.
How do you make Mushroom Carnitas?
Mushroom Carnitas are super easy and quick! As mentioned, it will only take you 35 minutes and you won't need a bunch of dishes either.
First, make the marinade for the mushrooms and then marinate them in a ziplock bag. Let the mushrooms marinate for 10 minutes. While the mushrooms marinate, make your salsa. Then grill the corn with remaining marinade, flipping every three minutes. Start cooking the mushrooms the same way as the corn, basting with marinade on every flip. Cooking the corn and portobello mushrooms will take 12 minutes. When the corn is done, cut the kernels off the cob and add to the salsa. You're done cooking! When you're ready to serve, prepare a bed of lettuce and add avocado, salsa, black olives, and cheese. Top that with Mushroom Carnitas. Yum-my!
How to portion this meal prep recipe:
Divide avocado, salsa, black olives, cheese, and lettuce up into 4 meal prep containers. Then divide an equal amount of Mushroom Carnitas. Put your vegan meal prep recipe in the fridge or freezer and that's it!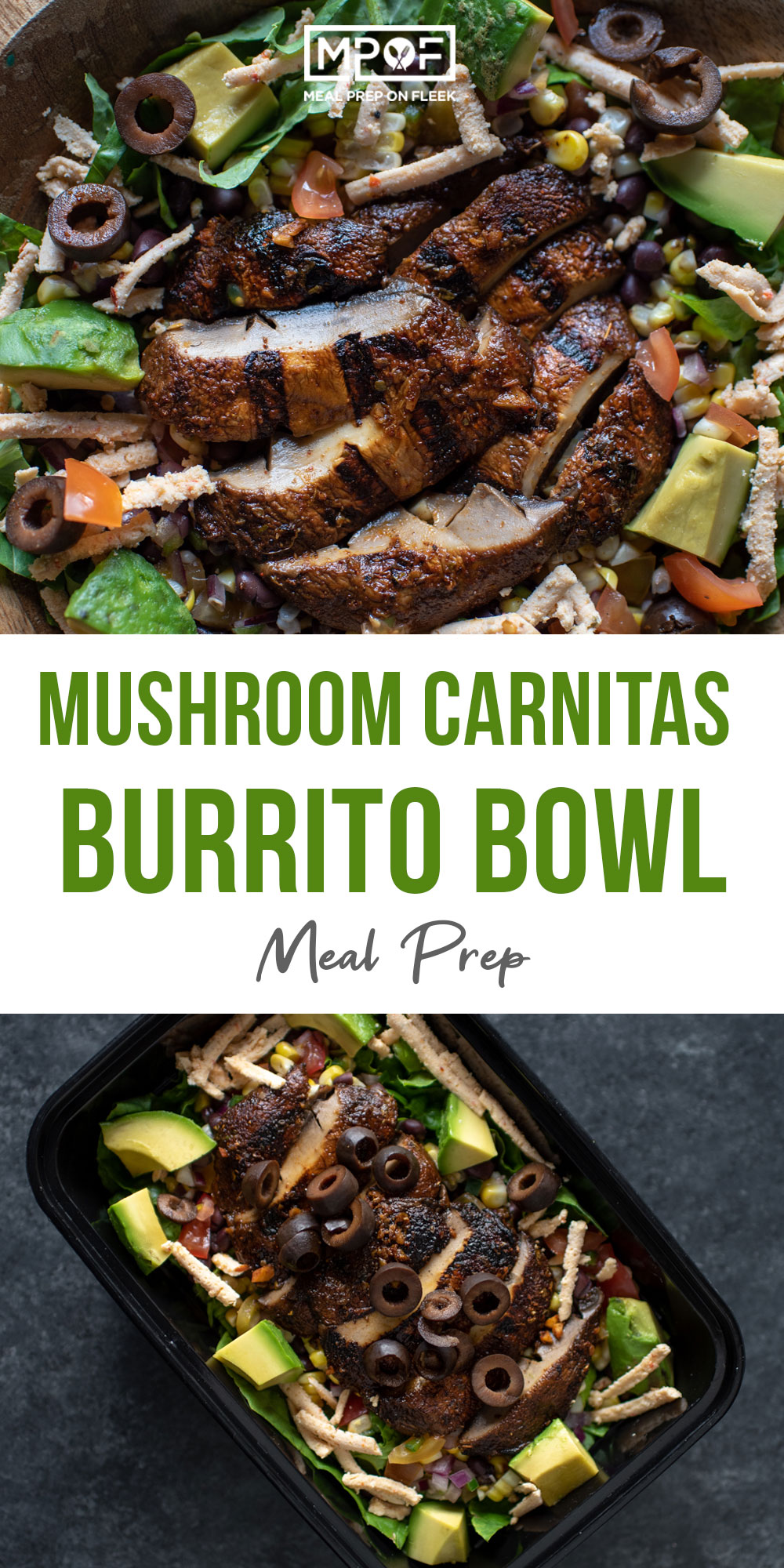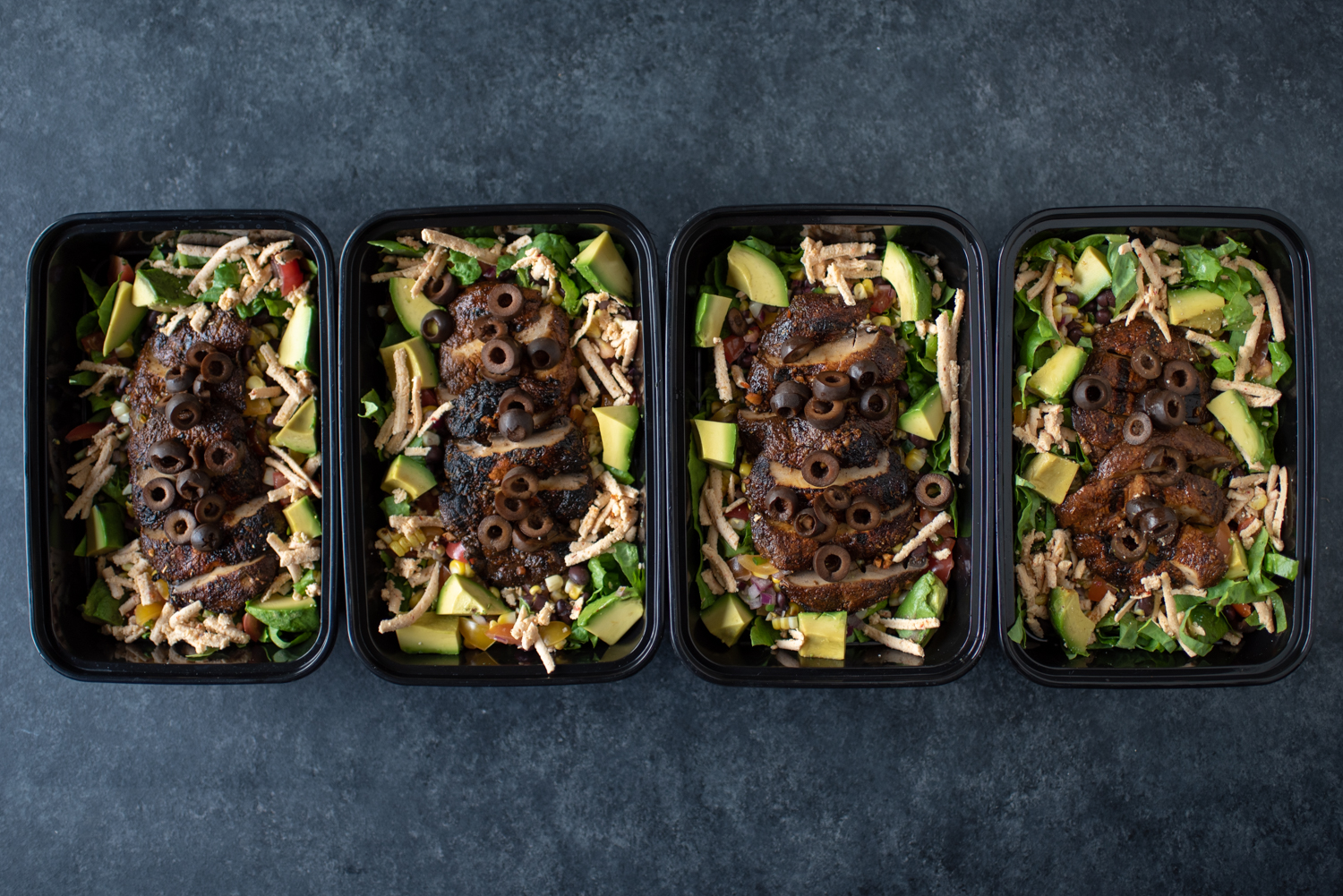 Ingredients
Mushroom Carnitas
16

ounces

portobello mushrooms

2

tsp

Extra-virgin olive oil

1/2

cup

orange juice

2

tsp

Mexican Oregano

3

tbsp

lemon juice

divided

4

tsp

garlic

minced & divided

1 1/2

tsp

Salt

divided

1/2

tsp

corriander

1/2

tsp

cumin

2

tsp

Chili Powder
Burrito Bowls
2

cups

roasted corn

3 large ears

1

cup

tomatoes

diced

1/2

cup

red onion

2

tsp

fresh jalapenos

diced

15

ounces

black beans (canned)

rinsed and drained

4

cups

shredded romaine lettuce

1

medium

Avocado

1/2

cup

black olives

1

cup

vegan pepper jack cheese

or cheese of choice
Instructions
Warm up your outdoor grill or grill pan on medium flame.

To a small bowl, add the orange juice, oregano, 2 tablespoons lemon juice, 3 teaspoons garlic, 1 teaspoon salt, coriander, cumin, and chili powder. Mix well. Remove the stems from the portobello mushrooms and score the inside of the cap ever so slightly, making sure not to cut too deep. Add the mushrooms to a zip-top bag, and pour in the marinade. Seal the bag, and ensure that all mushrooms are coated with the marinade. Let marinate for 10 minutes.

While the mushrooms marinate, make your salsa by adding to a medium bowl, tomatoes, onion, black beans, jalapenos, ½ teaspoon salt, and 1 tablespoon lemon juice. Set aside.

Place the corn cobs and marinated mushrooms directly on the grill or grill pan. Pour the rest of the marinade in a small bowl, and use to baste the mushrooms while cooking. No need to butter or oil the corn. Using tongs, rotate/flip every 3 minutes, cover, and grill until the kernels are slightly charred & tender. Do the same with the mushrooms until they have nice char marks, and have released some of their water. Baste with every flip. This should take a total of 12 minutes. Remove to a cutting board and allow the cobs to cool.

Cut the kernels off the corn cobs, and add to the salsa mixture, mixing well.

Lay a bed of shredded lettuce in 4 MPOF containers, then divide equally the black bean salsa, avocado, black olives, and cheese among the containers. Top with mushroom carnitas. Store in your MPOF meal prep containers.
Notes
Nutrition for 1 out of 4 servings:
19.6g Protein | 44.7g Carbs | 46.3g Fat | 13.2g Fiber | 647 Calories
Nutrition
Serving:
1
meal
|
Calories:
647
kcal
|
Carbohydrates:
44.7
g
|
Protein:
19.6
g
|
Fat:
46.3
g
|
Fiber:
13.2
g