We have a delectable treat for you today! It's our 5-star restaurant quality stuffed flank steak dinner recipe. The steak, watercress, and feta give you a burst of Mediterranean flavor, so we paired it with brown rice and a Greek-inspired salad with tomatoes, cucumbers, and red onion to complete the meal. This protein-packed meal prep recipe is ready in one hour for future lunches or dinners. If you're looking for a yummy stuffed steak dinner, this is it!
This Mediterranean inspired stuffed steak is an elegant addition to your meal prep favorites. Flank steak is sliced thin and filled with vitamin-C rich watercress, feta cheese, and herbs before cooking. The end result is a flavor-packed dinner that has plenty of servings for easy reheating!
How long will Watercress and Feta Stuffed Flank last for?
A stuffed flank steak will last for 3 to 4 days in the refrigerator. Store the meal in shallow, airtight containers for optimum freshness.
Can Watercress and Feta Stuffed Flank Steak be frozen?
Yes, you can freeze a flank steak after it's cooked. If you use previously frozen flank steak that you thawed out, store leftovers in the fridge, not the freezer. If you're cooking with fresh steak and want to freeze leftovers, store them in freezer-friendly airtight containers or wrapped up tight in aluminum foil and placed in a labeled freezer bag. The steak and stuffing are freezer-friendly because we cook them together, although the feta cheese may lose some of its flavor.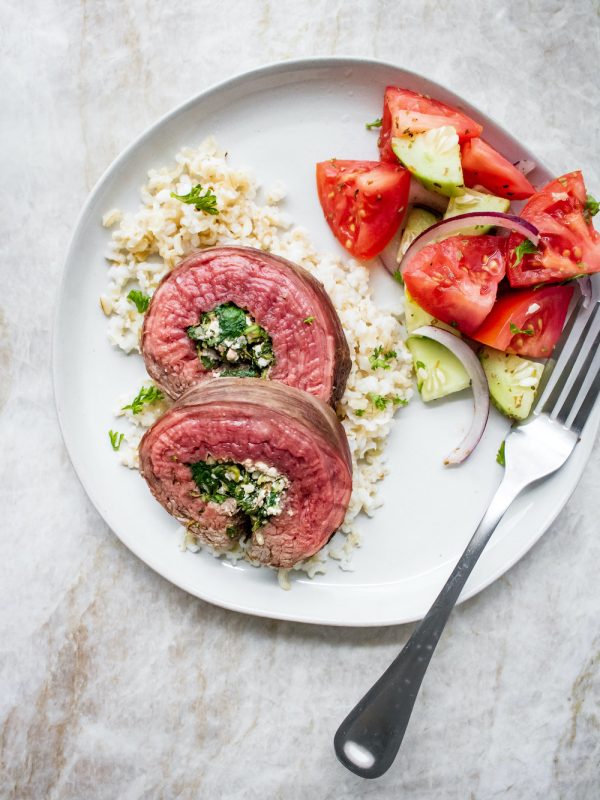 Watercress and Feta Stuffed Flank Steak
Ingredients:
1 tbsp olive oil

1 lb. flank steak

1/2 tsp sea salt

1/4 tsp cracked black pepper

4 cups watercress

2 oz. feta cheese

1 tbsp fresh chopped dill

1 1/2 tsp minced garlic

1 tsp dried thyme
For Serving
2 cups brown rice

2 cups chopped tomatoes

1 cup chopped cucumber

1/2 cup sliced red onion

1/2 tsp dried oregano

2 tbsp olive oil

1 tbsp red wine vinegar

Sea salt and pepper to taste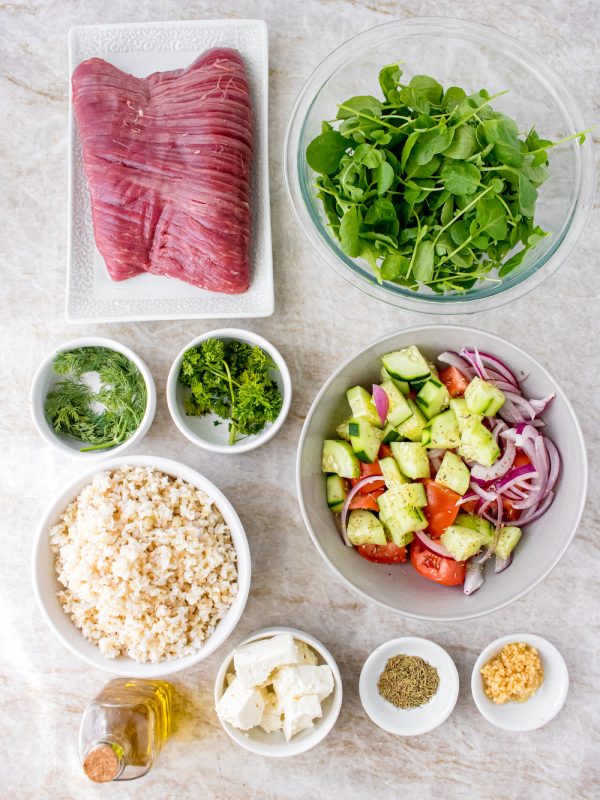 How do you make Watercress and Feta Stuffed Flank Steak?
This recipe is pretty simple for its presentation and flavors! Preparing the meal takes 15 minutes, and cooking time is the bulk of the process. We promise that once you taste this yummy stuffed steak dinner you will agree it is worth your time!
Begin with room temperature flank steak to slice, blot, and season with salt & pepper. Set the steak aside and preheat your oven to 375 degrees. Prepare to make the stuffing by heating 1 tablespoon of olive oil in a cast-iron skillet. Sauté watercress and garlic for two minutes and transfer into a medium mixing bowl to add feta, dill, and thyme.

Now, it's time to spread the stuffing onto the steak. Evenly spread the feta, watercress, and garlic mixture on the flank steak. Then roll it up and use some twine to hold the steak and stuffing together. Cook and sear the stuffed flank steak in a cast-iron pan with olive oil. Sear the steak first before placing it in the oven to cook thoroughly.

Once the steak finishes, let it rest for 10 minutes before slicing and dividing it into meal prep containers with the rice and salad.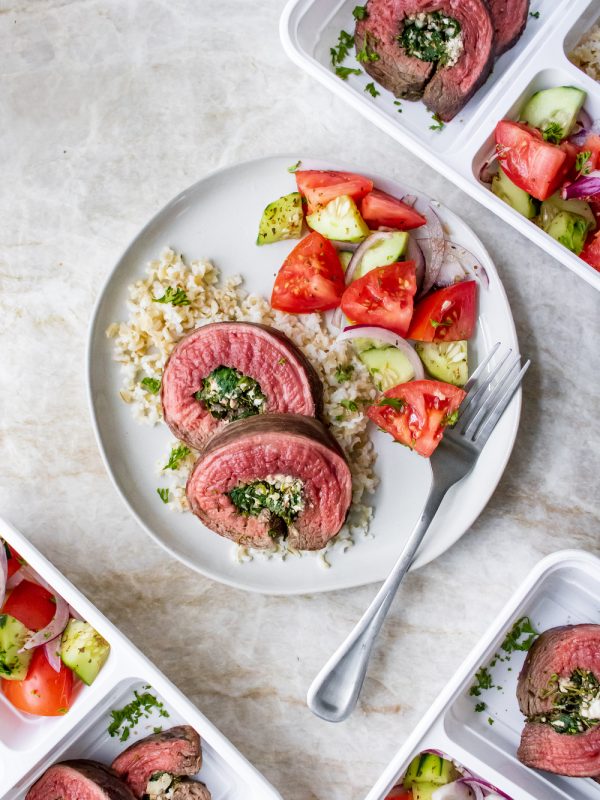 How to portion Watercress and Feta Stuffed Flank?
To portion out each meal, you need 4 three-compartment meal prep containers (we recommend using our GoodCook containers). Put two slices of stuffed flank steak, one cup of rice, and one cup of salad in each container.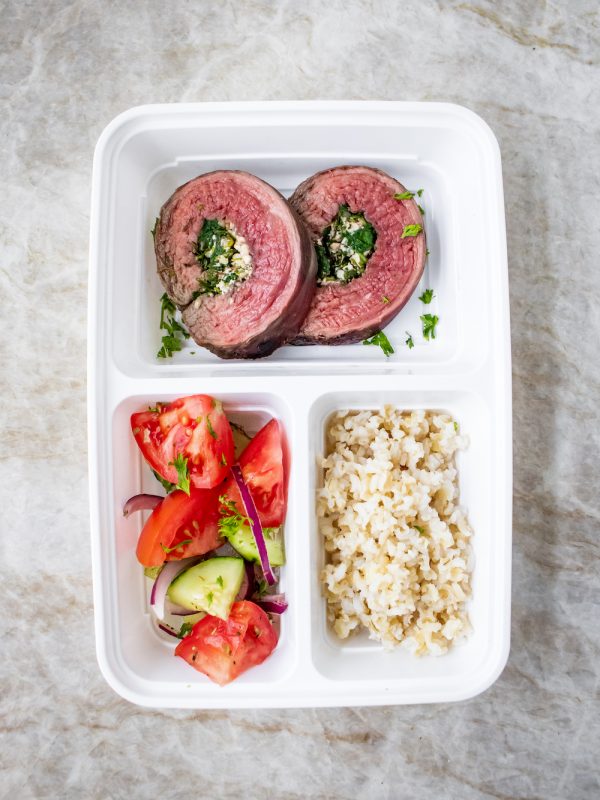 More stuffed meat meal prep recipes:
Did you enjoy our yummy stuffed steak dinner recipe? If so, you'll appreciate these stuffing-filled recipes.
Watercress and Artichoke Stuffed Chicken Breasts
Vegetarian Chorizo and Quinoa Stuffed Peppers
BBQ Pulled Chicken Stuffed Sweet Potatoes
Southwestern Stuffed Sweet Potatoes
Buffalo Chicken Stuffed Sweet Potato Skins
Broccoli Cheddar Stuffed Chicken Breast & Rice Pilaf
Sheet Pan Zesty Stuffed Poblano Peppers
Sun Dried Tomato, Mozzarella & Basil Stuffed Chicken
Scrambled Egg Stuffed Sweet Potato Meal Prep
Buffalo Chicken Stuffed Pepper Meal Prep
Bacon, Chicken & Tomato Stuffed Avocado
Pumpkin Mustard Stuffed Cabbage
Stuffed Delicata Squash Breakfast Meal Prep
Other tips for making Watercress and Feta Stuffed Flank Steak:
Flatten the flank steak before spreading the stuffing onto it. A flattened steak guarantees even slices. To flatten the steak, lay the meat on plastic wrap and use a mallet or heavy-bottom pan to smack the meat flat.
When rolling the steak, tie a piece of twine to wrap every 1.5 inches.
We give you sear and oven cooking instructions, but you can cook the stuffed flank steak on your grill at 425 to 450 degrees.
Use a meat thermometer to test the doneness of your stuffed flank steak. The internal temperature for medium-rare is from 130 to 135 degrees.
For easy meal prepping, cook your brown rice ahead of time. You can also use

cauliflower rice

.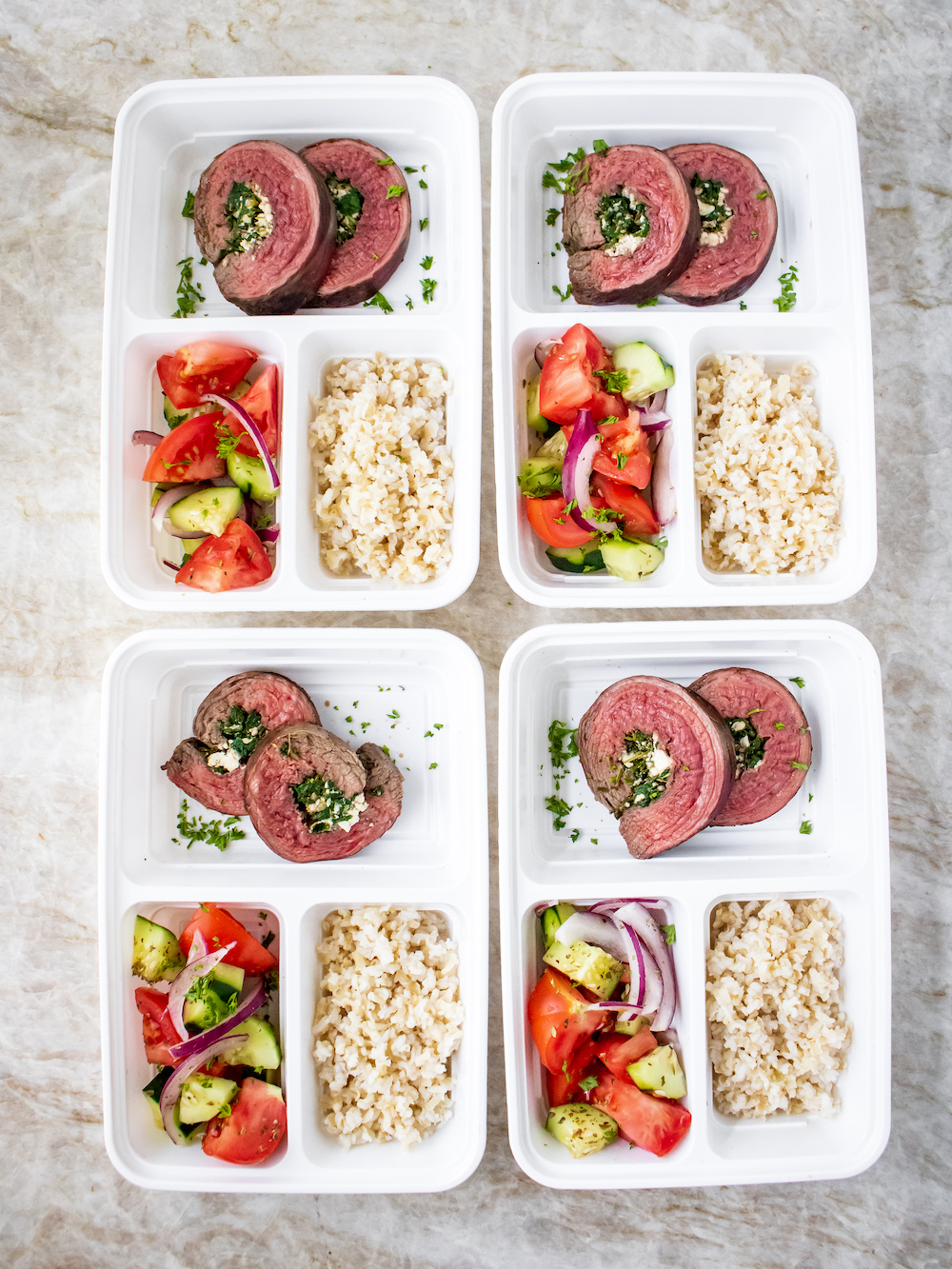 Ingredients
1

tbsp

olive oil

1

lb.

flank steak

1/2

tsp

sea salt

1/4

tsp

cracked black pepper

4

cups

watercress

2

oz.

feta cheese

1

tbsp

fresh chopped dill

1 1/2

tsp

minced garlic

1

tsp

dried thyme
For Serving
2

cups

brown rice

2

cups

chopped tomatoes

1

cup

chopped cucumber

1/2

cup

sliced red onion

1/2

tsp

dried oregano

2

tbsp

olive oil

1

tbsp

red wine vinegar

Sea salt and pepper to taste
Instructions
Allow steak to come to room temperature for 30 minutes. Slice steak through the side, stopping 1/2 inch before cutting through. Open steak up to create 1 long thin sheet 1/4-1/2 inch in thickness. Blot dry with a paper towel and season steak on both sides with salt and pepper. Set aside.

Preheat oven to 375ºF. Heat 1 tablespoon of olive oil over medium heat in a cast-iron pan. Add watercress and garlic. Sauté for 2 minutes. Transfer garlic and watercress to a medium mixing bowl and add feta, dill and thyme. Stir well.

Spread mixture evenly on steak leaving 1 inch around the edges. Roll the steak from the longest side away from you to create a log. Use 3-4 pieces of kitchen twine to secure the steak.

Heat olive oil over medium-high heat in a cast-iron pan for 2 minutes. Sear steak for 6 minutes, turning every 2 minutes for even browning. Transfer pan to oven and bake for 20-25 minutes (for medium-rare) or until the desired doneness. Rest steak at room temperature for 10 minutes.

While steak is cooking, divide brown rice between 4 small compartments of MPOF white containers. Stir together ingredients for salad and divide between the remaining 4 small compartments. Remove twine from steak and slice into 8 slices. Place 2 slices in each of the large compartments.

To Reheat: Place slices of stuffed flank steak on a parchment paper-lined baking sheet and bake at 325ºF for 12-15 minutes.
Nutrition
Calories:
497
kcal
|
Carbohydrates:
43
g
|
Protein:
32
g
|
Fat:
22
g
|
Fiber:
3
g