Garlic Sweet Potato Wedges with Hummus
Today, it's snack time! Who doesn't love a good snack? And by good, of course, we mean healthy, delicious, quick, and easy.
Here at MPOF, we pride ourselves on bringing you the best meal prep recipes for a healthy lifestyle. Snack time is meal time, too. Snacking is perfectly okay to do – as long as it's mindful. Our bodies need to be replenished often, especially if we're leading busy lives. Our Garlic Sweet Potato Wedges with Hummus is the ideal mindful snack for busy go-getters like you!
Sweet potatoes are savory root vegetables that pack a 1, 2 punch in the health department. They're known for being rich in antioxidants (promoting gut health) and promoting gut health. Sweet potatoes are also very versatile. You can pair them with savory or sweet sides and seasonings. The meal prep recipe we share with you today pairs sweet potatoes with the savory taste of garlic. Garlic offers medicinal properties that help with immunity. Its reputation for combating sickness makes it the food for cold & flu season.
Now that we better understand how this meal benefits you, let's make it!
How long will Garlic Sweet Potato Wedges last for?
Cooked sweet potato last for 3 to 5 days. For optimal freshness, store them in a shallow airtight container or reusable plastic bag.
Can Garlic Sweet Potato Wedges be frozen?
Yes, you can freeze Garlic Sweet Potatoes. Wrap cooled sweet potatoes in foil or place them in a freezer bag or container. Once properly stored in your freezer, Garlic Sweet Potatoes will last for up to 12 months. Be sure to label the contents.
Garlic Sweet Potato Wedges With Hummus Ingredients:
4 Small Sweet Potatoes, cut into 1" thick wedges
2 Tbsp. Minced Garlic
2 Tbsp. Chopped Fresh Italian Parsley
2 Tbsp. Chopped Fresh Chives
1 Tbsp. Avocado Oil
1/4 tsp. Pink Himalayan Salt
1/4 tsp. Ground Black Pepper
1 pkg. Hummus
How do you make Garlic Sweet Potato Wedges?
The recipe is pretty straightforward. Simply chop your sweet potato into wedges. Then toss the wedges in a bowl with your seasonings and oil. Stick your oiled and seasoned sweet potato wedges in your preheated oven, flip halfway through, and voila! A tasty snack or appetizer in 25 minutes.
How to portion Sweet Potato Wedges?
Divvy up 4 servings of sweet potato wedges in a one-compartment or two-compartment meal prep container. Then add hummus to each serving of wedges.
More Sweet Potato meal prep recipes:
Can't get enough sweet potato? We don't blame you – neither can we! Check out these recipes and let us know what you think.
Sweet Potato Wedges With Tahini
Buffalo Chicken Stuffed Sweet Potato Skins
Sheet Pan Sweet Potato Breakfast Hash
Quinoa Stuffed Sweet Potato Meal Prep – 3 Ways!
Scrambled Egg Stuffed Sweet Potato Meal Prep
Baked Lentil Sweet Potato Falafels with Avocado Cream Sauce
Whole30 Zucchini & Sweet Potato Hashbrown Meal Prep
Cinnamon Raisin Sweet Potato Snack Bread
Other tips for making Sweet Potato Wedges:
We did some digging for some of the best tips for making sweet potato wedges. We hope these tips help!
Don't ignore the thinner sweet potatoes. They're still good and cook evenly in the oven.

Switch it up and make fries instead of wedges. Be sure your cuts are even.

For crispier wedges, soak cuts of sweet potato in cold water for at least 30 minutes. You can soak them overnight as well. Rinse, drain, and pat down before baking.

Don't try to stuff a lot of wedges on your sheet pan at once. Stick to cooking one layer of wedges at a time.

Try a variety of hummus to pair with the sweet potato wedges. You can even make your own hummus if you have time. We found some variety packs of hummus for you to try on

Amazon

.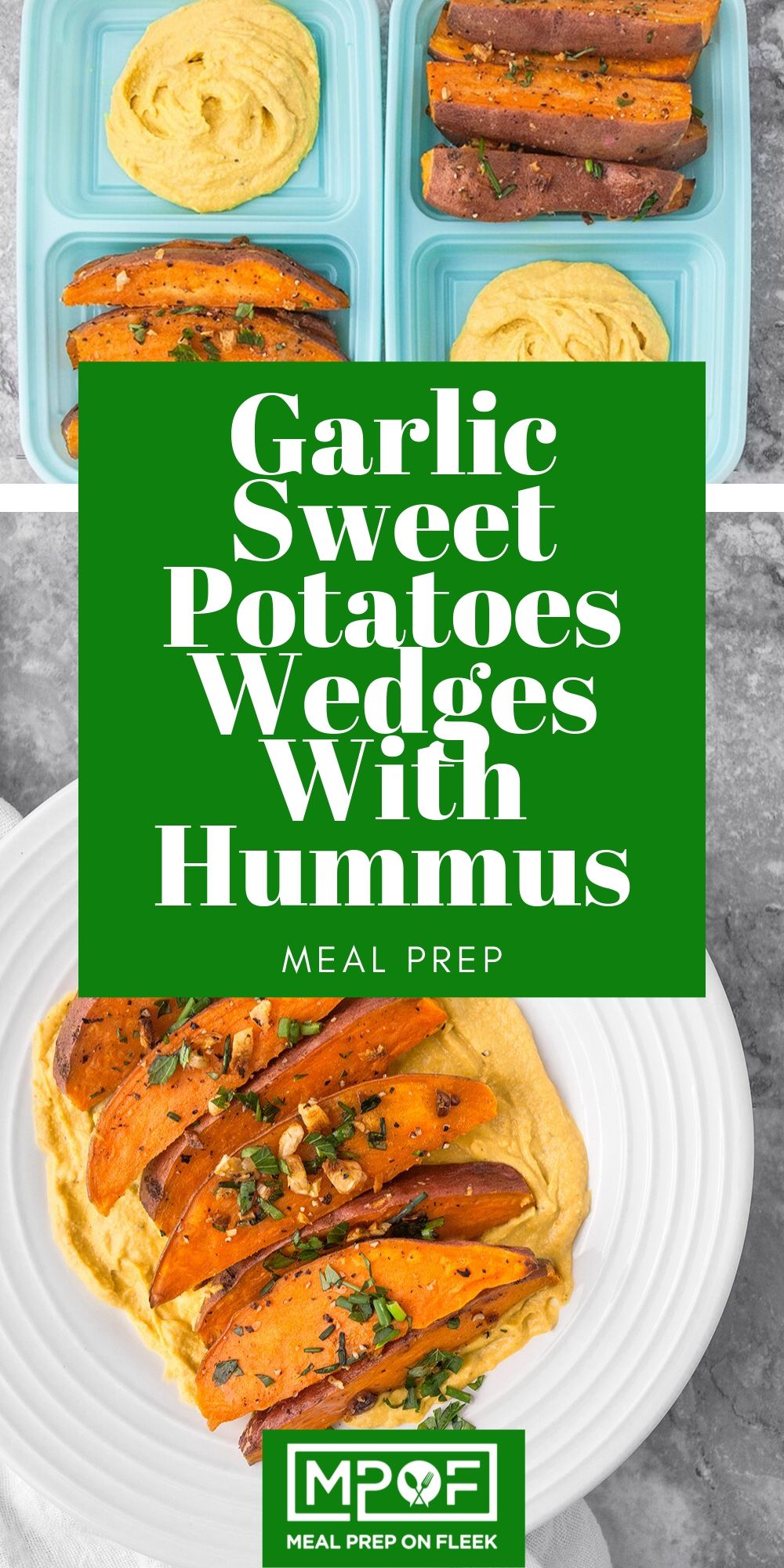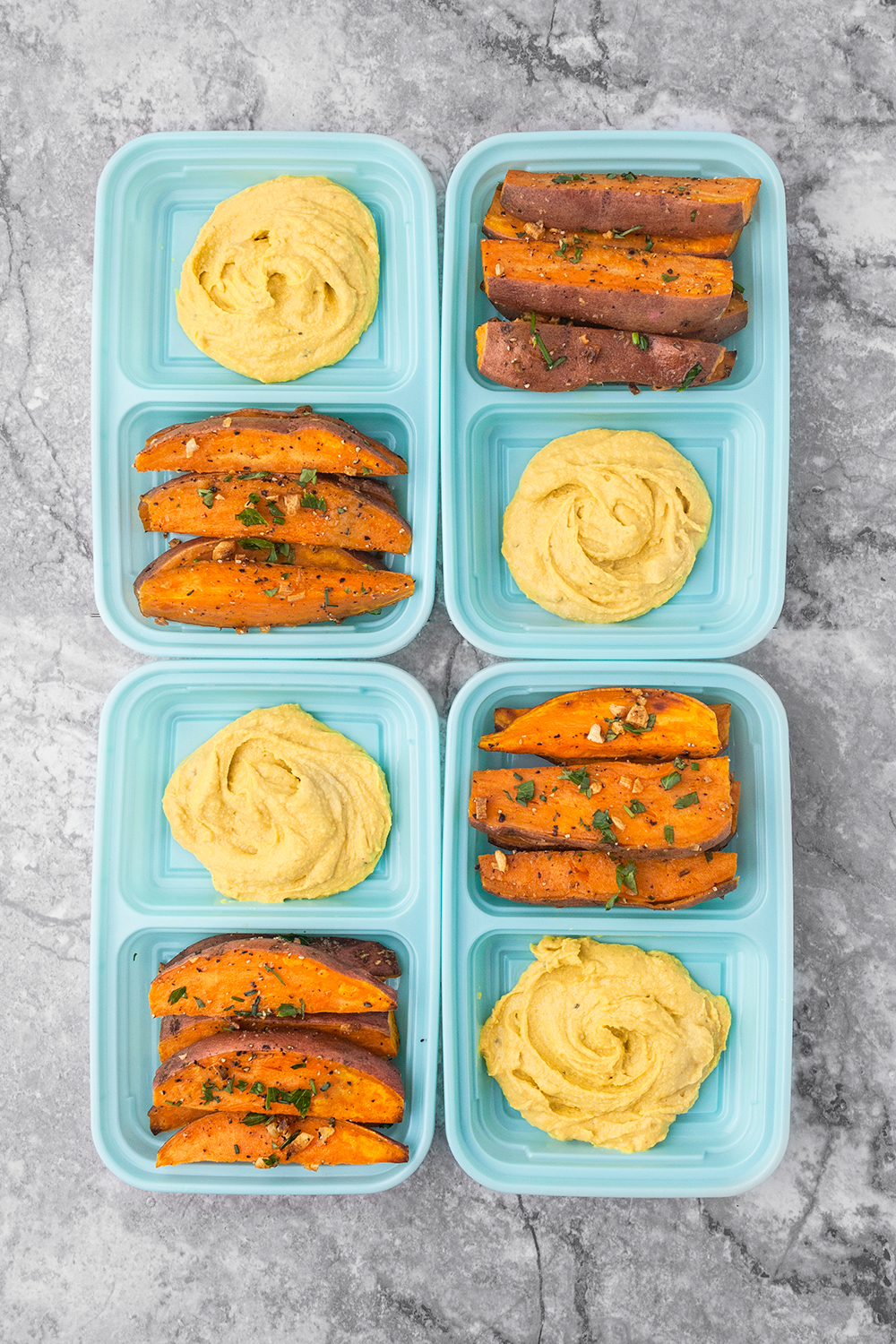 Ingredients
4

small

Sweet Potatoes

cut into 1" thick wedges

2

Tbsp.

Minced Garlic

2

Tbsp.

Chopped Fresh Italian Parsley

2

Tbsp.

Chopped Fresh Chives

1

Tbsp.

Avocado Oil

1/4

tsp.

Pink Himalayan Salt

1/4

tsp.

Ground Black Pepper

1

package

Hummus

about 7 servings per container
Instructions
Preheat oven to 415℉ and line a baking sheet with parchment paper, set aside.

In a medium bowl, combine potato wedges, garlic, oil, salt, and pepper until potatoes are well-coated.

Spread out onto prepared baking sheet and bake for 15 minutes (until wedges are tender), flipping half way though.

Top with fresh herbs and serve with hummus.

Store and enjoy!
Nutrition
Calories:
264
kcal
|
Carbohydrates:
38.4
g
|
Protein:
6.5
g
|
Fat:
11.4
g
|
Fiber:
9
g