If you've seen MPOF's other article about meal prep containers, we covered our list of favorite plastic containers and why they could be a good option for you. Because there is such a wide variety of products to choose from, we decided we would cover the best glass meal prep containers and their benefits as well!
MPOF's Guide To Best Glass Meal Prep Containers
Pros of Glass Meal Prep Containers:
Unless the container isn't washed properly, the glassware won't add any toxic chemicals into your food due to excess heat. These glass meal prep containers are excellent for baking proving it an all in one solution. You can prep, bake, freeze and serve all in the same container. That's what makes them the best glass meal prep containers.

They're meant to withstand heat with its increased durability due to it composition. It's made of borosilicate commonly known as Pyrex Glass. Pyrex is a dense kind of glass that has been infused with boron and silica, ensuring that every container you get will not only be easily chipped, cracked, and is shatter-resistant, but also safe for freezing and dishwashing. What's more, every Pyrex container can withstand oven temperatures up to 840° Fahrenheit. Now that's what we call a

hot product!
Cons of Glass Meal Prep Containers
They are more expensive than their plastic counterparts.

Unlike plasticware, these containers may not be able to withstand the intense impact against hard surfaces.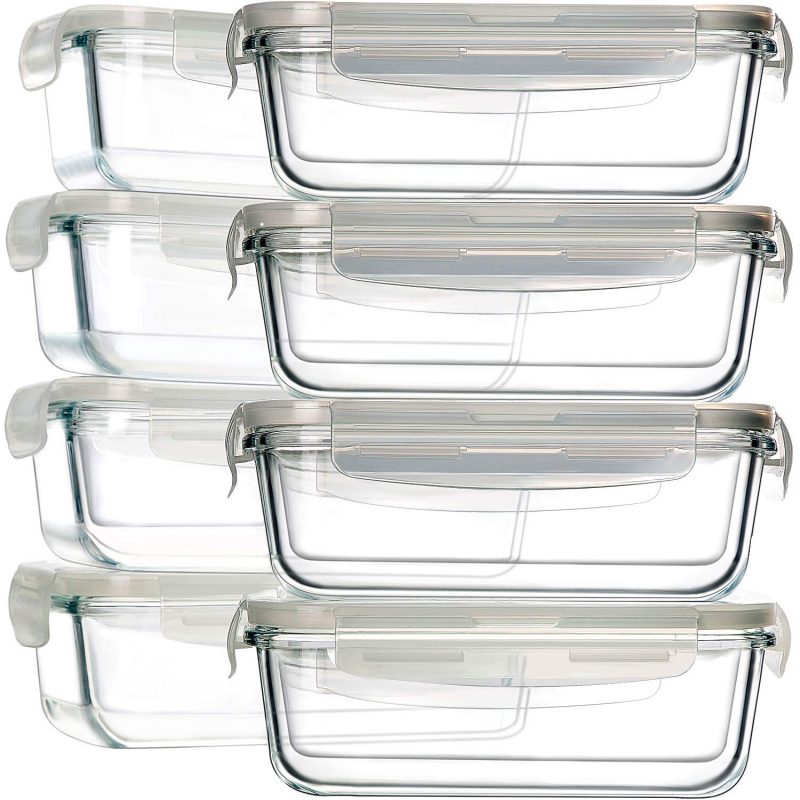 Awareness is being generated worldwide about the importance of a reduction in plastic use. We at meal prep have heeded. Available for your convenient storage, baking and other uses are several of our highest rated meal prep glassware.
One Compartment Glass Meal Prep Containers
We believe there is beauty in simplicity. That's why we can't recommend these one compartment glass meal prep containers enough! They're a perfect way to store salads, leftovers, or single pan dishes, and their stackable low-profile helps you keep your fridge tidy. Excellent for baked dishes like meat loaves, pies, and your delicious protein like turkey.
Pyrex glass

Dimensions: 7.5 x 5.5 x 2.5 inches

5-Pack includes 5 lids and 5 containers

BPA-free

36-ounce capacity
Nice size for lunches or leftovers
We have been making the switch from those flimsy plastic containers to glass for a while. I had purchased some from Pampered Chef and was wanting to try a more frugal alternative. I've found it with this 10 piece set (5 glass containers with 5 plastic locking lids). They are able to nest inside each other a bit, to make stacking them in the cupboard easier. Excited that these are just in time for the holidays to send leftovers home with family. Another bonus is there are 5 - so if you do once a week food prep, you have enough containers to take for your 5 workweek lunches. Great product, would buy again.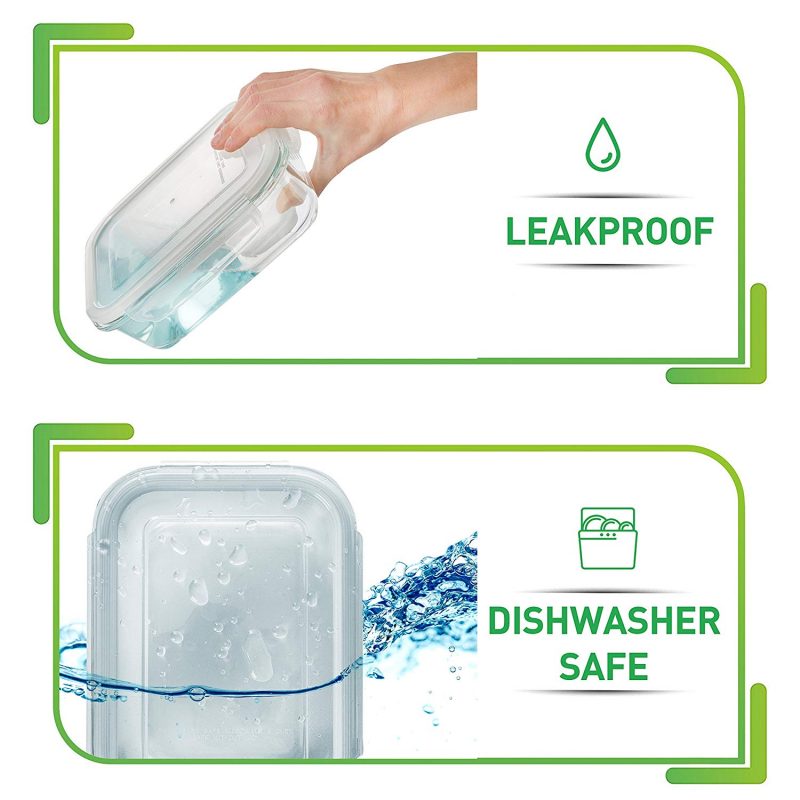 Who wants to keep their prepped meals fresh for as long as possible? MPOF does, and if you're anything like us, you want your meals fresh and easy to take on-the-go. Well, luckily for you, Weck jars make that possible! Every Weck jar has a thick rubber O-ring around the lid, with a latch to create a seal. Not only will your meal prep stay fresher for longer, but the airtight seal will lock in the flavors of the meal too. These are the best glad meal prep containers to store your dips, salads, and your overnight oat blends. We certainly have some awesome recipes to put these glass meal prep containers to work.
Dimensions: 3½" x 3½"

9.8 fluid ounce capacity

6-Pack includes 6 jars, 6 glass lids, 6 rings, and 12 clamps

BPA-free

Dishwasher and microwave safe
Weck jars are the best. They're super durable
Weck jars are the best. They're super durable, and I love that they're intended to go under high heat, so everything can go in the dishwasher and is completely reusable. I should note I use these for general food storage, NOT for canning, so I can't speak to how they work for that process. This is my favorite size to put leftovers in for lunches.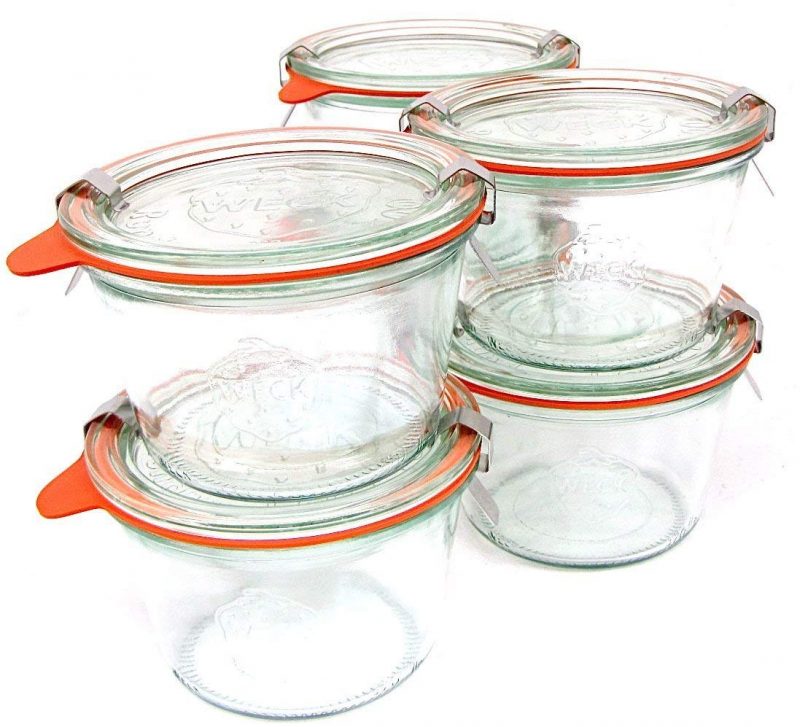 Round Pyrex Glass Meal Prep Containers
We love these round Pyrex glass meal prep containers for their low profile, making them perfect for snack-sized meals or small portions of leftovers. This is fantastic for prepping snacks like sandwiches or fruit bowls to add to the week's menu. MPOF found that they held just the right amount of fruits or nuts to tie us over until the next meal. Don't cave into when the cravings coming knocking. Be prepared by using one of the best glass meal prep containers.
12-Pack includes 6 2-cup round storage dishes and 6 plastic lids

Ideal for refrigerator and freezer storage or taking food on the go

The BPA-free plastic lid is dishwasher safe

Pyrex glass is safe in the oven, microwave, refrigerator, and freezer
Thick Glass, Tight Lids, Great for Food Storage
We purchased a set of these years ago and we just purchased another set now. The first set is still going strong with no chips, cracks, or breakage. This set looks the same as the previous. We expect they will last just as long. The glass is thick and not prone to chipping, the lids fit tightly so soup won't spill out if the unit is tipped. We use them in the fridge or microwave, in lunch boxes to school or work. The 2 cup capacity is perfect for a single portion. All parts go in the dishwasher easily. Great product from Pyrex.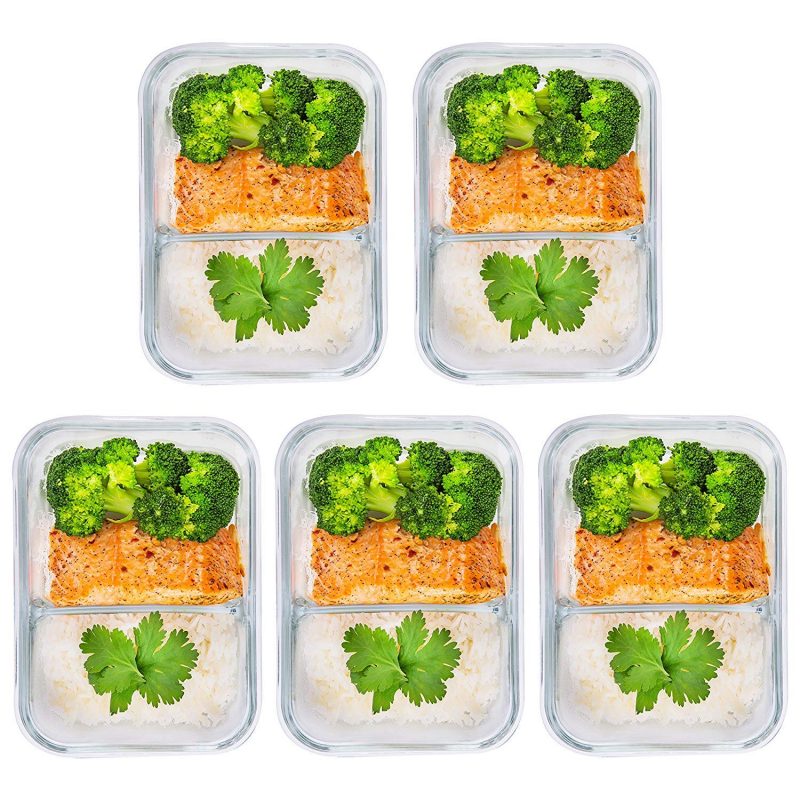 2 Compartment Glass Meal Prep Containers with Locking Lids
You'll find using these two compartment glass meal prep containers to be a literal snap, with their snap-lock lids! Another great feature of these meal prep containers is that there's enough space for 36 ounces of food, divided into two compartments. That means you can put a protein dish in the larger compartment and a side of healthy veggies in the smaller one, for one satisfying prepped meal!
Pyrex glass

36-ounce capacity

5-Pack includes 5 containers and 5 lids

Dimensions: 8" x 6.5" x 3"

BPA-free
Beautiful alternative to plastic containers
I was looking for a good value on a set of identical glass Tupperware for meals I prepare in advance for the week and found these truly offered "free shipping" unlike other listings that didn't fulfill that offer when delivering to my area. I decided to take a chance on an unfamiliar brand, and so far I'm really liking what I bought. I initially did a leak test to make sure that these easily-closed containers actually lock and seal while holding water; all five containers passed inspection.
I like how effortless you can close the lids. I was having doubts about the sealing after being accustomed to other snap-lock type of tupperware, I was delightfully proven wrong. Something to note, this is not a flaw in the product, but I found that if you have to apply a lot of force when attempting to close the lids, this is when a leak can happen as there is improper alignment. This can be fixed by flipping the lid around 180°, or by aligning more carefully. Just something I observed when testing.
I'm happy to finally have a set of non-melting microwave containers. If they hold up a few months from now, I'll order more for my dinner containers also.
Which Meal Prep container do you prefer - glass or plastic?
Let us know your choice and the reasons for your choice in the comments section below