Chicken Quinoa Salad is a high-protein flavorful meal prep idea with fresh fruit and avocado. Prep it for a delicious filling lunch or dinner.
Chicken Quinoa Salad combines fresh fruit and quinoa with high-protein chicken breast for a sweet and savory meal prep idea! Serve with some avocado or a drizzle of avocado oil for a complete macro-friendly meal! It's so good, and gluten-free, too. We like this salad for a quick lunch, as you can it eat it cold right from the fridge if you like, but you can have it for dinner. Versatility is key!
How to Make Chicken Quinoa Salad
For meal prep, this comes together pretty fast. You start the chicken in a skillet with some olive oil while the quinoa cooks in some water on the stovetop. Butternut squash cooks in the oven, and then gets combined with the rest of the ingredients.
The trickiest part of this whole thing? The pomegranate. Buying a whole pomegranate is more economical, but it takes some time to wrangle to get the arils, or seeds, out. You cut it in half and then submerge the halves in a bowl of cold water and dig the seeds out using your fingers. It takes time and your fingers will definitely get cold, but the water loosens the arils from the membranes inside the pomegranate. It just takes some practice. If you can't be bothered with all of this, pomegranate arils are sold on their own, usually in clear plastic cups with a lid, in the produce department. Toss them right into the quinoa salad and call it a day!
Chicken Quinoa Salad Ingredients
2 ¼-lb. chicken breast
½ cup white quinoa, uncooked
½ butternut squash
4 celery stalks
5 scallions
¼ cup pomegranate arils (seeds)
2 limes
How to Store Chicken Quinoa Salad
We love a good salad meal prep, so know that this chicken salad keeps just like all our other recipes, for up to 4 or 5 days. If you want to, you can freeze the salad in airtight containers for up to 3 months. Defrost it in the refrigerator and eat it at room temperature or a bit warm. It's up to you!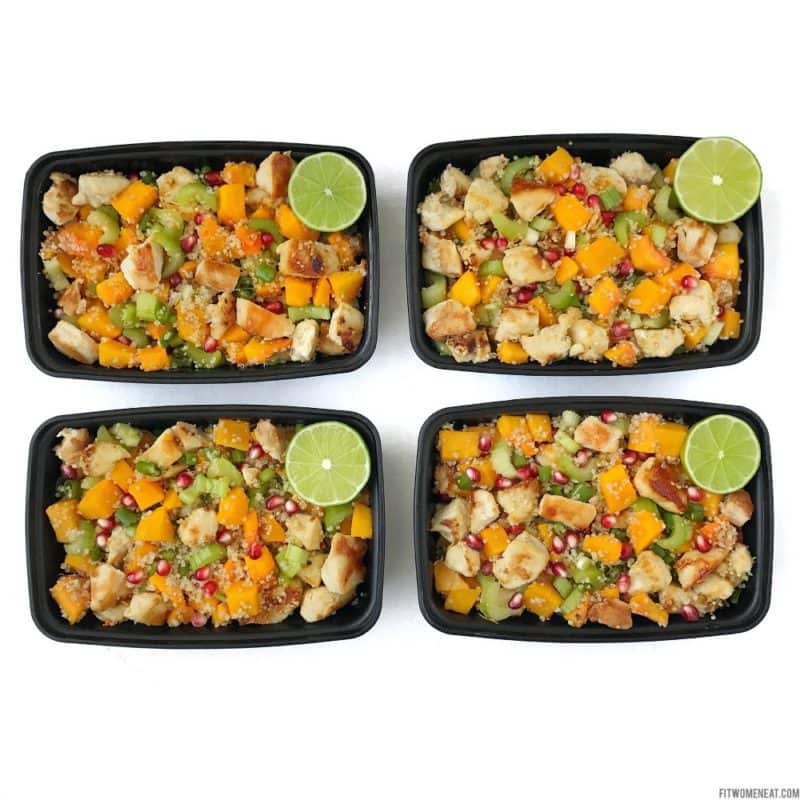 Substitutions and Alterations
As always, feel free to use chicken thighs instead of breasts if you prefer in this quinoa salad.
Other types of quinoa are fine here, too, such as red, or even a mix. Sometimes you'll find bags of quinoa labeled "tri-color." All good. Use whatever you've got. The flavor varies a bit but not too much.
Orange, tangerine, or clementine segments would also complement the flavors in this salad.
Swap out the butternut squash for sweet potatoes.
You can take out the quinoa and use rice or even millet. But this chicken quinoa salad recipe is loaded with protein thanks to the quinoa, topping at more than 50 grams per serving!
Tips
It's important to rinse the quinoa before you cook it. Doing so helps remove some of the bitterness in quinoa.
Leftover pomegranate arils are delicious on their own as a tart and crunchy snack. Swirl them into oatmeal with some almond butter, top them on plain Greek yogurt, or sprinkle on top of pancakes or French toast.
READ MORE: For more protein, quinoa, and fruit combos, try Fruity Quinoa and Grilled Salmon