Gluten Free Blueberry Pie French Toast Meal Prep
Some people might say breakfast sweets have no place in a healthy regimen. We would definitively say nay to that, and ask those people to reconsider their view over a plate of this delicious french toast meal prep. Traditionally heavy and overly sweet, we lightened up this favorite by swapping butter for avocado oil cooking spray, eggs for egg whites, and highlighting the option to use your milk of choice.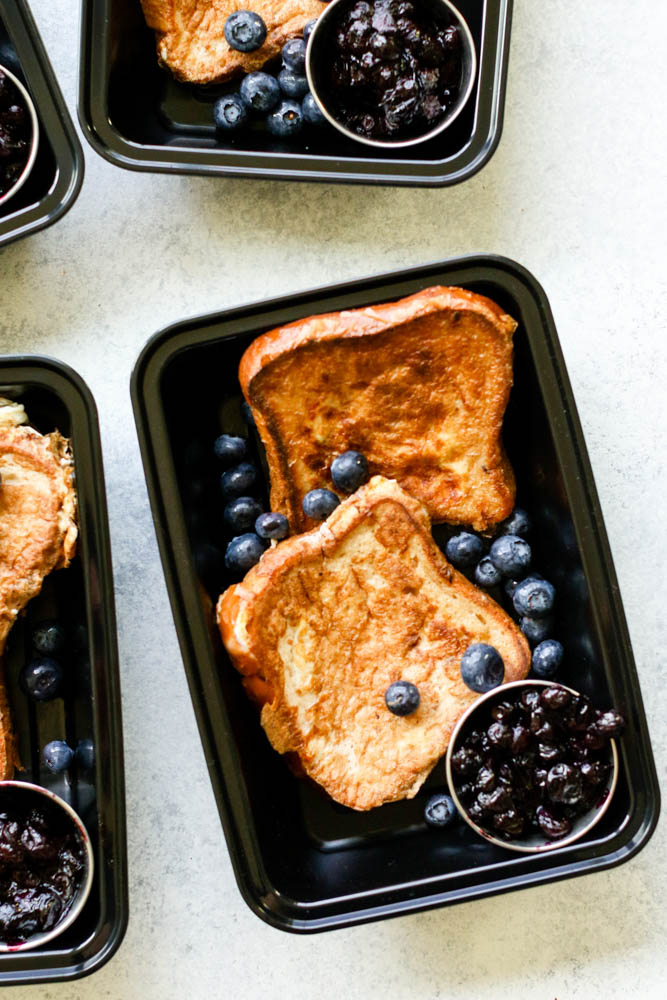 Though you can of course use whatever kind of bread you like, we specifically wanted to feature gluten free bread for this easy meal prep. Things are hard enough out there people, we don't need to perpetuate a lack of french toast across any demographic. And because this recipe works with whatever kind of milk you'd like to use and that little swap of cooking butter for avocado oil spray, this french toast meal prep is also dairy free. French toast for everyone!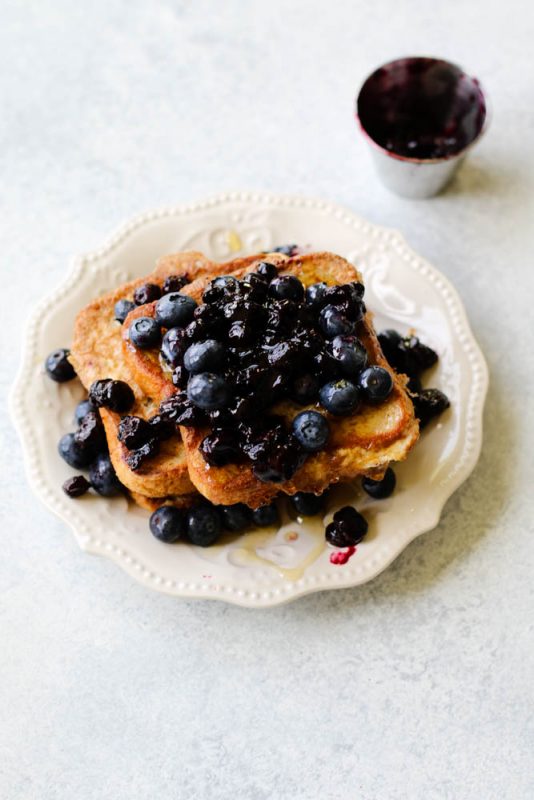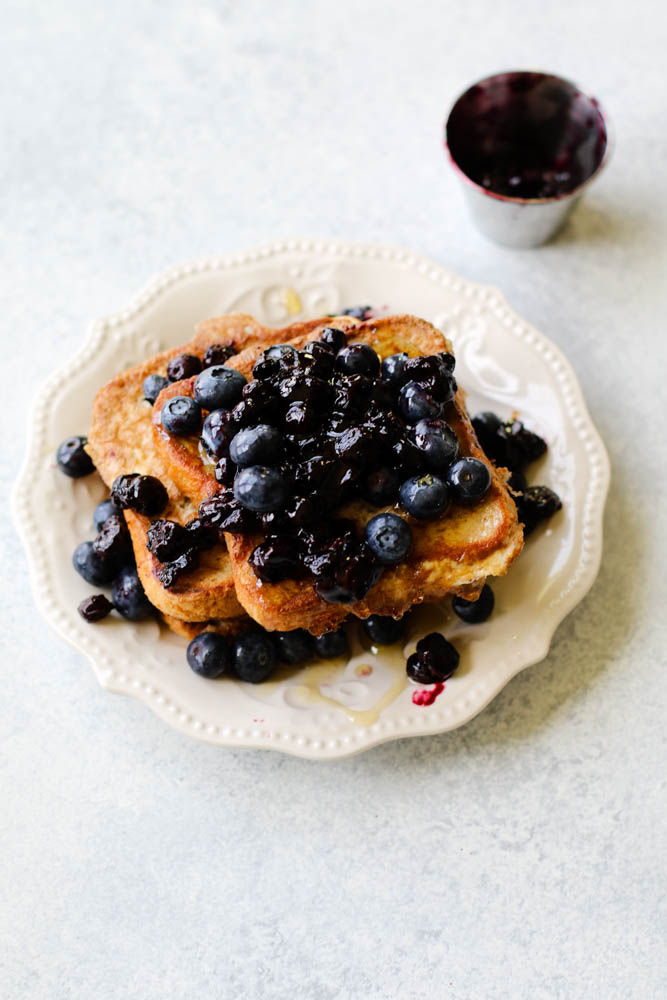 The topping for this easy meal prep is a simple compote, which is basically a fruit-based syrup. We decided to feature blueberries for this aspect, which just happen to have the highest antioxidant count of any fruit! They're also a great source of potassium and fiber and are just plain delicious, though we know we don't have to tell you that. We also incorporated another little extra bump of Vitamin C by adding orange juice to the compote. The flavor combination of sweet blueberries and tangy orange juice is the perfect topping for this french toast meal prep. And we won't tell if you add a little extra syrup too!
This recipe keeps in the fridge for up to 5 days, so a delicious weekend brunch can easily turn into a recurring weekday lift. There are a lot of things to get up for in the morning, and a perfect french toast meal prep is definitely one of them!
Blueberry Pie French Toast Meal Prep Ingredients:
8 slices GF bread
Avocado oil spray
¾ cup milk of choice
½ tsp cinnamon
2 cups frozen blueberries
1 TBS orange juice
2 TBS maple syrup
1 cup fresh blueberries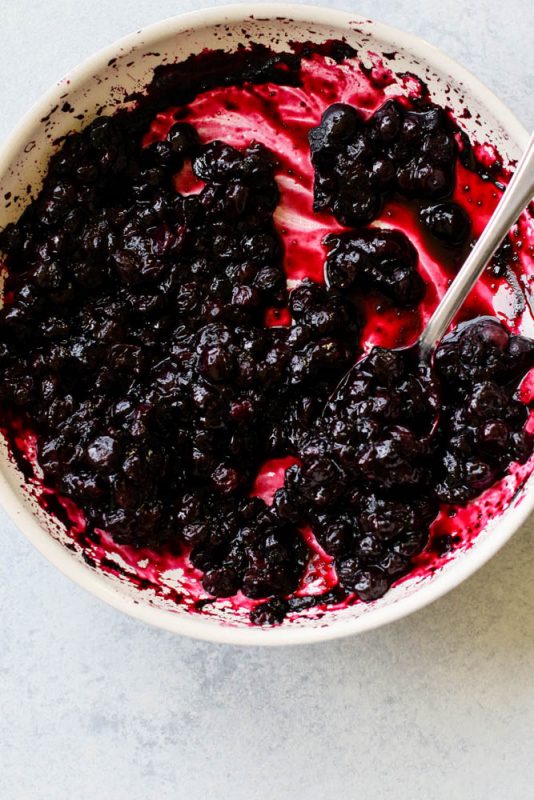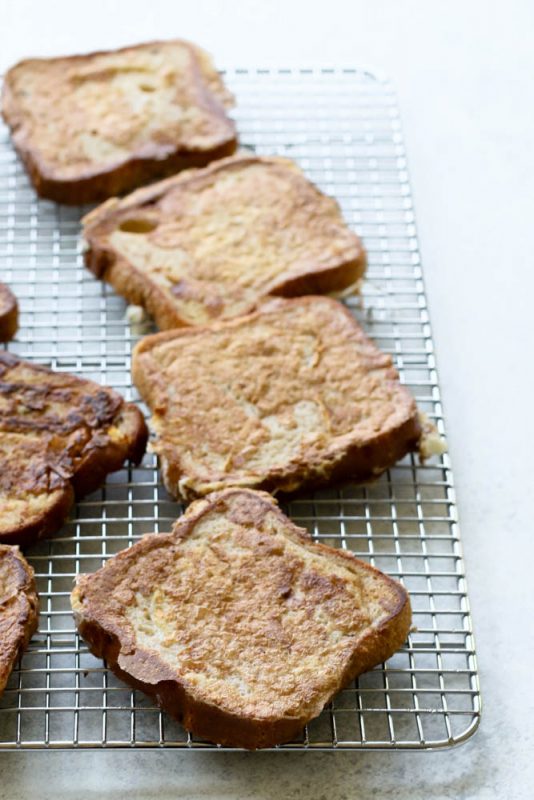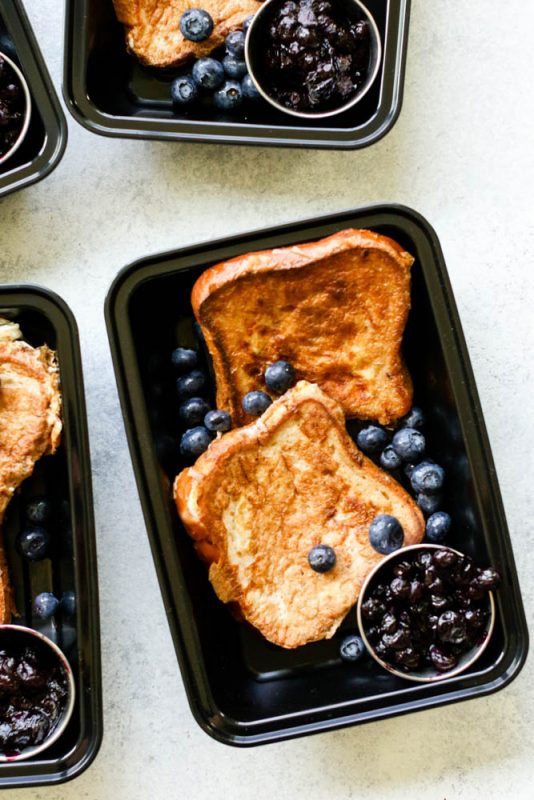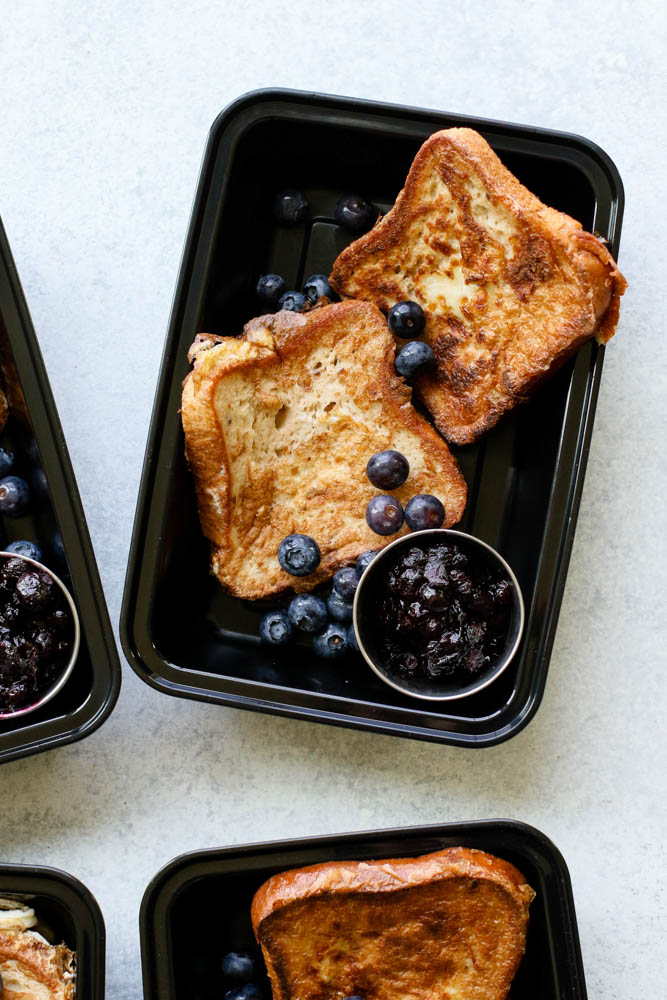 Ingredients
8

slices

gluten free bread

avocado oil spray

or spray of choice

1/2

cup

liquid egg whites

3/4

cup

milk of choice

1/2

tsp

ground cinnamon

2

cups

frozen blueberries

1

tbs

orange juice

2

tbs

maple syrup

1

cup

fresh blueberries
Instructions
Preheat skillet over medium high with a bit of avocado oil spray.

Whisk together the egg whites, milk, and cinnamon to make a batter.

Dip the bread into the batter, fully saturating the slice, then set on the preheated skillet. Cook for 5 minutes on each side, until browned and crispy. Repeat for all bread slices.

Meanwhile, prepare the blueberry compote by heating frozen blueberries in a medium saucepan with a bit of orange juice and a drizzle of maple syrup. Bring to a low boil, then reduce heat and allow to simmer for 5 minutes, until thick and syrupy.

To assemble, add 2 pieces of French toast to each meal prep container and top with fresh blueberries. Divide blueberries compote into separate containers for storage and combine just before serving. Keeps in the fridge for 4-5 days.
Notes
Nutrition for 1 out of 4 servings:
8.5g Protein | 43.4g Carbs | 5g Fat | 245 Calories
Nutrition
Serving:
1
meal
|
Calories:
245
kcal
|
Carbohydrates:
43.4
g
|
Protein:
8.5
g
|
Fat:
5
g