These Buffalo Chicken Stuffed Sweet Potato Skins is a straightforward twist on some traditional favorites – potatoes and buffalo chicken! The sauce we know as buffalo sauce was first used on chicken wings as a creative way to serve up some leftovers. They quickly grew to become a sensation across the US. In fact, July 29, 1977, was officially declared Chicken Wing Day in the city of Buffalo, New York, to celebrate one of the sauce's creators, Frank Bellissimo. With this meal prep recipe, you're biting into hot history!
With history, you get some health and happiness too! Potato skin contains fiber, B vitamins, vitamin C, iron, calcium, and potassium. With 560kcal and a balanced macro profile, your afternoon energy will feel as great as the smile on your face.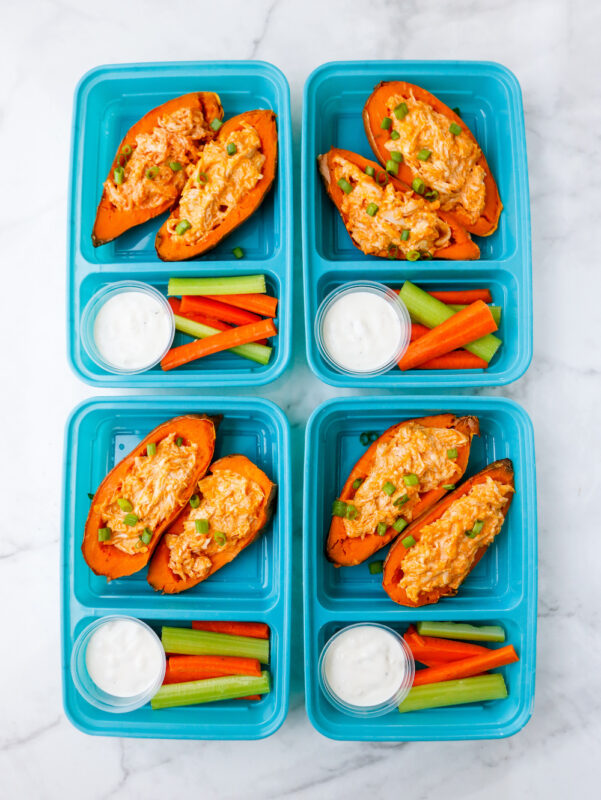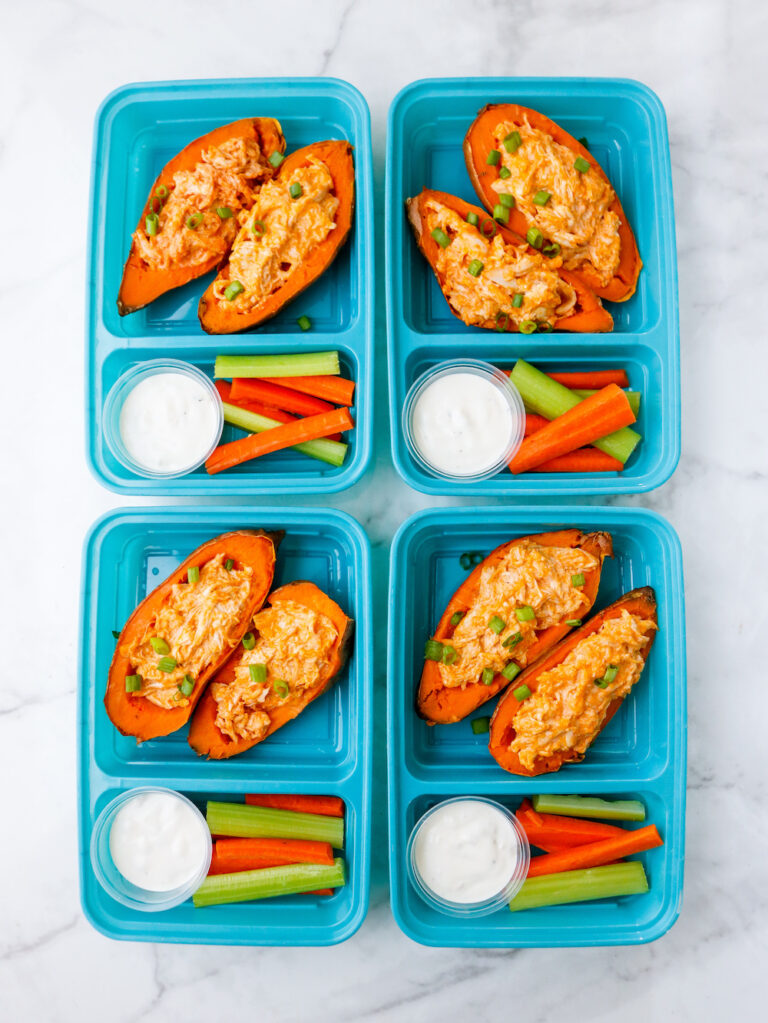 These Paleo stuffed sweet potato skins deliver the spicy goodness of buffalo wings in every bite for a fiber and protein-rich meal that satisfies!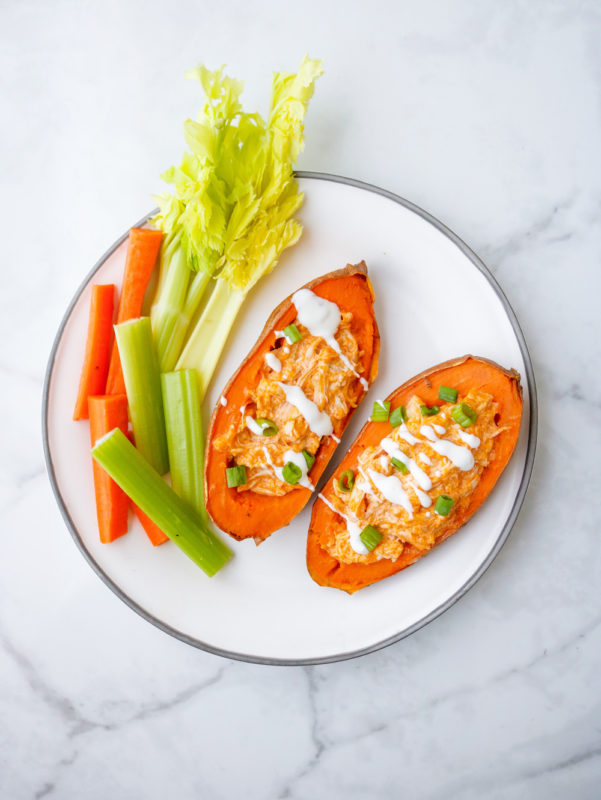 How long will Buffalo Chicken Stuffed Sweet Potato Skins last for?
Potatoes are great in the fridge for 5-7 days and chicken for 3-4. Don't leave any cooked food out at room temperature for more than 4 hours – pop them into their meal prep containers and in the fridge they go! To warm your meal – we recommend removing the veggies from the small compartment and warming the potatoes in the microwave. Start with 45 seconds and increase the time until they are at the desired temperature.
Can Buffalo Chicken Stuffed Sweet Potato Skins be frozen?
Store potatoes and chicken safely in the freezer for 6-8 months. To avoid freezer burn (which dries out any exposed meat) seal your meal prep containers properly. Your mouth – and the Buffalo Chicken Stuffed Sweet Potato Skins – will thank you!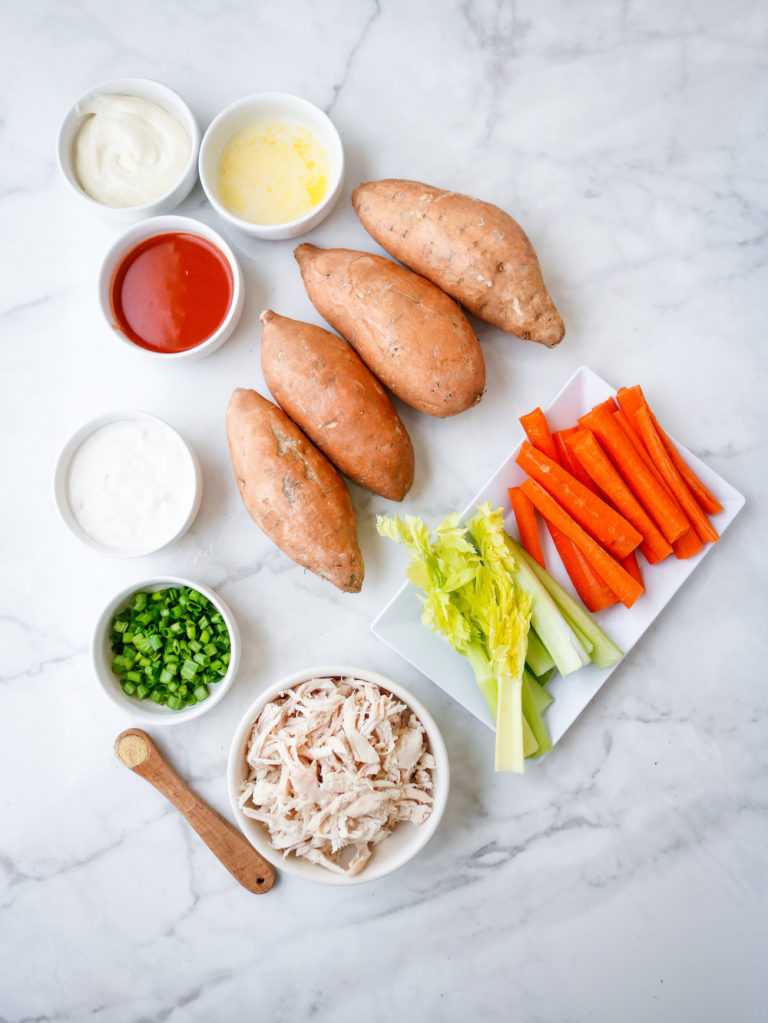 How do you make Buffalo Chicken Stuffed Sweet Potato Skins?
There are three simple phases to go from start to meal readiness. Let's look:
First, cook the potatoes. Then let the potatoes rest at room temperature for 15 minutes after they are done baking.

Second, stuff the potatoes. This is where you become an artist to balance out the stuffing and the skins. A little more heating and you're nearly done…

Third, portion the potatoes. And garnish! And side! You're done with this meal prep recipe and ready to ride!
How to portion Stuffed Sweet Potato Skins Recipe?
Two Stuffed Sweet Potato Skins go perfectly in the teal MPOF dual compartment meal prep container along with a garnish of green onion and a small side of celery and carrots.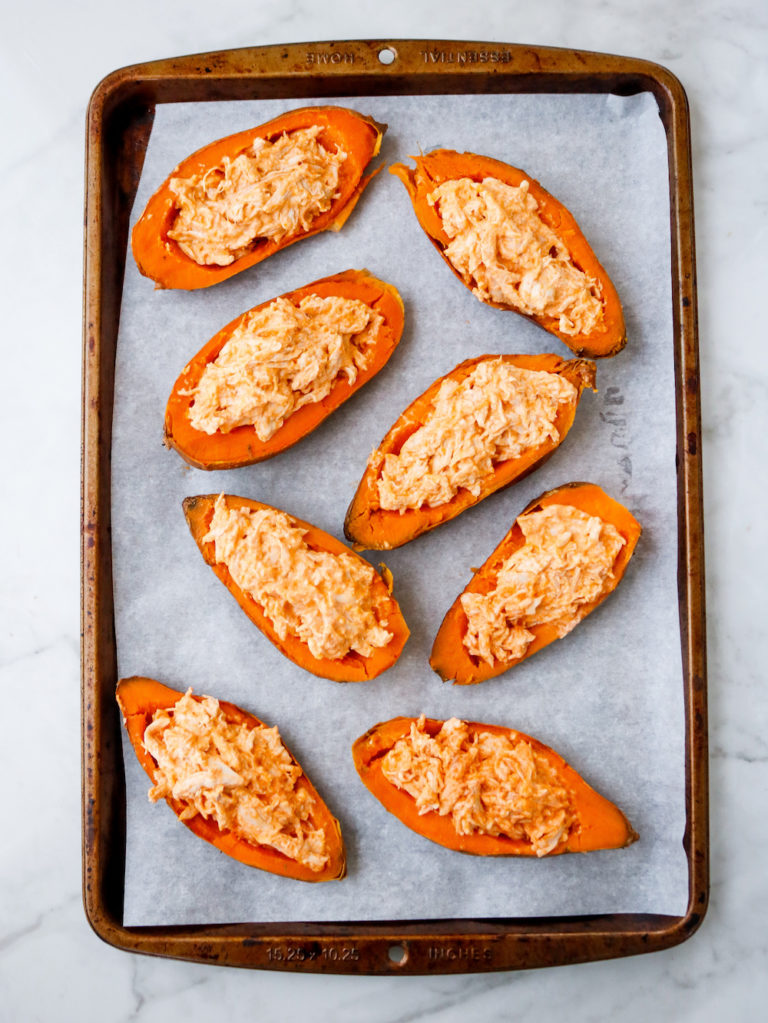 More Sweet Potato and Buffalo Chicken meal prep recipes:
Want more of one or the other main ingredient from Buffalo Chicken Stuffed Sweet Potato Skins? Let's start with sweet potato meal prep recipes. Get your oven ready:
Is it even possible to tire of Buffalo Chicken? We don't think so over here at MPOF!
Other tips for making Buffalo Chicken Stuffed Sweet Potato Skins:
Smaller sweet potatoes tend to be sweeter while larger ones are starchier

The darker the color of the sweet potato skin, the richer it is in beta-carotene, an antioxidant

Go for organic across the board if you can or enjoy a stroll through the farmers market to relax your mind and spice up your Stuffed Sweet Potato Skins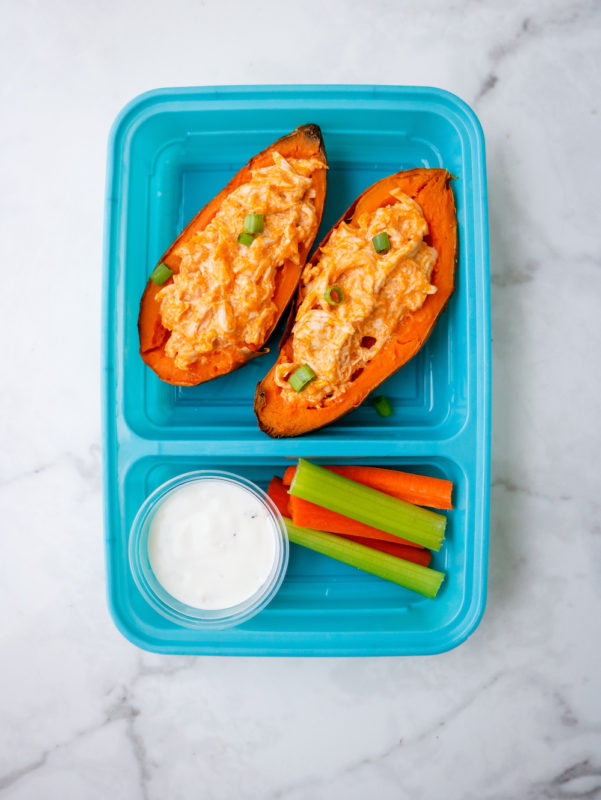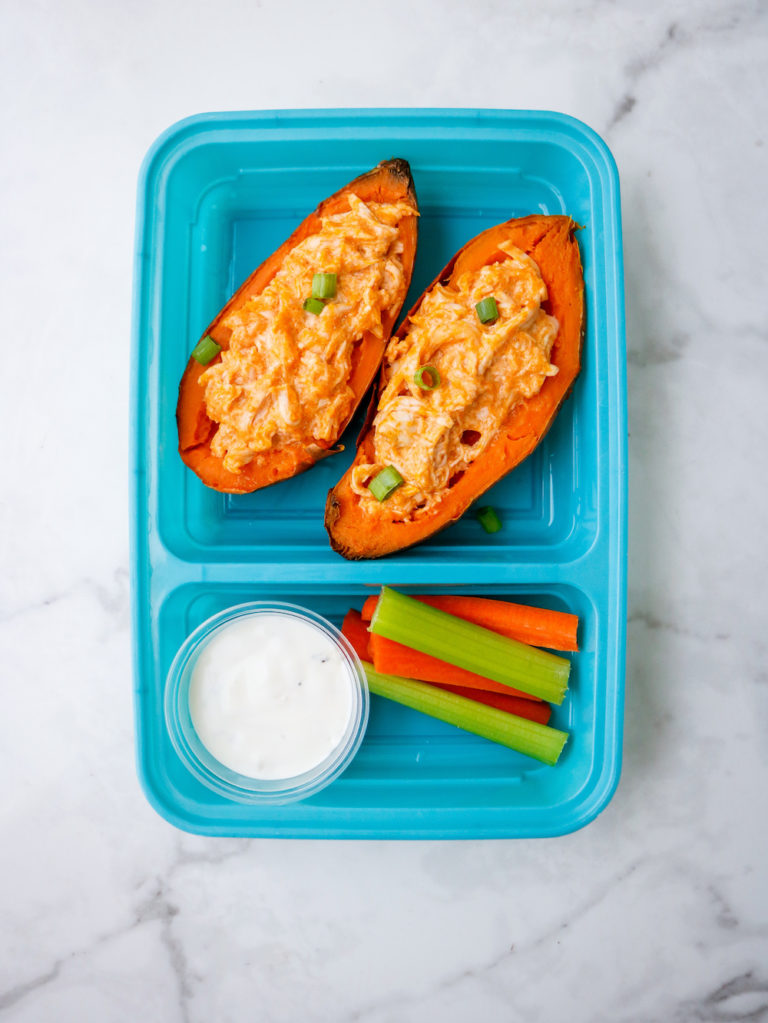 Buffalo Chicken Stuffed Sweet Potato Skins Ingredients:
4 small sweet potatoes
1/4 cup hot sauce
2 ½ cups cooked shredded chicken
1/4 cup mayonnaise
2 tbsp melted grass-fed unsalted butter
1/4 cup chopped green onion
2 celery stalks, sliced into sticks
1/4 tsp garlic powder
2 medium carrots, sliced into sticks
1/2 cup blue cheese or ranch dressing (paleo compliant, if needed)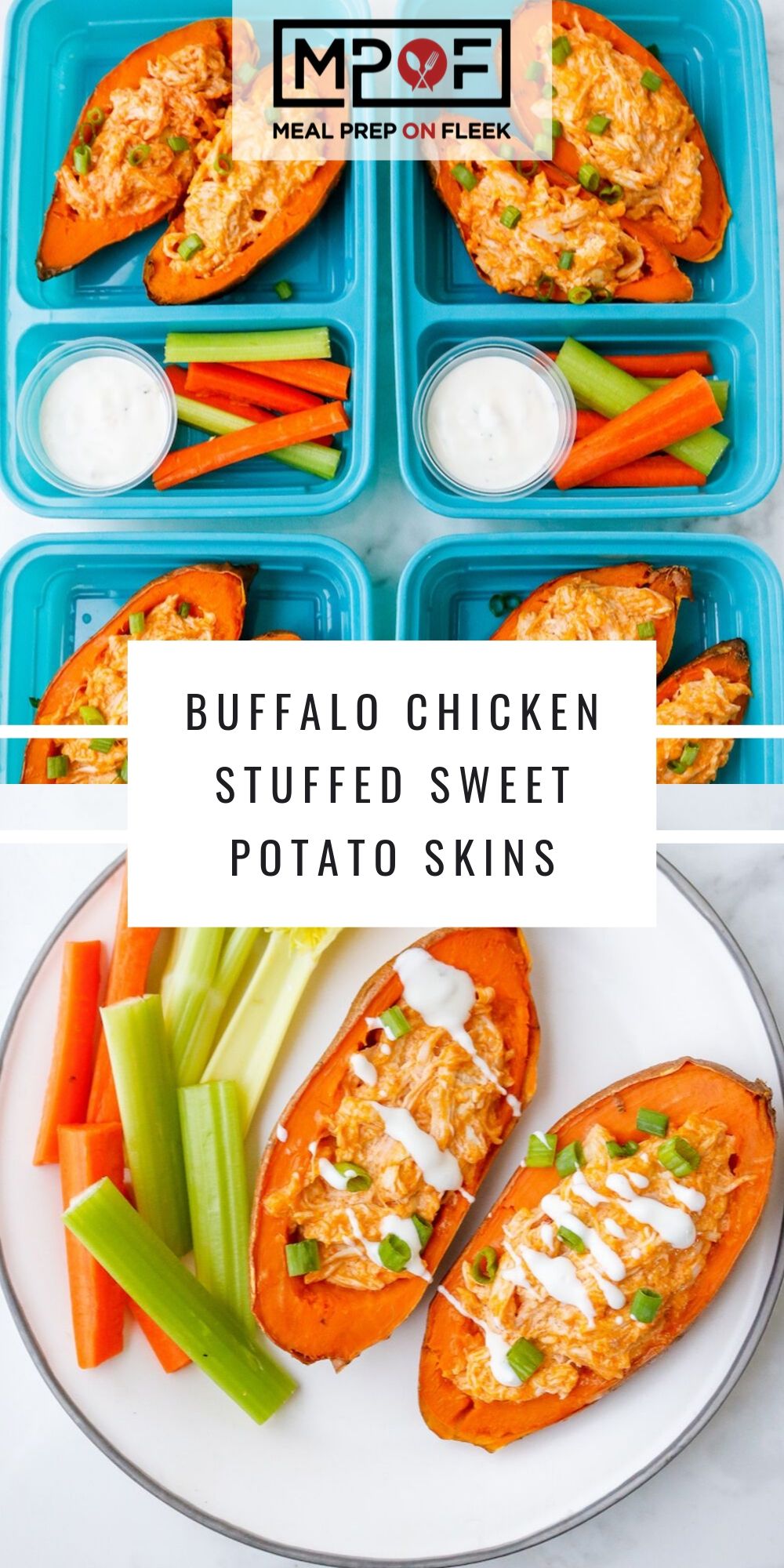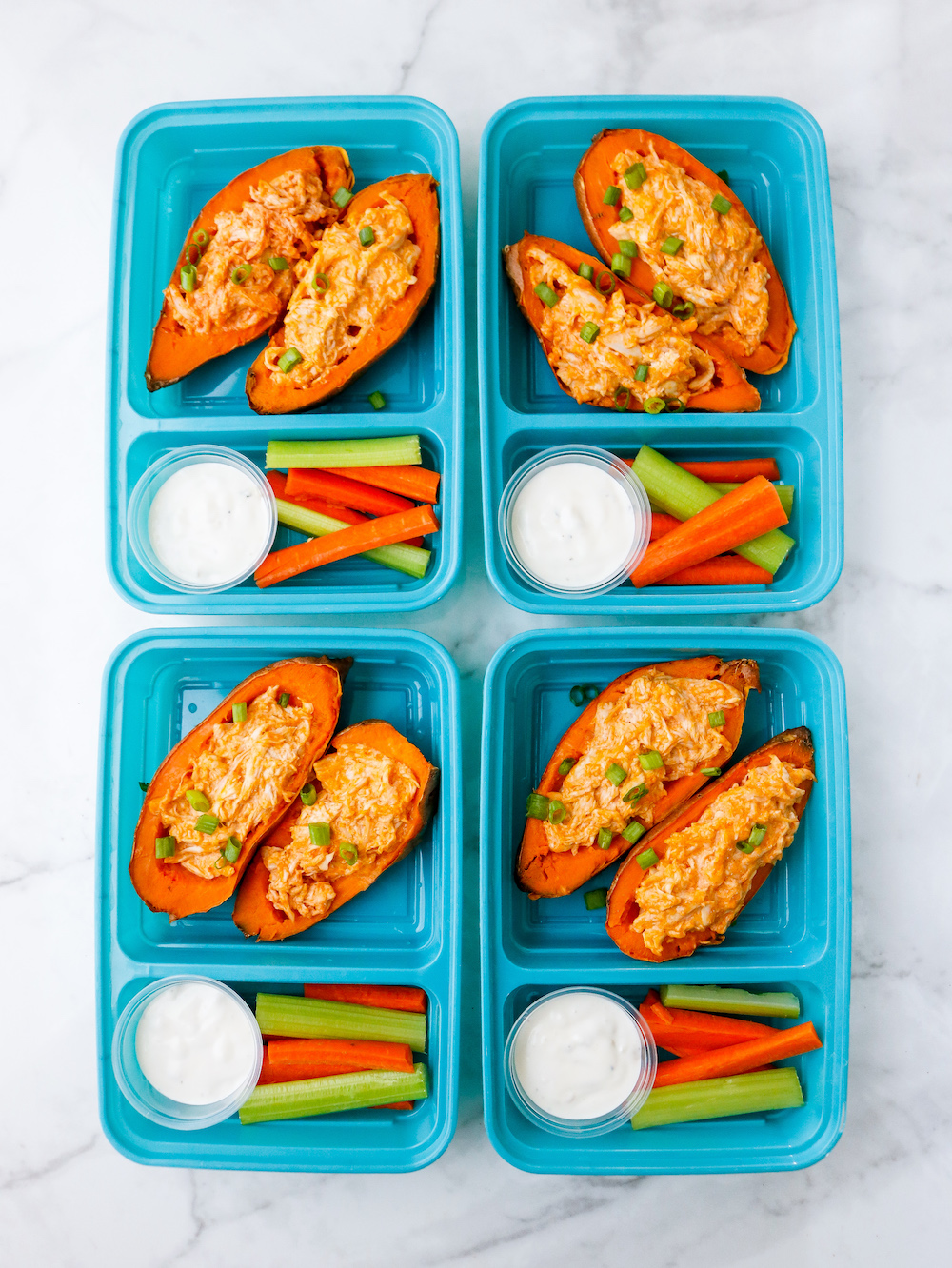 Ingredients
4

small

sweet potatoes

2 ½

cups

cooked shredded chicken

2

tbsp

melted grass-fed unsalted butter

1/4

cup

hot sauce

1/4

cup

mayonnaise

1/4

tsp

garlic powder

1/4

cup

chopped green onion

2

celery stalks

sliced into sticks

2

medium

carrots

sliced into sticks

1/2

cup

blue cheese or ranch dressing
Instructions
Preheat oven to 375ºF and line a medium baking sheet with parchment paper. Poke holes in sweet potatoes with a fork and rub with olive oil. Place onto the baking sheet and bake for 45 minutes. Cool potatoes at room temperature for at least 15 minutes.

Stir together buffalo sauce, melted butter, mayonnaise and garlic powder in a medium mixing bowl. Add chicken and stir well to coat. Slice potatoes in half lengthwise and scoop or flesh using a spoon. Leave some flesh around edges and bottom to prevent tearing. Scoop chicken mixture into each potato half and place it on the baking sheet. Bake 12-15 minutes to heat through.

Place 2 sweet potato halves in the large compartment of 4 MPOF teal container. Garnish with green onion. Add celery and carrot sticks to each small compartment and a small cup of blue cheese dressing.
Nutrition
Serving:
1
meal
|
Calories:
560
kcal
|
Carbohydrates:
33.5
g
|
Protein:
30.5
g
|
Fat:
32.8
g
|
Fiber:
5.6
g