Scrambled Egg Stuffed Sweet Potato Meal Prep
If you're looking for an easy meal prep idea for breakfast, you've come to the right place. This Scrambled Egg Stuffed Sweet Potato Meal Prep is high in protein, healthy fats, and complex carbs: the perfect combination to start any day. And it all comes together in just ten minutes of prep time! You can use the rest of the time it takes for the sweet potatoes to bake to think about all of the extra sleep you're going to get this week now that you don't have to cook breakfast each morning ? And though we obviously had breakfast in mind when we came up with this stuffed sweet potato, it would also make a perfect lunch, dinner, or post-workout meal.
We already mentioned the serving of complex carbs offered from these stuffed sweet potatoes, but did you know that sweet potatoes are also a great source of antioxidants? Their characteristic orange hue is an indication of the presence of beta-carotene, one of the most important antioxidants available to us for cellular health. Typically, the more colorful your produce, the more complex its nutritional profile. So any way we can combine an easy meal prep with a healthy ingredient like sweet potatoes- we're in. Plus you get to top it with avocado, and honestly, who doesn't want that?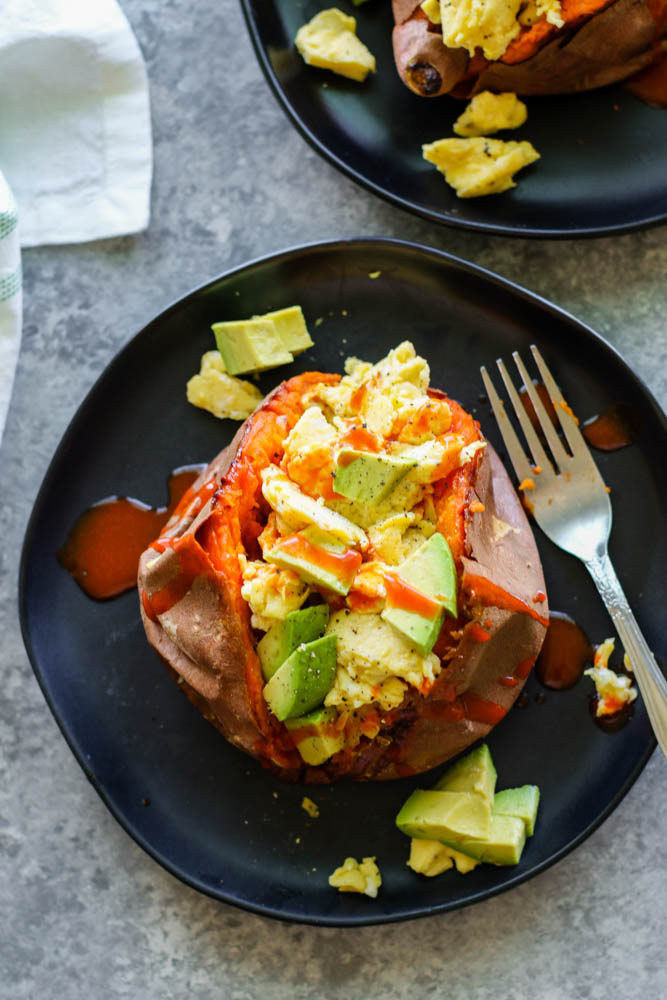 In addition to creating easy meal prep recipes, one of the things we are most passionate about here at MPOF is sharing healthy ingredient alternatives. Sometimes this looks like subbing almond flour for wheat, or using applesauce or bananas in place of sugar or syrups in baking. For this stuffed sweet potato recipe we wanted to call some attention to one of the most ubiquitous staples in the American pantry: salt. We specifically call for Himalayan pink salt in this easy meal prep because it is actually a step up from standard table salt.
We all know that salt in excess is incredibly damaging, but salt in healthy amounts is actually necessary for normal bodily function. Natural salts, like Himalayan pink, have all of the minerals that are typically stripped away in the refining process of regular table salt, and none of the harmful additives. This simple swap in your pantry means a healthier choice each time you reach for the salt, and a few good choices are the building blocks of a healthy lifestyle.
Scrambled Egg Stuffed Sweet Potato Meal Prep Ingredients:
2 sweet potatoes
1/2 tbs olive oil
Himalayan sea salt
Black pepper
4 eggs
2 TBS coconut milk
Hot sauce
1/2 medium Avocado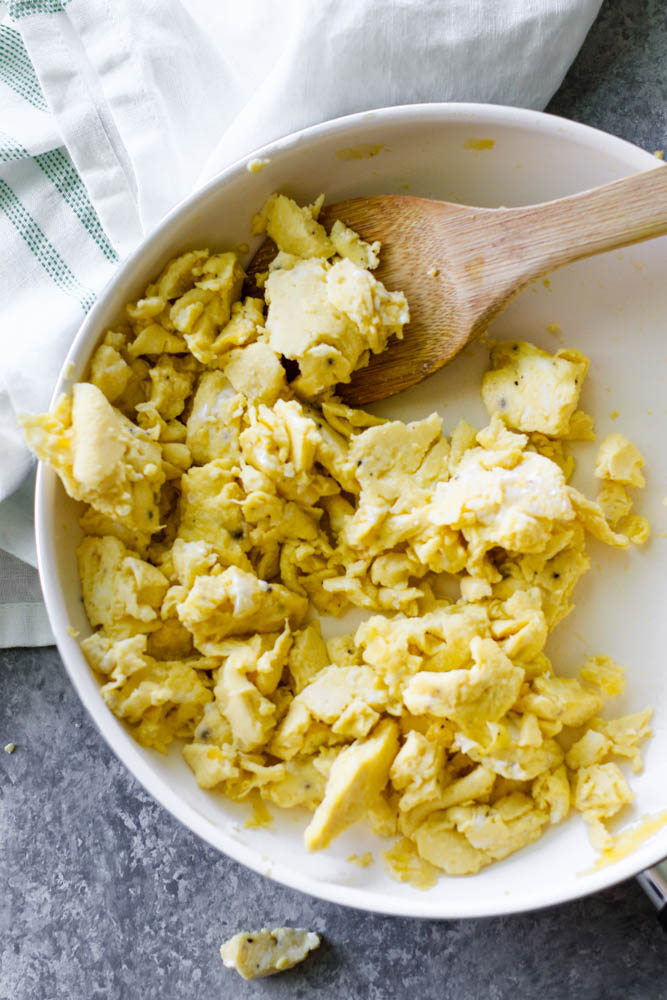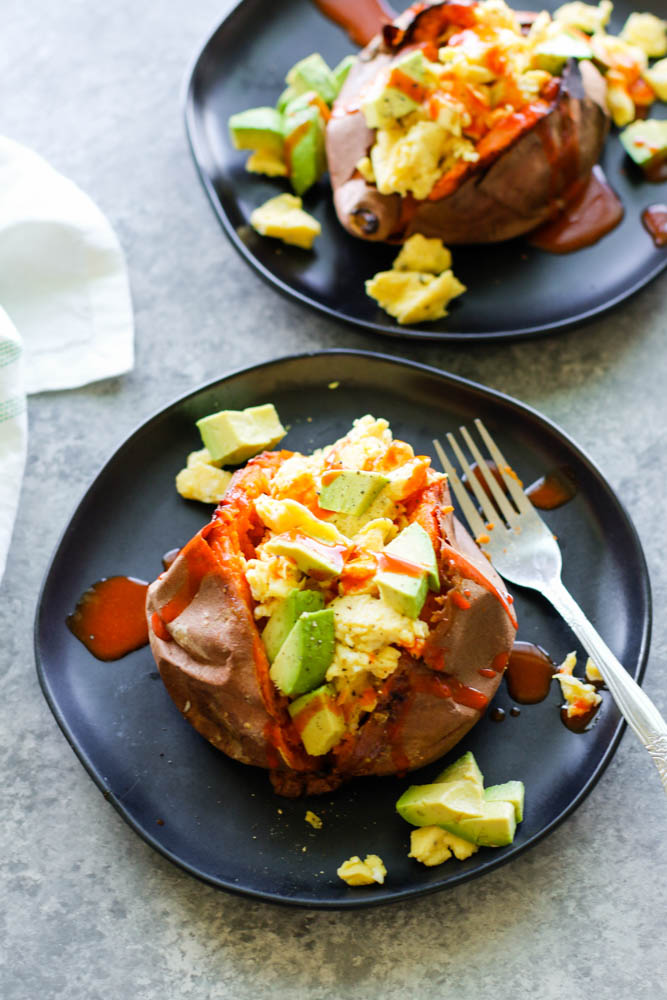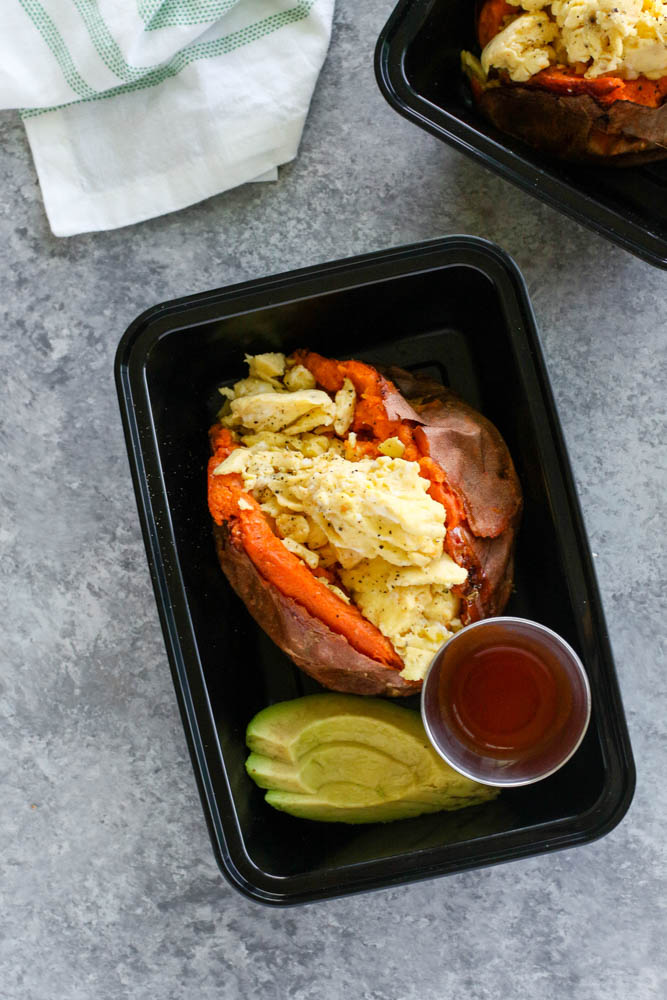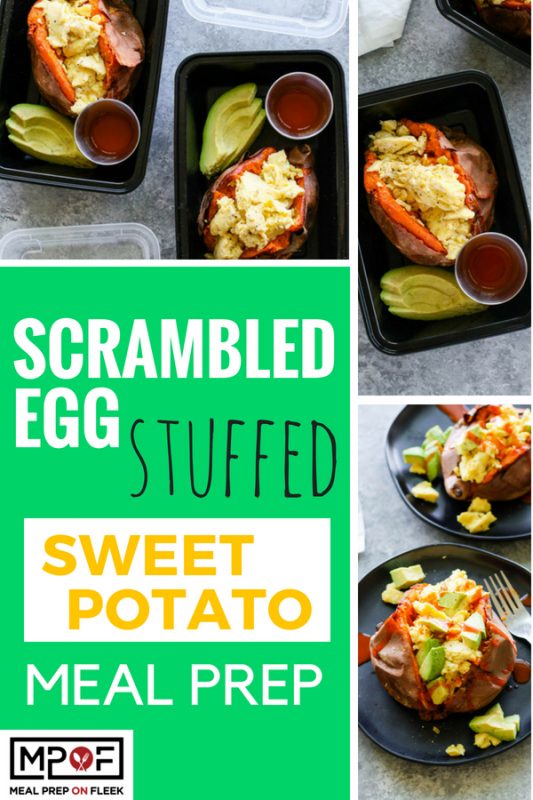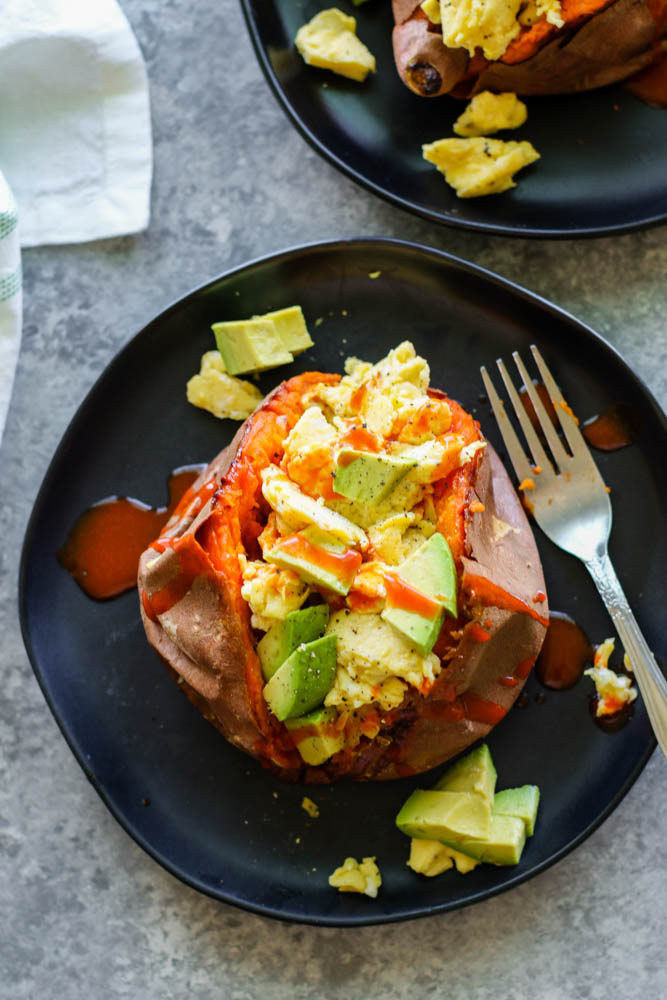 Ingredients
2

medium

sweet potatoe

4

large

eggs

1/2

tbs

olive oil

salt & pepper

hot sauce

1/2

medium

Avocado

2

tbs

coconut milk
Instructions
Preheat the oven to 400 degrees F.

Scrub sweet potato and pierce several times with a fork. Drizzle with olive oil and place on a baking sheet lined with parchment paper. Bake for 50-60 minutes until tender.

While the sweet potato is roasting, add olive oil to a pan. In a small bowl, whisk the eggs with the coconut milk, sea salt, and black pepper. Pour into the pan over low medium heat and slowly scramble for ~5 minutes.

Remove the sweet potato from the oven and allow to cool for 5-10 minutes. Split open the sweet potato and stuff with the scrambled eggs.

Store sweet potatoes in an airtight container with garnishes on the side. Serve with hot sauce and avocado.

Store in the fridge for up to 5 days.
Notes
Nutrition for 1 out of 2 servings:
16.4g Protein | 44.3g Carbs | 18.6g Fat | 8.6g Fiber | 405 Calories
Nutrition
Serving:
1
serving
|
Calories:
405
kcal
|
Carbohydrates:
44.3
g
|
Protein:
16.4
g
|
Fat:
18.6
g
|
Fiber:
8.6
g