One-Pot Jambalaya Meal Prep comes together in the pressure cooker for a lower-carb Whole30-compliant dish made with cauliflower rice.
 You might not think to meal prep something like jambalaya, which typically contains a lot of ingredients and requires a bit of time to get everything to come together just the way you like it.  It's a slow and steady kind of dish.
We know you probably don't have a lot of time for that, right? So instead, this one uses a pressure cooker
However, it's a great meal prep recipe because it's loaded with protein and can be customized if you want to mix it up a bit.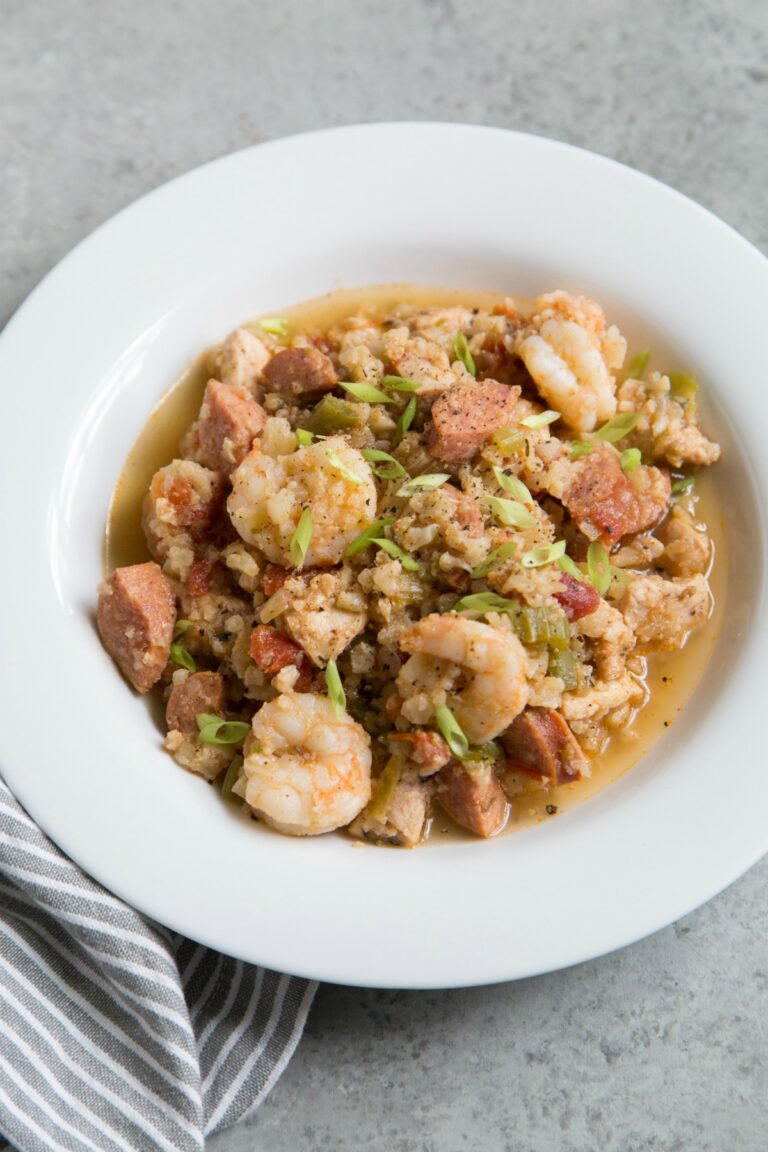 One Pot Jambalaya Meal Prep Ingredients
1 ½ tbsps avocado oil
 ¾ cup chopped onion
¾ cup chopped celery
1 cup chopped bell pepper
6 oz Whole30 compliant Andouille sausage, sliced
1 lb chicken breast, cut into bite-sized pieces
½ teaspoon dried thyme
¼ teaspoon paprika
 ½ teaspoon ground cumin
2 ½ tsps Creole seasoning blend*
1 (14 oz) can unsalted diced tomatoes, drained
¼ cup chicken broth, or water
1 lb cauliflower rice
½ lb medium-sized raw shrimp, peeled and deveined
How to Make One Pot Jambalaya 
One pot jambalaya starts with oil, onion, celery, and bell pepper, often referred to as the trinity, or Louisiana's answer to France's mirepoix. (The latter uses carrots instead of peppers). Add all that to the Instant Pot or pressure cooker and saute until starting to soften. Then you'll add the sausage and chicken, along with the dried herbs and seasonings: thyme, paprika, cumin, and Creole seasoning blend. And then, the tomatoes and broth, followed by the rice. Toward the very end of cooking, and after the pressure has been released, add the shrimp. It will cook fast in the residual heat; if you add shrimp earlier it will turn rubbery. No one wants rubbery shrimp. 
How to Serve One Pot Jambalaya 
This is the ultimate one-pot meal, so honestly, we don't see much need to serve anything else with it. Unless, of course, you're the kind of person who serves salad with all meals. If that's you, by all means, add more veggies to your day. We're not going to say no to that. 
How to Store Jambalaya
This meal prep will keep for four or five days in airtight sealed containers in the fridge. Almost everything in this meal prep will freeze well, except for the shrimp. If you plan on freezing this one-pot jambalaya, just make sure you eat the shrimp first, or take it out and eat it with another meal. Freezing shrimp that's already been cooked isn't a great idea because it becomes rubbery once you thaw it again and try to reheat it. 
Jambalaya vs. Gumbo
These two dishes both hail from the New Orleans area and so it's easy to get them confused on that factor alone. But they also often contain some of the same ingredients.  However, the main difference is as follows. Gumbo is a thick stew that's usually served with rice, on the side, whereas with jambalaya, the rice cooks right in the same pot as everything else.
Tip
Use a seasoning blend such as Tony Chachere's Creole Seasoning or Zatarain's Creole Seasoning. Both are great! Just be sure to check the salt content on those seasoning blends; you won't typically need to add salt to your jambalaya if you're using either of those.
READ MORE: Don't eat meat? Try this Vegetarian Jambalaya instead!