Here's a bit of trivia for you. What dish is considered the official state dish in the US state of Louisiana? It's made up of meat stock and a variety of vegetables and spices which is transformed into a thick and spicy stew-like soup. Mouth-watering, soothing and satisfying can only attempt to capture the essence of this dish. Have you guessed yet? As if the title wasn't already a dead give away…. We're talking Gumbo meal prep! Yummy!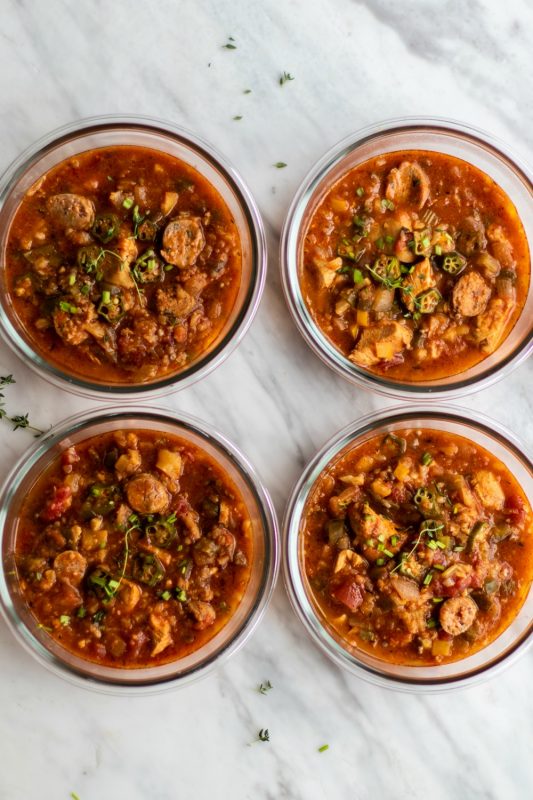 This thick and spicy chicken and sausage stew is Keto comfort food at it's best. Traditionally served on rice, this version has low carb cauliflower rice cooked in, and is slowly simmered in a crockpot. Eat now, or freeze for later.
How Long With Gumbo Meal Prep Last For?
It is a wise practice to eat your gumbo within two hours when stored at room temperature. However, when refrigerated in an airtight container, your gumbo can last for one week!
Can Gumbo Meal Prep Be Frozen?
For sure! Gumbo meal prep can be stored in an airtight container and frozen for 3 months!
How Do You Make Gumbo Meal Prep?
It's just amazing how easy this delicious meal is to prepare. Once you've gathered all your ingredients and utensils, let's get started with this delicious meal prep ideas recipe.
Have your skillet ready and get it heated to brown your sausages. Once this is done, remove sausages to slice into chunks. You can use the skillet again to saute your seasonings and spices with some olive oil. Allow sauteing until they are lightly brown. Add your sliced sausages back to your skillet with your sauteing seasonings
Bring out the crockpot! Pour in the rest of your ingredients into the crockpot. Then add the ingredients which were sauteed in your skillet to the crockpot as well. To tenderize your vegetables, you may slow cook on low for 4 – 5 hours or on high for 2 – 3. Do enjoy!
How To Portion Gumbo Meal Prep?
This delicious gumbo meal prep ideas recipe can easily accommodate six healthy servings of this crockpot gumbo. These freezer-safe glass lock containers will surely facilitate easy portioning and storage of meals. Plus they can be easily popped into the microwave for reheating when you're ready for your meal.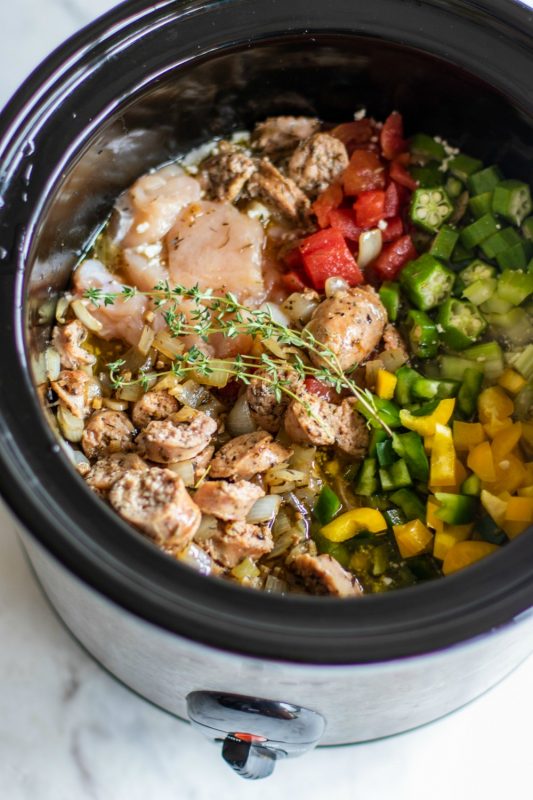 More Gumbo Meal Prep Recipes
Wait! Just when you thought that was all… Nope! We've got some more tasty gumbo meal prep ideas recipes you can also enjoy. Well, gumbo is unique due to its use of okras and local but here are a few recipes which provide you with that thick meat and vegetable stock.
Other Tips For Making Gumbo Meal Prep
What else can make gumbo even more enticing but your choice of vegetables and spices? Well, that would depend on which family recipe you practice.
To thicken your gumbo you can use okra, dark roux or filé powder. Each thickener will add its own unique flavor to your dish. Coconut milk is also an option for a thickener if you want to increase the fat content of your gumbo to suit your special needs.
Keto Gumbo Meal Prep Ingredients:
¼ cup olive oil
2 tablespoons tomato paste
4 cloves garlic, minced
2 cups Okra, sliced
1 onion, chopped
2 teaspoons thyme
1 teaspoon of sea salt
¼ teaspoon cayenne (or to taste)
2 cups chicken broth
1 pound boneless chicken thighs, cubed
2 bell peppers, diced
3 andouille sausages
1 can diced tomatoes
2 cups cauliflower, riced
Suggested Keto Toppings:
Ingredients
1/4

cup

olive oil

4

cloves

garlic

minced

1

medium

onion

chopped

2

tsp

thyme

1

tsp

Salt

1/4

tsp

cayenne pepper

2

cups

chicken broth

1

lb

boneless chicken thighs

cubed

3

andouille sausages

1

can

diced tomatoes

2

tbs

tomato paste

2

cups

okra

sliced

2

medium

bell peppers

diced

2

cups

riced cauliflower
Instructions
In a skillet, brown sausages. Remove to slice.

In the same skillet, add olive oil, garlic, onions, salt, and spices. Saute until lightly browned. Add the sliced sausages back in the pan with the onions.

In a crockpot, add the rest of the ingredients, and then add the sauteed onions and sausages. Slow cook on low for 4-5 hours, or on high for 2-3 hours, until all vegetables are tender.

This spicy stew freezes well for up to 3 months in an airtight container.
Notes
WW Smart Points= Green:8  Blue:8  Purple:8
__
Nutrition for 1 out of 6 servings (including provolone and avocado)
26.1g Protein | 18.1g Carbs | 35.6g Fat | 8.3g Fiber | 501 Calories
Notes:
If your fat needs are higher than 70%, thicken with coconut milk. 
Rather than using a Roux as traditional with Gumbo, this one relies on tomatoes and okra, so leaving out the okra will make a thinner stew.
Nutrition
Serving:
1
meal
|
Calories:
501
kcal
|
Carbohydrates:
18.1
g
|
Protein:
26.1
g
|
Fat:
35.6
g
|
Fiber:
8.3
g