This quick and easy sausage and veggie meal prep is simple enough for weeknight dinners and special enough for guests. It has all three main categories of the meal; Protein, Carb, and Vegetable. We talk about these core items more on our Meal Prep 101 post. And if you're following the Whole30 plan, you're going to thank us for this recipe!
Whole30 Sausage and Veggie Meal Prep
Are you looking for a one-way trip to a fast and nutritious meal? Look no further because our One Pan Whole30 Sausage and Veggie meal prep recipe is easy, quick, and effortless to prepare. We love bringing you the feel of flavorful and fresh ingredients that stimulates your taste buds with each bite. Keep reading so you can make your own sheet pan meal prep entrees!
As with all of our meals, this sausage and veggie sheet pan meal prep recipe is packed with nutrients to satisfy your body's energy needs. The Dutch yellow potatoes are an excellent source of vitamin C and minerals. Then we add bell pepper, cauliflower, cherry tomatoes, baby carrots, chicken/apple sausage, and green beans, which provide all the nutritional value the body requires. This sheet pan meal prep recipe is delicious and will help keep your immunity going strong!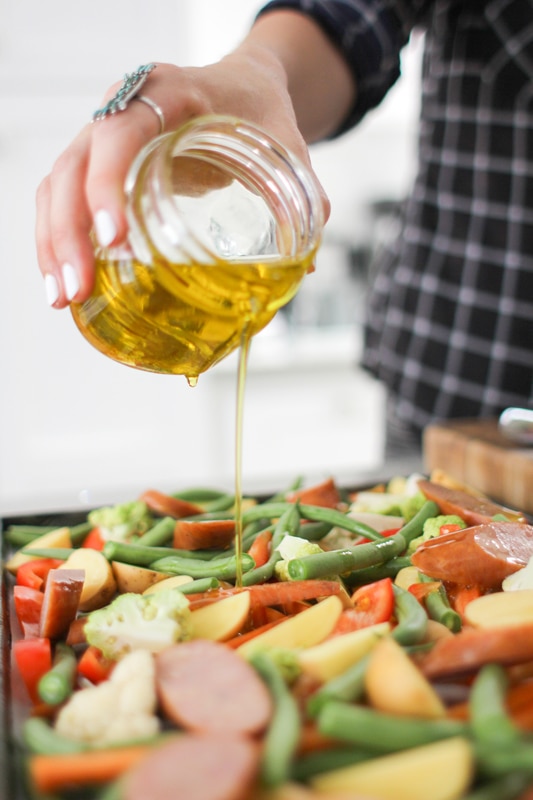 How long will One Pan Whole30 Sausage and Veggie Meal Prep last for?
One Pan Whole30 Sausage and Veggie can last in the refrigerator for about three to four days when properly refrigerated. Use a clean and airtight container to maintain the freshness, like our meal prep containers.
Can One Pan Whole30 Sausage and Veggie Meal Prep be frozen?
You can freeze your sausage and veggie sheet pan meal for two to three months in the freezer. After three months, the meal can become bland. If you plan on freezing this meal, be sure to season your potatoes and use the leftovers as quickly as possible. Also, store the veggies and sausage separately, so they maintain their flavors. Store the veggies in airtight ziplock bags or containers.
FYI, maintain a consistent fridge and freezer temperature so that all of your meals have the same fantastic taste as the first time!
Ingredients:
¾lbs pound green beans
4 links Chicken/Apple sausage
6 tablespoons olive oil
8 baby carrots
6oz Cherry Tomatoes
4 baby cauliflower
1 Bell Pepper, Sliced
How to portion One Pan Whole30 Sausage and Veggie Meal Prep
Once your meal is ready, remove it from the oven and distribute it evenly into our GoodCook® Meal Prep Bowls! This allows you to enjoy the various burst of fresh flavors in your mouth. The baby carrots, baby cauliflower and potatoes, green beans, and chili will leave you wanting more - until it's gone. Hopefully you have more!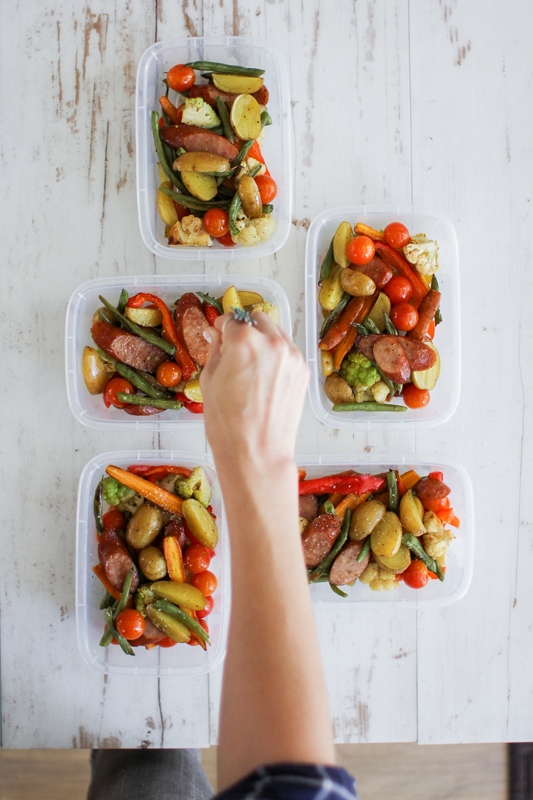 More sausage and veggie sheet pan meal prep recipes:
Other tips for making One Pan Whole30 Sausage and Veggie Meal Prep:
Dice the carrots into coins. However, ensure you spread them evenly on the baking sheet, so they sear evenly on both sides.

Use frozen vegetables. Give them extra cooking time to caramelize nicely like the rest of the ingredients.

Make this sheet pan meal prep recipe keto by ditching the potatoes.

Serve over Cauliflower Rice for a heartier meal.

Play with different seasonings! Fresh herbs, pepper, and spices will give the sausage and veggies meal variety.
Storage & reheating notes:
This meal can last in the fridge for up to 4 days. It's not freezer-friendly. I recommend reheating it on the stove or in the microwave or eating it cold/room temp. Happy prepping!
Sausage and Veggie Meal Prep Recipe:
Know someone who would love this recipe? Click the share button so they can enjoy it as well