Cheerios Trail Mix is totally a thing, and you and your kids are going to love this protein-heavy snack that also happens to be gluten-free!
You can make a trail mix out of almost anything, but the requisite ingredients and flavors seem to hover around nuts and dried fruits and a balance of salty and sweet tastes. This Cheerios trail mix is great because if you've got kids, peanut butter, and some nuts, you're on your way to making this fun and healthy snack prep. Because we all need some healthy snacks!
Protein Cheerios Trail Mix Ingredients
5 cups Cheerios
1 cup almonds
1 cup cashews
1 cup raisins
⅓ cup peanut butter
⅓ cup honey
⅓ cup butter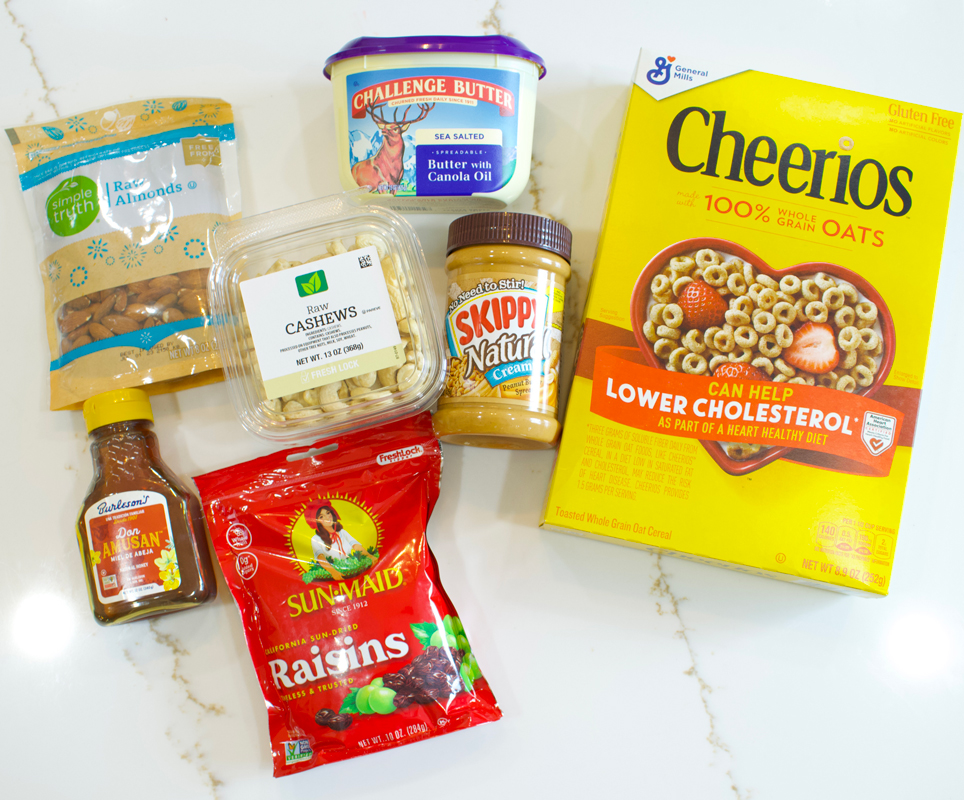 How to Make Protein Cheerios Trail Mix
This couldn't be easier! In a large bowl, combine the cereal with the almonds, cashews, and raisins. Set aside. Then, in a small saucepan over low heat, combine the honey, peanut butter, and butter. Once those ingredients have melted together (stir them a bit with a wooden spoon to help things out), drizzle everything right over the bowl of nuts, raisins, and Cheerios and combine. Let it cool and then distribute into separate glass or plastic containers with lids, or transfer the snack mix right to plastic baggies.
Substitutions and Alterations
If you know Cheerios, you know that you can take this into any number of directions, given the different types of Cheerios that are available. Try this with multigrain Cheerios for some extra fiber, or the Honey-Nut variety if you want a little sweetness. Or course, there are vanilla, strawberry, and chocolate varieties of this beloved cereal, too, and they seem to always be adding more seasonal and limited edition varieties. If you like this trail mix, you can see how the possibilities are limitless here.
Try other add-ins:
dried cranberries, blueberries, or cherries
mini chocolate chips
peanuts
pistachios
walnuts
pecans
sunflower seeds
pumpkins seeds/pepitas
unsweetened shredded coconut
chopped up dried apricots, figs, plums, mango, or pineapple
any other kind of nut butter (almond would be awesome) or seed butter
Tips
It's really easy to double this trail mix, or even triple it. Just increase the size of your bowl!
This trail mix is also great for parties, to give as gifts, or to just have on hand in a big sealed container for when anyone needs a snack. You can even keep a bag or two stashed in your car for snacking emergencies on the way to activities or on the way home from school. Or whenever! If you have kids, you know having food on hand is key to keeping everyone happy—and staving off the hangries!
It's ok to use salted or roasted versions of nuts if you like, or the raw versions. It's up to you. If you aren't adding a salted nut, you can safely add a pinch of kosher salt to this mix when you combine all the ingredients together. Salt doesn't necessarily make things saltier; it perks up all the other flavors so they play well together.
MORE SNACK MIXES AND TRAIL MIXES!