Give yourself a spicy pick-me-up with this savory healthy lunch idea — Cajun Stuffed Peppers! Cajun cuisine is best-known and enjoyed in Louisiana. The flavorful seasonings and spicy notes are why people love Cajun cuisine. If you're a big fan of Cajun cuisine, you'll love this recipe. You can enjoy this meal prep recipe for lunch and dinner, or serve it as an appetizer at your next gathering with friends & family. Our easy lunch meal prep recipe gives you authentic Cajun flavors including celery, onion, and peppers. The tasty, aromatic trio makes up the holy trinity of Cajun cuisine. After trying this recipe, you'll know why!
The Best Keto Stuffed Peppers!
These spicy, Cajun-style stuffed peppers are high protein, high fiber meal with staying power. Paleo compliant and zero added sugars make this recipe ideal for Whole30 lifestyles.
How long will Keto Cajun Stuffed Peppers last for?
Cajun Stuffed Peppers will last for 4 days when stored in an airtight container. You can store them in a glass or plastic container.
Can Cajun Stuffed Peppers be frozen?
You can freeze cajun stuffed peppers for at least 3 months. We recommended that you don't freeze them for over 3 months or else they lose flavor.
To freeze your peppers, make sure they have completely cooled. You can either wrap them in plastic wrap individually and store in a freezer bag or place the peppers in a casserole dish and cover with aluminum foil. Your cajun stuffed peppers go from frozen to ready in 20-30 minutes at 300 degrees in the oven.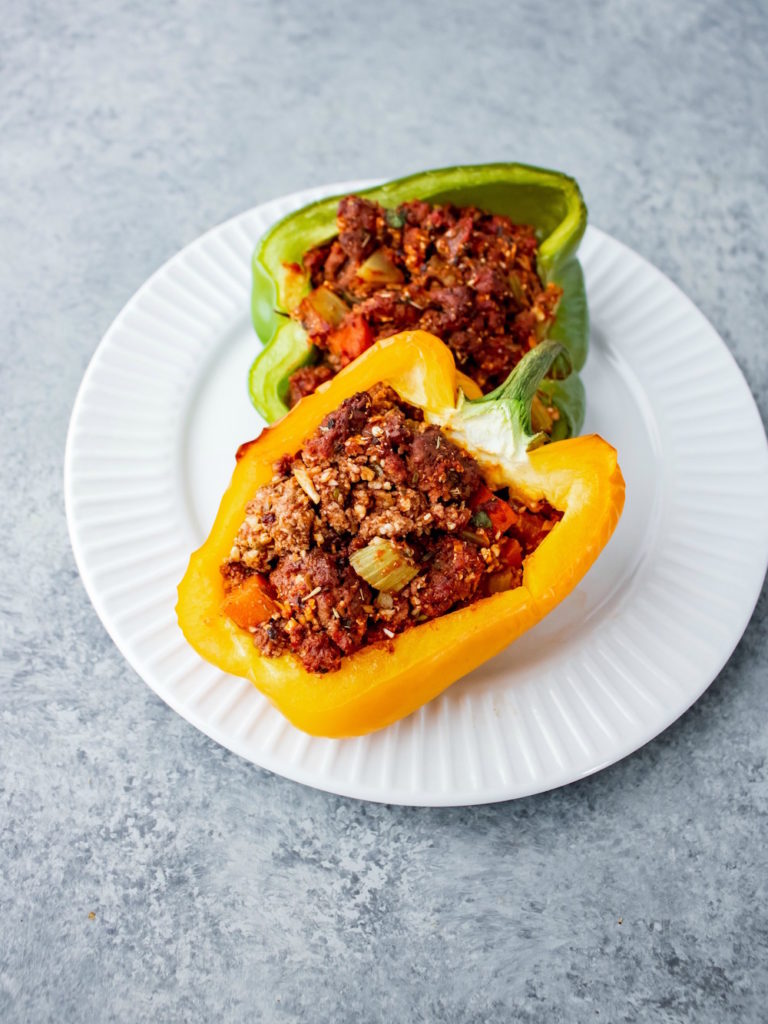 Cajun Stuffed Peppers Ingredients:
For Stuffed Peppers
4 bell peppers
2 tablespoon grass-fed ghee
¼ cup chopped white onion
¼ cup chopped celery
¼ cup chopped carrot
1 lb. 93% lean ground beef
1 (6 oz.) can tomato paste
2 tablespoon Whole30 compliant hot sauce (Frank's, Tabasco)
2 tablespoon Cajun seasoning
1 cup cilantro lime cauliflower rice
For Cajun Seasoning
2 teaspoon paprika
1 teaspoon dried oregano
1 teaspoon dried thyme
½ teaspoon sea salt
½ teaspoon garlic powder
½ teaspoon onion powder
½ teaspoon black pepper
How do you make Cajun Stuffed Peppers?
Cajun Stuffed Peppers is an easy, healthy lunch idea to prepare. Grab your ingredients and let's get started! Once you prep the meal, it will take 50 minutes to cook. Prep time is only 10 minutes, so your oven does all the work.
Start by preheating your oven to 375 degrees. Find a baking pan (about 9x13) and line it with parchment paper. Set the pan aside and get ready to cut the peppers. Cut the peppers lengthwise and remove the seeds. Once you cut the peppers, heat your ghee over medium heat in a medium skillet. Add carrots, celery, and onion to the heated ghee and sauté for 7 minutes. Move your fragrant-smelling vegetables to the side of the skillet to make room for the lean ground beef. Break up the beef and brown for 5 minutes. Stir in your tomato paste and hot sauce. Cook for 3 minutes and remove from heat. Next, add the cauliflower rice and Cajun seasoning. Mix well.
Now that you have your savory stuffing, spoon the beef stuffing mixture into the bell peppers. Bake the cajun stuffed pepper for 30-35 minutes until the peppers are tender.
How to portion Cajun Stuffed Peppers?
Find a spatula and transfer the peppers into four single-compartment meal prep containers, like the ones seen here (these are our very own MPOF meal prep containers).
More Stuffed Peppers meal prep recipes:
We hope you enjoyed our Cajun Stuffed Peppers! If you did, try these similar healthy lunch ideas (peppers can spice and speed up your metabolism).
Other tips for making Cajun Stuffed Peppers:
Cut down cooking time and keep your stuffing from overcooking by precooking your peppers on the stove, in the oven, or the microwave.

Another way to save on time is to use leftovers as bell pepper stuffing.

Don't over-stuff your peppers so everything can cook evenly. You may want to over-stuff but avoid it.

Use an instant thermometer to track the doneness of your peppers. You want your Cajun stuffed peppers to reach 160 degrees.

To keep peppers from falling over in the oven, wrap each one in aluminum foil cups.

For sides, pair cajun stuffed peppers with bread, salad, or potatoes for a complete meal. If you have them for dinner, enjoy your stuffed peppers with a cold beer.

Add cheese if you wish! Mexican, feta, Monterey Jack — whichever cheese your heart desires.