Spice up taco night with Sheet Pan Zesty Stuffed Poblano Peppers
You can travel far and wide to sample stuffed peppers or you can prepare the perfect stuffed pepper in your own home! Lighter than a burrito, tastier than a taco, and able to amaze your taste buds in a single bite, Stuffed Poblano Peppers will be a meal prep delight for days.
You can find stuffed peppers all over the world. The dish is made of two essential ingredients: hollowed or halved peppers plus any filling you desire. Most fillings include meat as does this easy sheet pan recipe. We also include vegetables, cheese, spices and sauce.
The poblano is unique in that it is a mild chili pepper that comes from Puebla, Mexico. They are usually mild enough for most people though are known, sometimes, to pack a surprisingly hot punch. When you make these stuffed poblano peppers for yourself, you get all the benefits of this low carb treat without the travel. Let's get going!
Taco night gets a twist with these sheet pan zesty stuffed poblano peppers! Ground beef is seasoned with smoky spices and finished with cheddar cheese for a crowd pleasing recipe that's ready in under an hour!
How long will Sheet Pan Zesty Stuffed Poblano Peppers last for?
When properly stored, your baked and Stuffed Poblano Peppers will last for 3 to 5 days in the refrigerator. Poblano peppers aren't known to be the spiciest pepper of them all, so you may enjoy them day after day. For the greatest safety and quality, refrigerate the peppers in the tightest-fitting airtight meal prep container. Also, refrigerate them within two hours of cooking for best results.
Sheet Pan Zesty Stuffed Poblano Peppers Ingredients:
4 medium poblano peppers, halved lengthwise and seeds removed
1 lb. lean ground beef
1/2 cup tomato sauce
1 tbsp cumin
1 tsp chili powder
1 tsp dried oregano
1/2 tsp sea salt
1/4 tsp garlic powder
1/4 tsp coriander
1/2 cup shredded cheddar cheese
1/3 cup chopped red onion
1/3 cup chopped cilantro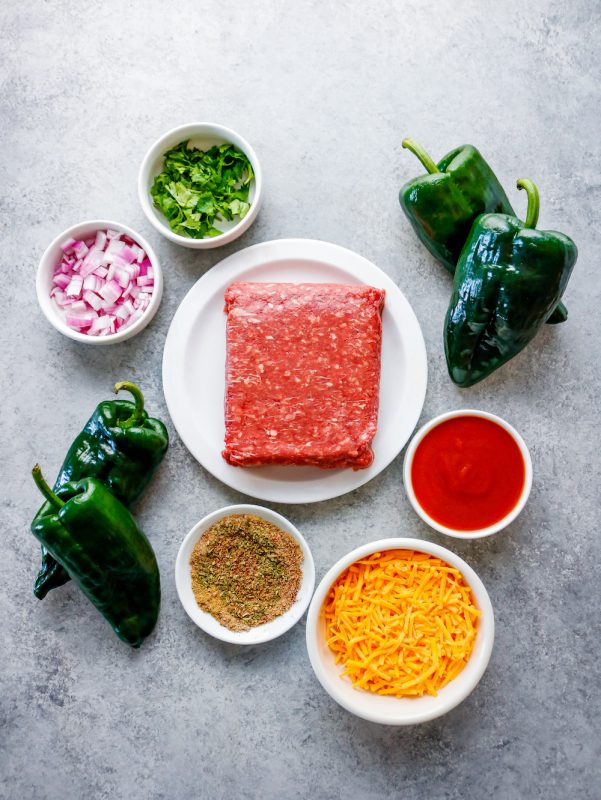 Can Sheet Pan Zesty Stuffed Poblano Peppers be frozen?
Properly stored, Stuffed Poblano Peppers will keep their 'hottest' quality for 10 to 12 months. Freezing is a great option for this easy sheet pan recipe, as you'll easily have a few days worth of meals.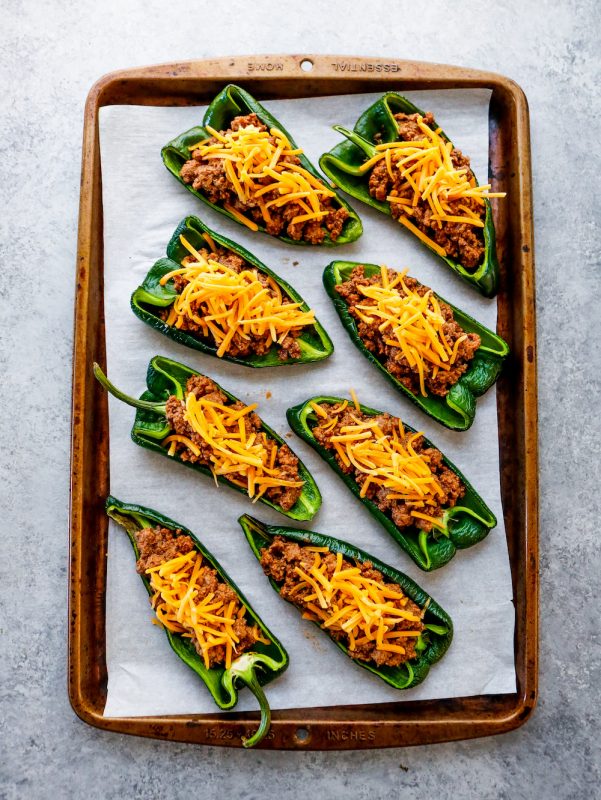 How do you make Sheet Pan Zesty Stuffed Poblano Peppers?
Some people are surprised to discover that for Stuffed Poblano Peppers, you add the meat after the peppers have been baked the first time. By baking the peppers twice, you get softer peppers.
Set the oven to 400ºF and bake the peppers for 10 minutes while preparing the ground beef with all its spices. Spoon the mixture into each pepper half, add cheese, and bake for just 10 more minutes. That's it! Easy sheet pan recipe for savory Stuffed Poblano Peppers.
How to portion Sheet Pan Zesty Stuffed Poblano Peppers?
One full and Stuffed Poblano Pepper is exactly one portion with 311 calories and 29g of protein. Use a single glass or plastic meal prep container or, if you add any sides of your own, go for a dual-compartment or three-compartment meal prep container. Seal them tightly and place in the fridge or freezer, to be eaten when and where you wish.

More Stuffed Pepper meal prep recipes:
Other tips for making Sheet Pan Zesty Stuffed Poblano Peppers:
Make your peppers soft by immersing them in boiling water for 2-3 minutes.

Some people prefer to stuff their peppers whole instead of halved. Just cut the top off and remove the seeds to give yourself a different experience.

Use a fine and sharp knife, such as a paring knife, for an easier time removing seeds from your Poblano Pepper.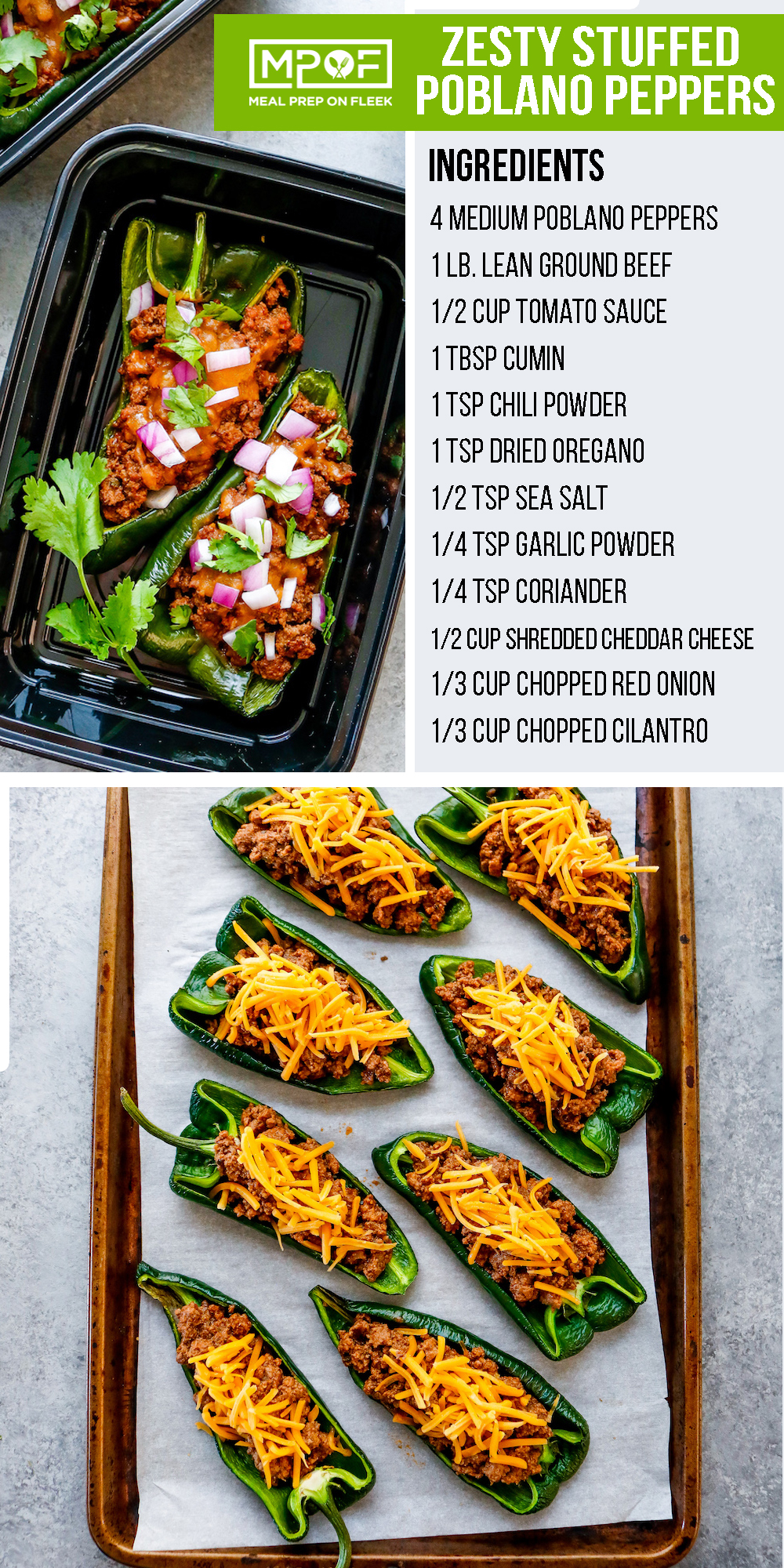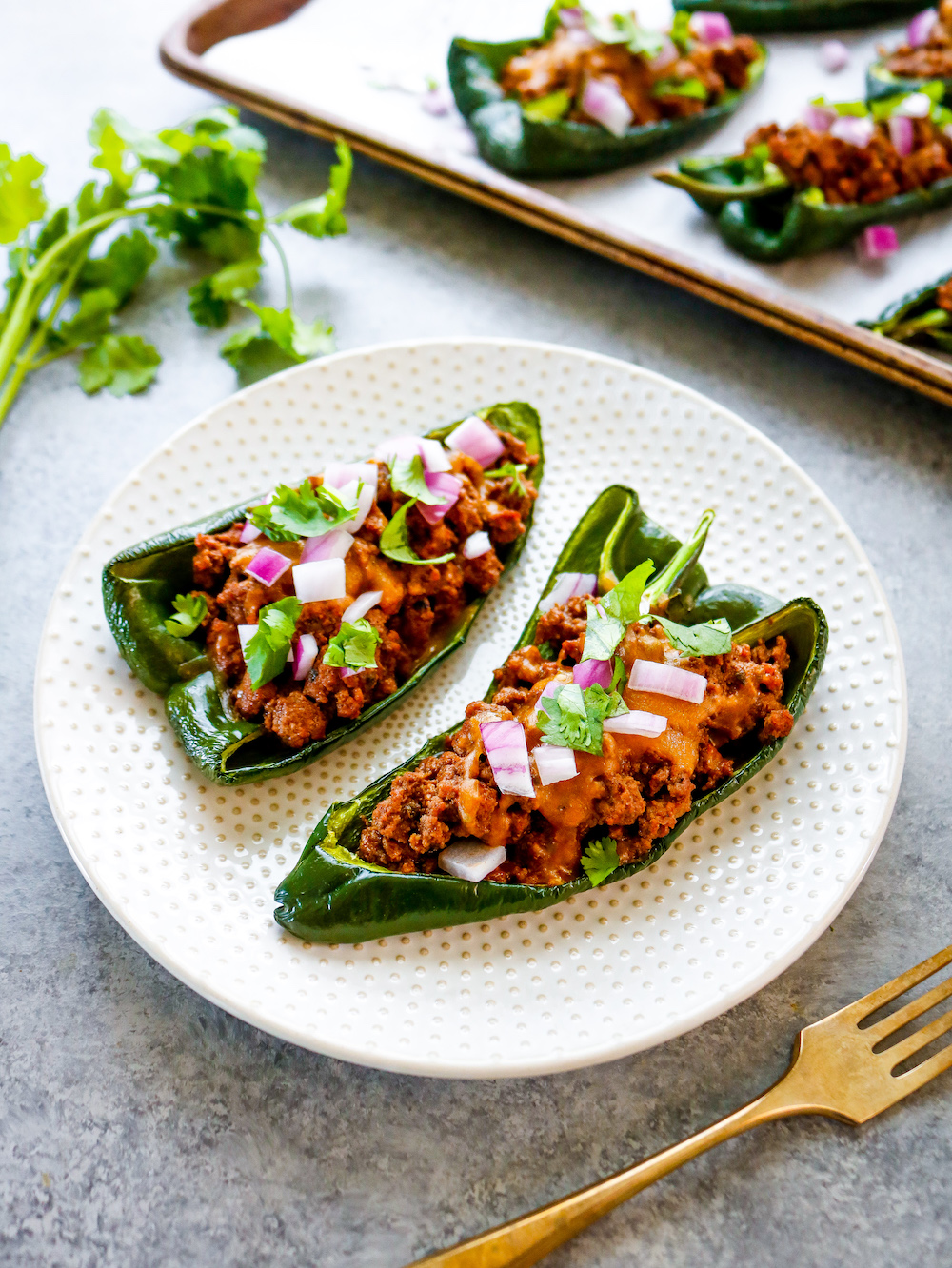 Ingredients
4

medium poblano peppers

halved lengthwise and seeds removed

1

lb.

lean ground beef

1/2

cup

tomato sauce

1

tbsp

cumin

1

tsp

chili powder

1

tsp

dried oregano

1/2

tsp

sea salt

1/4

tsp

garlic powder

1/4

tsp

coriander

1/2

cup

shredded cheddar cheese

1/3

cup

chopped red onion

1/3

cup

chopped cilantro
Instructions
Preheat oven to 400ºF and line a medium baking sheet with parchment paper. Place poblano peppers on baking sheet and bake for 10 minutes.

While peppers bake, heat a medium cast iron pan over medium heat and lightly grease with avocado oil. Add ground beef and brown for 5 minutes. Use a spatula to break up ground beef into small crumbles. Stir in dry seasonings and tomato sauce. Cook an addition 5 minutes.

Remove peppers from oven and carefully spoon ground beef mixture into each poblano pepper half. Sprinkle with shredded cheese and return to oven for 10 minutes.
Nutrition
Calories:
311
kcal
|
Carbohydrates:
17.3
g
|
Protein:
29.2
g
|
Fat:
6.1
g
|
Fiber:
5.1
g