Thank you to GoodCook for sponsoring this Takeout vs. Target post, and thank YOU for supporting the brands that help make Meal Prep On Fleek possible. All opinions are our own.
Skip the weekend take-out and make these easy recipes during meal prep to enjoy all week! They have less sodium, fewer calories, and much less fat. Your wallet and your waistline will be thanking you later.
Who doesn't love takeout? It's easy – you just call in an order, pick it up and eat it at your desk. But, if we are being honest, making it at home is almost just as easy. Chances are, it's healthier too. Plus, you can cook it up during your meal prep on Sunday and have it ready for any meal of the week; lunch or dinner. Gone are the days when you have to wait until Friday or Saturday night to binge on cartons of takeout. Instead, you can feel good about enjoying any of these three recipes any day or time.
We have skipped the frying in favor of baking (on a sheet pan), significantly reduced the sodium (hello less bloating and lethargy), and made the recipes extremely cost-effective by shopping for all of the ingredients at Target. It's a triple win!
We created two vegetarian friendly recipes; one a traditional tofu recipe and one is a spin on sweet and sour shrimp. The third recipe is the tried and go-to recipe for most people that are trying to be healthy, but still enjoy takeout; Teriyaki Chicken and Rice. All three recipes are a guaranteed home run in flavor and nutrition.
Plus, we have everything portioned controlled thanks to our Good Cook meal prep containers. There will be no more guessing whether or not you are eating too much or not. We all know what happens when we eat straight from the takeout box, don't we?
Are you ready to take the takeout remix challenge and put these recipes to the test? Let's get cooking!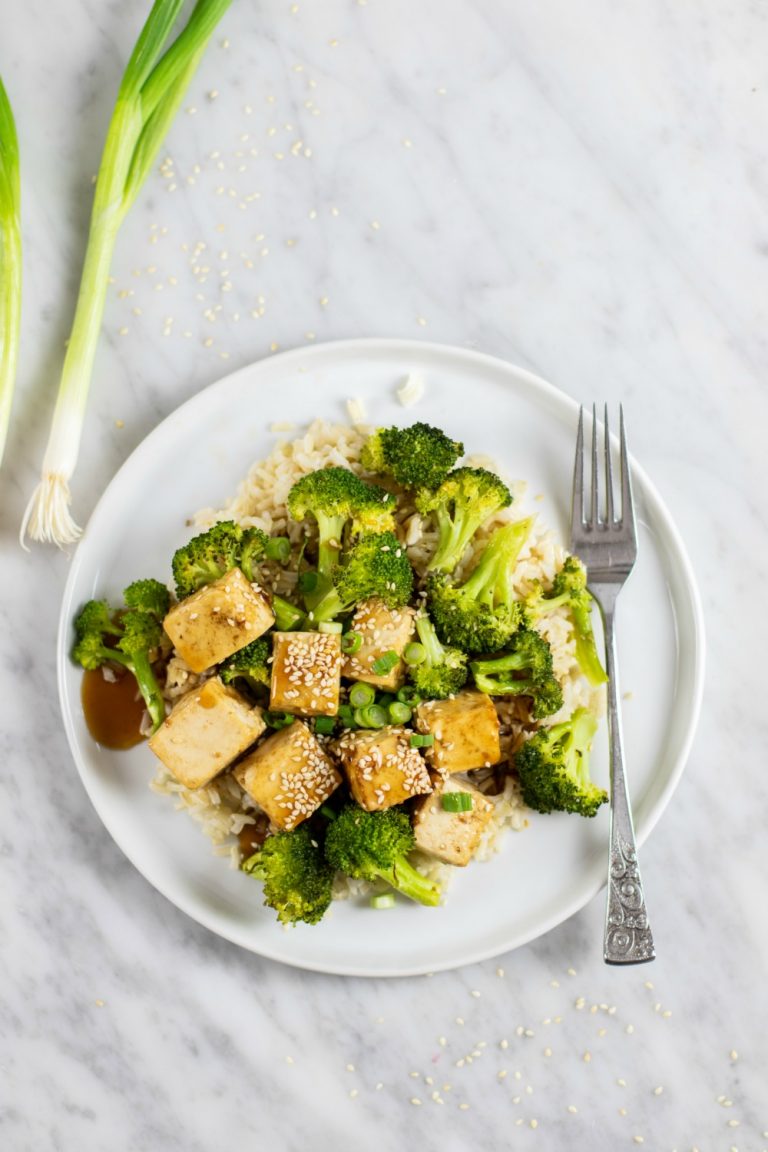 Here's what you will need to grab at Target: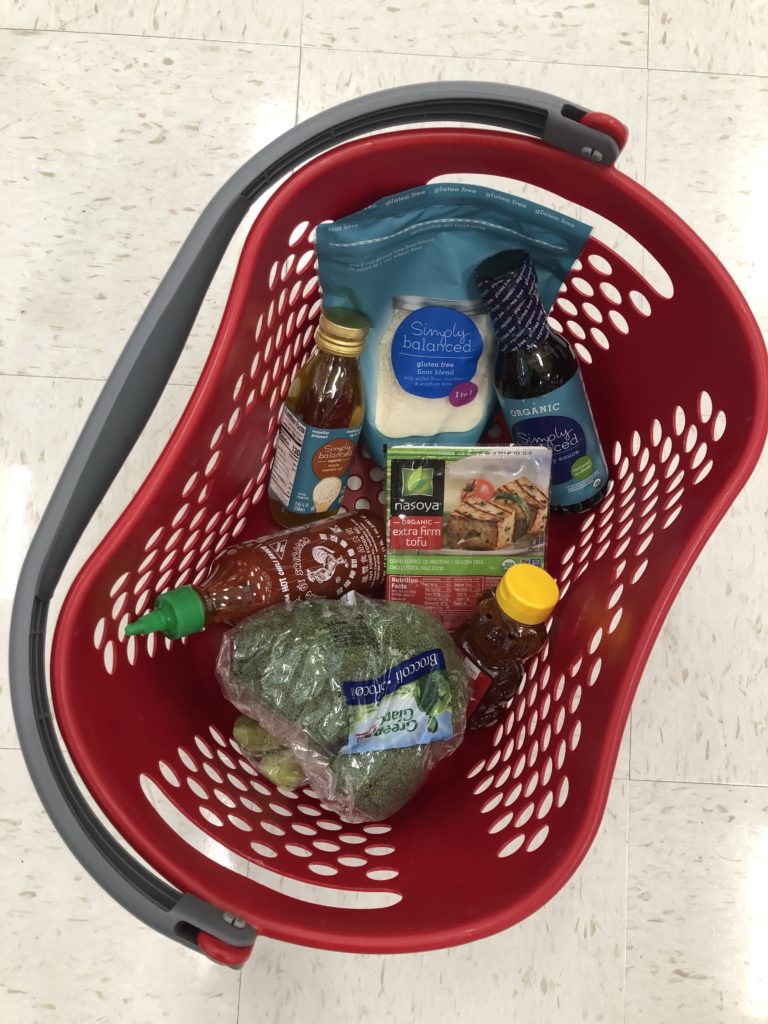 1 package extra-firm tofu
1 tablespoon sesame oil
3 tablespoons coconut aminos (or 2 tablespoons tamari)
1 tablespoon arrowroot
6 cups broccoli
1 tablespoon sesame oil
Salt and pepper, to taste
Teriyaki Sauce
½ cup coconut aminos
2 tablespoons honey
2 tablespoons of rice wine vinegar
1 teaspoon sriracha
¼ teaspoon ginger
Pinch of sea salt, to taste
Meal Prep Containers
Once you have all of your ingredients, it's time to get cooking!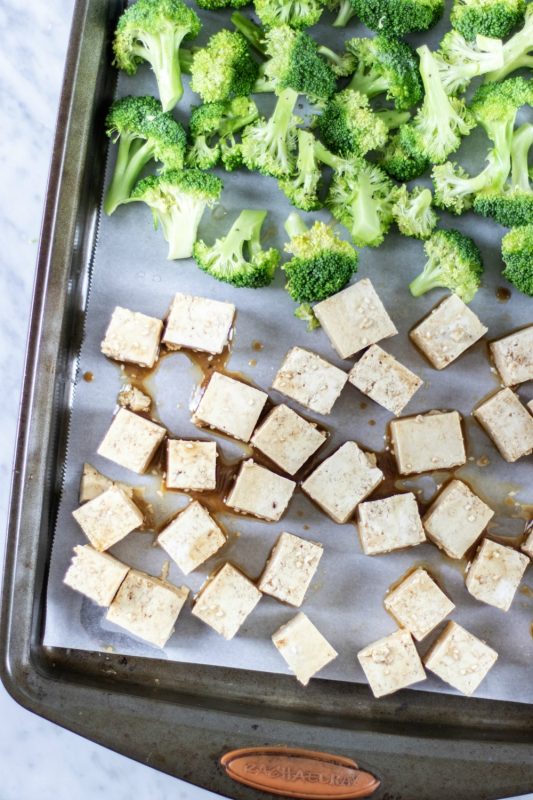 Instructions
Press tofu by placing it on a cutting board between several sheets of paper towels, and placing a heavy plate or another cutting board on top. Allow it to sit for 20-30 minutes to drain all excess moisture. **This step is important to ensuring crispy edges on the tofu.

Preheat oven to 435.

Cut tofu in 1-inch cubes, and put in a bowl. Drizzle tofu with sesame oil, coconut aminos, and arrowroot, and gently toss to evenly coat.

Add chopped broccoli to a bowl, and drizzle with sesame oil, and season with salt and pepper.

On a large baking tray, add tofu, making sure to leave some space around the cubes for baking. Add broccoli to the other end of the baking tray.

Bake tofu and broccoli for 25 minutes, tossing once midway for even browning and crisping.

To make the teriyaki sauce, add all ingredients to a saucepan, and whisk while heating over medium heat. Allow it to boil for about 1 minute while whisking to thicken.

Serve crispy tofu and broccoli over rice or cauliflower rice, drizzled with teriyaki sauce.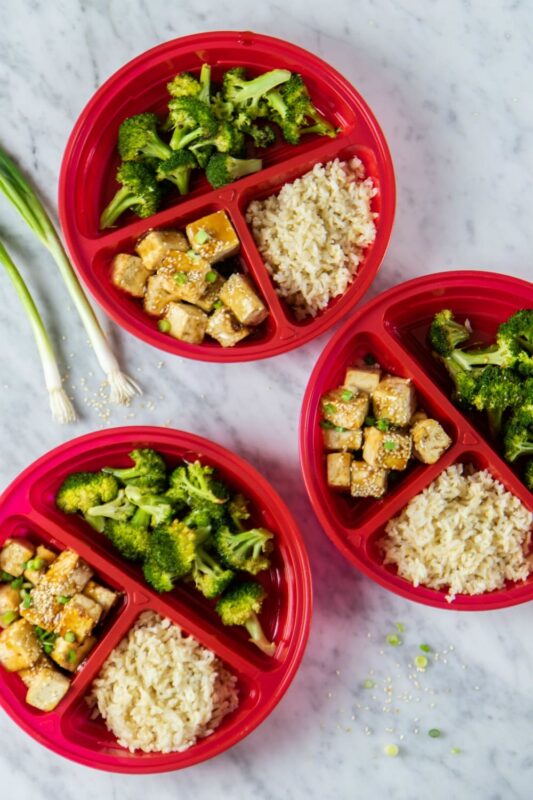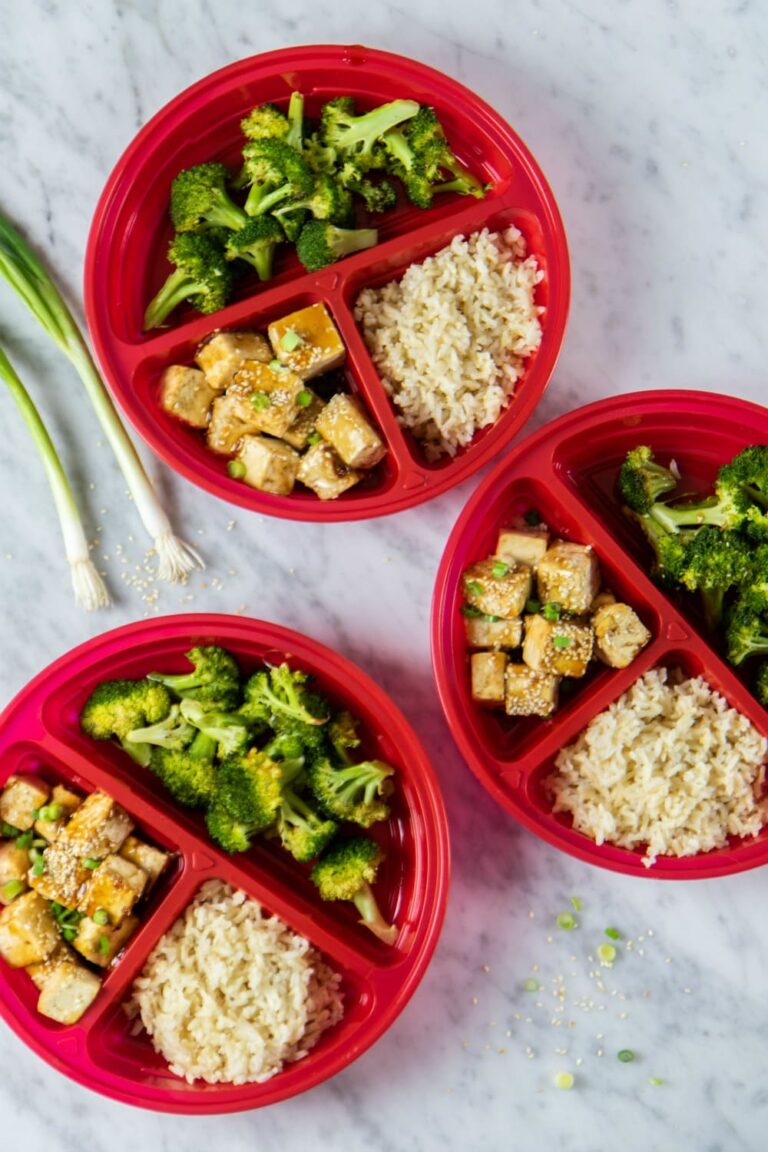 How do they stack up?
Takeout: 813 calories, 46g Fat, 85g Carbs, 18g Protein, 3,300mg Sodium
Target Remix: 437 calories, 13.8g Fat, 64.3g Carbs, 16.9g Protein, 810mg Sodium
That's just about half the calories, a third the fat, and a quarter of the unhealthy sodium!
Here's what you will need to grab from Target: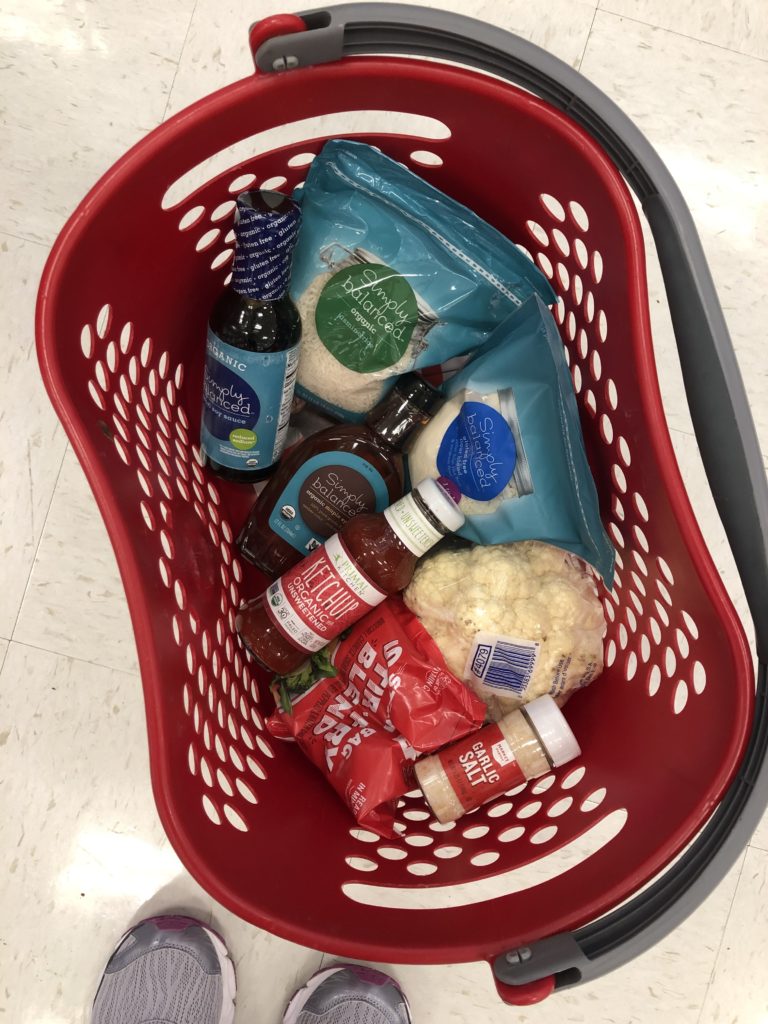 Ingredients:
1 large head of cauliflower, broken into large florets
2 cups mixed seasonal veggies
2 TBS avocado oil
2 TBS GF flour
2 cups cooked jasmine rice
Diced scallion
Sweet and Sour Sauce
2 TBS maple syrup
2 TBS Tamari lite
2 TBS apple cider vinegar
1 tsp garlic powder
2 TBS ketchup
Filtered water, as needed, to thin
Meal Prep Containers
Black, single compartment meal prep containers
Now, it's time to cook!
Instructions
Preheat oven to 400 and line a baking sheet with parchment paper.

Add the cauliflower to a large bowl and toss with avocado oil and GF flour.

Add to the baking sheet with seasonal veggies and bake for 20-25 minutes, until cauliflower is tender-crisp but not soggy.

Meanwhile, whisk together the sweet and sour sauce by adding all ingredients to a small bowl and mixing with a fork.

Once the cauliflower is done baking, remove from the oven and toss with the sauce to lightly coat.

To assemble, divide jasmine rice and cauliflower/veggie mixture between meal prep containers and top with diced scallions.

Store in the fridge for 4-5 days.
Ok, now let's do our comparison!
Takeout: 530 calories, 2.5g Fat, 101g Carbs, 10g Protein, 520mg Sodium
Target Remix: 296 calories, 7.2g Fat, 52g Carbs, 8.1g Protein, 375mg Sodium
That is half the carbs, more healthy fats, and a third less sodium! Plus, this recipe is plant-based and vegan friendly with a guaranteed serving of veggies! If we compared that to a sweet and sour shrimp the nutrition would be 870 calories, 154g carbs, 18g fat, 18g protein, and 1,100mg of sodium!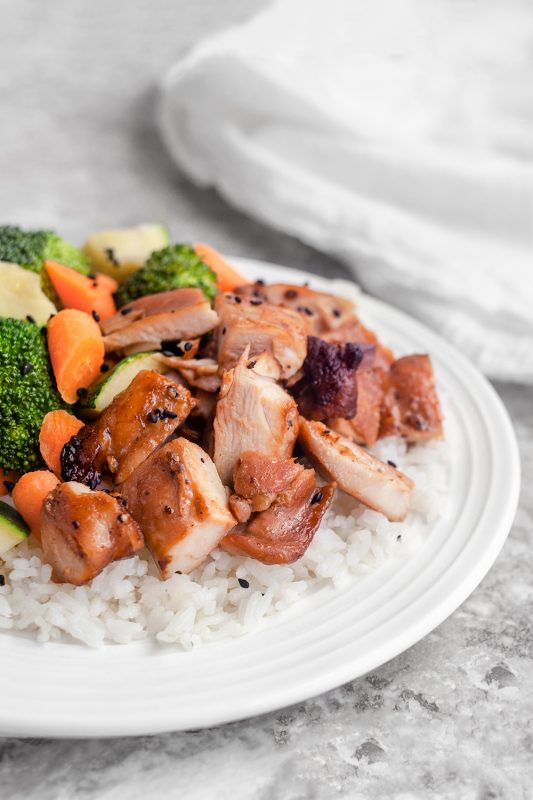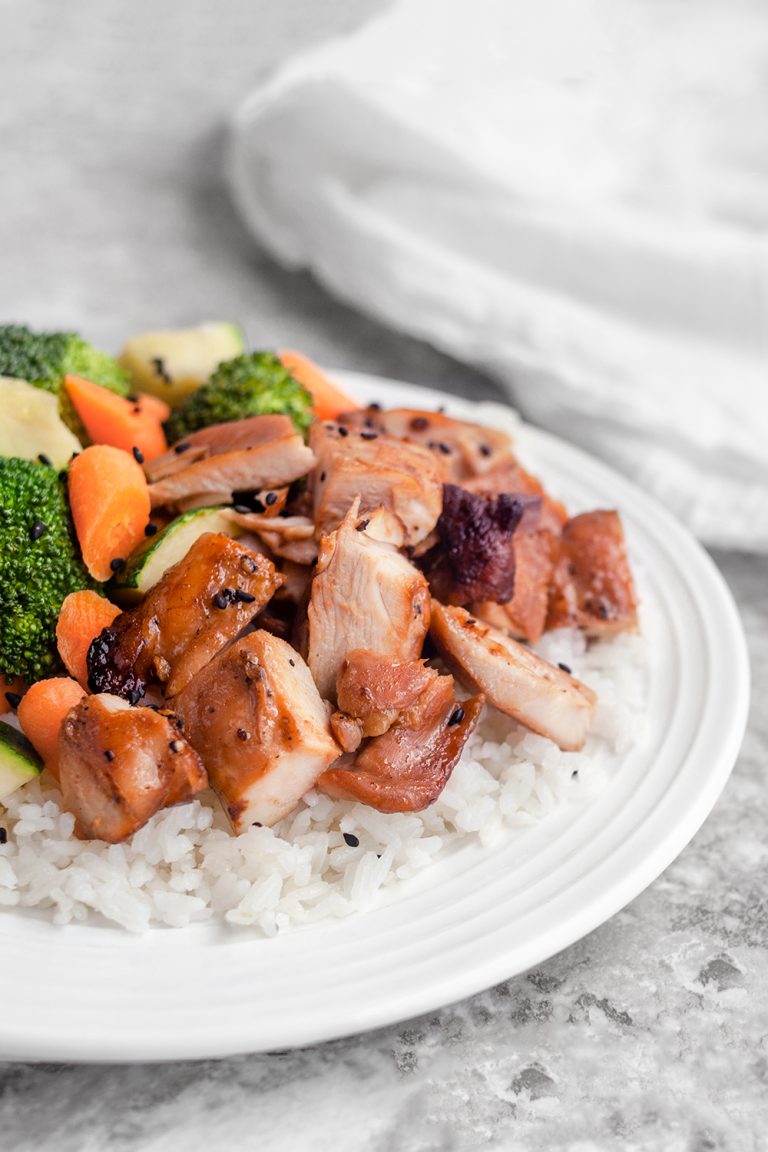 Here's what you need to grab from Target:
Ingredients:
Meal Base
5 lbs. Chicken Thighs (boneless; skinless)
1 Medium Zucchini (cut into bite-sized pieces)
2 C. Cooked White Rice
1 C. Broccoli Florets
1/2 C. Snow Peas
1/2 C. Sliced Carrots
Optional: 1 Tbsp. Black Sesame Seeds
Teriyaki Sauce Base
3/4 C. Water
1/3 C. Tamari
1/3 C. Coconut Sugar
2 Tbsp. Rice Vinegar
1 Tbsp. Arrowroot Powder (or cornstarch)
1/2 Tbsp. Garlic Powder
1/2 Tbsp. Grated Fresh Ginger
1/2 tsp. Red Chili Flakes
1 tsp. Onion Powder
Meal Prep Containers
Black, single compartment meal prep containers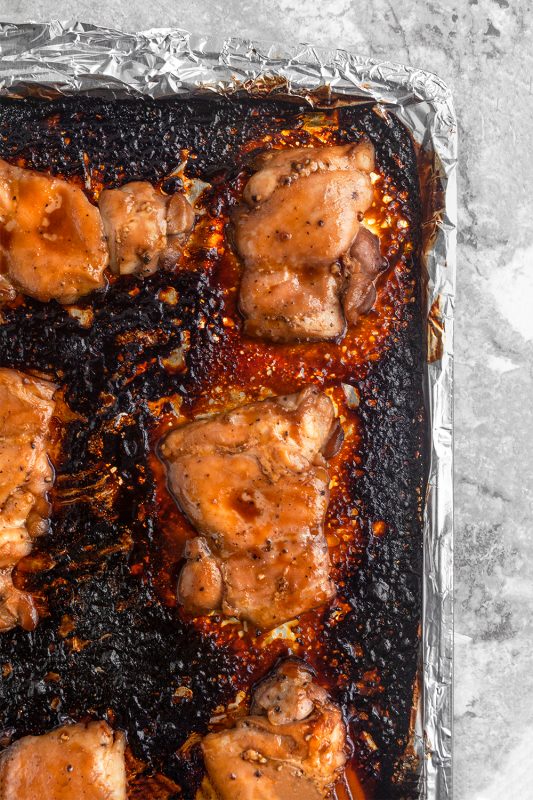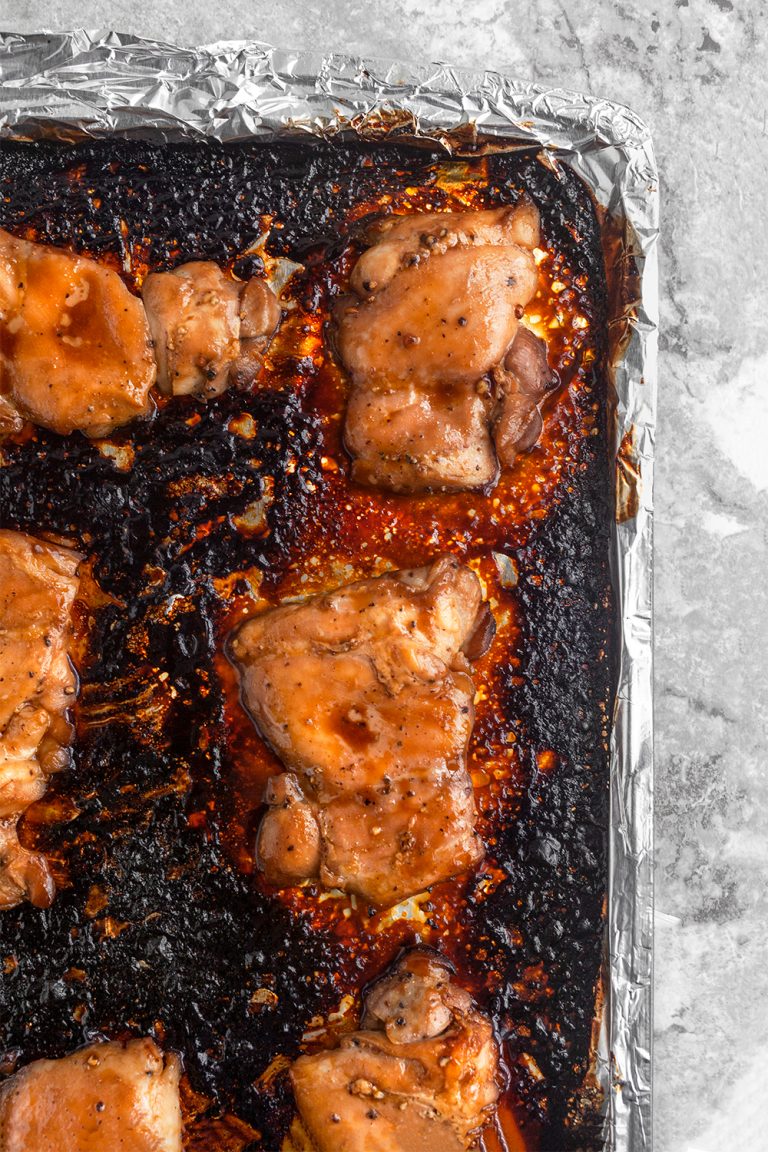 Instructions
Combine all teriyaki sauce ingredients (except for arrowroot powder and sesame into a small pot over medium/high heat until reaches a boil. Then, create a slurry by ladling out 1 cup's worth of the hot liquid into a bowl and add arrowroot powder – whisking well until completely smooth.

Next, whisk the slurry back into the pot and lower heat to a simmer — let reduce/thicken for ~10-15 minutes (stirring consistently until sauce can coat the back of a spoon. Once sauce has finished cooking, stir in the sesame oil, remove from stove, and let cool minimum ~5 minutes to further set up.

Preheat oven to 400℉ and line a sheet pan with foil.

Place chicken thighs on lined sheet pan and pour ~1/3 worth over the chicken thighs. Flip chicken thighs and pour another ~1/3 worth of teriyaki sauce over the thighs until well-coated.

Optional: Reserve remaining 1/3 of teriyaki sauce for serving when ready to enjoy the completed meal.

Then, place onto middle oven rack and let cook for 15 minutes, then flip chicken and cook another 10-15 minutes or until chicken is fully cooked and has reached internal temperature of 165℉.

When the chicken is nearly finished cooking, start steaming the carrots for ~5 minutes, then add remaining veggies and steam another 5-8 minutes, or until broccoli and snow peas are vibrant green and all veggies are tender, but still firm.

Once chicken is done, slice/dice into bite-sized pieces and serve with rice and veggies (and optional drizzle of extra teriyaki sauce and sprinkle of sesame seeds)!

Store and enjoy!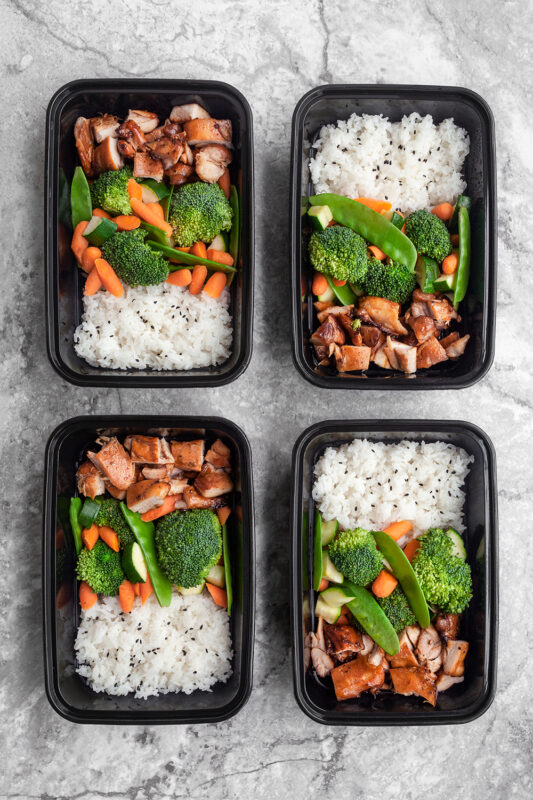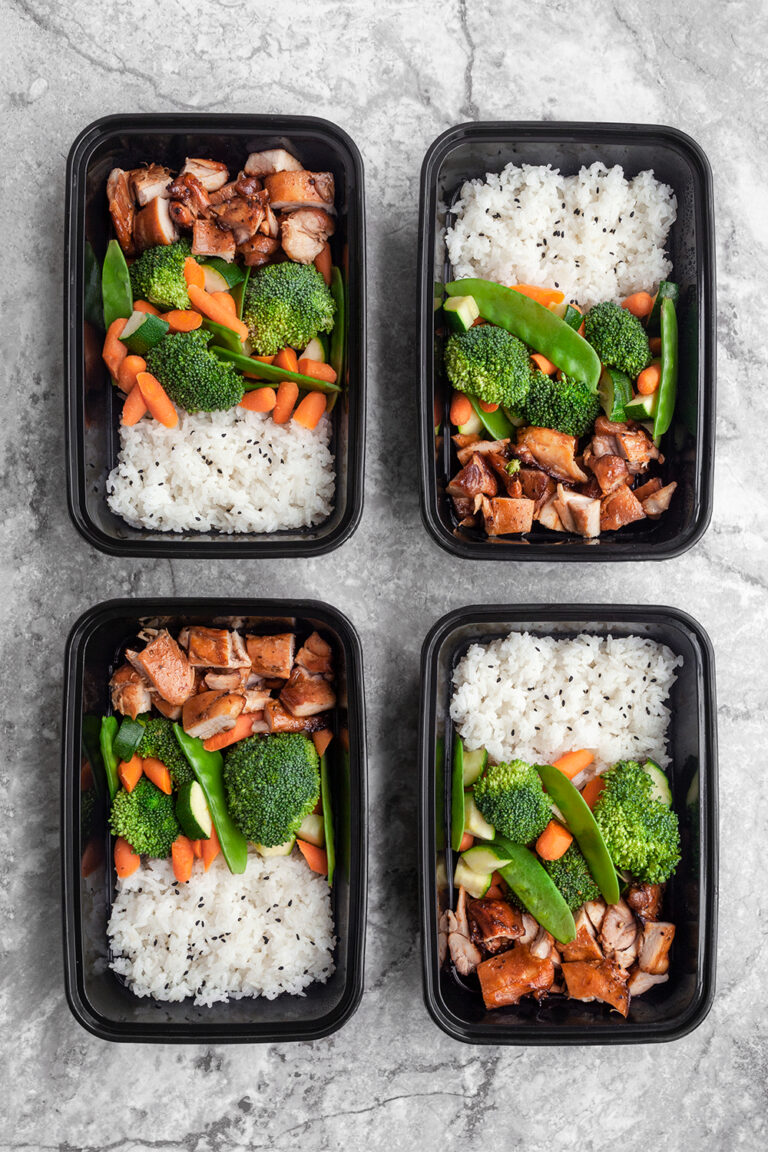 Can you guess the difference?
Takeout: 738 calories, 105g Carbs, 15g Fat, 50g Protein, 2,540 Sodium
Target Remix: 424 Calories, 51g Carbs, 7g Fat, 39g Protein, 1,511mg Sodium
WOW! Where do we even begin? Half the carbs, half the fat, 1,000mg less sodium and so much more flavorful, colorful, and delicious!

Have we convinced you to give takeout at home a try?
If so, head to Target, grab all of your ingredients, plus your meal prep containers and then head home to start cooking! We would love to see what you make, so don't forget to tag us on Instagram, @Mealpreponfleek, so we can share your healthy takeout remix!