Air fryer sweet potato wedges come together easily, with little fat, and are served with a delicious garlic aioli for dipping. Snack time is here!
Air fryer sweet potato wedges will make your sweet potato dreams come true, and in less than a half an hour, to boot. Toss these wedges with olive oil, rosemary, garlic powder, salt, and pepper, and serve with this flavorful mayo (that's all an aioli is).
You may have noticed something: We're on a serious air fryer recipe kick around here. We know, we know. It's not some novel thing; air fryers have been with us for a few years. But they're getting less expensive and so more people are finding it worth the splurge. We just want to help you justify that purchase in all kinds of delicious ways that make meal preps go faster, and make healthy meal preps happen. That's one of the best benefits of the air fryer; tons of flavor without tons of added fat from oil.
Air Fryer Rosemary Sweet Potato Wedges Ingredients
1 pound sweet potatoes (about 2 to 3 potatoes)
1 Tbsp. olive oil
1 tsp. dried rosemary
½ tsp. fine sea salt
¼ tsp. garlic powder
⅓ cup light mayonnaise
1 tsp. minced fresh garlic
1 Tbsp. lemon juice
Salt and pepper, to taste
How to Make Air Fryer Sweet Potato Wedges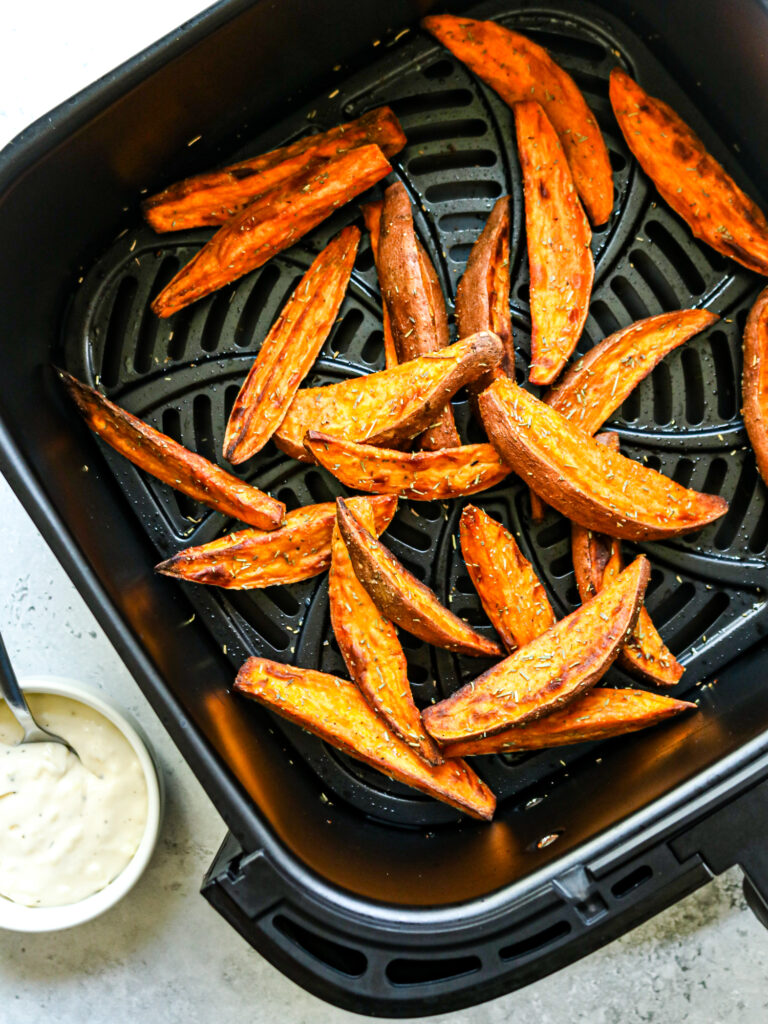 Air fryer sweet potatoes are easy to prep. Trim the ends and discard. Cut the potatoes in half lengthwise and then into wedges about ½-inch thick or so. Transfer them to a medium bowl and toss with olive oil, rosemary, garlic powder, and salt. Preheat the air fryer, and transfer the potatoes to the air fryer. Let them do their thing for about 15 minutes; check them part of the way through to make sure nothing's burning and that everything is baking evenly. (You can likely just give the basket a good shake and then start it back up again. While the potatoes are air frying, combine the minced garlic, lemon juice, and mayonnaise in a small bowl. That's your aioli. Serve the potatoes with the aioli, seasoning with salt and pepper first beforehand, to taste.
How to Store and Serve Air Fryer Sweet Potatoes
These potatoes can be meal prepped if you like. Store them in an airtight container in the fridge for up to 4 or 5 days. Reheat them in the air fryer for a few minutes to make them warm and crisp. Seal the aioli in an airtight container, too, either with the fries or without them.
It's also possible to freeze air-fried sweet potatoes and then just reheat them right from frozen. It will take a little more time than it did to make them in the first place, so just keep an eye on them.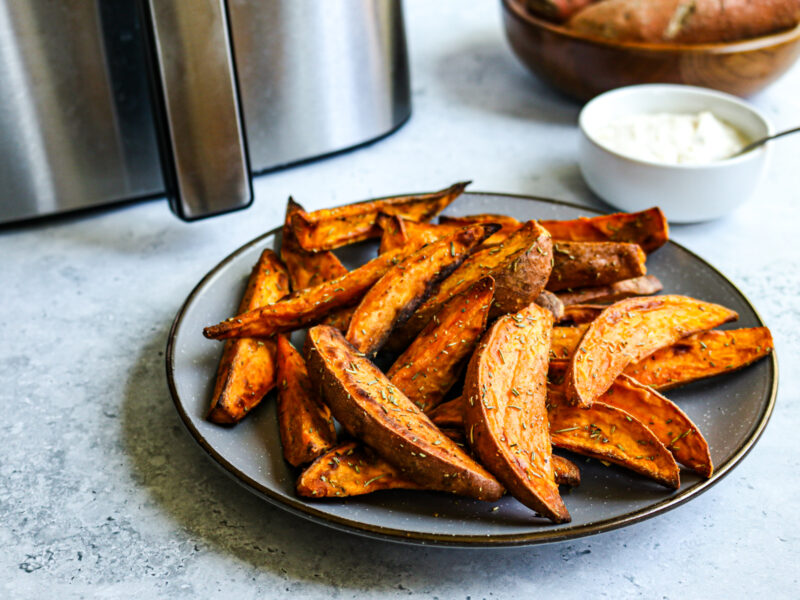 Substitutions and Alterations
Potatoes of all kinds seem to be made for rosemary, but feel free to switch out the herb for thyme or parsley, or even sage if you like.
If you really love rosemary, these air fryer sweet potatoes would be even more delicious if garnished with chopped fresh rosemary, or any other fresh herb, including thyme, sage, parsley, or even cilantro.
Feel free to swap the mayonnaise for vegan mayo if desired, or use sour cream or plain yogurt, Greek or otherwise. It won't be an aioli if it's not mayo, but it will still taste great.
MORE AIR FRYER GOODNESS AND SWEET POTATO LOVE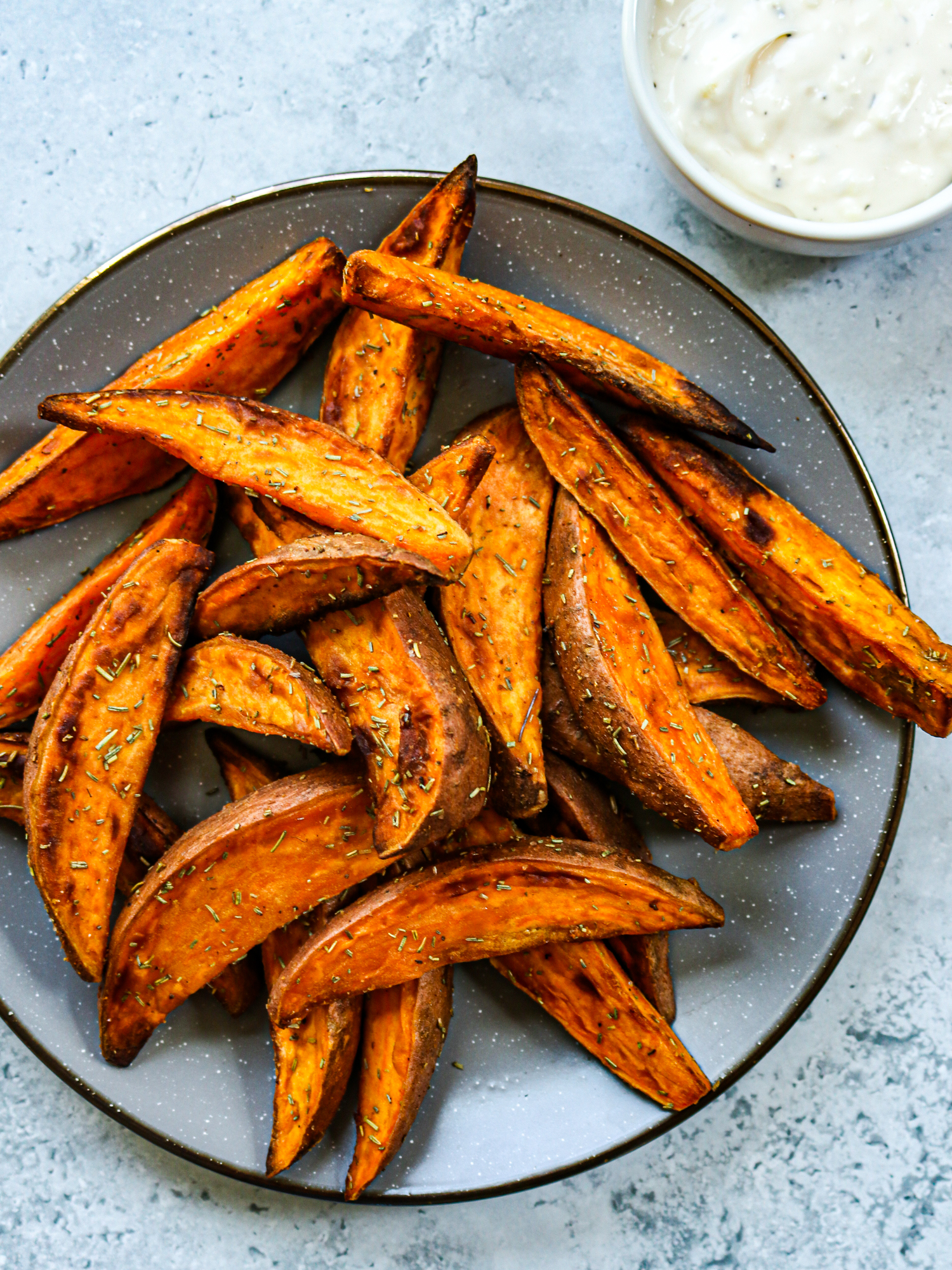 Ingredients
1

pound

sweet potatoes

about 2 to 3 potatoes

1

tablespoon

olive oil

1

teaspoon

dried rosemary

½

teaspoon

fine sea salt

¼

teaspoon

garlic powder

⅓

cup

light mayonnaise

1

teaspoon

minced garlic

1

tablespoon

lemon juice

Salt

to taste

Black pepper

to taste
Instructions
Trim the ends off the sweet potatoes, then cut in half lengthwise. Cut each half into 4 to 5 wedges of equal thickness.

in a medium bowl, toss the sweet potatoes with olive oil, rosemary, sea salt, and garlic powder.

Preheat the air fryer to 375°F. Arrange the sweet potato wedges in a single layer in the air fryer (cooking in batches, if necessary). Cook for 14 to 16 minutes, flipping once halfway through, or until golden brown and tender.

While the sweet potatoes cook, whisk together the mayonnaise, garlic, and lemon juice. Season to taste with salt and pepper.

Remove the sweet potato wedges from the air fryer and transfer to a bowl. Serve with aioli for dipping.
Nutrition
Calories:
176
kcal
|
Carbohydrates:
25
g
|
Protein:
2
g
|
Fat:
8
g
|
Saturated Fat:
1
g
|
Polyunsaturated Fat:
3
g
|
Monounsaturated Fat:
3
g
|
Trans Fat:
0.01
g
|
Cholesterol:
3
mg
|
Sodium:
508
mg
|
Potassium:
397
mg
|
Fiber:
3
g
|
Sugar:
6
g
|
Vitamin A:
16102
IU
|
Vitamin C:
4
mg
|
Calcium:
37
mg
|
Iron:
1
mg