Hi everyone! We recently met Danica, from Kale and Carrot Sticks, and were so moved by her story that we wanted to share it with all of you. Danica has an amazing personality and she only hopes that her story can encourage people to choose to be well. We're sharing excerpts from her story in this post, but you can find the full story here.
"That's when binge eating took over my life. I went back to work and would make it through my day just fine, but then as I saw the clock ticking down to the end of my shift, I'd start dreaming about what I would binge on that night. Would it be cookies tonight? Or donuts? Or maybe both? I was binging every single night. I felt like I lost so much of myself and my purpose on this planet..." - Kale and Carrot Sticks
I'll never forget the first time I binged. It was in 2013 after a huge fight with my dad, and I didn't know how to deal with what we were fighting about so I turned to food. It was basically an isolated incident, but I found myself turning to binge eating again the next year after a breakup that really shook me. That's when I told my Nana about what was happening. Opening up to her and letting her in was the key factor in how I stopped the first time.
Then what happened?
Nana was so much more than "just a grandparent". She was my best friend, my third parent, my biggest cheerleader, my entire world. Things started to change with Nana last March. She kept saying how she felt very tired, and anyone who knew her knows that was not normal for her. Then in April I got a call at work that I needed to bring Nana to the doctor immediately, and we heard those three words you never want to hear: "you have cancer". The doctors told us we had time, maybe even a couple of years… but my gut told me that wasn't the case.
I binged again for the first time in almost a year on Mother's Day. All Nana wanted to do was lie on the couch, and it was torture to watch the most important person in my life decline so rapidly. Nana decided to take a nap that afternoon, so I went into my room and saw all the food that various companies had sent me recently… and I binged. Hard. I lost complete control and didn't stop eating until there was literally nothing left except some GoMacro bars. I didn't even want to eat half the things I was eating, but I was so tired of feeling everything I had been feeling. I was sitting on the floor shaking, completely in shock at what I had just done to myself. I had to get out of my room so I went back into the living room and saw Nana was awake. When I sat down next to her, she took one look at me and said: "you did it, didn't you?" She knew. I started sobbing, and she put both her arms around me and started crying too. We sat there crying silently in each other's arms for a few minutes until she pulled away a little and said: "I don't want you doing this to yourself because of me." She wiped my cheek and told me she loved me.
15 days later, I held my sweet Nana in my arms and looked into her beautiful brown eyes as she took her last breath and said her last words: "I love you".
That's when binge eating took over my life.
This went on for months. I quickly gained 27 pounds from the daily binges. I kept hitting what I thought was rock bottom, only to prove to myself I could fall down even lower. Even health scares weren't enough to get me to stop binge eating. I was spiraling so out of control that I really thought I would stay in this vicious cycle forever. But then something happened the day after Christmas that showed me I needed to get help for myself. I was reading my Nana's journal she kept after she lost her husband in 1970. I read it from time to time because it makes me feel close to her. I turned to a page I didn't remember reading before, and the words that filled it changed my life:
"I am aware that at every moment I can choose between wellness and illness. This fact will be firmly remembered and remain a part of my consciousness at all times. I choose to be well. My choice will be from this moment on and have its positive effect on my being. I am from this moment beginning to feel the beneficial effects of this choice to be well. I see clearly that my health depends largely on my attitudes, and that I can, and do, choose my attitude. I choose to be well."
And that helped?
I had my last binge on April 11, 2007. Nothing about that binge made me feel like it would be the last one. But it was, and it will continue to be, because of a conversation I had two days later. The trainer I had been working with for a year and a half was transferring to a different gym, and I told him I wanted to take a break from training once he left. I just felt like I couldn't tell him why because I felt so guilty and ashamed of myself. I didn't want him to be as disappointed in me as I was. But I finally broke down and texted him about it, and I ended up explaining my struggle with eating to him over the phone.
That phone call really changed things for me because it was when I finally told the last person I was hiding this from. I could write about my eating disorder for tens of thousands of people to read on Instagram, but I couldn't bring myself to tell the last person I needed to tell. So when I hung up that phone call, I felt the weight and the shame from my binge eating finally lift. I felt lighter. I felt like I'm capable and strong enough to get past this. I felt happy for the first time in a long time. And I felt like I don't need to eat like this ever again.
And I haven't since then.
It hasn't been that long since I last binged, but I am so proud to be in recovery now. My journey with food has been one hell of a ride, and I'm definitely not ashamed of it anymore. Ever since that last binge, all I have done is choose my wellness. Everything in my life has become so much clearer since I stopped choosing the things that make me feel unwell.
What is one of the biggest things that helped you?
One of the biggest things that has helped me make these choices and continue down this path of recovery is getting serious about my meal prepping again. I commute 70 miles round trip for work, so meal prep is crucial for me. It helps me choose wellness throughout the day: I have a nutritious breakfast when I'm rushing out the door early in the morning, I have a balanced, healthy lunch at work instead of scrounging for the best option at the commissary. And after a long day and long drive home, I have a fridge stocked with prepped meals waiting for me. When I was in the depths of my binge eating, I often stopped at the store on the way home to buy boxes of cookies and donuts for a binge. But now I don't make that stop; I go straight home for my prepped dinner. Meal prep is not about restriction or deprivation, because I truly enjoy every single meal I eat. It's just about being ready with better options when an urge to binge comes your way. Meal prep has taken so much power away from my triggers to binge. It's been a total game changer.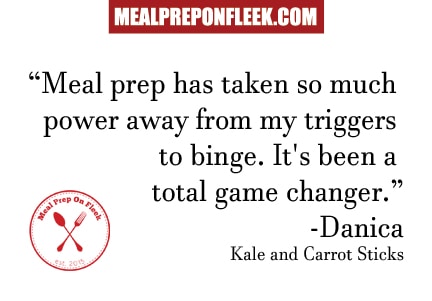 Give our readers some personal advice:
One of the best pieces of advice I could give to anyone struggling with binge eating is to be prepared. I've found that sometimes the process of getting ready for a binge can give you a very similar high as the actual binge. But if you're prepared with healthy options, you can simply cut out that temptation to binge. I've often told myself "no, you don't need this because you have food waiting for you at home." Sometimes you just have to talk yourself through it and remind yourself that you have food that makes you feel well already waiting for you. I'm not saying you have to say no to your favorite treats for the rest of your life. But while your triggers are still intense, you may just have to stick to your plan you've made for yourself by meal prepping. Trust me, you will feel so empowered and so proud of yourself after you fought off your trigger!
What can we do to take action now?
If you're struggling with binge eating, please know you aren't alone. Please don't feel ashamed and please don't turn to drastic measures to "un-do" what you think a binge did to you. You can make it to the other side of this if you choose your wellness over your triggers. Trust me, I know it's incredibly difficult. But I'm also learning that it can be done. You have the power to make those decisions to get there. And I am right there with you every step of the way.
Choosing to be well,
Danica - Kale and Carrot Sticks
-- Thank you so much for taking the time to read Danica's story. She is truly an inspiration and has overcome something that millions of people struggle with. Please head over to her Instagram page and say hello!
Related Article: Have you looked into Intuitive Eating?