Keto gravy is the gravy you want for all your beef, turkey, and chicken needs! Xanthan gum is the not-so-secret ingredient for making this grain free.
Typically, gravy is made with pan drippings or stock, and cornstarch, flour, or arrowroot starch. This one uses xanthan gum and regular stock. You can even use store-bought stock for this gravy and it will work. That's the beauty of xanthan gum, which is a natural thickener often used in gluten-free cooking and baking. It's not hard to find in the grocery store; it's typically by the specialty flours. It comes together quickly so you can make it in a flash.
Keto Gravy Ingredients
1 cup chicken, turkey, or beef stock
1 tablespoon unsalted butter
¼ teaspoon dried thyme
¼ teaspoon black pepper
Pinch of garlic powder
Salt to taste
½ teaspoon xanthan gum
How to Make Keto Gravy
Whisk together the stock, thyme, black pepper, garlic powder, and salt. A word about the salt, though. We say salt it to taste and this is always true. But this is especially important if you are using a store-bought stock that's not low in sodium. It's much harder to take salt away; it's much easier to add it as needed. So, go slowly with the salt.
Once those ingredients are whisked together in a saucepan over medium heat, add the butter and let it melt. Whisk it together, bring it to a boil, and then simmer it on low until it thickens. It will cook fast. Then, once it thickens, take it off the heat and let it cool.
How to Serve and Store Keto Gravy
Gravy is great because it will keep for 4 to 5 days in the fridge as long as it's in a covered, airtight container. Just reheat it in the microwave or on the stovetop over medium-low heat. Gravy can also be frozen and will freeze well for up to about six months. One fun way to freeze gravy? Ice cube trays. You can freeze in those smaller increments and then defrost and use as many "gravy cubes" as you need. Easy!
And of course, you know what to do with gravy, right? Serve it over turkey, naturally, or fancy up a rotisserie chicken from the grocery store with some homemade gravy. We have it pictured here with turkey, some rice, and the unofficial favorite green veggie of Meal Prep On Fleek: broccoli!
Substitutions and Alterations
You can add flavor to this depending on whether it's turkey, chicken, or beef. Turkey and chicken work well with the classic Thanksgiving herbs such as thyme, which is what we've called for here, along with rosemary, parsley and sage. Feel free to use a little bit of those dried versions. You can even just use an Italian seasoning instead if you like. Beef can take some of those flavors, too, but you could also use a dash of soy sauce (skip the salt, if so), black garlic (or just up the garlic powder).
RECIPES THAT NEED HOMEMADE GRAVY!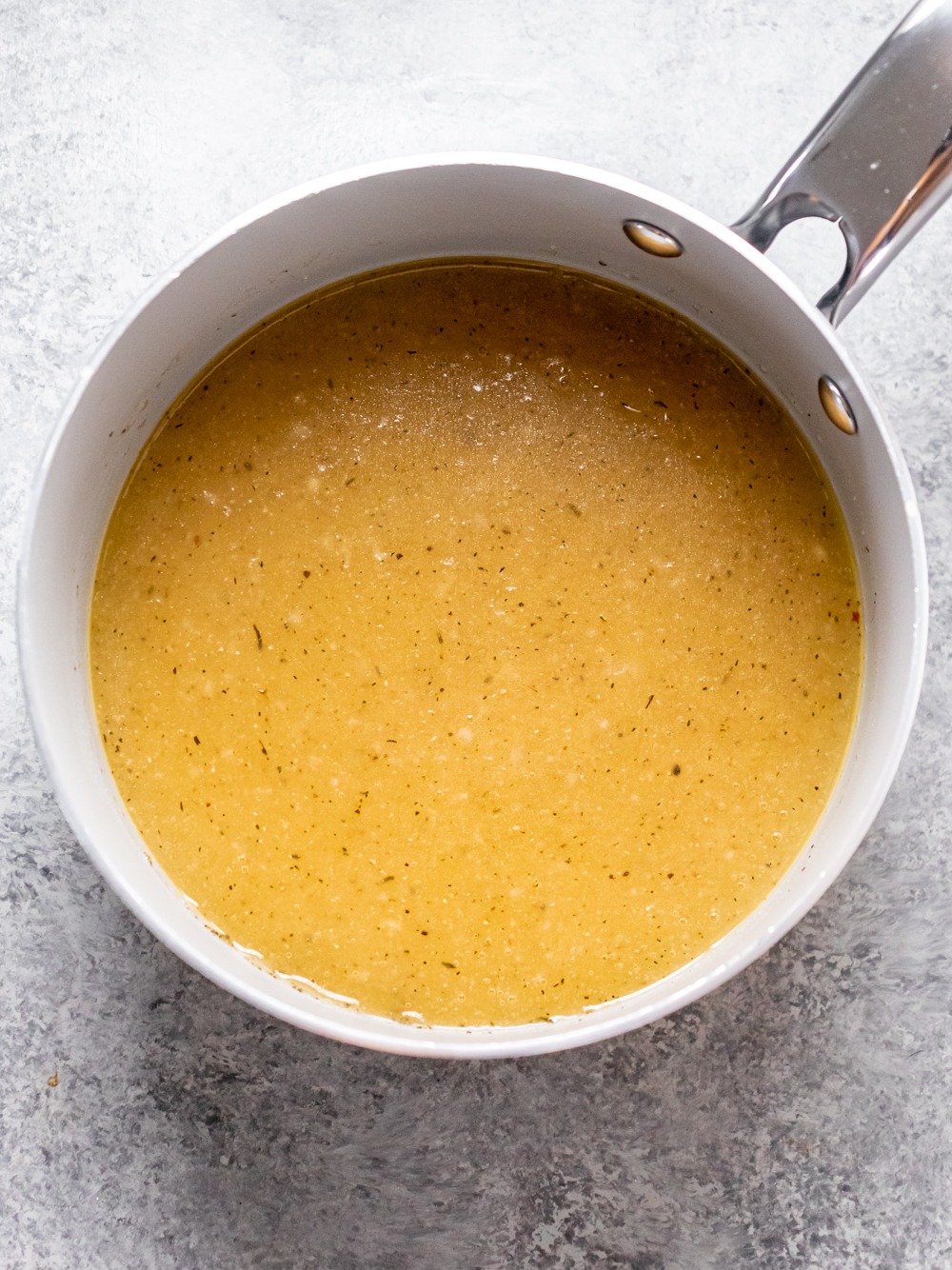 Ingredients
1

cup

chicken, turkey, or beef stock

1

tablespoon

unsalted butter

¼

teaspoon

dried thyme

¼

teaspoon

black pepper

1

pinch

garlic powder

Salt

to taste

½

teaspoon

xanthan gum
Instructions
Whisk together stock, thyme, pepper, garlic, salt, and xanthan gum in a small saucepan. Add butter. Turn the heat to medium.

Bring to a boil and reduce heat to low. Simmer for 1-2 minutes until thickened. Remove the gravy from stove and cool for 5 minutes.

Divide gravy between 4 small sauce cups. Place next to sliced chicken in large compartments of 4 MPOF white containers. Divide cauliflower rice and broccoli between small compartments.
Nutrition
Serving:
1
cup
|
Calories:
49
kcal
|
Carbohydrates:
3
g
|
Protein:
2
g
|
Fat:
4
g
|
Saturated Fat:
2
g
|
Polyunsaturated Fat:
0.2
g
|
Monounsaturated Fat:
1
g
|
Trans Fat:
0.1
g
|
Cholesterol:
9
mg
|
Sodium:
97
mg
|
Potassium:
68
mg
|
Fiber:
0.3
g
|
Sugar:
1
g
|
Vitamin A:
92
IU
|
Vitamin C:
0.2
mg
|
Calcium:
4
mg
|
Iron:
0.2
mg