Looking for different salads to try? We appreciate delicious salads that are filling and activate new flavor profiles, don't you? Then try this power salad meal prep recipe! This kale and steak power salad has a zesty and refreshing burst of flavors that compliment the steak, fennel, and blue cheese. The power behind this kale salad is its high protein content paired with the superfood sweet potato. Sweet potatoes are an abundant source of beta carotene and vitamin A, and it's said that they also contain medicinal properties. We also add fennel, Brussels sprouts, pecans, and blue cheese giving you a variety of tastes in one salad.
This steak and blue cheese bowl is full of rich flavor that keeps your taste buds guessing! Crunchy fennel adds licorice depth while tangy blue cheese complements the robust steak. This salad is great for cooler months with comforting roasted Brussels sprouts and sweet potatoes. Best served in a Good Cook ®meal prep bowl.
How to Store Kale Steak Power Salad
Kale and steak power salads last for 3 to 4 days when properly stored in the refrigerator. Keep the salad in an airtight container for optimum freshness.
Can Kale Steak Power Salad be frozen?
Yes, you can freeze power salads, but be mindful of the ingredients. The proteins are always fine to freeze, but some of the vegetables don't freeze well unless you make adjustments.
For example, if your meal prep goals involve freezing, you don't want to cook the sweet potatoes all the way, but about ¾ of the way, so they retain their firmness when reheated or thawed. Freezing the Brussels sprouts is possible, too, but the same advice pertains to them as the potatoes.
The best way to freeze this power salad, then, is by focusing on the steak. Put simply, you can make it ahead of time and freeze it, and then assemble everything else as you like. So, you can cook the sweet potatoes a couple of days ahead of time and refrigerate them before making the salad. Bake them in the oven or cook them in a slow cooker, using our Crockpot Sweet Potatoes meal prep recipe. Or you can simply do the steak ahead of time, defrost it in the fridge, and then reheat it in a hot skillet and add the other prepped ingredients to it.
Kale Steak Power Salad 
Ingredients:
For the lemon herb dressing:
¼ cup olive oil 

¼ cup fresh lemon juice 

½ cup fresh parsley 

1

tablespoon

raw honey 

1 teaspoon dried basil 

1 teaspoon dried thyme 

½ teaspoon sea salt 
And for the steak:
2 teaspoon olive oil for greasing 

1 lb. sirloin or strip steak

1 teaspoon sea salt

¼ teaspoon cracked black pepper  
Everything else you need for the salad:
2

tablespoon

olive oil

2 cups chopped sweet potatoes 

2 cups halved Brussels sprouts 

8 cups shredded kale 

½ cup thinly sliced fennel bulb

½ cup blue cheese

⅓ cup chopped pecans

½ cup lemon herb dressing  (above)
For Serving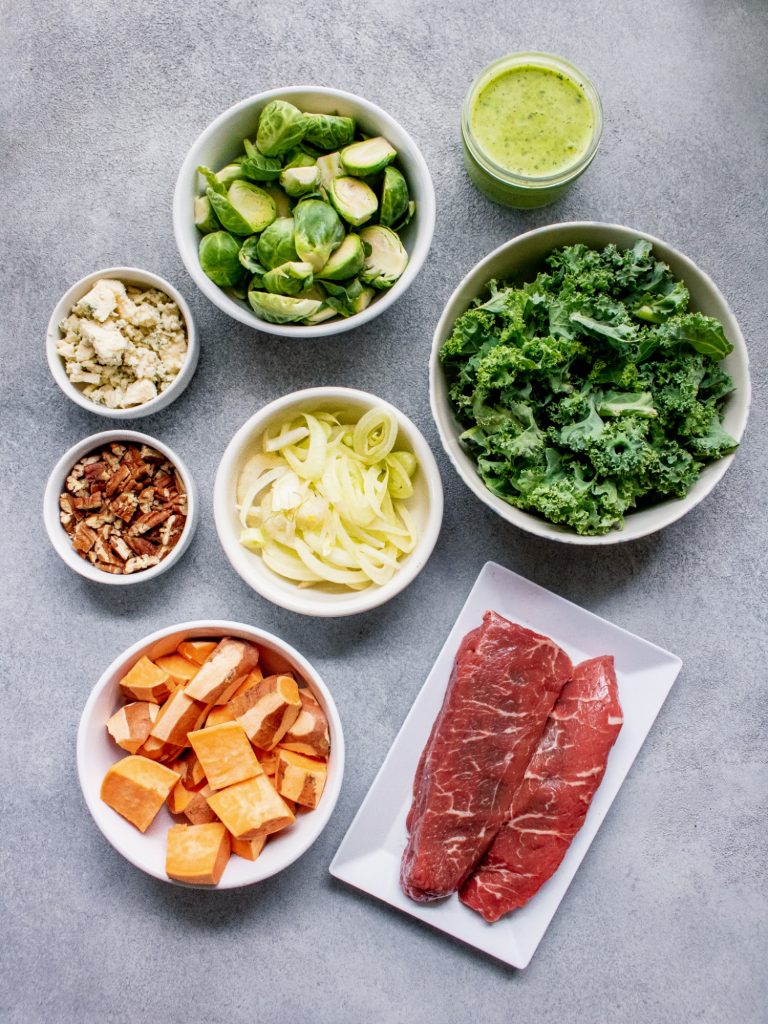 How to Make Kale Steak Power Salad
Kale steak power salad is very easy to make and is ready in less than 40 minutes. 
Combine all of the salad dressing ingredients in a blender or Nutri-Bullet and blend until it's smooth.

Bake your lightly oiled and salted Brussels sprouts and cubed sweet potatoes on a baking sheet lined with parchment paper at 400 degrees for 25 minutes.

Cook your steak in a heated cast-iron pan with olive oil over medium heat. Sear each side of the steak for 4-5 minutes. Let the steak rest on a cutting board for 5 minutes before slicing.

Finally, top 2 cups of kale with steak, potatoes, sprouts, fennel, pecans, and blue cheese.
How to Store and Serve Kale Steak Power Salad?
Your kale and steak power salad fits perfectly in our GoodCook® Meal Prep Bowls! Add two cups of kale in each bowl and top with sliced steak, roasted vegetables, fennel, pecans, and blue cheese. Then divide your lemon-herb salad dressing into 4 plastic cup containers and store each cup of dressing with one bowl of kale power salad.
More power salad meal prep recipes:
Other tips for making Kale Steak Power Salad:
You can freeze salad bowls, but doing so can make them less flavorful. 

The kale in particular won't come back to life well.
Cut your steak and vegetables into bite-sized portions.
Use dry kale. Wash, drain, and pat dry or use pre-washed, bagged kale.
Drizzle your salad with dressing, then toss and mix your salad well right before eating.