Beef and cheese taquitos are a snack time favorite because they're quick and easy to cook and eat. But do you know how they came about? Taquitos are known as Mexican food, but sources say that taquitos were created in the United States and are a part of Tex-Mex lore. And apparently, October 4th is National Taquito Day! So you can celebrate by making your very own beef and cheese taquitos. We made the popular snack into a full meal by adding a Street Corn Salad to give you the complete street taco experience.
These air-fried taquitos have zero added fat and are full of protein-rich ground beef. Served alongside a creamy fire-roasted corn salad, it's the perfect Mexican meal!
How long will Beef and Cheese Taquitos last for?
Once cooked and when properly stored, Beef and Cheese Taquitos will last for up to 4 days. Store your taquitos in a shallow airtight container. You can also roll them and stick them in the fridge to cook later, but doing so will cut the shelf life in half.
Can Beef and Cheese Taquitos be frozen?
Yes, you can freeze Beef and Cheese Taquitos. Just cook them, let them cool to room temperature, and toss them in a ziplock bag to store in your freezer. Make sure you lay them flat in the freezer. You can store your beef and cheese taquitos in smaller batches for an easy grab-and-go meal.
Beef and Cheese Taquitos Ingredients:
For Taquitos
8 gluten-free tortillas
1/2 lb. 96% lean ground beef
2 tsp ground cumin
1/4 tsp smoked paprika
1 tsp dried oregano
1/4 tsp garlic powder
1/2 tsp sea salt
Pinch of cayenne pepper
1/2 cup shredded cheddar cheese
1 cup salsa
For Street Corn Salad
3 cups fire-roasted corn, thawed
1/2 cup chopped red onion
2 tbsp chopped cilantro
1 tbsp finely chopped jalapeño
1/4 cup light sour cream
2 tbsp lime juice
1 tbsp mayonnaise
1/2 tsp chili powder
1/4 tsp sea salt
1/4 cup crumbled cojita cheese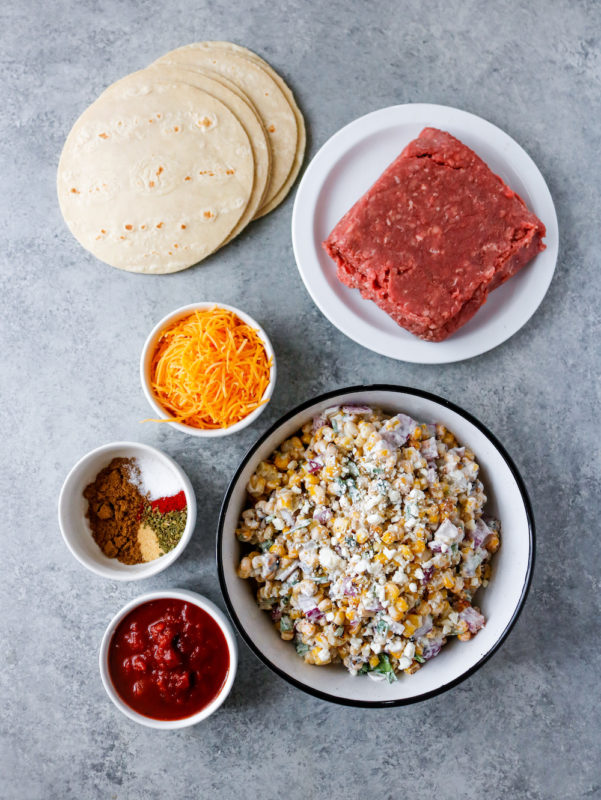 How do you make Beef and Cheese Taquitos?
First, grab all of your ingredients and we'll start by making the Street Corn Salad. Gather the ingredients for the corn salad and put them all into one bowl. Stir all of the ingredients together, top with cotija cheese, and pop the salad in the refrigerator. We're off to an easy start!
Now, for the taquitos. They're fun and easy to make. Your kids may even enjoy helping you with this lunch meal prep! Start by browning the ground beef in a medium skillet over medium heat. Cook for 7 minutes, breaking the beef into crumbles with a spatula. Drain the meat and add seasoning. Then let the beef cool for 5 minutes and add shredded cheese after cooling. Here's the part where the kiddos can help! Once the meat is cooked and cheesy, grab 8 gluten-free tortillas and a spoon for the beef. Spoon 2 tablespoons of beef & cheese just below the center of the tortilla in a line. Tightly roll each taquito and either set them aside on another plate or place them directly into your air-fryer basket (no need to preheat the basket). Spoon and roll three more taquitos for a total of four. Fry the first four, then repeat. Air fry the taquitos for 8 minutes at 380 degrees. Use tongs to remove the taquitos from the air-fryer and place them on a plate.
Once all 8 of your beef and cheese taquitos are done, so are you! Serve and/or store with the Street Corn Salad and enjoy a job well done.
How to portion Beef and Cheese Taquitos?
To store your lunch meal prep, you'll need 4 dual-compartment meal prep containers. Put the corn salad in the smaller compartment and the salsa & 2 taquitos in the bigger compartment.
More Mexican or Tex-Mex meal prep recipes:
If you enjoyed this Mexican inspired meal, try these!
Mexican Whole Grain Rice & Quinoa Casserole Meal Prep
Cheesy Mexican Cauliflower Fritter Meal Prep
Southwestern Stuffed Sweet Potatoes
Mushroom Carnitas Burrito Bowls
Southwestern Chicken Bake Meal Prep
Instant Pot Beef Barbacoa Meal Prep Bowls
Chicken Fajita Veggie Meal Prep
Other tips for making Beef and Cheese Taquitos:
Use pinto or black beans to make this meal vegetarian.
You don't have to use beef. Use ground chicken or turkey, or even leftover shredded meat from another meal.
For creamier and cheesier taquitos, use cream cheese along with shredded cheese.
Try using corn, flour, or whole wheat flour tortillas.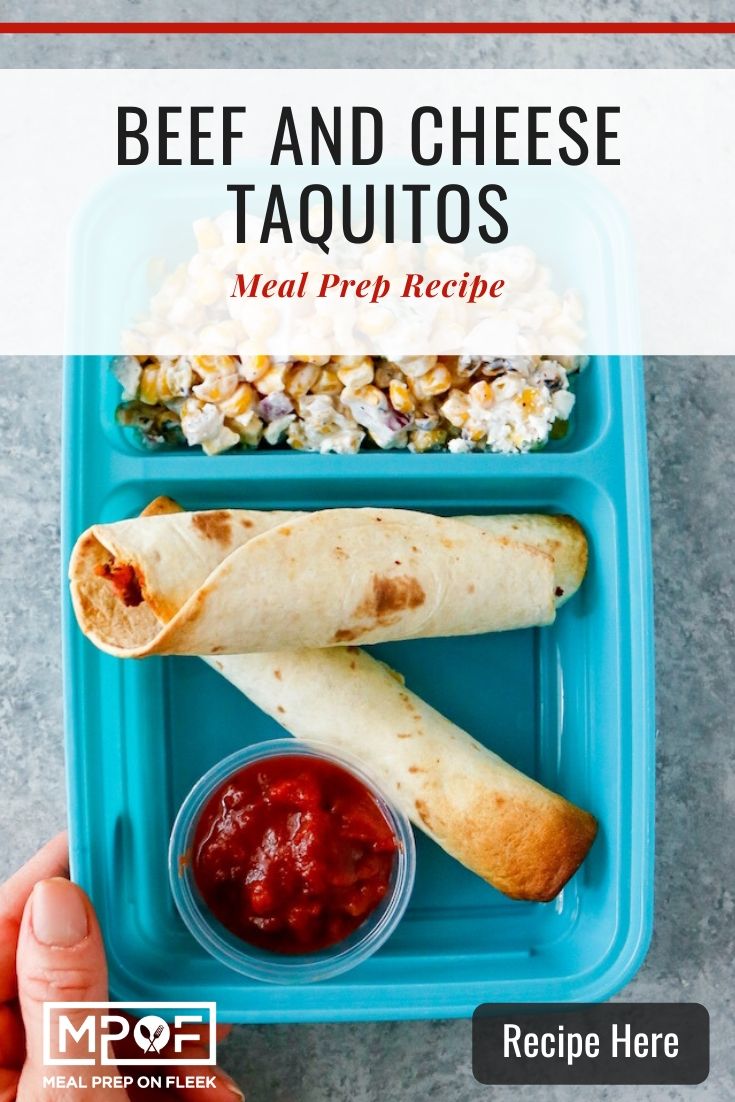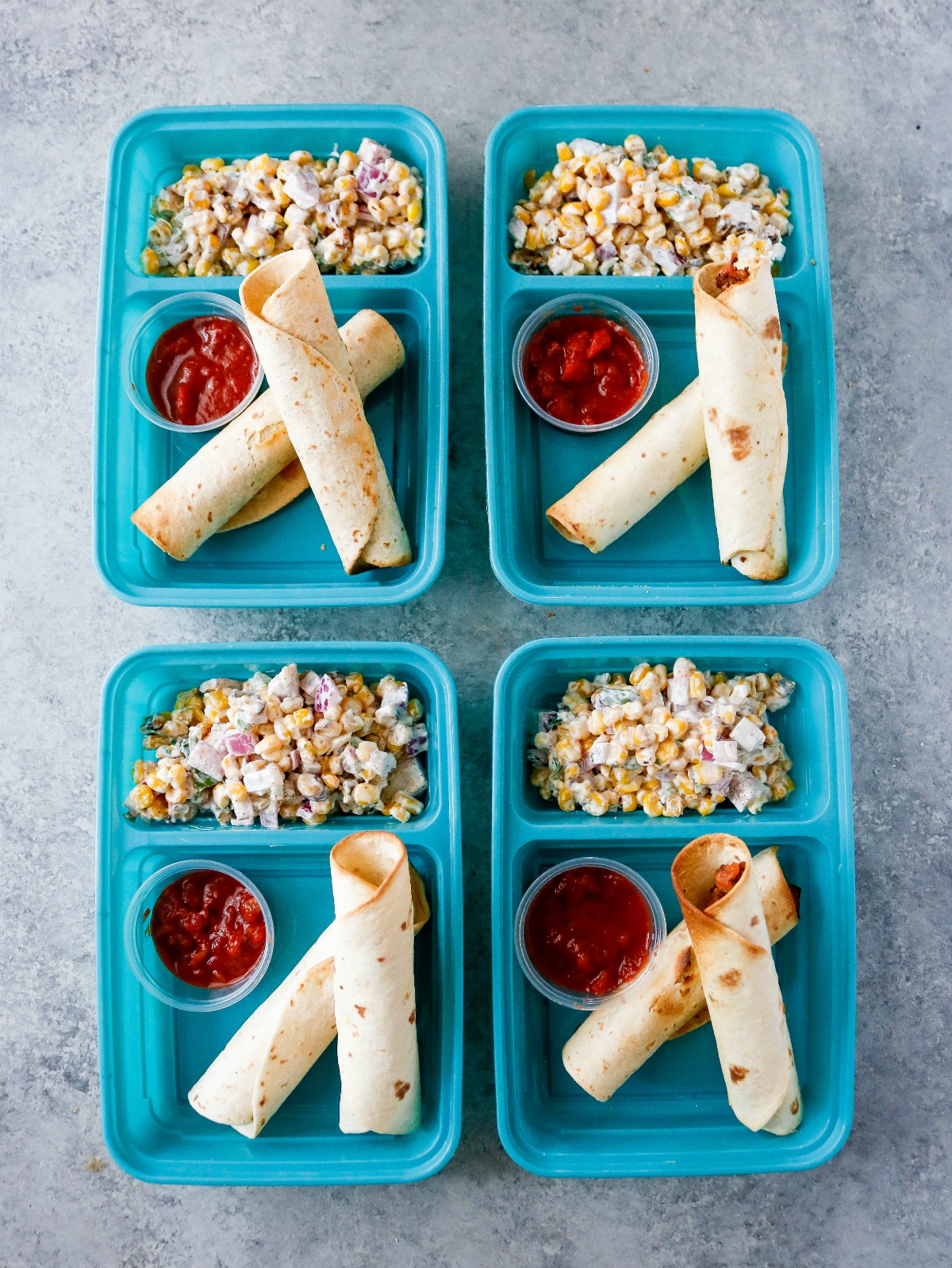 Ingredients
For Taquitos
8

gluten-free tortillas

we used Udi's brand

1/2

lb.

96% lean ground beef

2

tsp

ground cumin

1/4

tsp

smoked paprika

1

tsp

dried oregano

1/4

tsp

garlic powder

1/2

tsp

sea salt

Pinch

of cayenne pepper

1/2

cup

shredded cheddar cheese

1

cup

salsa
For Street Corn Salad
3

cups

fire roasted corn

thawed

1/2

cup

chopped red onion

2

tbsp

chopped cilantro

1

tbsp

finely chopped jalapeño

1/4

cup

light sour cream

2

tbsp

lime juice

1

tbsp

mayonnaise

1/2

tsp

chili powder

1/4

tsp

sea salt

1/4

cup

crumbled cojita cheese
Instructions
Stir together all ingredients for corn salad except cheese in a medium mixing bowl. Top with cojita cheese and refrigerate while preparing taquitos.

Heat ground beef in a medium skillet over medium heat and use a spatula to break up the beef into crumbles. Cook for 7 minutes. Drain and discard any liquid from the pan and stir in dry seasoning. Cool for 5 minutes. Stir in cheese. Spoon 2 tablespoons of beef/cheese mixture just below the center of a tortilla in a line. Tightly roll and place seam side down in the basket of the air fryer. Continue with 4 more tortillas. Secure basket in air fryer and fry at 380ºF for 8 minutes.

Remove taquitos using tongs and set aside on a plate. Continue with remaining tortillas. Divide salsa into 4 small sauce cups. Place 2 tortillas in 4 large compartments of MPOF teal containers with a cup of salsa. Scoop corn salad into 4 small compartments.
Notes
WW Smart Points= Green:22  Blue:18  Purple:18
Nutrition
Calories:
481
kcal
|
Carbohydrates:
45.8
g
|
Protein:
23.8
g
|
Fat:
19.3
g
|
Fiber:
12.3
g