Quinoa Chickpea and Taco Bowls
To the inexperienced person, the idea of eating totally plant-based food might seem foreign, if not a bit unappetizing. If you fit into this category, you might be thinking, "Vegan food? Do you mean soy products that are meant to taste like other things? No thanks." Plant-based foods are actually incredibly delicious, and not made to taste like anything that they actually aren't, like meat substitutes!
"Where's the beef? How do I get a filling meal from just plant-based foods?" Well, we'd like to dispel the myth that suggests plant-based foods aren't filling or packed with protein! That's exactly the purpose of today's meal prep idea. You absolutely CAN be satisfied with vegan or plant-based meal options. Today's meal prep idea is for Quinoa and Chickpea taco bowls, and it will satisfy your cravings for southwestern flavors and your hunger in equal measure, thanks to the taco spiced, nutrient-rich ingredients it contains!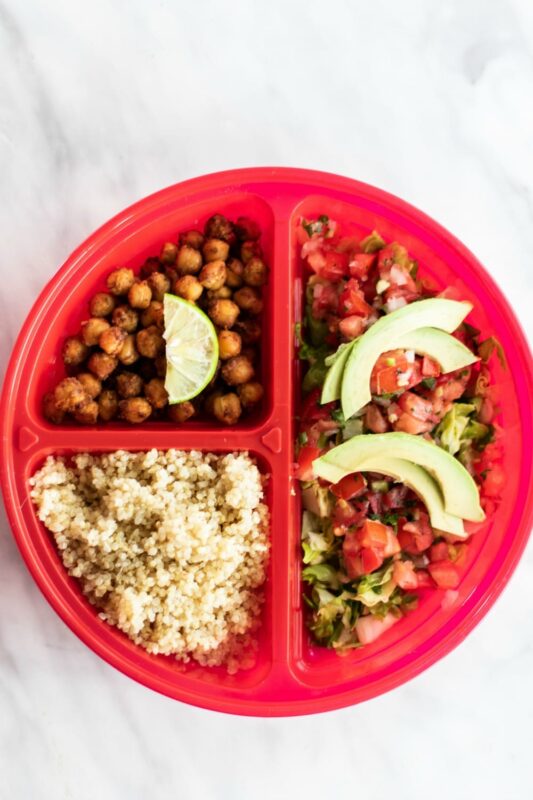 How long will these Quinoa Bowls last?
We recommend that you consume these bowls within 3-4 days. Perfect! This recipe yields 4 perfect portions.
Can these Quinoa chickpeas and Taco Bowls be frozen?
Yes, they can! The frozen shelf life of chickpeas is roughly 6 months. A great option if you're planning on freezing and reheating.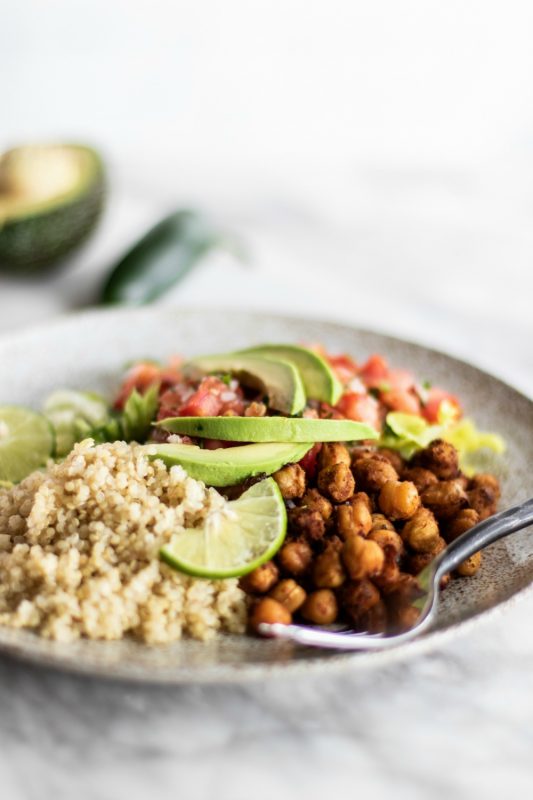 How do you make these Quinoa Chickpea and Taco Bowls?
Begin by preheating your oven to 400° F. First start by draining the chickpeas and add them to a bowl, drizzle them with olive oil and lime juice. Sprinkle on spices and combine these ingredients to coat evenly. For the next step, grab your favorite baking tray, and spread the chickpeas evenly across it. Bake for 20 minutes. Now it's time to make that tasty pico de gallo! Simply combine tomatoes, cilantro, onion, lime juice, jalapeno, and salt, adjusting to taste. Finish up by preparing your meal trays. Layer the quinoa, chickpeas, pico de gallo, and any other toppings as desired.
How to portion these Quinoa Chickpea and Taco Bowls?
Because there are three primary ingredients in this meal (chickpeas, quinoa, pico de gallo) we recommend portioning them into 3-compartment meal prep containers to keep them separate! If they don't suit your needs, you can do your own research on your needs by heading over to our Ultimate Guide to Meal Prep Containers article!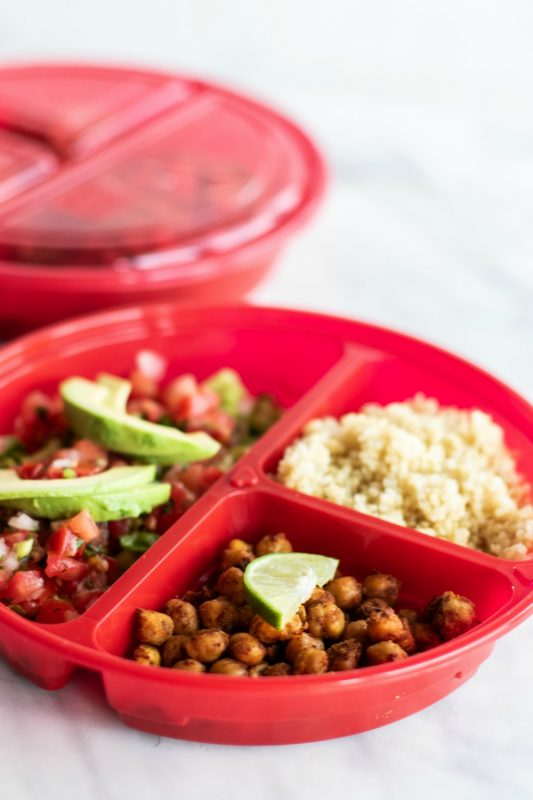 More quinoa meal prep ideas:
Did you know quinoa is one of the most nutrient-rich grains out there? That's why we have a number of different quinoa meal prep ideas for you to choose from, like this Mexican Whole Grain Rice & Quinoa Casserole, or this Quinoa Stuffed Sweet Potato Meal Prep, which you can make 3 different ways!
Other tips for making these Quinoa Chickpea and Taco Bowls:
Avocado makes for an excellent addition to this meal prep idea! We suggest adding lemon juice to your avocado slices, to ensure that they don't brown over time.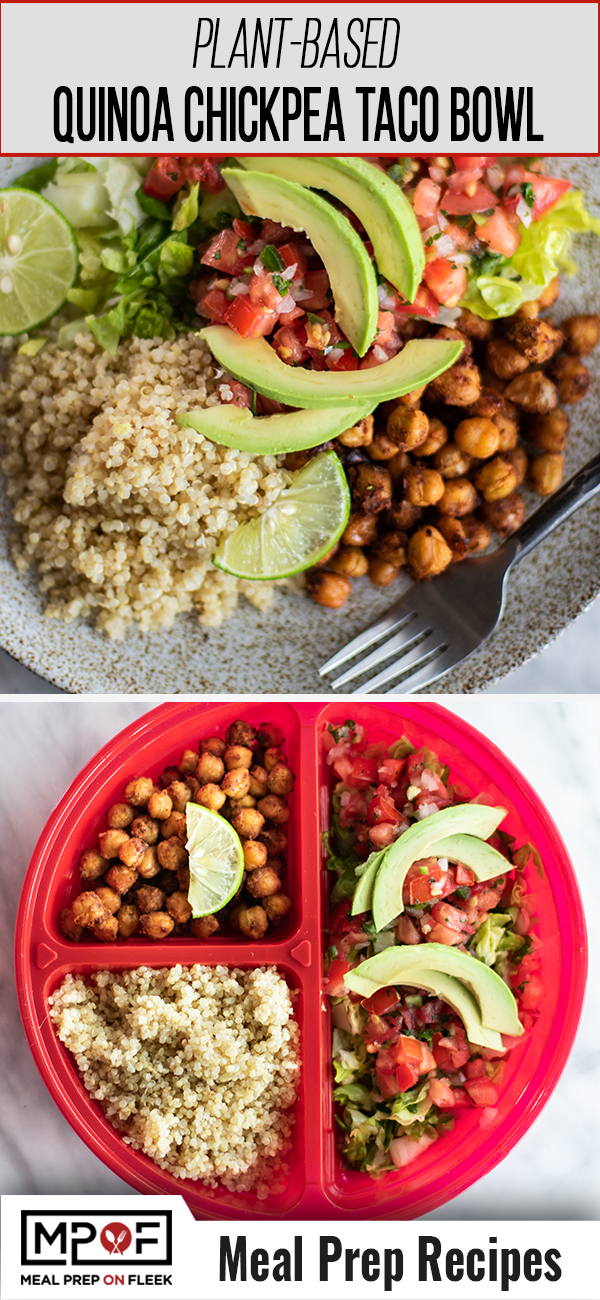 Vegan Quinoa Chickpea Taco Bowls Ingredients:
1 tablespoon cumin

1 tablespoon olive oil

½ teaspoon salt

1 tablespoon lime juice

1 teaspoon chili powder

½ teaspoon onion powder

1 teaspoon paprika

1 can chickpeas, rinsed and drained

1 cup quinoa, prepared to package directions
Pico de Gallo
2 large tomatoes, diced

½ cup cilantro, chopped

3 tablespoons onion, finely minced

1 jalapeno, minced (or to taste)

1-2 tablespoons lime juice, to taste

¼ teaspoon of sea salt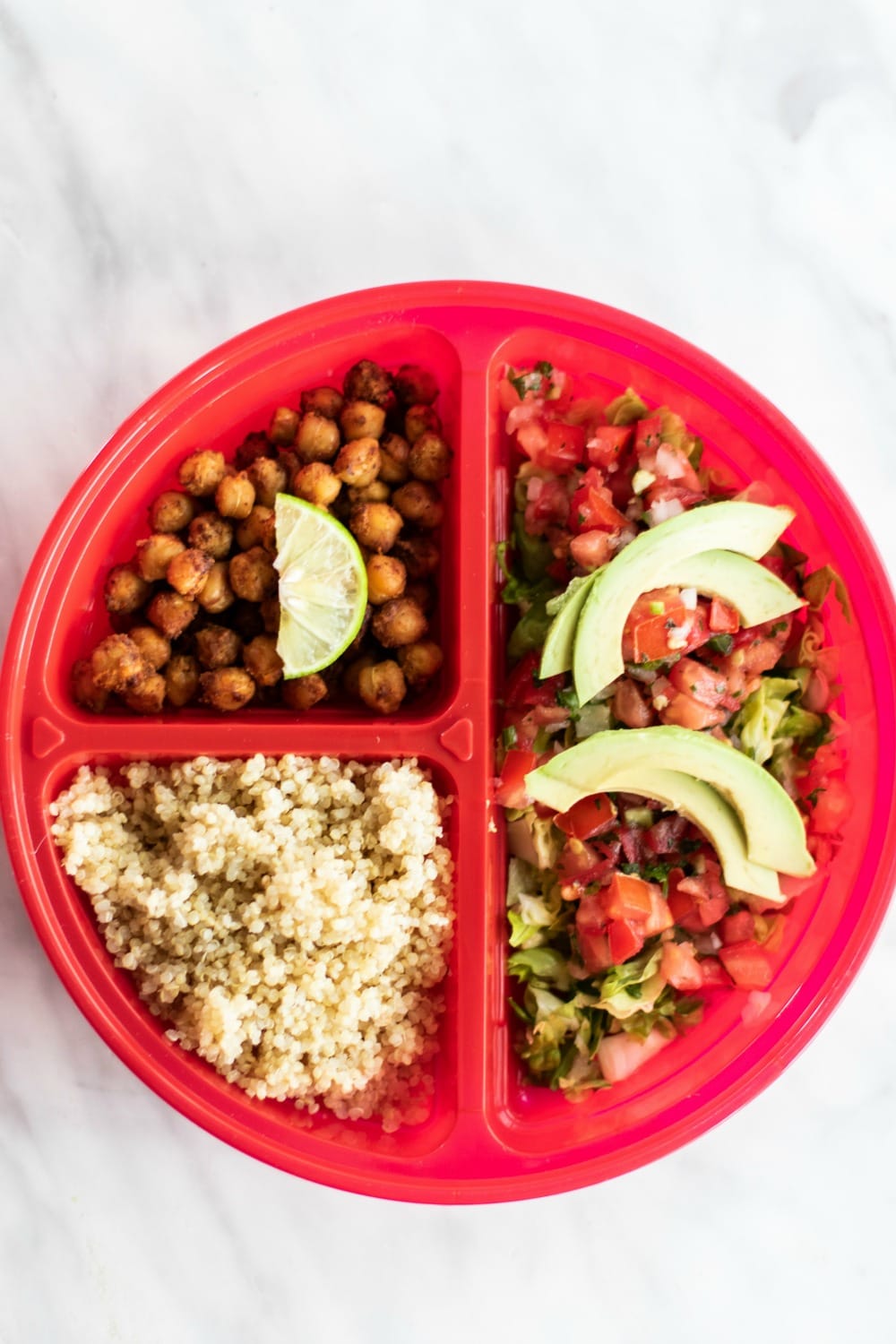 Ingredients
1

cup

dry quinoa

cooked according to package directions

15

ounces

chickpeas

rinsed and drained

1

tbsp

olive oil

1

tbsp

lime juice

1

tbsp

cumin

1

tsp

Chili Powder

1

tsp

paprika

1/2

tsp

Sea Salt

1/2

tsp

onion powder
Pico de Gallo
2

large

tomatoes

diced

1/2

cup

cilantro

chopped

3

tbsp

onion

finely minced

1-2

tbsp

lime juice

to taste

1

Jalapeno

minced or to taste

1/4

tsp

Sea Salt
Instructions
Preheat oven to 400 degrees F.

Rinse and drain chickpeas, and then add to a bowl. Drizzle with olive oil and lime juice, and then sprinkle on the spices. Mix to combine and evenly coat the chickpeas.

Spread chickpeas out on a baking tray, and bake for 20 minutes.

Prepare pico de gallo by mixing together all ingredients. Adjust salt, lime and jalapenos to taste.

Prepare meals by layering quinoa, chickpeas, and pico de gallo, and any other toppings as desired.
Notes
Nutrition for 1 out of 4 servings:
11.9g Protein | 53.4g Carbs | 8.8g Fat | 10.1g Fiber | 335 Calories
Nutrition
Serving:
1
meal
|
Calories:
335
kcal
|
Carbohydrates:
53.4
g
|
Protein:
11.9
g
|
Fat:
8.8
g
|
Fiber:
10.1
g