Thank you to GoodCook for sponsoring this Chicken Caesar Wrap Bento Boxes recipe post, and thank YOU for supporting the brands that help make Meal Prep On Fleek possible. All opinions are our own.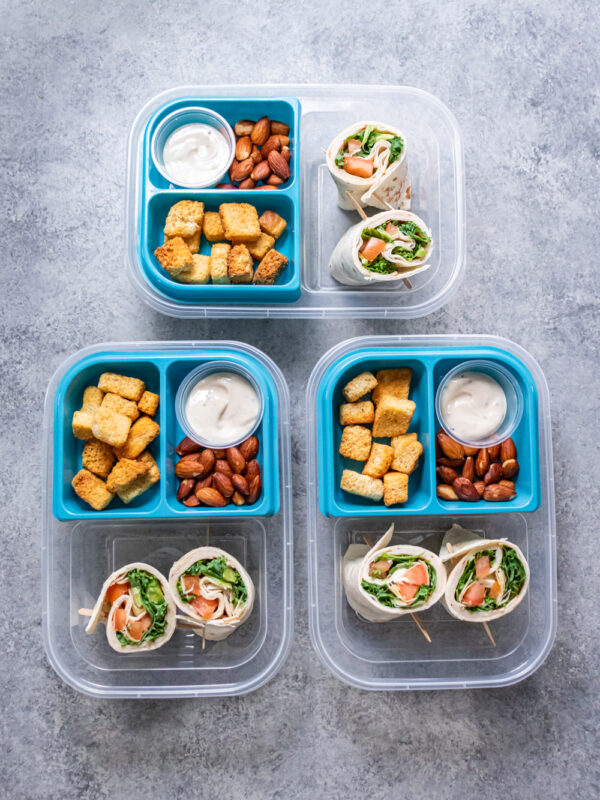 These 15-minute bento boxes are a complete meal with plenty of protein and fiber to keep you satisfied. Best of all, there's no cooking required, ideal for busy days on the go!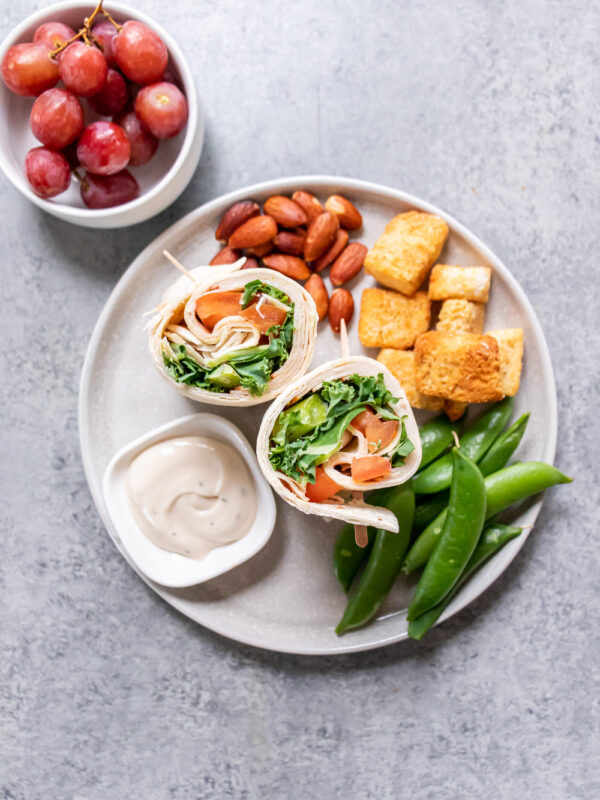 Bento boxes have been a big trend in the meal prep space for a while now! We love them because they are a simple and fun way to pack lunches (or snacks) to eat on the go! Because you can add so many fun goodies to them they are always colorful, fun, and delicious! Plus, you are guaranteed to never get bored eating them! The combinations are endless!
Almost all Bento Box meal preps require no reheating which is great for taking them on the road, sending them to school with the kids, or enjoying when you don't have a microwave available.
Thanks to these Bento Box Containers putting together these fun meals couldn't be any easier! I love the Bento Boxe containers from GoodCook because they have one large compartment for the main portion of the meal, two small compartments for sides (I like to add a fruit and veggie to each), and one removable tray with two sections that I like to use for sauces, dips, or other more calorie-dense sides such as nuts.
Looking at the compartments like this (main, fruit, veggies, sauces/nuts) makes it easy to create a meal that is balanced in all macros and nutrients.
Other Wins!
On top of these containers having fun compartments, the GoodCook Bento Boxes have 'click and fresh' lids to let you know they are securely sealed for storage and travel, are both dishwasher and microwave safe and are made with BPA Free plastic that is designed for long-lasting use. Plus, they just go so well with all of our other GoodCook meal prep containers that we use! I'm sure you've seen the teal containers! I use them ALL THE TIME!
Preparing your bento boxes (swaps and other ideas)
For this recipe, I used gluten-free wraps, but feel free to use any kind of wrap if you're not gluten-free. The same goes for the croutons. You can also swap the lunch meat chicken for fresh-baked chicken or turkey. If you're vegan, use vegan deli meat, chickpeas tossed with the dressing or tofu. I LOVE making this with diced tofu.
For my people that aren't fans of kale, you can use spinach or any other kind of lettuce in its place. For the sides, I went with snap peas and grapes, but any veggies such as carrots, celery, tomatoes, cucumbers, etc. would be just as tasty! I also added grapes because they were on sale and super crunchy, but, again, use your favorite fruit. The berries are starting to get really sweet at my local store and would make a great side to the Chicken Caesar Wraps.
Lastly, I put the dressing on the sides so the wrap didn't get soggy and dipped it in as I was eating it. I also added some almonds for a bit of extra fat and protein to hit my macros. As always, do you, boo!
That's the great part about these containers; you can mix, match, and play with a variety of ingredients that cater to your tastes, macros, items on hand, what's on sale at the store, etc. I think we can all agree that life is more fun and delicious with variety in it!
Don't forget to tag us on Instagram, Facebook, Twitter, or TikTok (@mealpreponfleek) if you try these! We would love to see your Bento Box combinations!
Chicken Caesar Wrap Bento Boxes Ingredients:
3 gluten-free burrito tortillas

6 oz. Rotisserie seasoned chicken lunch meat

3 cups chopped kale

1/2 cup chopped tomatoes, inside scooped out and discarded

3 tbsp shaved Parmesan cheese

6 tbsp light Caesar dressing

1 cup gluten-free croutons

1/4 cup roasted almonds

1 1/2 cups red seedless grapes

1 1/2 cups snap peas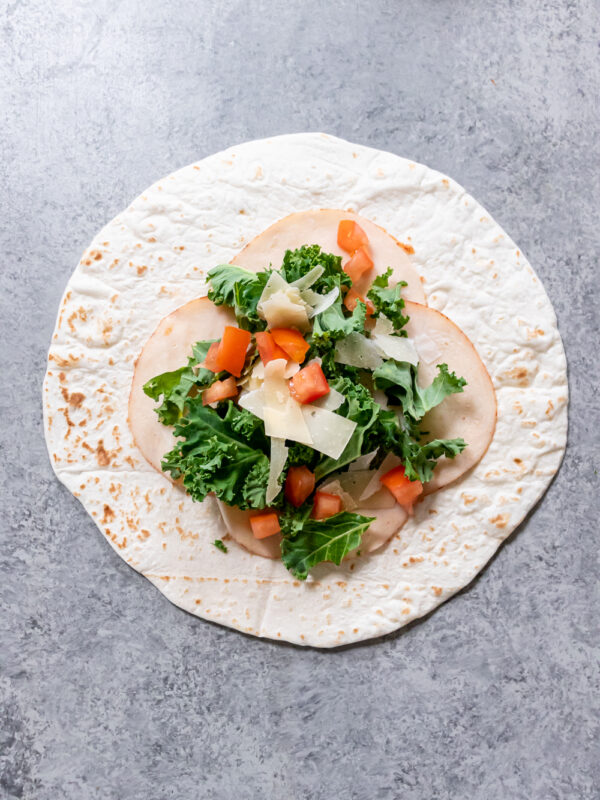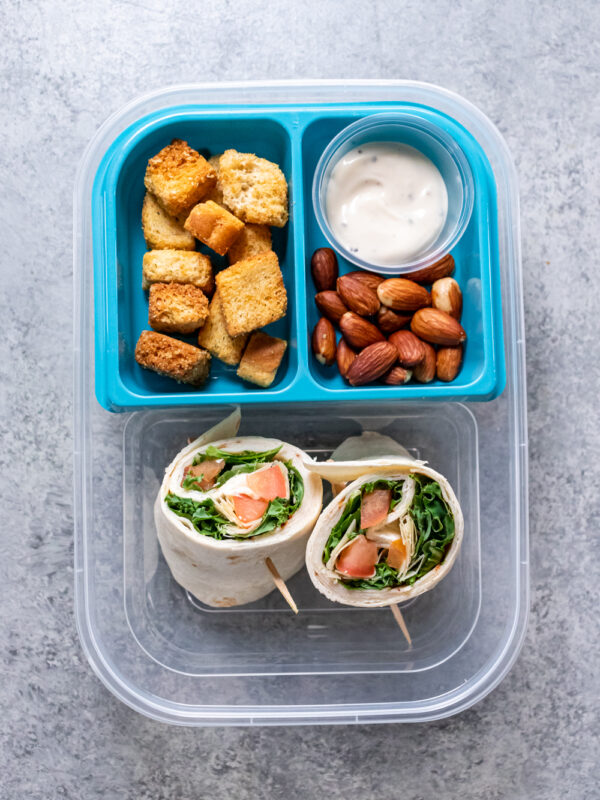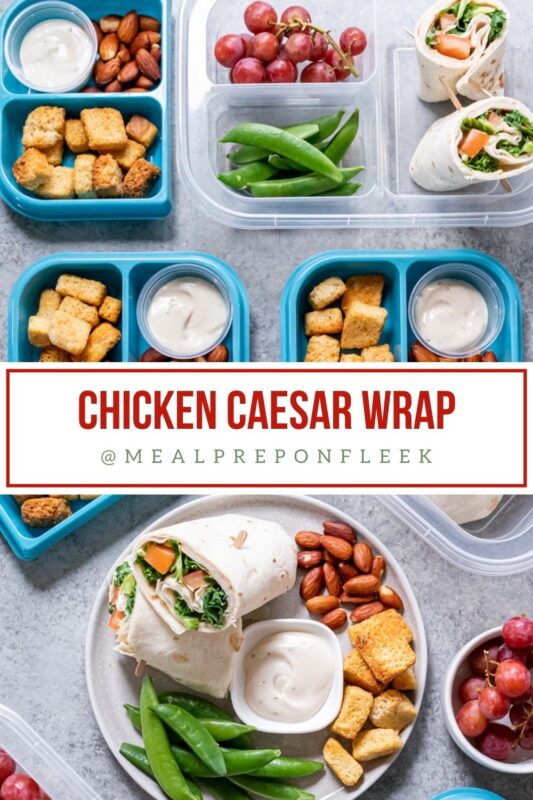 Ingredients
3

gluten-free burrito tortillas

6

oz.

Rotisserie seasoned chicken lunch meat

3

cups

chopped kale

1/2

cup

chopped tomatoes

inside scooped out and discarded

3

tbsp

shaved Parmesan cheese

6

tbsp

light Caesar dressing

1

cup

gluten-free croutons

1/4

cup

roasted almonds

1 1/2

cups

red seedless grapes

1 1/2

cups

snap peas
Instructions
Top one tortilla with two ounces of lunch meat, 1/3 of the chopped kale, 1/3 of the chopped tomatoes and 1/3 of the shaved Parmesan. Fold the bottom of tortilla away from you and tuck sides in as you snugly wrap the tortilla. Slice in half and secure with a toothpick.

Repeat with remaining ingredients. Place 1 wrap in large compartments of 3 Good Cook bento box containers. Add almonds and a small cup of dressing to one of each top compartment and add croutons to the opposite side.

Fill one bottom compartment with snap peas and the other with grapes.
Notes
Macros include all items. 
Nutrition
Calories:
520
kcal
|
Carbohydrates:
62
g
|
Protein:
24
g
|
Fat:
22
g
|
Fiber:
11
g