Meal Prep Ideas - Taco Skillet Meal Prep
We love happy mediums at MPOF, like meal prep ideas that have all the flavor without being unhealthy. It's for this reason that we're also big fans of the keto diet! Keto allows for a gamut of delicious food, while still providing serious weight loss results. We also love this diet because it aids in the lowering of triglycerides, an increase of HDL (or 'good') cholesterol levels, and a reduction of risk for metabolic syndrome— All of which are benefits of a diet very low in carbs and very high in healthy fats and proteins!
So, to our keto readers, we dedicate today's meal prep idea especially to you—An ultra-simple, ultra-delicious taco skillet meal prep recipe! With 32g of protein and 44g of fat per serving, this dish will take you south of the border, without taking you south on your keto diet plan! Along with the high-protein ingredients, another part of what makes this such an excellent meal prep option is that it has a variety of flavorful sides, all of which are 100% compliant with a ketogenic lifestyle.
Packed with Keto-friendly ingredients, this simple to make Taco Skillet Meal Prep is perfect for any day of the week!
How long will this Taco Skillet Meal Prep last for?
We recommend consuming this meal prep idea in 3-4 days after you've cooked it.
Can this Taco Skillet Meal Prep be frozen?
Because this dish contains fresh cut veggies, salsa, and Greek yogurt as sides, we do not recommend freezing all ingredients together in a single container. However, the meat and cheese are freezable, and usually lasts around 4 months!
How do you make this Taco Skillet Recipe?
This meal prep comes together in a snap! And making it is super simple too. Start by heating a skillet of your choosing over medium-high heat. Then add ground beef and oil, stirring for 5-7 minutes until the meat has browned. Once your meat is cooked, it's time to spice things up! Add the taco seasoning/water mixture, stirring into the meat until all liquid has been absorbed and reduced. Take the cooked and seasoned ground beef and spread it evenly in the pan, then sprinkle an even layer of cheese over it, remembering to replace the skillet lid to melt the cheese (1-2 minutes). Divide meat and cheese mixture into 4 equal parts. When ready to eat, simply dress in cilantro, lime, and other side ingredients.
How to portion this Taco Skillet Meal?
If you're taking this meal prep idea on the go, we strongly recommend using 3 compartment meal prep containers. Or, consider browsing through our Ultimate Guide to Meal Prep Containers if you need more information to make the right choice.
More Mexican meal prep ideas:
For a very satiating Mexican-inspired dinner, check out this delectably Filling Southwestern Chicken Bake Meal Prep, or for something lighter but equally tasty, our Cheesy Mexican Cauliflower Fritter Meal Prep recipes.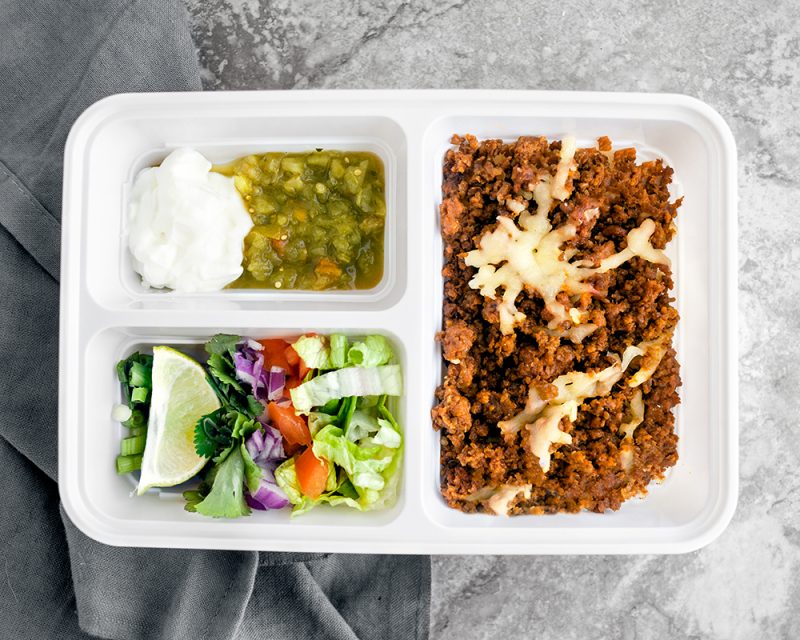 Other tips for making this Taco Skillet Meal Prep:
To reduce the calories in this meal prep idea, consider using:

93% lean ground beef instead of the 80% ground beef that we used in this recipe.

Non-fat Greek Yogurt instead of full fat and

1 tablespoon avocado oil instead of 2!
Keto Taco Skillet Meal Prep Ingredients:
1 lb. Ground Beef
½ Red Onion, diced
1 C. Shredded Romaine Lettuce
1 C. Mexican Cheese Blend
2 Roma Tomatoes, deseeded and diced
2 Limes, quartered into wedges
½ C. Cilantro
½ Bunch Scallions, sliced
1 Taco Seasoning Packet, dissolved in ½ C. Warm Water (or as packet's directions specify)
½ C. Salsa Verde
½ C. Full Fat Yogurt, plain and unsweetened
2 Tbsp. Avocado Oil
*Optional: 1 Avocado, sliced
*Optional: Small Handful of Gluten-free, Grain-free Tortilla Chips