Keto overnight oats aren't oats, per se, but they're hempseed and flaxseed and taste hearty and delicious for breakfast! Gluten free and loaded with protein!
We know you might be confused about the idea of keto oats. After all, grains are off-limits when you're following a keto diet. And that can make it tricky to have some variety in your breakfast choices; we all love eggs but sometimes too much of a good thing is simply too much, right? We all need a bit of variety because that helps us stay on track with our eating habits, no matter what kind of dietary plan we're following.
So, oats are out, but hemp hearts, chia seeds, and flaxseed, on the other hand, are not! And they happen to be loaded with protein and fiber and lots of other good ingredients. Chia, of course, expands when it's in liquid and that's going to help give these keto overnight oats some structure, too.
Keto Overnight Oats Ingredients
1 ½ cups unsweetened almond milk
½ cup sliced almonds
¼ cup hemp hearts
¼ chia seeds
2 tablespoon ground flaxseed
1 tablespoon erythritol sweetener
½ teaspoon cinnamon
Berries for serving
How to Make Keto Overnight Oats
The refrigerator and time do most of the work with all overnight oats situations, and this keto version is no exception. Combine the almond milk with the sliced almonds, hemp hearts, chia seeds, flaxseed, sweetener, and cinnamon. If you can store it all in a large glass jar, that will make transferring and portioning it out easier, or you can certainly separate it in separate serving-size jars and then refrigerate them that way. It's up to you.
How to Store and Serve Keto Overnight Oats
The oats need at least four hours to chill, but longer (overnight) is totally fine and definitely makes this a great breakfast meal prep. Wait until you are ready to serve the oats before you garnish with the berries. (And if you have fresh mint, go for the garnish!) It's great cold right out of the fridge or you can heat it up a bit if you want. They're good for up to about a week, in the fridge. We love it with berries, but you can also use chopped nuts as a garnish, too.
Substitutions and Alterations
These keto overnight oats can be made with any other kind of milk, whether it's nondairy or conventional cow's milk, but nondairy milk will help this keep fresher for longer in the fridge. Feel free to vary the spices, too. Cinnamon is always a classic, but a little ginger or nutmeg would taste good, too. And you can use another kind of sweetener, too, as long as it's keto-friendly, if that's what you need. (If you want to make this and you're not following a keto diet, feel free to use maple syrup or honey; that would make this recipe paleo instead.) We also love these keto oats with a dollop of nut butter, a sprinkling of shredded, unsweetened coconut, or pumpkin seeds.
MORE OVERNIGHT OATS RECIPES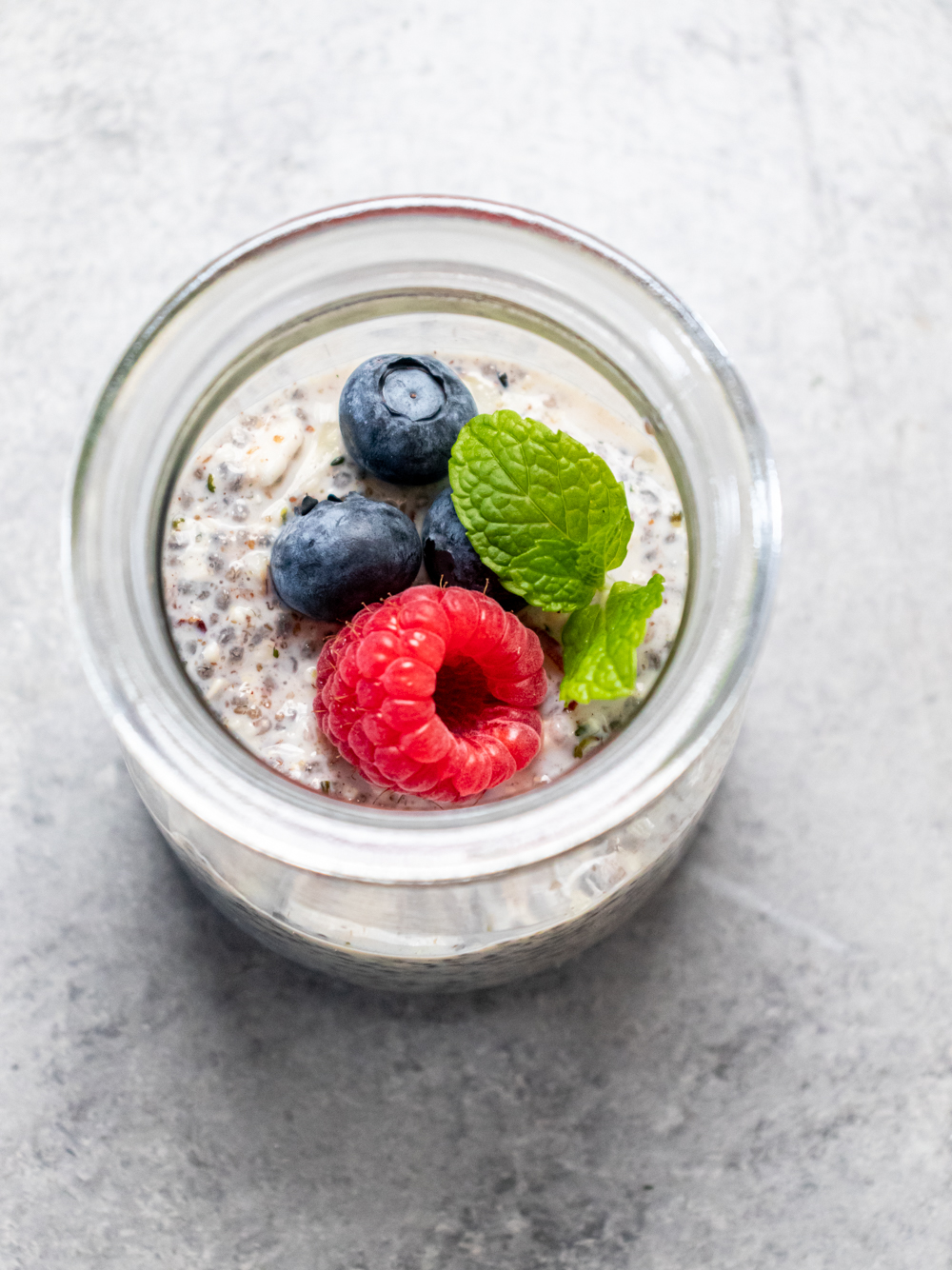 Ingredients
1 ½

cups

unsweetened almond milk

½

cup

sliced almonds

¼

cup

hemp hearts

¼

cup

ground flaxseed

1

tablespoon

erythritol sweetener

½

teaspoon

cinnamon
Instructions
Stir together ingredients for overnight oats in a large jar. Stir well. Refrigerate for at least 4 hours or overnight.

Stir the mixture again and spoon into 4 small jars. Top each jar with berries. Refrigerate for up to 1 week.
Nutrition
Calories:
243
kcal
|
Carbohydrates:
11
g
|
Protein:
11
g
|
Fat:
20
g
|
Saturated Fat:
1
g
|
Polyunsaturated Fat:
10
g
|
Monounsaturated Fat:
8
g
|
Trans Fat:
0.003
g
|
Sodium:
125
mg
|
Potassium:
213
mg
|
Fiber:
6
g
|
Sugar:
1
g
|
Vitamin A:
66
IU
|
Vitamin C:
0.1
mg
|
Calcium:
206
mg
|
Iron:
3
mg