A busy life means less time for grocery shopping and cooking. How do we deal with this?
How about trying to use up food on our pantries and freezers – so we can skip the grocery shopping step! You should always have an assortment of grains, dried legumes, nuts and seeds in the pantry for quick and easy dinners. In the freezer, keep an assortment of frozen veggies and fruit. If you do this successfully, you should be able to put something like this together Broccoli Lentil Quinoa Casserole…
Before: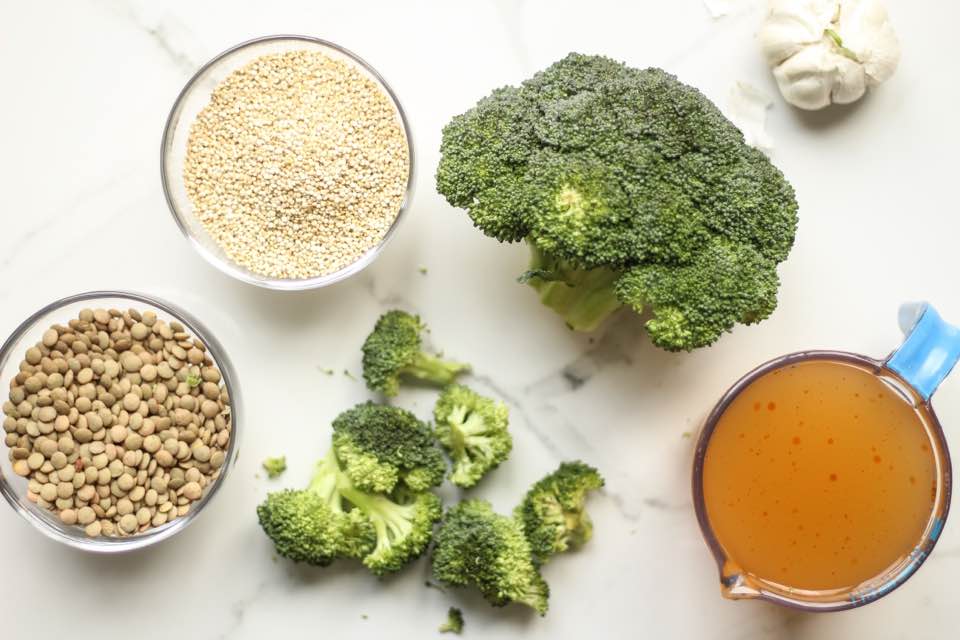 After: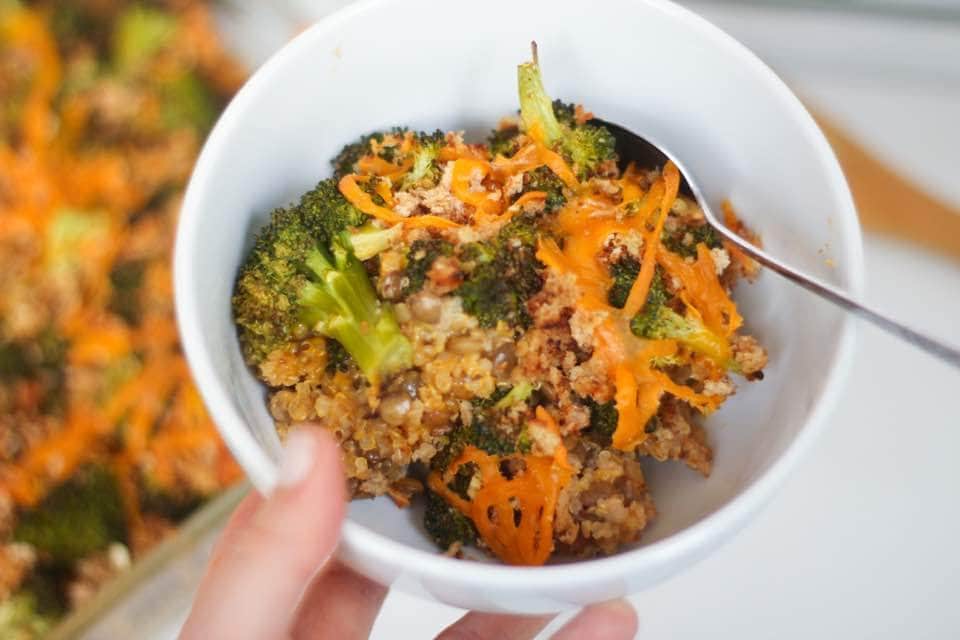 Ingredients
2 cups vegetable broth
1/2 cup quinoa
1/2 cup uncooked red lentils
2 cups broccoli florets (fresh or frozen)
3 tbsp olive oil
1 tsp dried oregano
1 tsp dried basil
3/4 cup bread crumbs (gluten-free if needed)
1 cup shredded cheddar cheese
1 cup milk
1 clove garlic, minced
Recipe below…
Recipe shared with permission from Nicole Osinga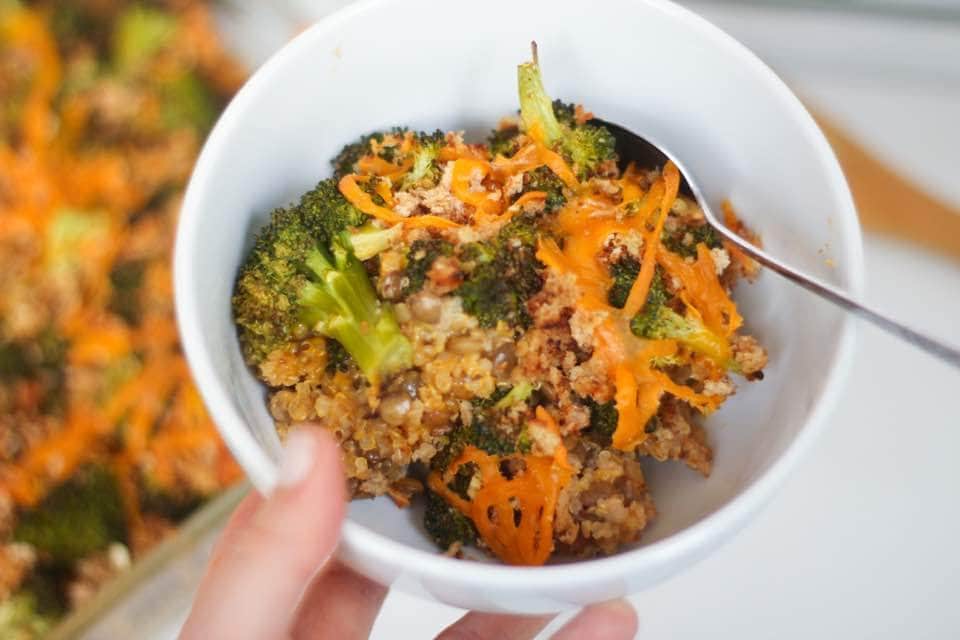 Ingredients
2

cups

vegetable broth

1/2

cup

quinoa

1/2

cup

uncooked red lentils

2

cups

broccoli florets (fresh or frozen)

3

tbsp

olive oil

1

tsp

Dried oregano

1

tsp

Dried Basil

3/4

cup

bread crumbs (gluten-free if needed)

1

cup

shredded cheddar cheese

1

cup

milk

1

clove

garlic

minced
Instructions
Preheat oven to 400 degrees F.

Cook quinoa and lentils by combining the vegetable broth, along with quinoa and lentils in a medium-sized pot over medium-high heat. Bring to boil. Reduce heat to medium for about 20 minutes or until all of the liquid is absorbed.

Unthaw broccoli (if frozen) by placing in microwave for a few minutes. Next, roast broccoli by placing the broccoli on your prepared baking sheet and toss with 2 tablespoons olive oil, until lightly coated on all sides. Bake for about 20 minutes, until the broccoli is tender and starting to caramelize on the edges. Remove from oven.

In a small pan over medium heat, heat 1 tbsp olive oil. Add the garlic and cook just until fragrant, stirring often. Add the bread crumbs, basil and oregano and cook for 2 to 3 minutes, until slightly browned and crisp. Set aside to cool.

Reduce the oven heat to 350 degrees. Combine 1/2 cup of the shredded cheese, along with the milk with the cooked quinoa and lentils and stir until easily combined.

Pour the cheesy quinoa and lentils into a 9-inch square baking dish and top with the roasted broccoli. Stir until the broccoli is evenly mixed in with the quinoa and lentils. Sprinkle the surface of the casserole with the reserved cheese, then sprinkle the breadcrumbs on top.

Bake, uncovered, for 25 minutes, until the top is golden. Cool before serving.
Nutrition
Serving:
1
meal
|
Calories:
487.63
kcal
|
Carbohydrates:
48.51
g
|
Protein:
20.88
g
|
Fat:
24.14
g
|
Saturated Fat:
8.76
g
|
Cholesterol:
35.76
mg
|
Sodium:
689.74
mg
|
Potassium:
586.5
mg
|
Fiber:
10.4
g
|
Sugar:
5.66
g
|
Vitamin A:
915.63
IU
|
Vitamin C:
41.81
mg
|
Calcium:
330.17
mg
|
Iron:
3.66
mg