Meal Prep Ideas - Sweet Potato Shepherds Pie
Here we come to tantalize your tastebuds once more with another scrumptious meal prep idea. You know how holiday feasts go. When they're over, if you're the host, there's usually all this leftover food to deal with. Well, we've searched our list of meal prep ideas and we have just the recipe to assist! This time we're using our holiday leftovers to create a healthy but delicious shepherds pie which can be easily whipped up in an hour. Sweet potato shepherds pie will give a whole30 twist on lunch. Delicious!
Revitalize holiday leftovers into a delicious Whole30 compliant casserole. We used broccoli and mushrooms, but feel free to use whatever veggies you have leftover. Shaved Brussels sprouts, carrots, or green beans all work great in this healthy Shepherd's Pie.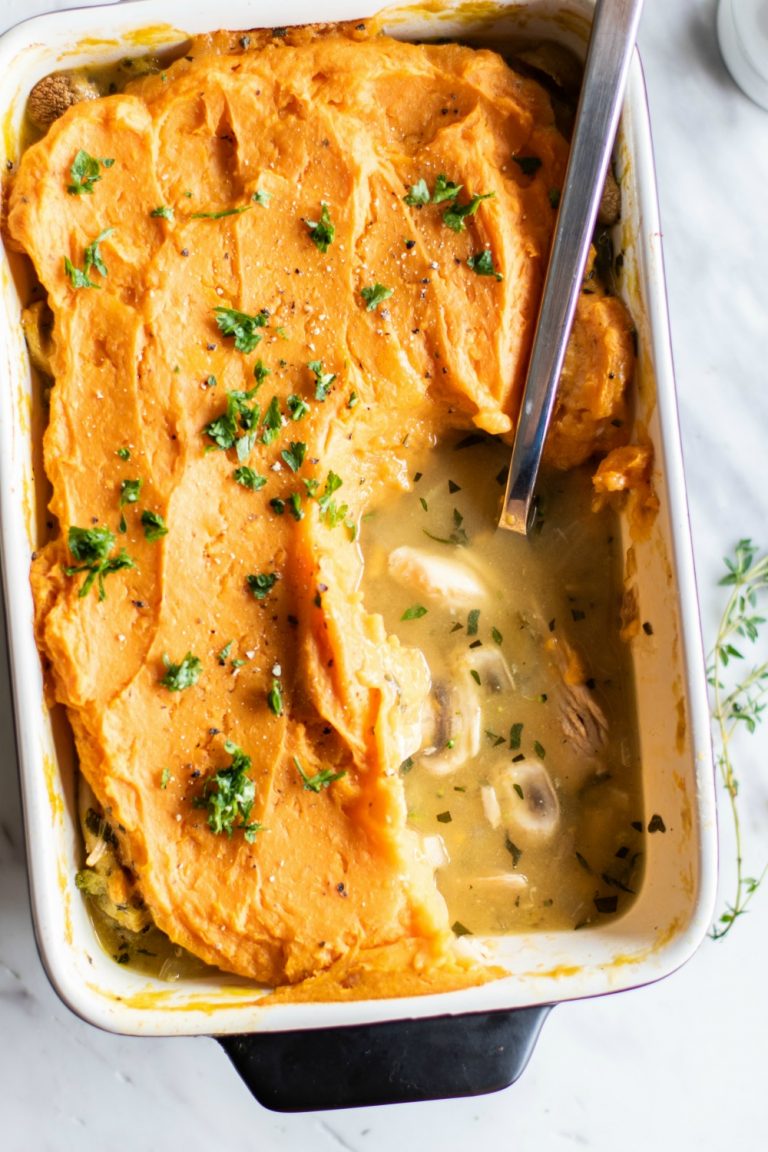 How Long Will this Sweet Potato Shepherds Pie Meal Prep Idea Last For?
Fact is, pesky bacteria likes to take over food when the food temperature is ideal. Therefore if the sweet potato shepherds pie is left out for more than two hours at room temperature, it should be discarded. When refrigerated sweet potato shepherds pie can last from 3 to 5 days. It can simply be covered with foil while in the baking dish unless you have a baking dish with a lid.
Can Sweet Potato Shepherds Pie be frozen?
Yes! Sweet potato shepherds pie can be frozen for 4 to 6 months, once the temperature is kept at a constant 0°F.
How Do You Make Sweet Potato Shepherds Pie?
So here we go! Do you have your measured ingredients? You require your main ingredients such as the sweet potatoes, coconut milk, turkey fillings and desired seasonings for added flavor. Once all your ingredients and measuring equipment have been collected - let's start.
Preheat your oven to 400 degrees. Scoop roasted sweet potato flesh into your mixing bowl. Add your coconut milk and also mix in your choice of seasonings. Saute olive oil, garlic, and onion in a skillet for 5 to 7 minutes until softened. Include into the skillet your broccoli and mushrooms and allow to saute for another 3 to 4 minutes. Add in your choice of fresh or dried herbs for seasoning.
Then pour in your chicken stock and dijon mustard. Add in your arrowroot flour and whisk to combine thoroughly. Mix in the chopped turkey. Pour in the filling into an 8 x 8 or similar casserole dish. Top with your sweet potato mixture from your bowl by spreading in mounds above the filling, until it is all covered. Allow baking for 25 minutes until there is bubbling or the sweet potato topping begins to bet brown.
How Do You Portion Sweet Potato Shepherds Pie?
This revitalizing meal prep ideas recipe will give 4 hearty servings which will be sure to satisfy your cravings.
More Meal Prep Ideas - Sweet Potato Recipes
Apart from being an excellent source of most of our vitamins, sweet potato is rich in iron, fiber, and calcium. Imagine that! And guess what… we have more meal prep ideas including sweet potato recipes for you! Hurray!
Other Tips For Making Sweet Potato Shepherds Pie
There's nothing wrong with making a slight adjustment to a recipe to achieve an interesting twist on a delicious meal. For our meal prep ideas recipe, we suggest a few tips which can further enhance your experience.
Use roasted sweet potatoes to create your mashed sweet potato topping. The roasting process causes the sweet potato to caramelize. Thus infusing the sweet potato flavor which is further enhanced with your choice of seasoning.

Full fat milk can be used with the sweet potatoes for a creamier and richer taste and texture. Yummy!

Because arrowroot does not clump up like flour or starch, it can be easily whisked directly into the filling. If you are using flour or starch, mix measured amounts in water, then add to the skillet of filling.
Next time you have those leftovers, use them to whip up this, meal prep ideas - sweet potato shepherds pie recipe!
Whole30 Leftover Turkey Sweet Potato Shepherd's Pie Ingredients:
3 cups sweet potato, mashed (from roasted sweet potatoes)

A ¼ cup of coconut milk

Salt and pepper, to taste
Turkey Filling:
1 tablespoon olive oil

1 onion, diced

2 cloves garlic, minced

2 cups broccoli (or other leftover veggies), chopped

1 cup mushrooms, sliced

2 cups chicken broth (or turkey stock)

1 tablespoon fresh thyme, chopped

1 tablespoon fresh rosemary, chopped

1 tablespoon fresh sage, chopped

1 teaspoon dijon mustard (compliant)

Salt and pepper to taste

2 tablespoons arrowroot

2 cups leftover turkey, chopped