Gluten Free Sweet Potato Pizza Meal Prep
There's a long list of reasons why we love meal prep recipes. At the top of that list is the fact that what used to be time-consuming and stressful (we're looking at you, dinner) is now a breeze and even fun! But we know #thestruggleisreal for those of you who don't do gluten… because pizza. Everyone's childhood favorite, turned adulthood regular indulgence special occasion. But what if we told you that even those not doing gluten this week could enjoy this meal prep recipe? Enter Sweet Potato Pizza (yes, that is the sound of angels singing).
We're going to guess that maybe a few of you have had the dreaded cardboard gluten free pizza experience. It's been months since you've had anything bready and you're so excited to take that first bite… and then suddenly you're wishing you had anything else to take a bite of. We've been there, too. So we fool-proof tested this meal prep recipe to ensure that this Sweet Potato Pizza is never added to your list of dinner traumas. It's super easy to make (only a handful of ingredients!), the crust stays crispy and firm enough to hand-hold, and the pop of Italian seasoning in the base is so perfect you'll almost forget you're eating heart-healthy sweet potato!
Have you ever wondered what makes sweet potatoes different than regular potatoes? Even though they carry the same name, sweet potatoes are actually in an entirely different family of plants! Their characteristic orange hue is an indication of the nutrients inside, specifically a huge burst of beta-carotene, an antioxidant that converts to Vitamin A once consumed.
Since the crust is already such a nutritional powerhouse, we decided to stick with the theme of reinventing the entire pizza eating experience and loading our Sweet Potato Pizza with tons of delicious and nourishing veggies. You choose your favorite toppings, but we love the flavor and texture combination of mushrooms, red onion, zucchini, green pepper, tomato, and olives. Enjoy!
Gluten Free Sweet Potato Pizza Meal Prep Ingredients:
1 1/2 cups sweet potato puree from roasted sweet potatoes

1 egg

1 cup

almond flour

1/4 cup arrowroot

1 tablespoon olive oil

1 tablespoon white wine vinegar

1 teaspoon Italian seasoning or oregano

1/4 teaspoon sea salt
Toppings:
¾ cup marinara or pizza sauce

1 cup mozzarella cheese, shredded

2 cups sliced veggies – mushrooms, onions, peppers, olives, and zucchini

Parmesan and red pepper flakes, optional, to garnish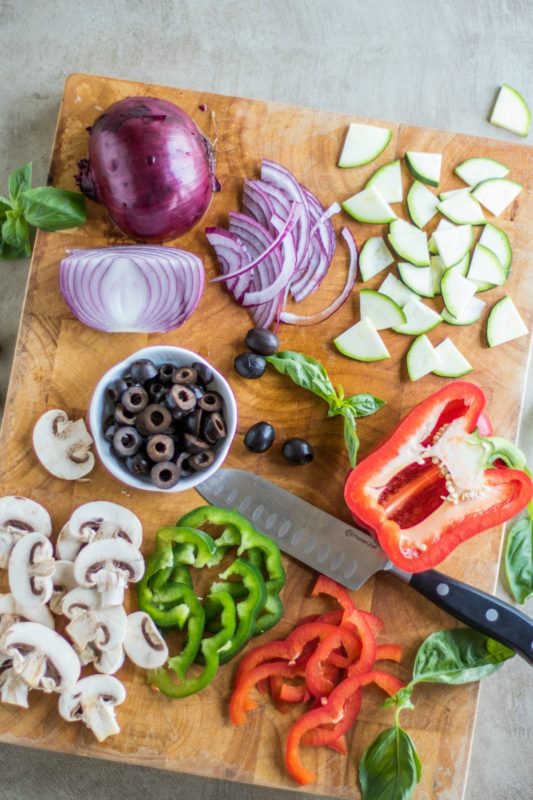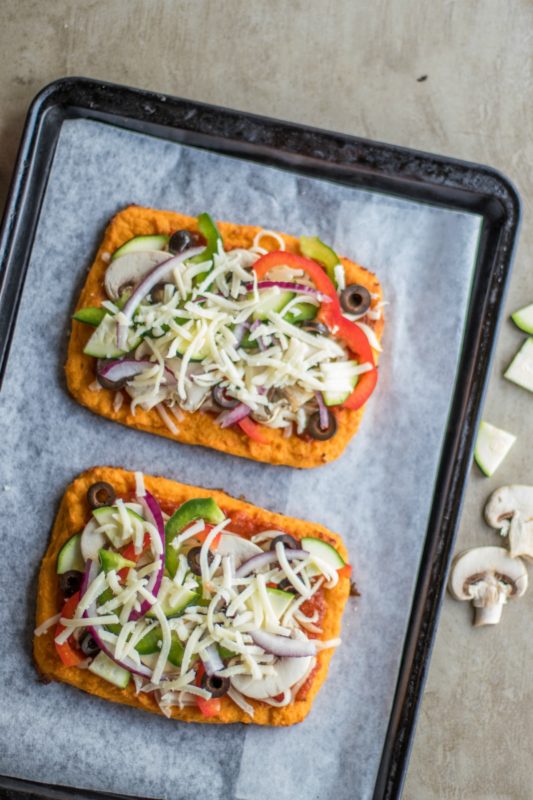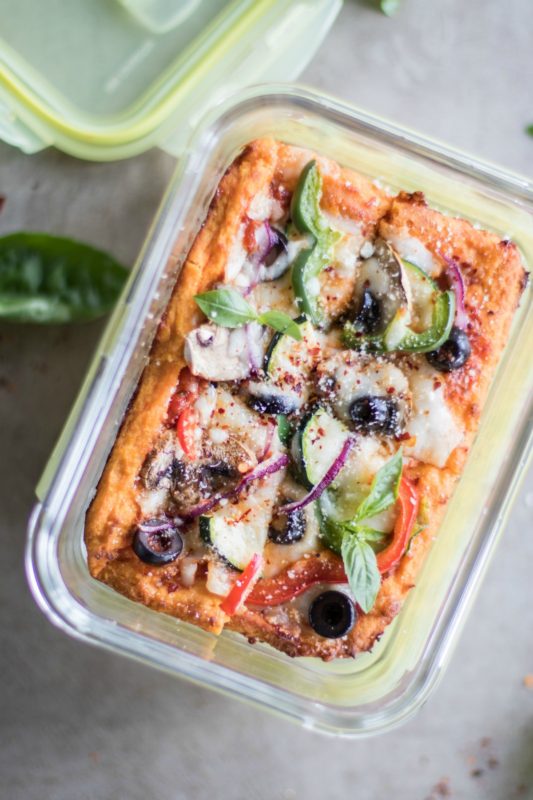 References: https://www.bbcgoodfood.com/howto/guide/health-benefits-sweet-potato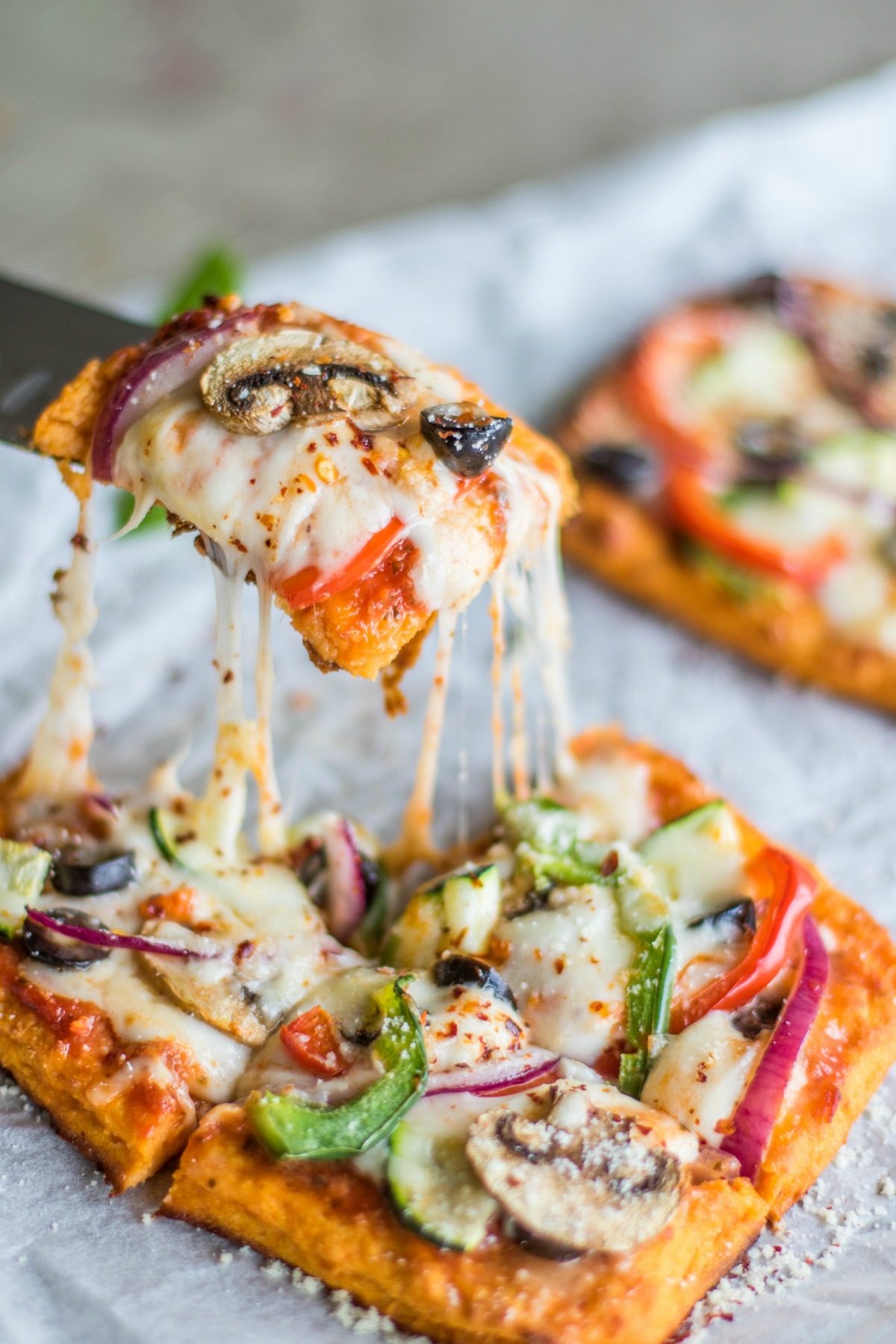 Ingredients
1 1/2

cup

sweet potato puree from roasted sweet potatoes

1

large

egg

1

cup

almond flour

1/4

cup

arrowroot flour

1

tbs

olive oil

1

tbs

white wine vinegar

1

tsp

italian seasoning

1/4

tsp

Salt
Toppings
3/4

cup

pizza or marinara sauce

2

cups

sliced veggies

mushrooms, onions, peppers, olives, zucchini

cup

mozzarella cheese

Parmesan cheese

optional

red pepper flakes

optional
Instructions
Roast sweet potatoes. I roast my sweet potatoes at 425 degrees F for 1 hour - 1 hr. 20 minutes, until they are very soft.

Once potatoes have cooled, scoop out the flesh, and measure out 1 1/2 cups of sweet potato puree.

In a large mixing bowl, add sweet potatoes, and use a hand mixer to whip the sweet potatoes until they are smooth.

Add the rest of the ingredients, and use the hand mixer again to mix well.

Preheat oven to 425 degrees F.

Line a cookie sheet with baking paper. Scoop "dough" in heaping 1/2 cups (the recipe will make 4 small pizza crusts).

Wet your fingers, and lightly press down on the top of each mound.

Cover 1 mound of dough with another piece of parchment, and then use a meal prep container to press down until the sweet potato is about the size and shape of the container (about 4 inches x 6 inches). The centers of the crusts need to be very thin to cook up solid - if you don't press them thin enough, your crusts will end up delicious but slightly mushy in the center.

I like to use wet fingers to gently mold the edges of the crust, but this is optional.

Bake the crusts for 30 minutes.

Top the crusts with sauce, cheese, and veggies, as desired.

Return topped pizzas to the oven for 12-20 minutes, depending on how many toppings are added. A basic cheese pizza will bake in 12 minutes, but a pizza loaded with tons of veggies will take 20.

These pizzas are delicious cold, but reheat well also. To reheat, place on a lined cookie sheet, and bake at 425 degrees F for 12 minutes.
Notes
Nutrition for 1 out of 4 pizzas (not including optional toppings):
18g Protein | 48g Carbs | 26g Fat | 7g Fiber | 472 Calories
Nutrition
Serving:
1
pizza
|
Calories:
472
kcal
|
Carbohydrates:
48
g
|
Protein:
18
g
|
Fat:
26
g
|
Fiber:
7
g