Sweet Potato and Black Bean Veggie Burger Meal Prep! These two ingredients are made for each other in these amazing plant-based burgers!
A Word About These Veggie Burgers
The internet asked, and we answered. Gone are the days of sad veggie burgers, friends. No more crumbly disasters, no more of your vegan friends crying at your bbq. We have a tried, tested, and terrific upgrade to the classic veggie burger recipe. This Sweet Potato and Black Bean Veggie Burger is one of the best meal prep ideas we've ever had. Not only are these veggie burgers delicious, but they can be frozen to extend ultimate meal prep excellence. Want one for dinner tonight, but also want to have extras for the potluck next weekend? No big deal. Vegetarians and meat-eaters alike will love these!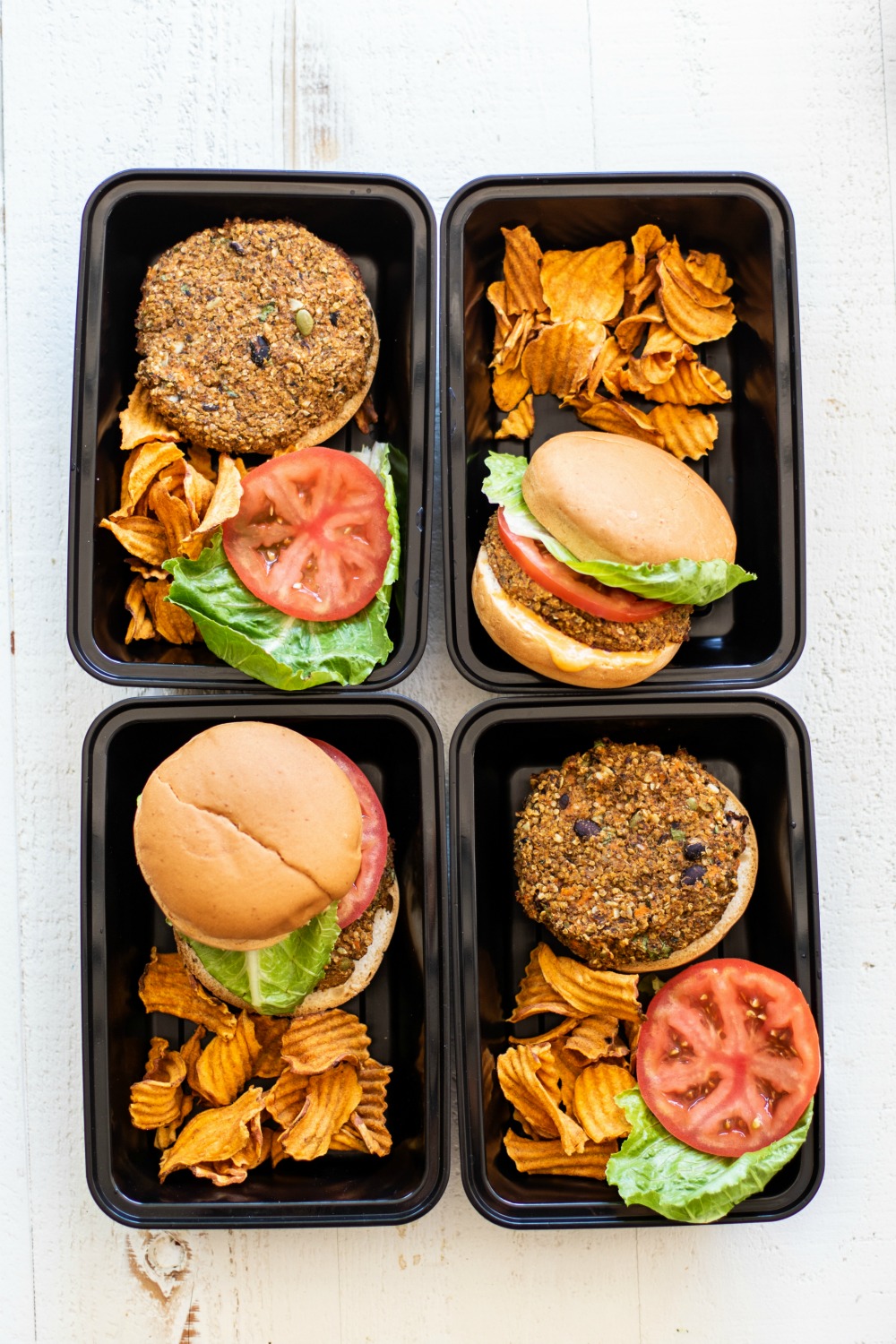 Whats in These Sweet Potato and Black Bean Veggie Burgers?
We brought together pumpkin seeds, sweet potatoes, quinoa, and black beans as the base for this Southwestern-inspired veggie burger recipe. The combination of those ingredients comes to more than 21 grams of protein per burger- without the use of soy! We know, we know, we're geniuses.
Did you know that quinoa is not a grain but actually a seed? Because of its versatility, ease of preparation, and fantastic nutritional benefits, quinoa has quickly risen to the top of every plant-based enthusiast's favorite ingredient list, and we are no exception. One cup of this ancient seed offers 8 grams of protein, 5 grams of fiber, 58% of your recommended daily manganese (supports bones and connective tissues) intake, and 30% of your daily magnesium!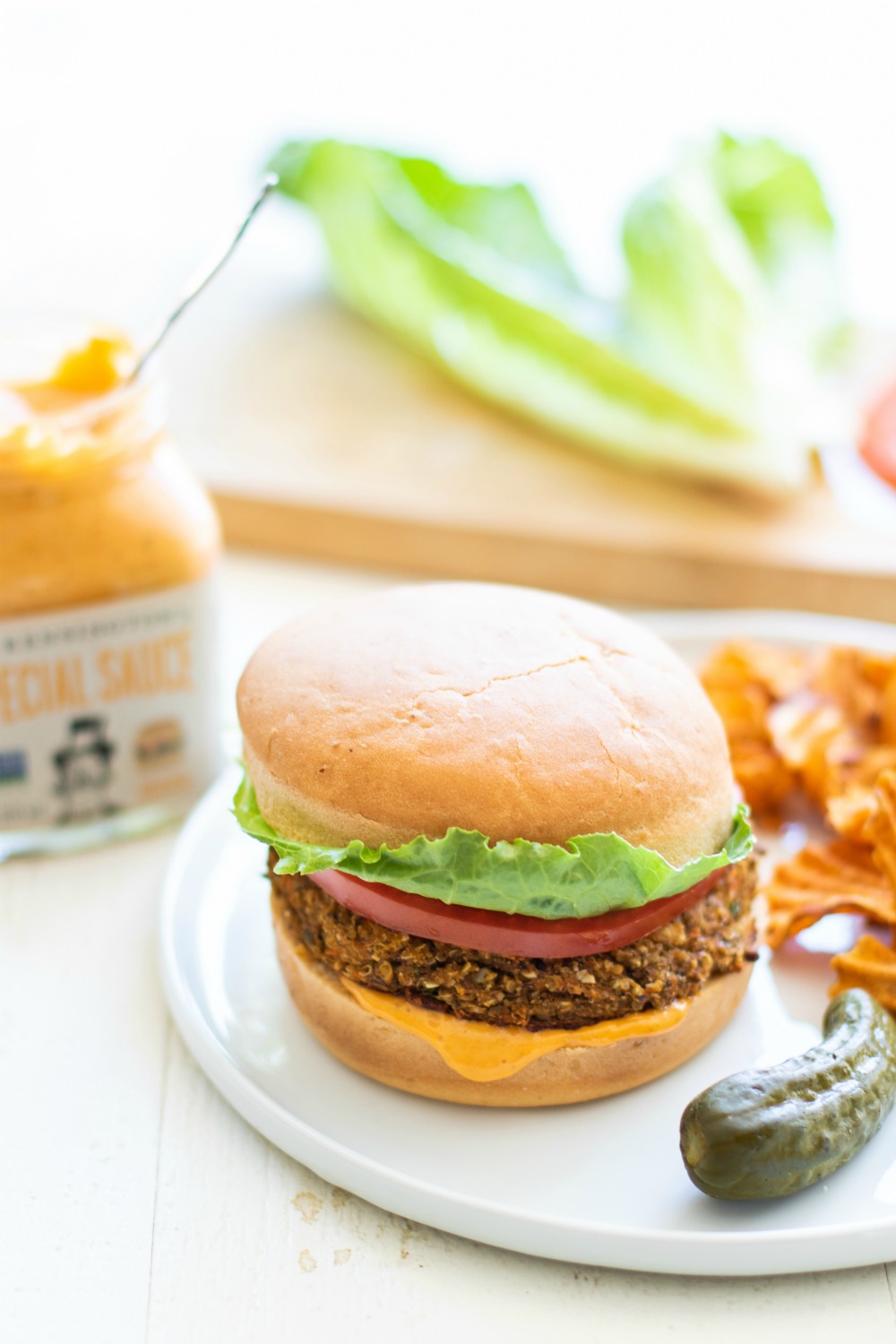 Veggie Burger Meal Prep Nutrition
And that's just the quinoa. We've also added Omega-3-rich pumpkin seeds, Vitamin A-heavy sweet potatoes, and fiber-rich black beans! But don't worry, all that nutrition does not mean we've skimped on flavor. You're going to love the bold taste of this veggie burger recipe.
Once they're ready to eat, these Sweet Potato and Black Bean Veggie Burgers can be served on a traditional bun or in a lettuce wrap for a delicious paleo meal prep idea. And don't skimp on the toppings! We like ours with a little Sir Kensington Special Sauce, but they'd also be pretty fantastic with a spread of this cool Avocado Cream Sauce.
References: https://www.healthline.com/nutrition/11-proven-benefits-of-quinoa#section1
Sweet Potato & Black Bean Veggie Burger Meal Prep Ingredients
¾ cup pumpkin seeds

½ tablespoon olive oil

1 onion medium, about 1 ¼ cup, diced

2 tablespoons coconut aminos

3 teaspoons cumin

1 ½ teaspoons Dijon mustard

1 teaspoon sea salt more or less, to taste

1 ½ cups quinoa cooked, about ½ cup dry quinoa

1 cup roasted sweet potatoes puree

1 (15-ounce) can black beans

, rinsed and drained

1 cup cilantro lightly packed

2 tablespoons flax seed meal

8 buns, for serving (optional)

Topping suggestions: special sauce, lettuce, tomato, avocado, pickles, sauteed mushrooms, or cheese (vegan or conventional!).
How to Store and Serve Sweet Potato and Black Bean Veggie Burgers
Pop these right into meal prep containers, but hold the bun! They'll just get soggy in the fridge. Keep everything in the fridge. You can eat these cold (they're actually pretty good that way) or reheat them gently right in a skillet, toaster oven, or air fryer.
Serve with chips, or, better yet, our Air Fryer Rosemary Sweet Potato Wedges with Garlic Aioli! They're amazing! (And yeah, you know how we feel about sweet potatoes).
Oh! Feel free to freeze these burgers. That's the beauty of a recipe that makes 8 burgers. It's like an automatic double batch.
More Burger Meal Preps!