We've got some more Whole30-approved goodness coming at you with this one, fam! Whether it's the middle of January and you are neck deep in your annual cleanse or you just want to enjoy summer vibes without the hassle of firing up the grill, these pulled pork sliders are a fun and super easy addition to your regular meal prep recipes.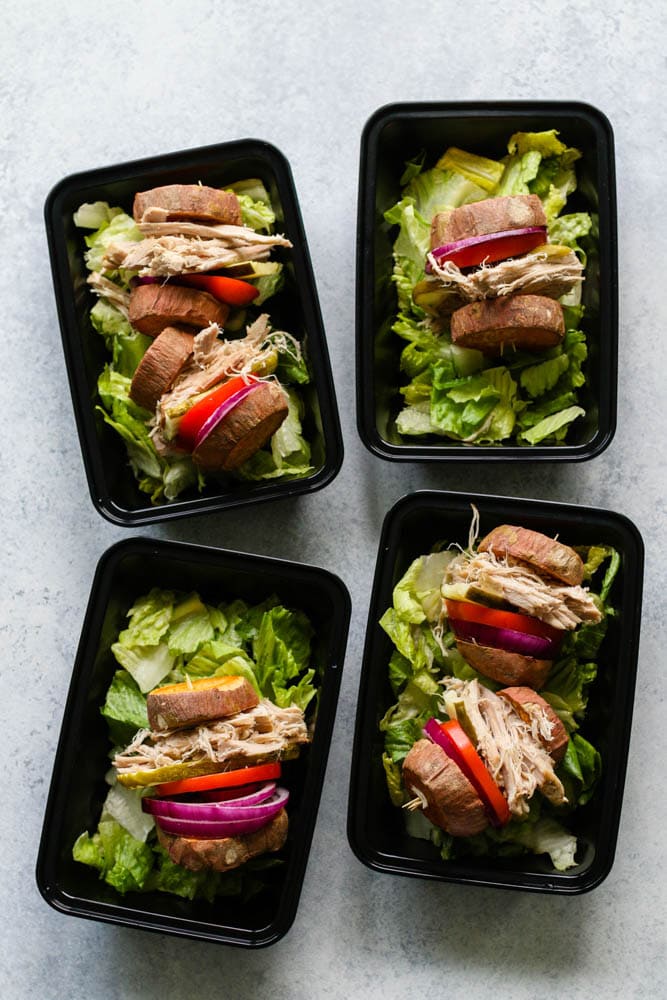 The namesake ingredient for these pulled pork sliders is made in a slow cooker, which means deliciously tender and juicy meat for you with very little effort. The pork will do its thing in our favorite magical contraption for 6-8 hours, making this the perfect weekday meal prep recipe. Simply add the pork to your crockpot in the morning before work, and come home to beautifully cooked meat that's ready to lead you into step two. Sweet potato buns might sound fancy, but they're super easy to make- another element of this meal prep recipe that requires minimum prep and effort from you. Simply slice and bake- that's it! The natural flavor of the sweet potatoes really brings out the subtle sweetness of the pork, and the combination is pretty darn tasty.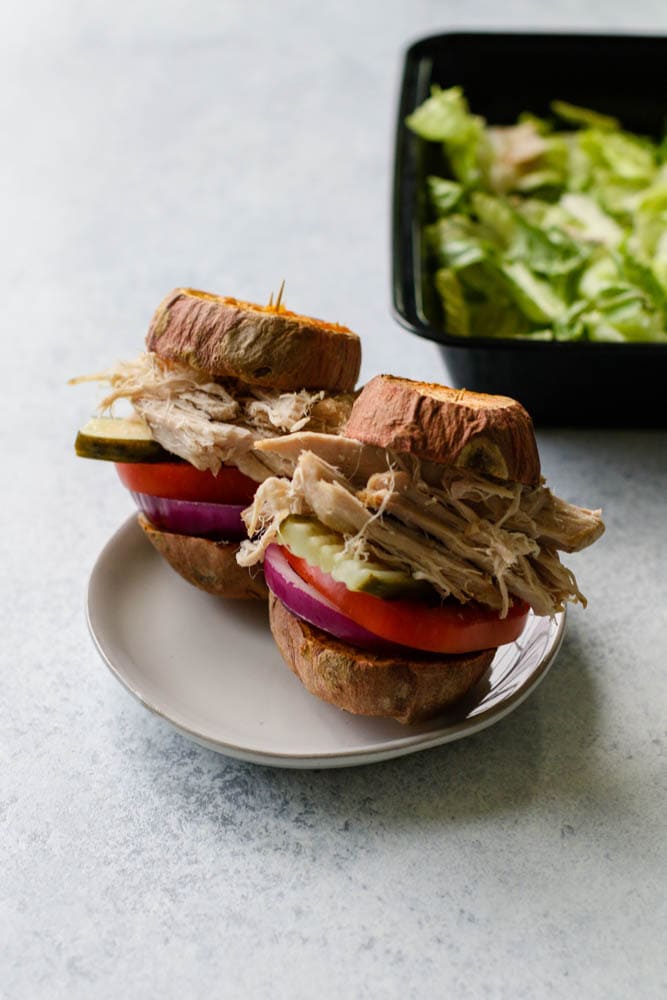 Did you know that sweet potatoes are actually really healthy? It can be easy to forget when they carry a name like "potato," but these orange root vegetables are rich in Vitamins A and C, and their complex carb structure makes them a great choice for breakfast or a mid-day energy boost. We're huge fans around here, and the use of sweet potatoes as "buns" makes them even more accessible, especially when adapting paleo or Whole30 meal prep recipes.
This recipe is 100% Whole30-friendly as is, but feel free to add any approved toppings that you'd like to. The more the merrier when it comes to condiments and slider additions, are we right? Let us know how you like to dress yours in the comments below!
Pulled Pork Sliders With Sweet Potato Buns Ingredients:
1 lb pork shoulder
1 cup water
Himalayan sea salt
Black pepper
4 pickles
1 tomato, sliced
¼ red onion, sliced
4 cups romaine lettuce
2 large sweet potatoes, cut into large 1" rounds
Optional Whole30 approved condiments for serving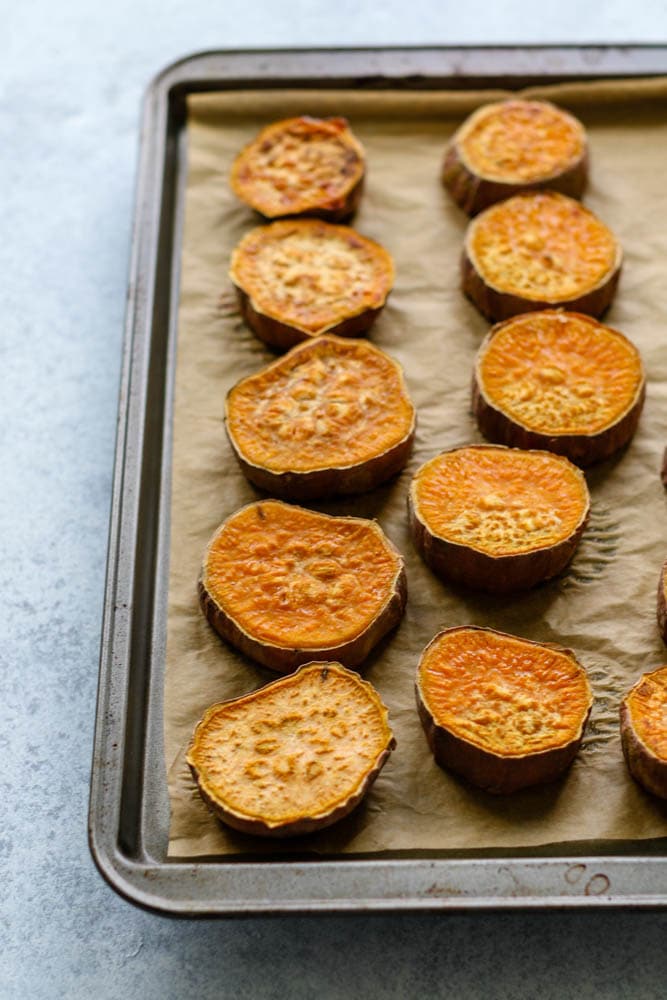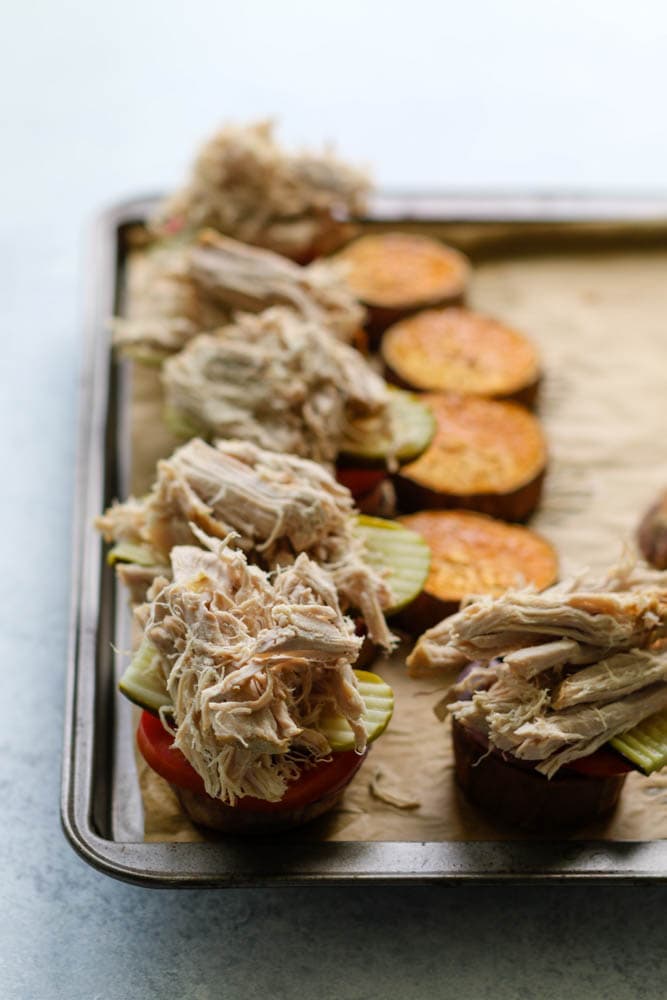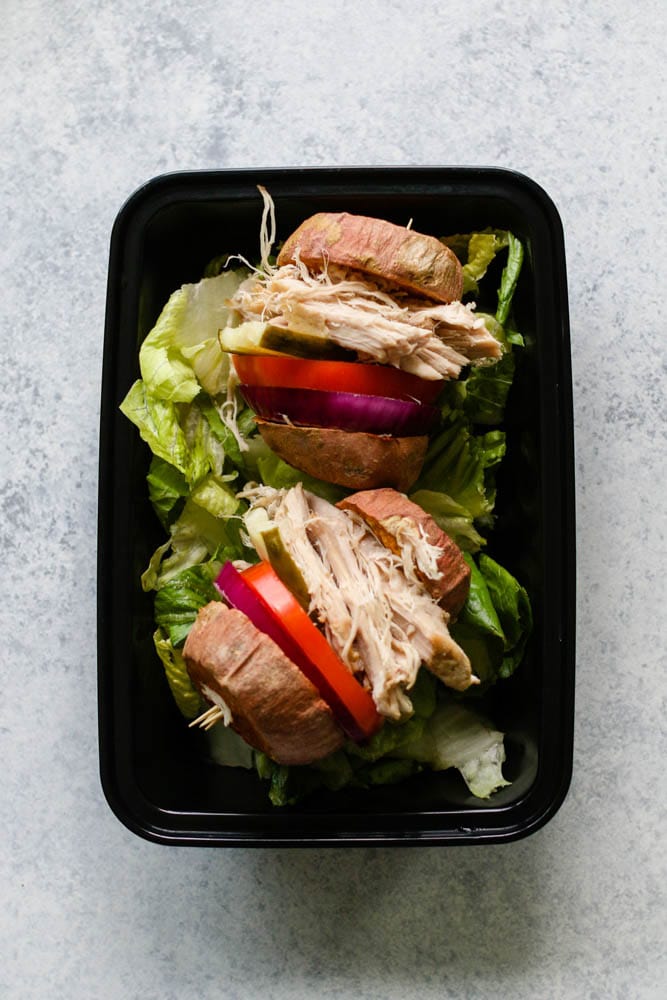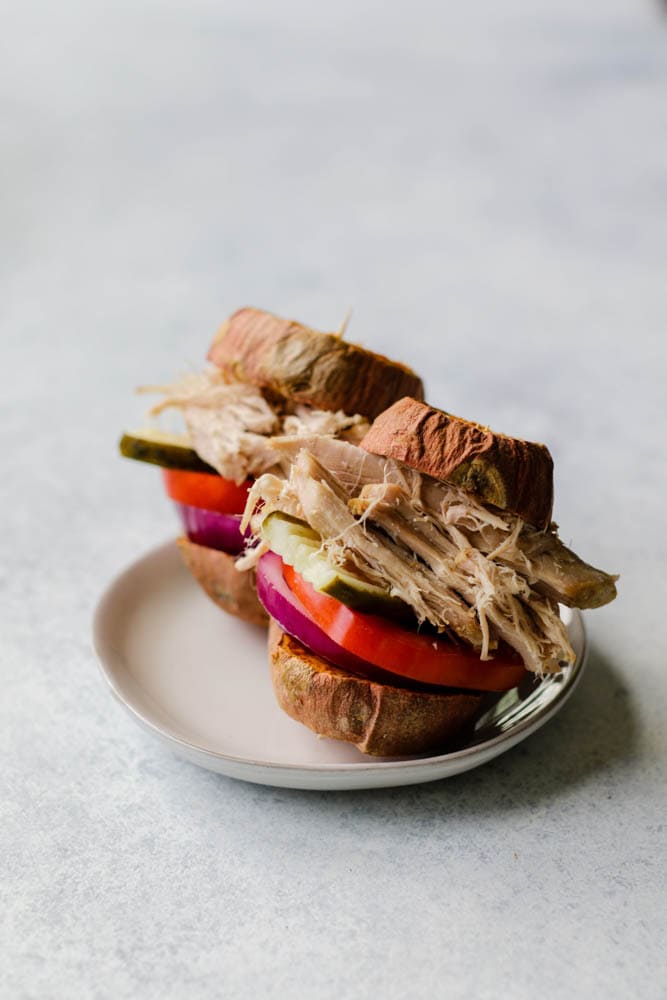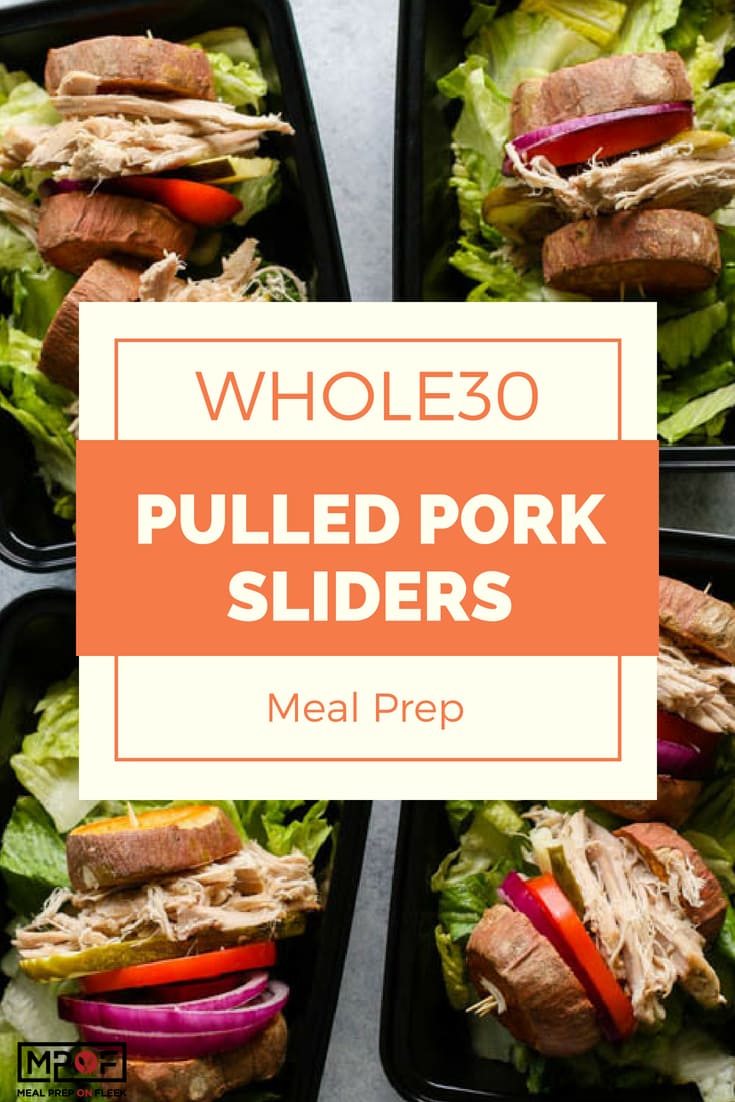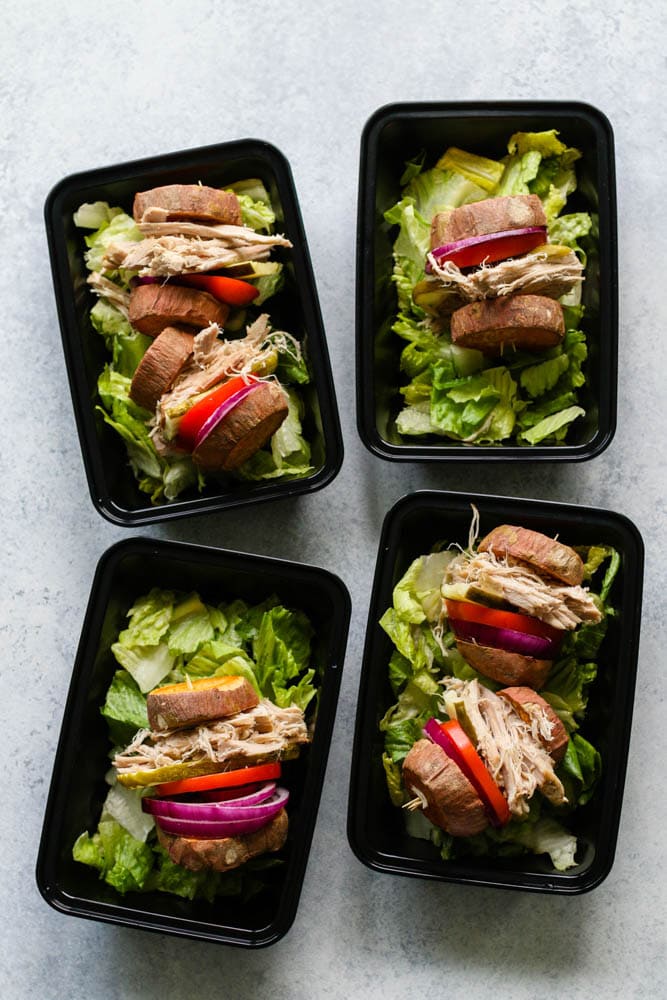 Ingredients
1

pound

pork shoulder

1

cup

Water

salt & pepper

as desired

4

pickles

1

large

tomato

sliced

1/4

red onion

sliced

4

cups

romaine lettuce

2

large

sweet potatoes

cut into 1" rounds
Optional
any Whole30 approved toppings
Instructions
Add pork shoulder to a crockpot with water, salt, and pepper and cook on medium for 6-8 hours, until tender and fall apart. Remove from the crockpot and shred with a fork.

Preheat oven to 400 degrees F and line a baking sheet with parchment paper.

While the pork is cooking, bake your sweet potato "buns" by slicing 2 large sweet potatoes with a knife into thick rounds. Transfer to the baking sheet and bake for 30-40 minutes, until fork tender.

Prepare your condiments while the sweet potato rounds are baking.

To assemble, stack rounds with red onion, tomato, pickle, and ~1/4 cup shredded pork with another sweet potato round on top to form a slider. Secure with tooth picks. Repeat until you're out of sweet potatoes and pork.

Divide lettuce between 4 meal prep containers and lay sliders on the lettuce. Serve with your favorite Whole30 approved condiments. Store sliders in the fridge for 4-5 days.
Notes
Nutrition for 1 out of 4 servings:
24g Protein | 25.7g Carbs | 17.2g Fat | 4.7g Fiber | 358 Calories
Nutrition
Serving:
1
meal
|
Calories:
358
kcal
|
Carbohydrates:
25.7
g
|
Protein:
24
g
|
Fat:
17.2
g
|
Fiber:
4.7
g