Keto chocolate mug cake is the low-sugar solution for your most persistent chocolate cravings! Ready in less than two minutes in the microwave!
Once you know how to do this, there's no going back. Consider yourself warned!
Ok, drama aside, when you have a chocolate craving and you don't want to sabotage your otherwise stellar keto-eating habits, this is the cake for you. It might also just be a great little cake to eat when you want some chocolate and aren't super into consuming a lot of sugar. Either way, we suspect you'll be making this keto chocolate mug cake a lot! It comes together in minutes and couldn't be simpler.
Keto Chocolate Mug Cake Ingredients
3 tablespoon almond flour
1 tablespoon unsweetened cocoa powder
1 tablespoon low-carb brown sugar alternative
1 tablespoon sugar-free chocolate chips
1 egg, at room temperature
1 tablespoon melted butter
½ teaspoon baking powder
Pinch of salt
How to Make Keto Chocolate Mug Cake
You'll need a small bowl to mix everything together in, for starters. Combine the almond flour, cocoa powder, brow sugar substitute, about half a tablespoon of sugar-free chocolate chips, an egg, melted butter, baking powder, and a pinch of salt. Hey, that's everything! Stir it all together until it's moist. Pour into a mug that you've already greased with butter or nonstick cooking spray.
How to Store and Serve Keto Chocolate Mug Cake
We don't pretend that you're going to have leftovers from this cake. But, it's possible you won't eat it all at once. You might want to save some for later. In that case, just wrap the top of the mug in plastic wrap or aluminum foil and keep it at room temperature. It should be good for a couple of days, no problem.
That being said, you might enjoy adding more chocolate chips on top if you want to reheat it briefly, later. Or it might be fun to serve this with a dollop of whipped cream, some keto vanilla ice cream, or a handful of chopped strawberries or fresh raspberries.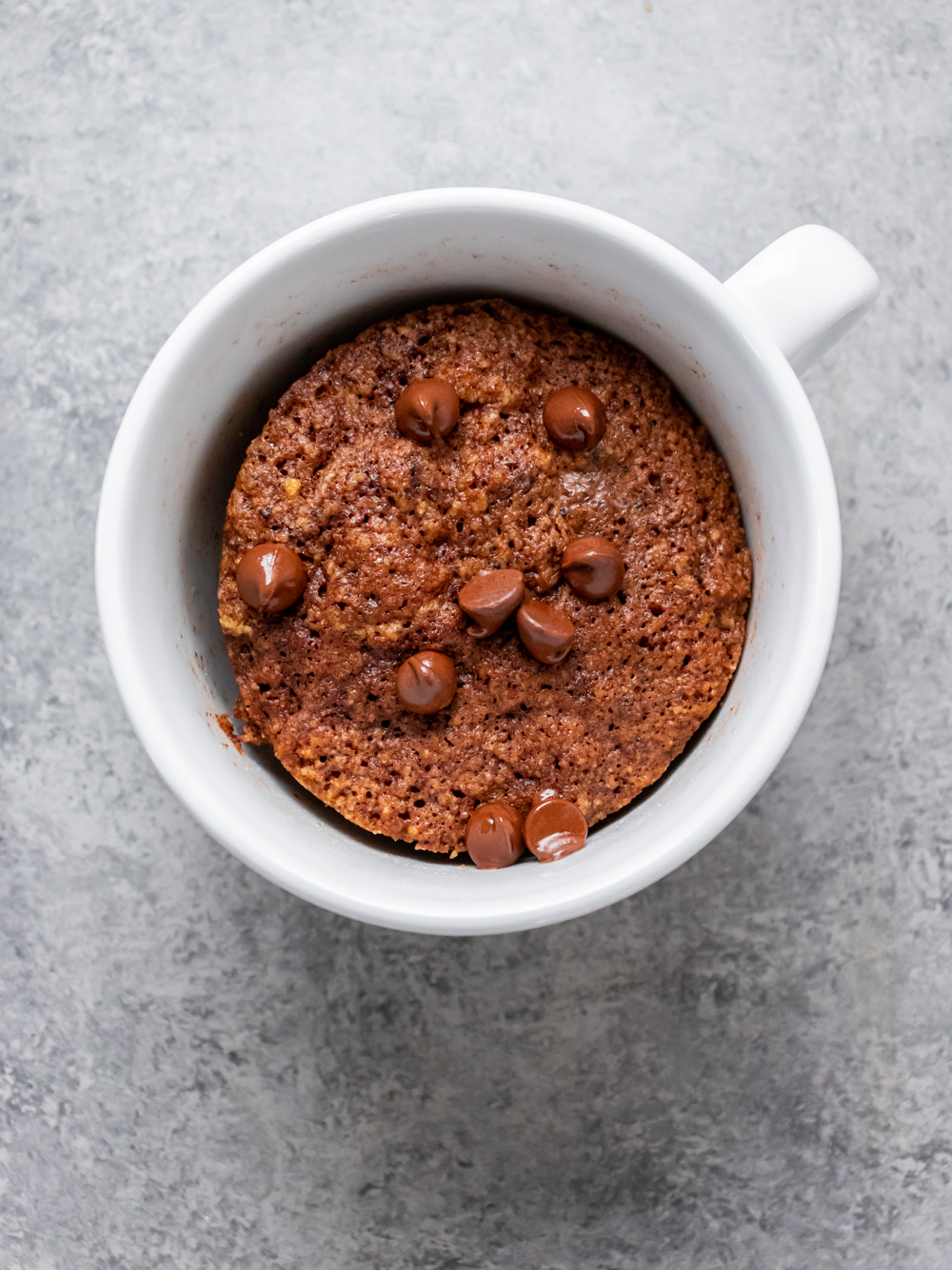 Substitutions and Alterations
Keto baking is a delicate dance, to be sure. It doesn't take well to making a lot of substitutions. That being said, you can easily use a keto granulated sugar instead of brown sugar, with no ill effect. You can add a little bit of vanilla extract; about ¼ teaspoon would work to intensify some of the chocolate flavors. A tablespoon of peanut butter wouldn't hurt the situation here, either, swirled into the batter before baking it in the microwave. A couple of tablespoons of chopped walnuts or pecans can be accommodated by this batter, too. Just don't overhaul the basic recipe. Anything you would add to a chocolate cake can be added here, in small measures. Sprinkle the top with shredded coconut when it comes out of the microwave, or top it with toasted nuts.
MORE CAKES, CHOCOLATE AND MORE KETO DESSERTS!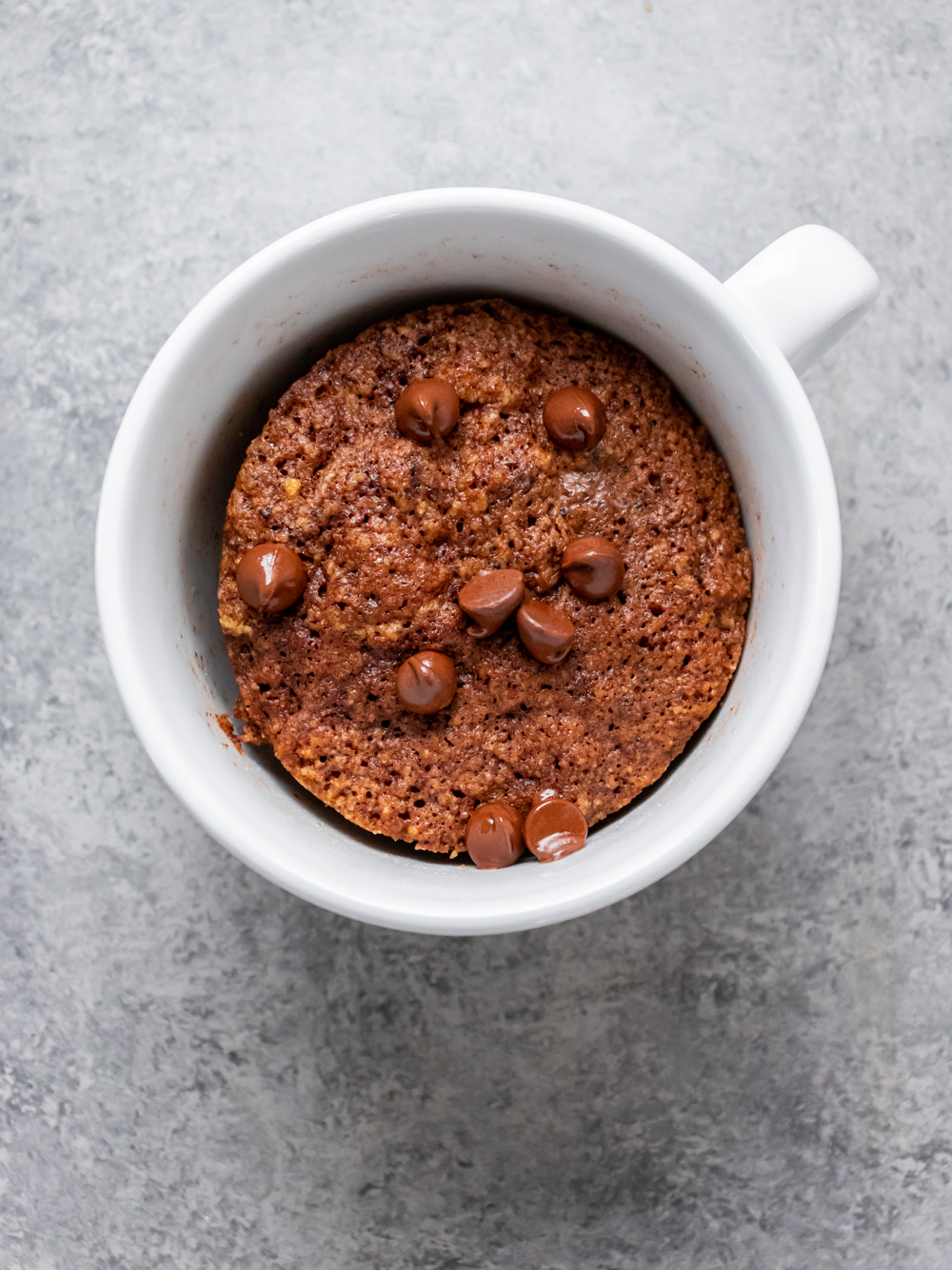 Ingredients
3

tablespoon

unblanched almond flour

1

tablespoon

unsweetened cocoa powder

1

tablespoon

low sugar brown sugar alternative

1

tablespoon

sugar free chocolate chips

1

large

egg

1

tablespoon

melted butter

½

teaspoon

baking powder

1

pinch

salt
Instructions
Combine almond flour, cocoa powder, brown sugar, egg, melted butter, baking powder, salt, and half of the chocolate chips in a small bowl. Mix until moist.

Pour into a lightly greased 1 ½ cup microwave safe mug. The cake will double in size while cooking. Microwave for 90 seconds. Immediately top mug cake with remaining chocolate chips.
Nutrition
Serving:
1
g
|
Calories:
565
kcal
|
Carbohydrates:
34
g
|
Protein:
17
g
|
Fat:
43
g
|
Saturated Fat:
14
g
|
Polyunsaturated Fat:
1
g
|
Monounsaturated Fat:
5
g
|
Trans Fat:
0.5
g
|
Cholesterol:
216
mg
|
Sodium:
413
mg
|
Potassium:
149
mg
|
Fiber:
8
g
|
Sugar:
14
g
|
Vitamin A:
620
IU
|
Calcium:
248
mg
|
Iron:
4
mg