Breakfast is the most important meal of the day. because it sets the stage for the rest of the day. When you start with a great breakfast, don't you feel unstoppable? And being prepared in the morning before heading out for the rest of the day keeps your mind clear. At MPOF, our goal is to help our subscribers live healthy lives one delicious prepped meal at a time! Today's meal prep breakfast is a real treat — Air Fryer Breakfast Sausage. The entire meal takes 45 minutes to cook, but your air-fryer does most of the work.
The air fryer does all the work cooking these breakfast patties to golden brown on the outside while draining off excess fat. Their full of sage, maple syrup and thyme for a breakfast that rivals any restaurant.
How long will Air Fryer Breakfast Sausage last for?
Air Fryer Breakfast Sausage will last up to 4 days in the refrigerator. To optimize freshness, store your breakfast sausage in an airtight container within 2 hours of cooking.
Can Air Fryer Breakfast Sausage be frozen?
Yes, you can freeze Air Fryer Breakfast Sausage. Why not cook a bunch of breakfast sausage ahead of time and freeze it for future meal prep breakfast recipes? You can store Air Fryer Breakfast Sausage in plastic or glass containers, or even freezer bags. When you're ready to use your frozen sausage patties, defrost them in the microwave or let them thaw in the fridge overnight.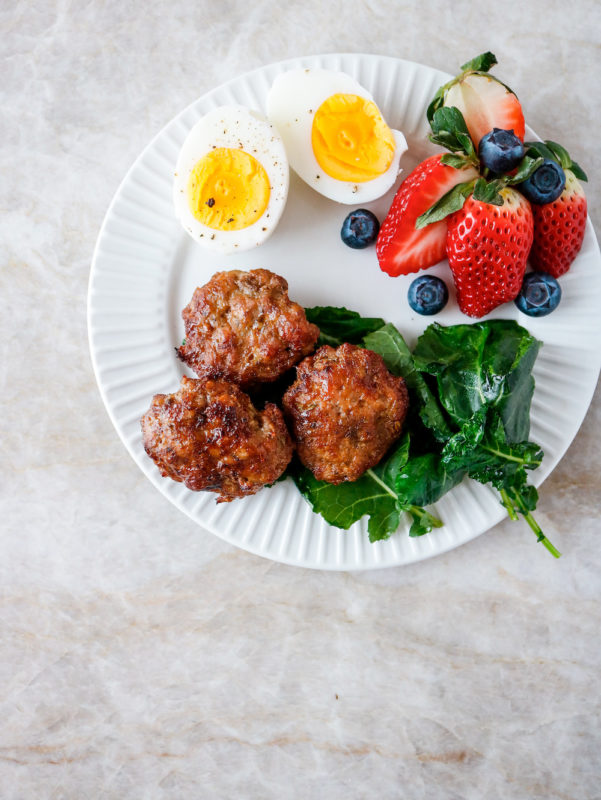 Air Fryer Breakfast Sausage Ingredients:
For Sausage
1 lb. ground pork
1 tbsp pure maple syrup
1 tsp dried thyme
1/2 tsp dry rubbed sage
1/2 tsp paprika
1/2 tsp sea salt
1/4 tsp garlic powder
1/4 tsp cracked black pepper
For Serving
4 hard boiled eggs, peeled and halved lengthwise
2 cups sliced strawberries
1 cup blueberries
6 cups baby kale
1 tsp ghee
1/4 tsp sea salt
How do you make Air Fryer Breakfast Sausage?
Air Fryer Breakfast Sausage is easy to make because the air-fryer does the work for you. Easy, delicious, and nutritious are what make this the perfect meal prep breakfast. Let's get ready to make some yummy sausage!
Gather your breakfast sausage ingredients and grab a medium-sized bowl, a tray or plate, and parchment paper. Line the tray or plate with parchment paper and set it aside for the sausage patties. Combine the sausage ingredients in the bowl and mix thoroughly. Then start forming 12 patties using the sausage mix. Place each 1/2″ breakfast sausage patty onto the lined tray or plate. Once all of your patties are made, put 6 patties in your air-fryer basket and fry at 370 degrees for 8 minutes. At the 8-minute mark, flip the patties and continue frying for another 8 minutes. Remove the first batch of cooked breakfast sausages and repeat the process with the second batch of patties. Now it's time to make your sides. Your fruit, veggies, and boiled eggs will complete your artisanal breakfast and balance the meal with the different taste profiles. Hashtag Make Breakfast Fancy Again!
While your second batch of sausage patties are cooking, get a medium-sized skillet and your ghee. Melt the ghee in the skillet over medium heat and add kale. Sauté the kale for 2-3 minutes. Set aside. Then get your hard-boiled eggs and fruit ready. Check on your sausage and flip if you haven't done so. When the patties are finished cooking, put your breakfast together and you're ready to go!
How to portion Air Fryer Breakfast Sausage?
Setup 4 three-compartment meal prep containers. In those containers, put 1 cup of fruit, a halved egg, three patties, and your kale inside. Your patties and kale go together in the biggest compartment while the halved egg and fruit go in the two smaller compartments.
More Sausage meal prep recipes:
Breakfast sausage is delicious and versatile. Who says you can't have it any time of the day? Try these breakfast sausage meal pre recipes for breakfast, lunch, or dinner.
Beef Breakfast Sausage Egg Cups
Loaded Sausage and Bacon Breakfast Casserole
Sheet Pan Meal Prep Breakfast – French Toast Sticks & Sausage
Cajun Sausage Breakfast Scramble
Egg, Sausage, Bell Pepper, and Avocado Breakfast Meal Prep
Vegetarian Italian Sausage Egg Cups
Sausage, Kale & Pomegranate Hash Meal Prep
Sheet Pan Marmalade Sausage Meal Prep
Sausage Lover's Hashbrown Casserole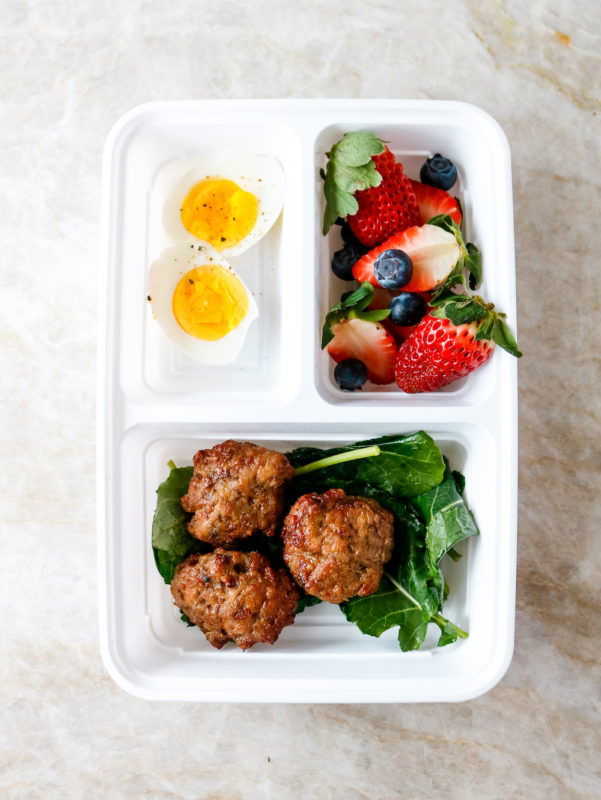 Other tips for making Air Fryer Breakfast Sausage:
For thoroughly cooked sausage patties, don't overcrowd your air-fryer basket. Only cook up to 6 patties at a time.
Get the best quality ground pork you can. You can also purchase ground boneless pork shoulder from your local grocer or use ground turkey.
Use a hand or stand mixer to mix the ground pork and seasonings.
Gently flatten the 2 oz. of ground pork to form the patties. Focus on thinning the middle of the patties. The outside/edges should be fuller so your patties stay flat.
Do not press your patties while flipping.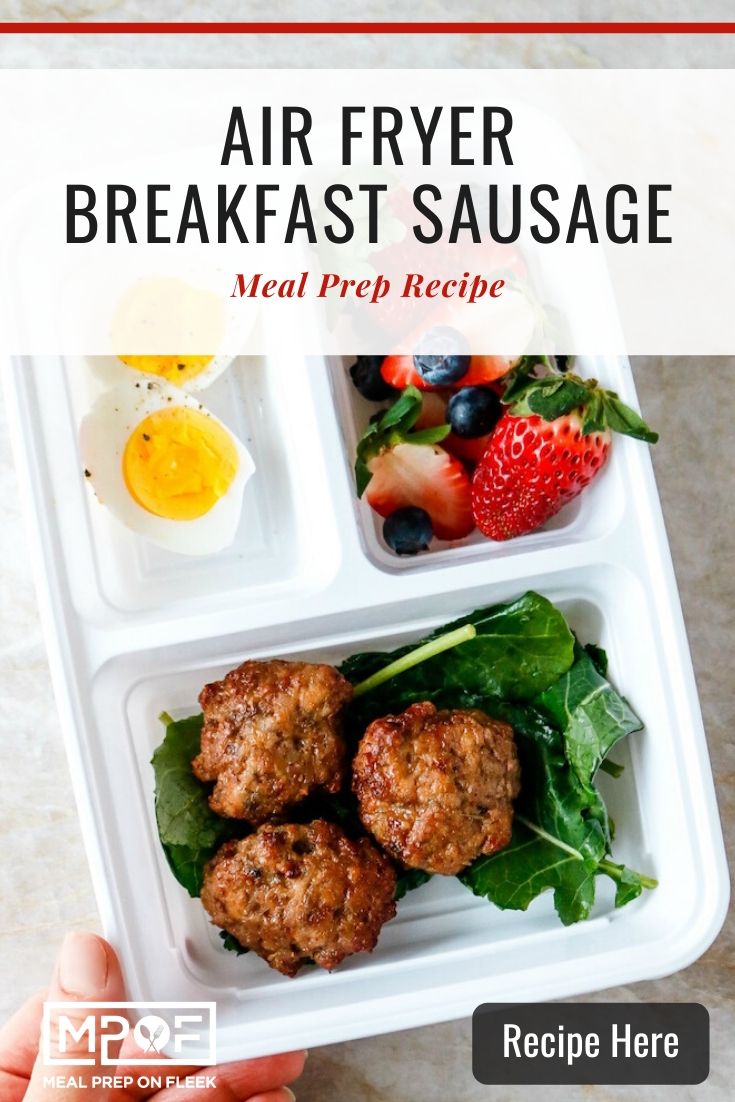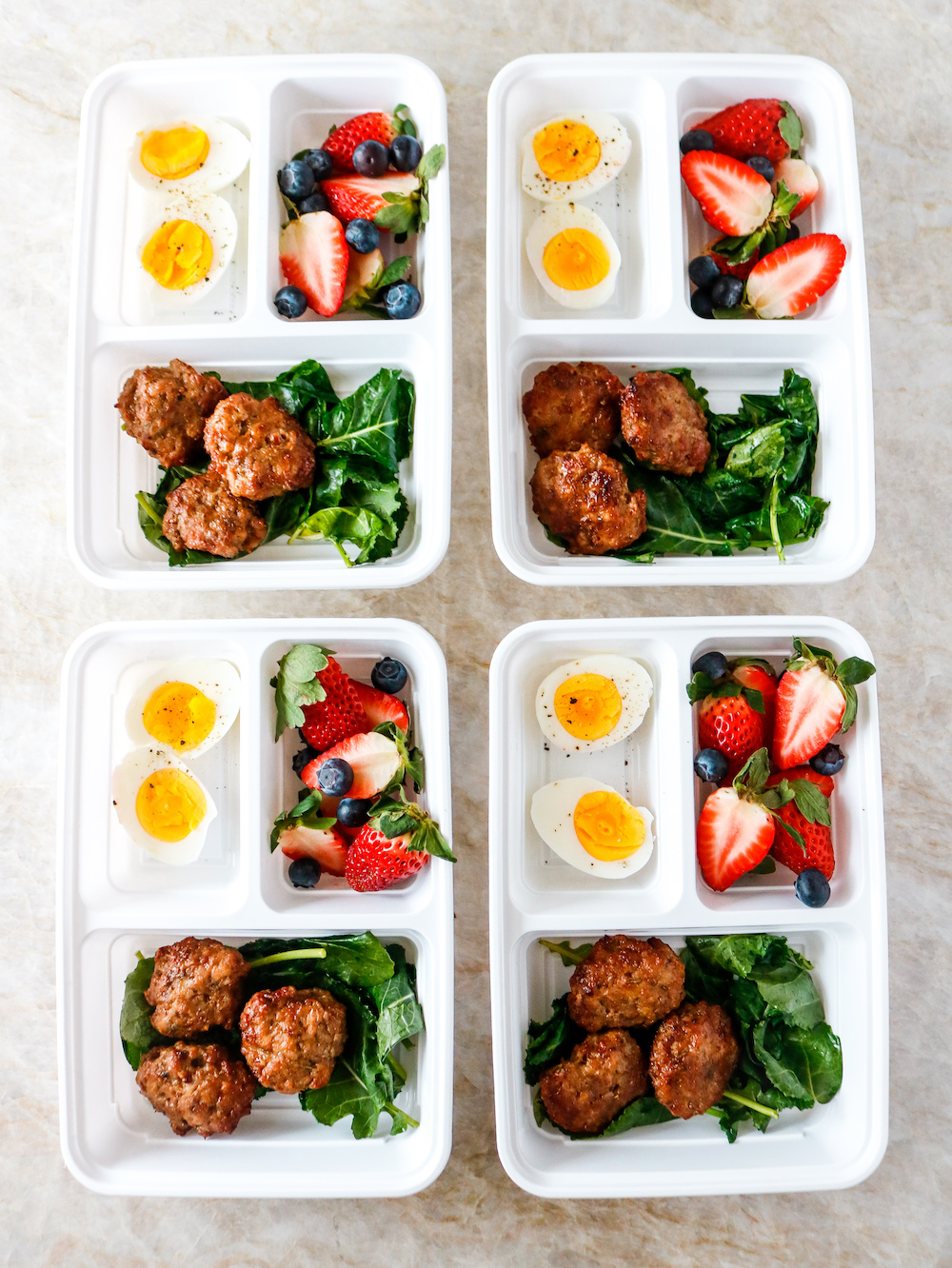 Ingredients
For Sausage
1

lb.

ground pork

1

tbsp

pure maple syrup

1

tsp

dried thyme

1/2

tsp

dry rubbed sage

1/2

tsp

paprika

1/2

tsp

sea salt

1/4

tsp

garlic powder

1/4

tsp

cracked black pepper
For Serving
4

hard boiled eggs

peeled and halved lengthwise

2

cups

sliced strawberries

1

cup

blueberries

6

cups

baby kale

1

tsp

ghee

1/4

tsp

sea salt
Instructions
Combine ingredients for sausage patties in a medium mixing bowl and thoroughly mix. Form into 12 round patties, 1/2 an inch thick. Place onto a parchment paper-lined tray or plate.

Add 6 patties to air fryer basket and fry at 370ºF for 8 minutes. Remove the basket and flip patties. Air fry for an additional 8 minutes. Repeat with remaining sausage patties.

While breakfast sausage fries, melt ghee over medium heat in a medium skillet. Add kale and sauté for 2-3 minutes until just starting to wilt. Divide kale between 2 cup compartments of 4 white MPOF containers. Add hard-boiled eggs to 1 cup compartments and divide berries between the remaining 1 cup compartments.
Notes
Nutrition includes sausages plus sides. 
WW Smart Points= Green:3  Blue:3  Purple:3
Nutrition
Calories:
432
kcal
|
Carbohydrates:
18.4
g
|
Protein:
29.6
g
|
Fat:
26.2
g
|
Fiber:
4.9
g