Loaded Sausage and Bacon Breakfast Casserole
American breakfast food is fantastic, isn't it? At any given breakfast spot you could expect to find a true smorgasbord of eggs, greasy sausage, bacon, toast, pancakes, waffles, and sugary-sweet syrup. Well, it's certainly fantastic tasting, anyway. Needless to say, frequently eating breakfast comfort food from your favorite greasy spoon isn't just unhealthy, but even could pose a number of health risks, like high cholesterol and obesity. But breakfast lovers, don't fret! MPOF is your #1 resource for alternative meal prep ideas, and that's why we want to bring to today's recipe: a loaded sausage and bacon breakfast casserole. Loaded with flavor and healthy nutrients, that is!
Aside from being full of protein and healthy fats from sausage and bacon, this incredibly nourishing meal prep idea also incorporates the use of quinoa! Quinoa is one of the world's most popular grains because it is one of the only plant foods that contain all nine essential amino acids! The nine essential aminos—Known as histidine, isoleucine, leucine, lysine, methionine, phenylalanine, threonine, tryptophan, and valine, can't be synthesized organically in the body—Meaning that in order to get them, we have to consume them through healthy food sources. Fortunately for you, you'll be getting all nine when make this sausage and bacon breakfast casserole meal prep idea! Quinoa also contains a hearty 8g of protein and 5g of fiber per cup, so you'll certainly have a full stomach after eating it!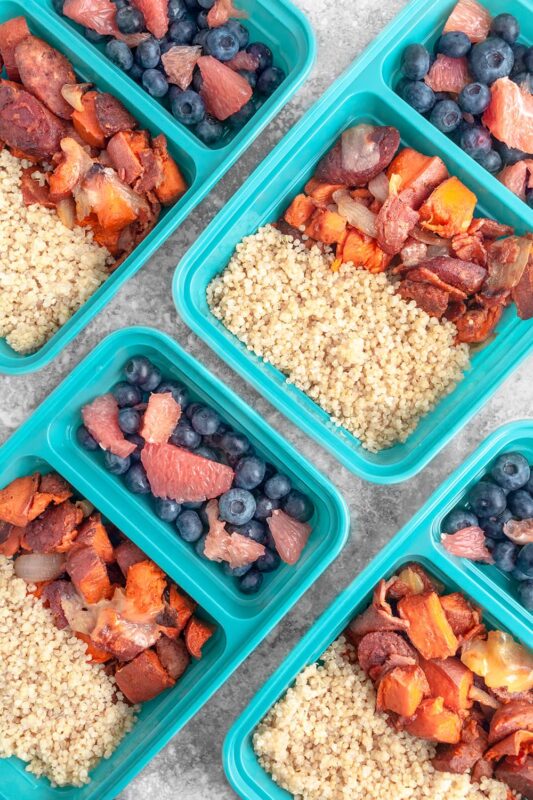 How long will this sausage and bacon breakfast casserole last for?
Because the meats used in this dish are cooked and salted, we found that this dish lasted up to 7 days in the refrigerator. Quinoa lasts 3-5 however, so make sure to store it in an airtight container!
Can this sausage and bacon breakfast casserole be frozen?
Yes. In general, quinoa will keep frozen for up to 8-12 months!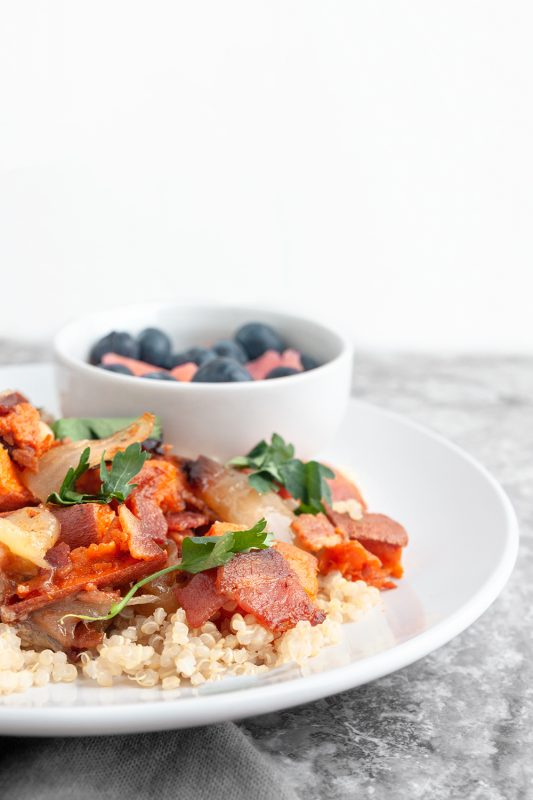 How do you make this sausage and bacon breakfast casserole?
Making this meal prep idea is a very simple and straightforward process! First, you preheat oven to 450℉. Once this has happened, toss your sweet potatoes, onion, sausage, and oil in a bake-safe dish, then bake 30-45 minutes. Layer bacon and cheese on top, then return the dish to the oven for 3-5 minutes. Divide into 4 portions and serve with an optional side of berries.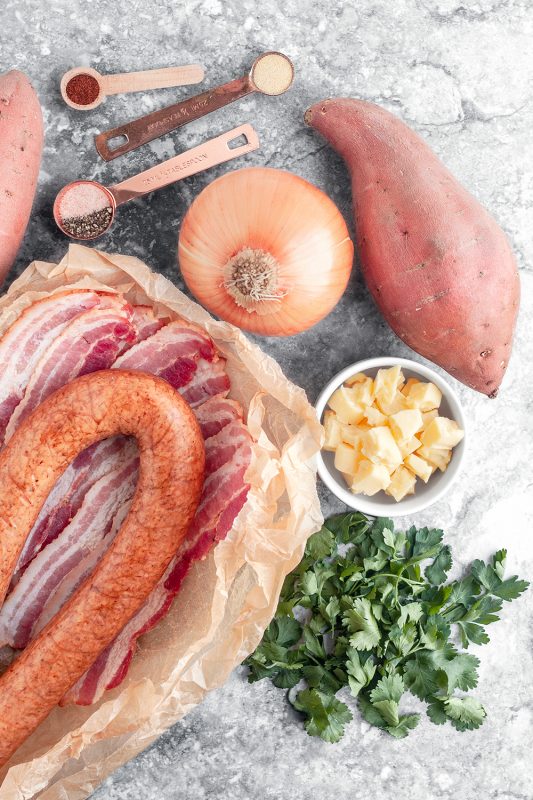 How do you portion this sausage and bacon breakfast casserole meal prep idea?
Because this meal prep idea is relatively simple, we found that serving it in a two-compartment meal prep container was most convenient. You can check out our Ultimate Guide to Meal Prep Containers for more information about containers in general.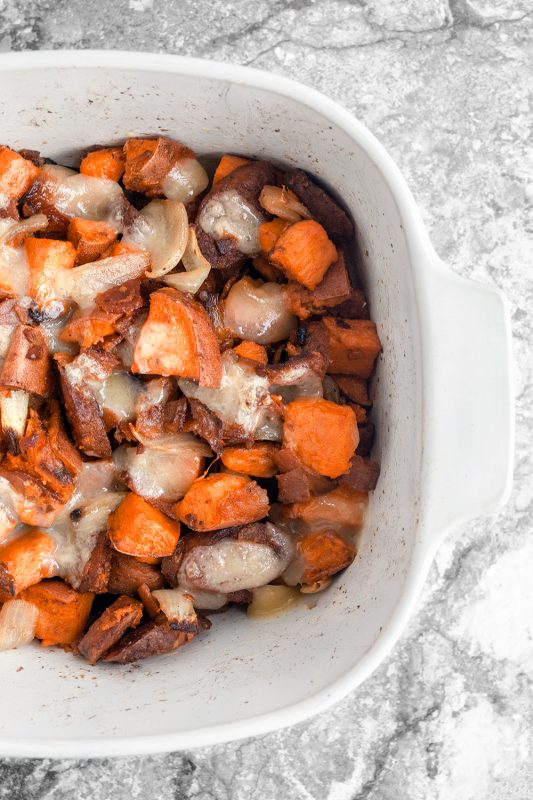 More breakfast meal prep ideas:
Want to diversify your breakfast meal prep selection? Good choice! A couple of our favorites are these Middle Eastern Breakfast Bowls or this Crockpot Breakfast Casserole! Either one of these fantastic meal prep ideas will get you off to a great start to your work or school day!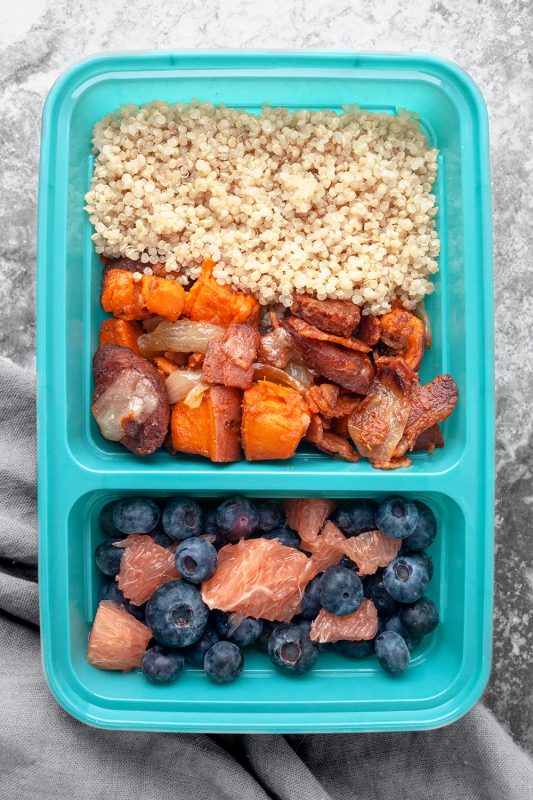 Other tips for making the quinoa:
Make sure you rinse your quinoa before cooking it! It may have bitter remnants straight out of the package.

Don't overcook your quinoa, or else it will end up being mushy.

Remember to fluff the quinoa after cooking it by covering it and letting it steam for about 15 minutes after the initial cooking stage.

Loaded Sausage and Bacon Breakfast Casserole Ingredients:
3 Strips Hickory Smoked Bacon (cooked until crispy)
6 ounces Smoked Sausage
1/2 Medium Yellow Onion (thickly sliced)
2 Medium Sweet Potatoes (with skin, cubed)
3 C. Cooked Quinoa
1/4 C. White Cheddar (cubed)
1 Tbsp. Avocado Oil
2 tsp. Garlic Powder
2 tsp. Paprika
1/4 tsp. Pink Himalayan Salt (or Sea Salt)
1/2 tsp. Ground Black Pepper
*Optional: Fresh Flat-leaf Parsley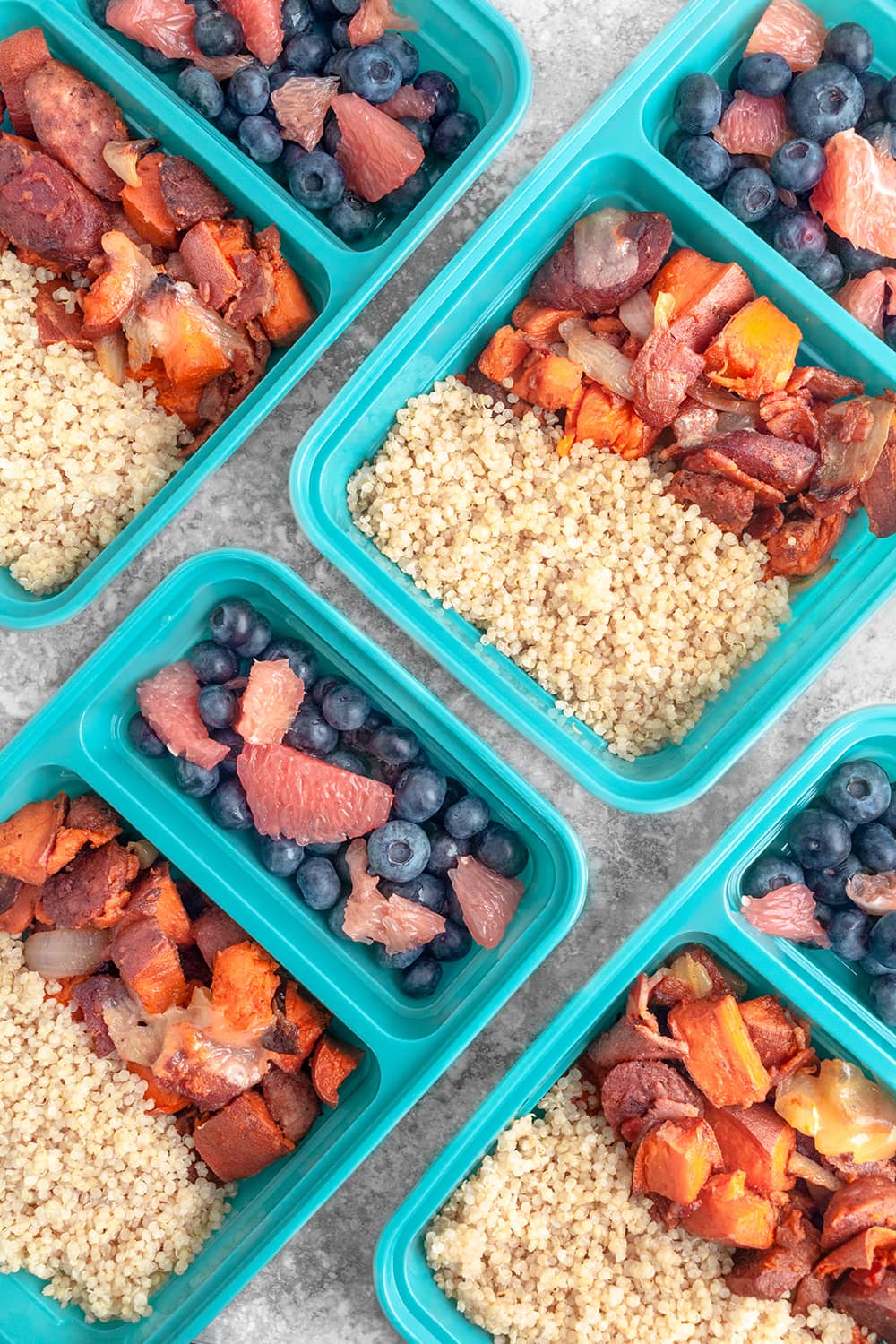 Ingredients
6

strips

bacon of choice

cooked crispy

14

ounces

smoked sausage

sliced

1/2

medium

yellow onion

thickly sliced

2

medium

sweet potatoes

cubed

3

cups

cooked quinoa

1/4

cup

white cheddar cheese

shredded

1

tbsp

avocado oil

2

tsp

Garlic Powder

2

tsp

paprika

1/4

tsp

Sea Salt

1/2

tsp

black pepper
Instructions
Preheat oven to 450℉.

In a large bowl, toss sweet potatoes, onion, sausage, and oil.

Place on middle rack and bake for 30-45 minutes.

Next, incorporate cheese and bacon — return to the oven and broil until cheese has melted (~3-5 minutes).

Divide casserole and quinoa into 4 portions and optionally serve with side of fresh fruit.

Serve, store, and enjoy!
Notes
Nutrition for 1 out of 4 servings:
19.3g Protein | 45.9g Carbs | 27.3g Fat | 5.9g Fiber | 521 Calories
Nutrition
Serving:
1
meal
|
Calories:
521
kcal
|
Carbohydrates:
45.9
g
|
Protein:
19.3
g
|
Fat:
27.3
g
|
Fiber:
5.9
g